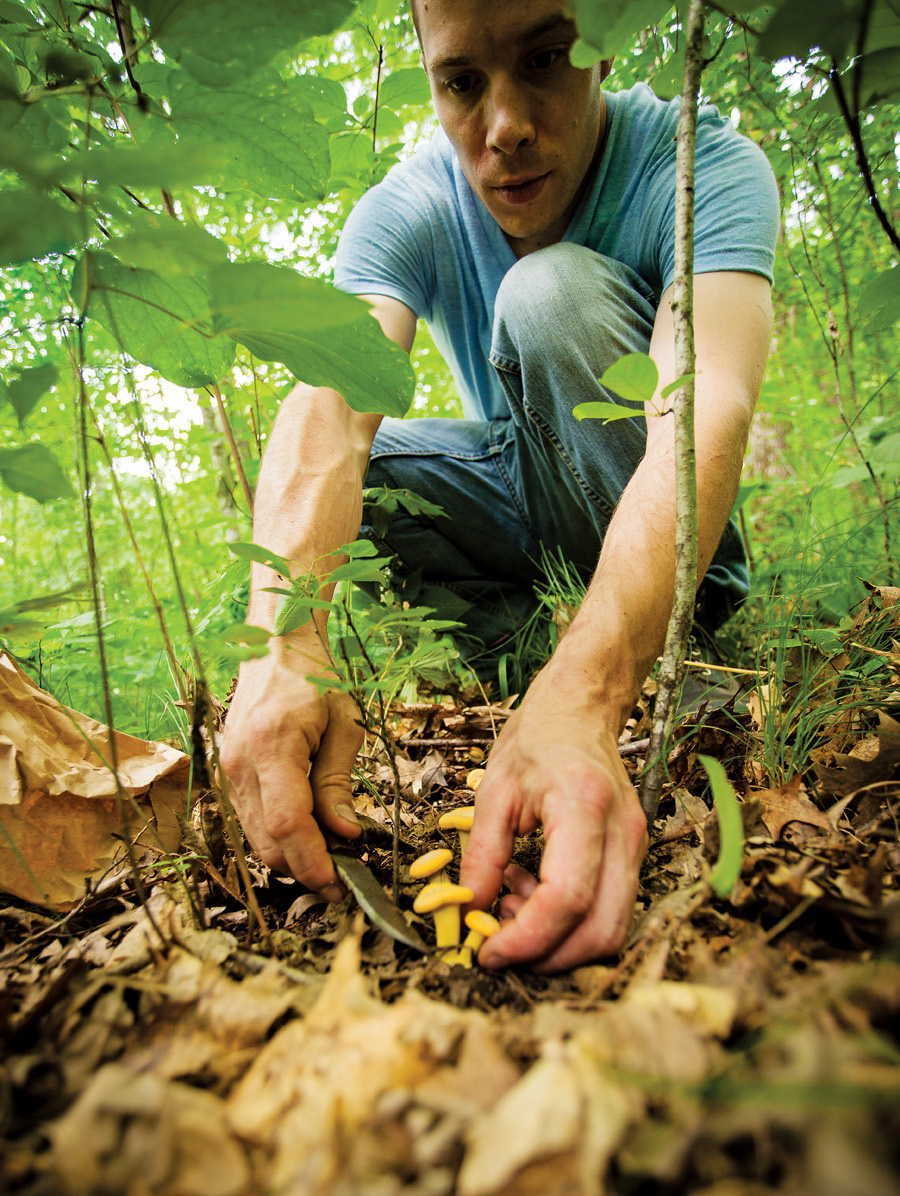 The Salt Cellar's Alan Bergo, Shown Finding and Cooking Chanterelles, is one of the many Twin Cities Chefs who are foraging Enthusiasts. PHotos by Chris Bohnhoff.
Next to a highway heading north to Lake Mille Lacs, there's a house called "Norwegian Wood" surrounded by a patch of forest. Usually it serves as a knitting retreat, but today I'm one of 30 people from across the state who have gathered there to learn about the fleshy lumps that grow out of the forest floor. 
One day, Norwegian's owner, Deb Sorenson, was walking around her property when she began to notice mushrooms everywhere: all kinds, all shapes, all colors. She had no idea what to make of them. They were strange and beautiful and she took some photos. Not long after that, she was at her local farmer's market in nearby Princeton, where she found a young couple at their table selling mushrooms. The vendors, Nick Jordan and Sarah Foltz Jordan (full disclosure, the author's cousins-in-law), had recently become experts in wild edibles of all sorts, including those of the mushroom kingdom.
Sorenson showed them her photos. "We felt like we were running a mushroom tutorial," Foltz Jordan says. "So many people wanted to know about mushrooms." They told her what they could, and mentioned that they were teaching a class that she might be interested in attending. But Sorenson had a better idea: Why didn't they teach their mushroom seminar at her B&B-cum-retreat? So they visited Sorenson to consider the idea, and as they were exploring the property, they discovered she had "black trumpets" growing all over, a thin, horn-shaped mushroom, and one of the most prized forest fungi. Its flavor is so complex and powerful that some chefs use it like a spice. 
Since then, Norwegian Wood has hosted the workshop annually, and it has become so popular that Sorenson has to turn people away. As awareness of wild foods continues to grow, people are just beginning to realize there are more than just morels out there to enjoy.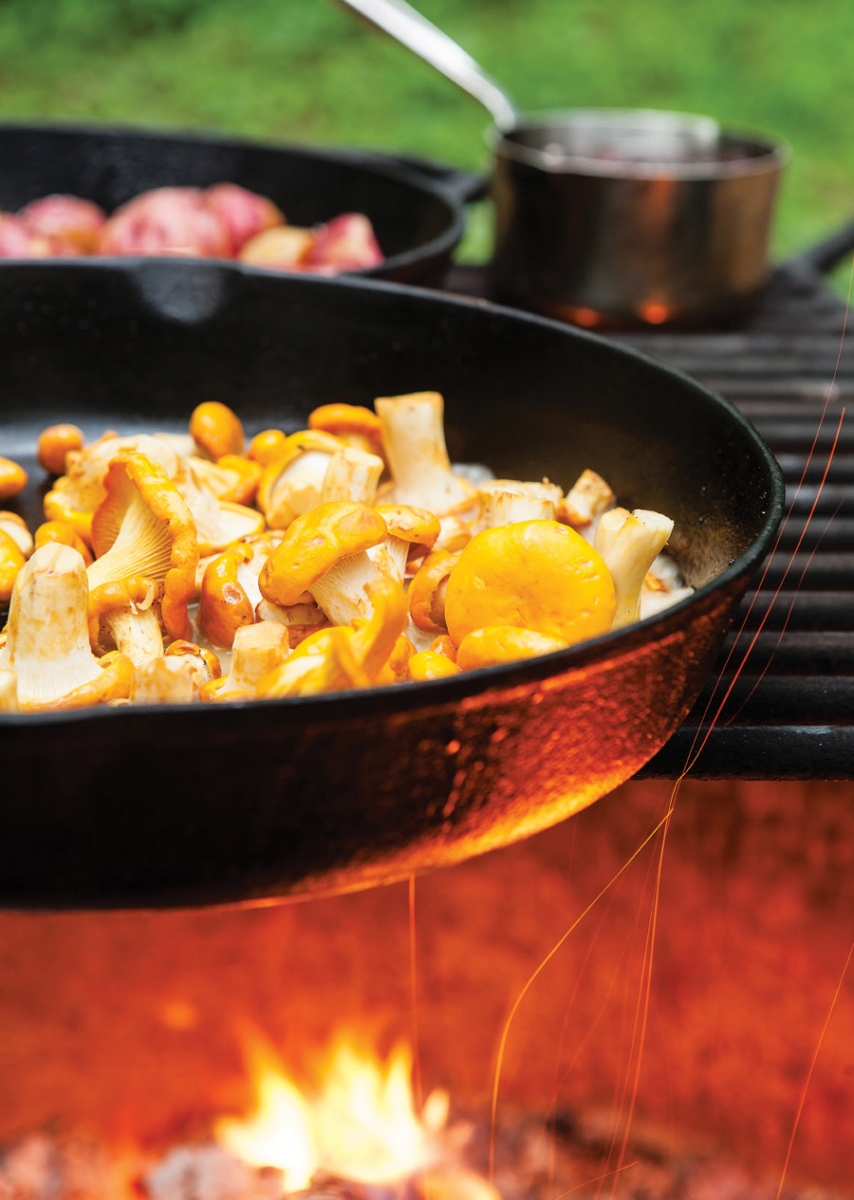 Chanterelle Mushrooms.
"Foraging is definitely on the rise," says Langdon Cook, author of The Mushroom Hunters. "There's been sort of a DIY movement to relearn these skills we think of our grandparents possessing, the home arts that have come back into vogue like fermenting, pickling, and canning."
That same movement certainly draws the crowds to Norwegian Wood. One by one we take our seats as the class starts and introduce ourselves. There are people who've driven from the far north and far southwest corners of the state. Most have picked morels before, but now they're ready to move on to more interesting fungi. One woman had emigrated from Ukraine, where it's common to collect wild mushrooms, and she wanted to learn the varieties in her adopted state. Another student is an insect researcher at the University of Minnesota who saw lots of mushrooms while she was dragging for ticks, but never knew exactly what they were. 
For each of us, there's a mix of fascination and fear. As one man puts it, "I love mushrooms, and want to collect them without killing myself."
This concern lurks in our minds, and we can see it reflected in the spread of mushrooms our instructors lay out at on tables at the front of the room. There are 74 species resting on paper plates, all recently picked and divided into four groups. 
First are the "Common, Delicious, Super-Safe Edibles," which include golden chanterelles, chicken of the woods, pheasant's back, and bluing boletes, a beautiful mushroom that turns blue when it's cut or bruised.
Next to these are the "More Challenging Edibles," ones that require a deeper knowledge of mushroom anatomy: crown-tipped coral, the indigo milky, and corn smut. 
Then come the "Inedible Mushrooms," which might upset your stomach, or taste terrible, but they won't kill you: the hygrometer earthstar, the violet tooth, the birds-nest.
And then there's the last group, the really scary ones: "Poisonous Mushrooms: Including Some Deadly." Among these are witch's hat, jack-o-lanterns (which glow in the dark), and the fly agaric featured in Alice in Wonderland. But the loveliest—and deadliest—is an Amanita known as the "destroying angel." It is pure white, with a long delicate stem. A small bite is enough to kill you, though you might not know it for a few days. A few hours after consumption, you come down with nausea and fever. But these symptoms pass, and for a few days you feel better while your liver and kidney are slowly being destroyed, along with your intestines, heart, and brain. Three to six days later your organs stop functioning. There is no known antidote.
Everyone is keen to avoid this one, so we pay close attention as the Jordans embark on a detailed run-down of mushroom anatomy, speeding through nearly 200 photos to help us on our journey through the landscape of fungal knowledge.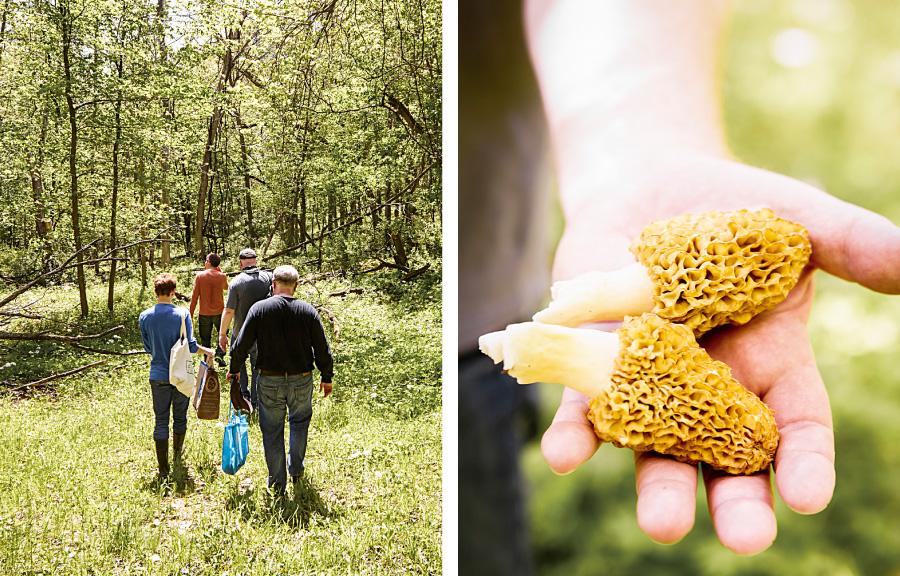 Chef Bret Bannon of Bret's Table Takes a group of foodies on a morel mushroom hunt in southern Minnesota. Photos by David Paul Schmit
The images are strange and alluring, like the organism itself. Many of us think of mushrooms as plants, but they're actually biologically closer to animals, which is why so many are named after meats: chicken of the woods, lobster mushroom, oyster mushrooms. (Porcini means "little pigs" in Italian.) Some can be cultivated, but many more cannot because they have specific, symbiotic relationships with certain trees and roots. They form vast underground networks that allow trees to know if one of their kind is being attacked by a parasite. Some mushrooms can paralyze and consume tiny worms called nematodes.  
Interestingly, the mushrooms we see and eat are actually the "fruiting body " of the fungus. The vast majority of the fungus lives underground as white, thread-like material called mycelium, which can run for miles and spread throughout entire forests. 
"The way to think about it is like an apple to an apple tree," says Mike Kempenich, who runs a mushroom foraging company called the Gentleman Forager. "The body of the mushroom lives underground all the time, and when conditions are right, it produces fruit like the apple tree."
At Norwegian Wood, mushroom parts fly by on the screen: caps, stems, teeth, umbos, pores. It's all a bit much to take in, but we try. Several hours later, we stumble outside, grab baskets, and wander off into the woods to forage, armed with hopefully enough knowledge not to poison ourselves.
I take my basket and head out along a mown path until I see some mushrooms and wade through the brush after them. There seem to be mushrooms everywhere. As we were told, Minnesota has some of the best mushroom territory in the country, given our large amounts of intact forest.  According to Langdon Cook, people are picking mushrooms in every state, but Michigan and Minnesota in particular are considered rich hunting grounds.  
This is changing the way we eat. "Ten years ago, you couldn't pay chefs to use lobster mushrooms," Cook says. "They look like alien space eggs. They're neon orange, contorted, freaky looking things. But they have this hint of the sea about them, and they're delicious."
Today, chefs can and do pay for lobster mushrooms, which is how Kempenich makes his living. Nine years ago he was a corporate recruiter when, as he explains it, he "had a boss who gave me an opportunity to look for a new opportunity." He found himself wandering through the woods a lot, picking mushrooms and wondering why he couldn't order them in a restaurant. He decided to fill that niche and started foraging and cultivating.
"My very first client was chef Sameh Wadi from Saffron. I remember walking in and I had a tub of about 10 pounds of oyster mushrooms. It was January, and I walked in and he said, 'What do you got there?' He looked in the tub, looked at me, looked back down in the tub again, and says, Those are really f—ing sexy."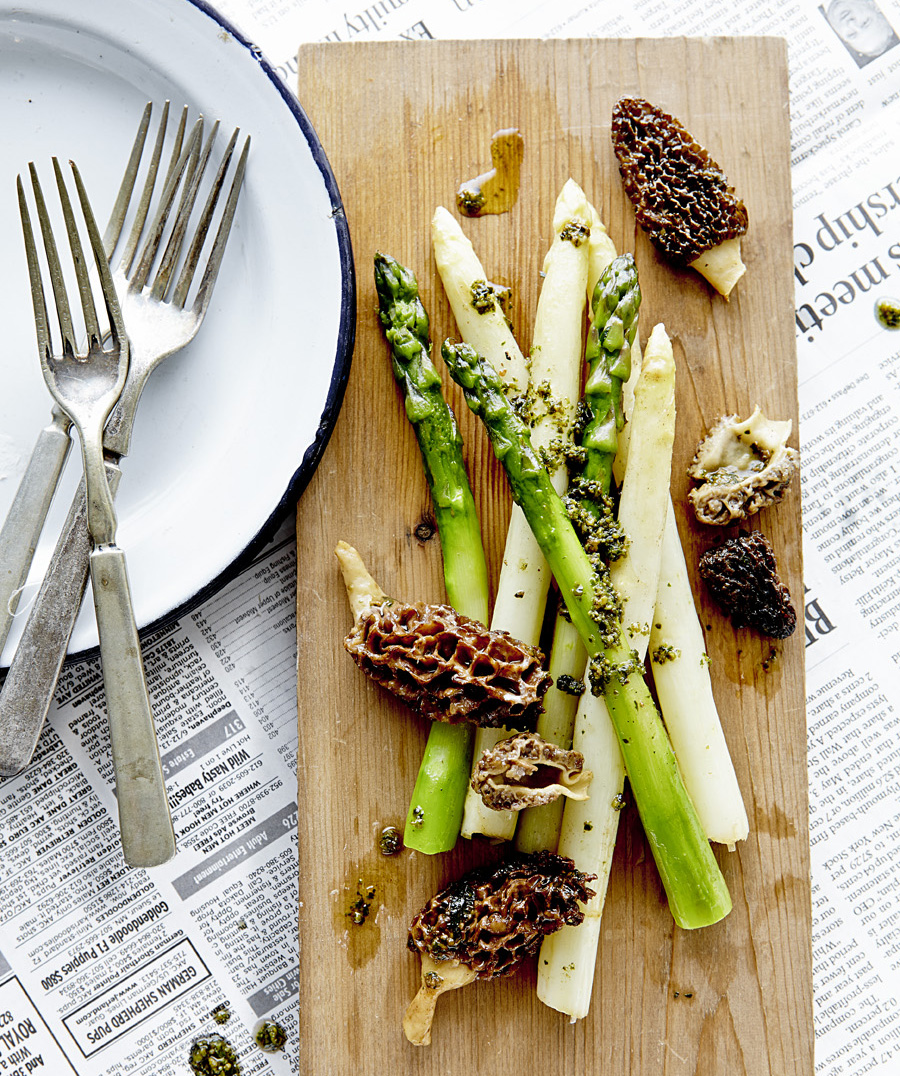 Morel Mushrooms. Photo by David Paul Schmit
Today Kempenich no longer cultivates his own, but strictly forages, and the market has grown to demand as much as he and his employees can collect. He now sells to about 50 of the top restaurants in the Twin Cities.
"It's changed a lot," says Wadi. "When I first started cooking, people were afraid of wild mushrooms. Now they're really excited about them. There's no fear like there was 15 or 20 years ago."  
Today, Wadi buys all kinds, including lobster mushrooms that are braised and served with goat cheese dumplings. Over at Icehouse, chef Matt Bickford's "mushrooms skillet," featuring whatever Kempenich brings that week, has become one of their most popular items. Tim Fischer, the chef at Cosmos who recently relocated back to his home state, remembers his first taste of wild chanterelle, which he had when he was working as a chef in Aspen, Colorado, in the late 1990s.
"One day I went on a hike up to a glacial lake and caught four trout. On my way out I found a patch of chanterelles and I picked them. Then I came home and the only thing I put with either of them was salt and pepper and butter. It was one of the most amazing meals I ever had."
Last summer, Fischer spent almost every day in the woods collecting mushrooms. "In Minnesota, there are more than 5,000 different kinds of mushrooms alone and hundreds we can eat," he says. "We pickle them. We preserve them. We can them. We dry them. We powder them. We serve them with dishes. We make pastas with them. You name it."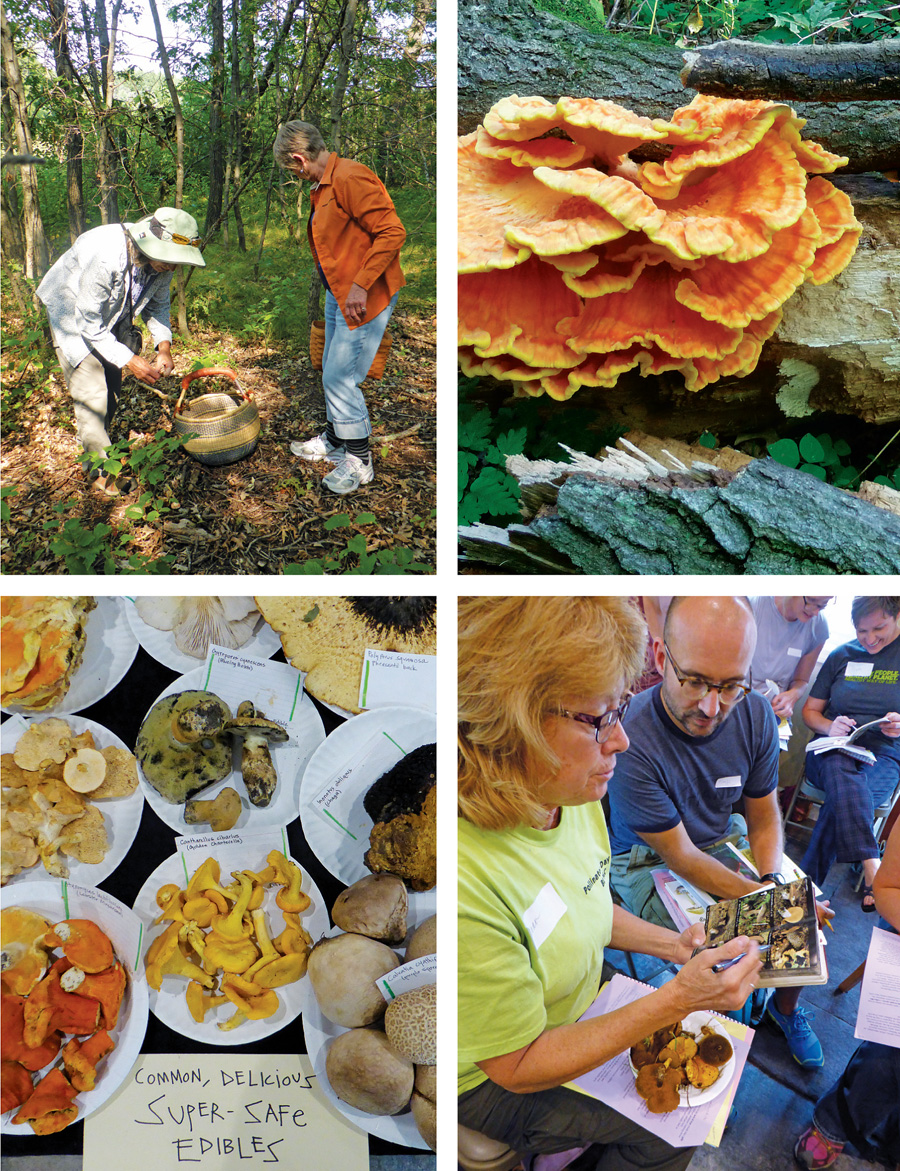 Learning about Mushroom Foraging at the Norwegian Wood Workshop. Photos by Sarah Foltz Jordan
In the woods, I pick like mad, filling my basket before I even notice that I'm standing barelegged in a patch of poison ivy. I hurry out and make my way back to the house, where I find Jordan. He looks in my basket, then picks out each mushroom and throws it on the ground: poisonous, poisonous, inedible, poisonous. He cracks open one I'd thought was a puffball to show a mass of black powdery material: pigskin poison earthball. Another is a rock-hard bracket fungus of some sort. A few others are fly agarics, good for killing flies and people. He shakes his head, as if I had learned nothing.
Defeated, I look in his basket, where he has a handful of lovely black trumpets. I ask where he got them, and he points back down the hill behind us.
Down the slope I look around but don't see much. A few more fly agarics. Some small white bracket fungi on a tree. Then, after standing still in the same place for a few minutes, they begin to appear. They blend in almost perfectly with the dark, curled leaves: black trumpets. It seems as though they are sprouting out of the ground as I stand there.
I pick and pick. They're huge! As big as gramophones! When my basket is almost full, I walk back to the house and find Foltz Jordan at a table sorting through the mushrooms her students had foraged. She looks in my basket and her eyes grow wide. "Wow!" she says. "You should get a prize!"
I pick up one of the mushrooms. It's silky to the touch. As I hold it to my nose and draw in its chocolaty smell, I know I already have one.
---
Watch Salt Cellar Chef Alan Bergo hunt for chanterelle mushrooms in the Minnesota woods:
For more foraging videos of Chef Alan Bergo, visit foragerchef.com.
---
Books for Foraging
Fascinating Fungi of the North Woods, by Cora Mollen and Larry Weber
Mushrooms of the Upper Midwest: A Simple Guide to Common Mushrooms, by Teresa Marrone and Kathy Yerich 
Mushrooms of the Midwest, by Michael Kuo 
National Audubon Society Field Guide to North American Mushrooms 
North American Mushrooms: A Field Guide to Edible and Inedible Fungi, by Orson and Hope Miller 
Online Resources
Events
Norwegian Wood workshop, August 21st (norwegianwoodretreat.com)
Minnesota Morel Fest in spring (mnmorelfest.com)
Mike Kempenich's summertime "Lobster Mushroom Jamboree"
Minnesota Mycological Society hosts seasonal meetings and forays