Gavin Kaysen's new, tasting menu-only restaurant opens Friday, Februray 15, and if you don't have a reservation for February or March, you're out of luck (for now). With just 20 seats and two turns a night, there are only 200 reservations available every week. I don't have a reservation either (I failed when I tried to get one last week), and thus I'm caught in a quandary. Do I write about a media preview to give you a look at what they're doing there? Normally my writing is about places I show up to during regular operation. I pay the bill, and no one knows if I'm reviewing it or just visiting for fun. Since there's a solid chance I won't be able to get a reservation for April either, I've decided to write about what they showed us in a preview.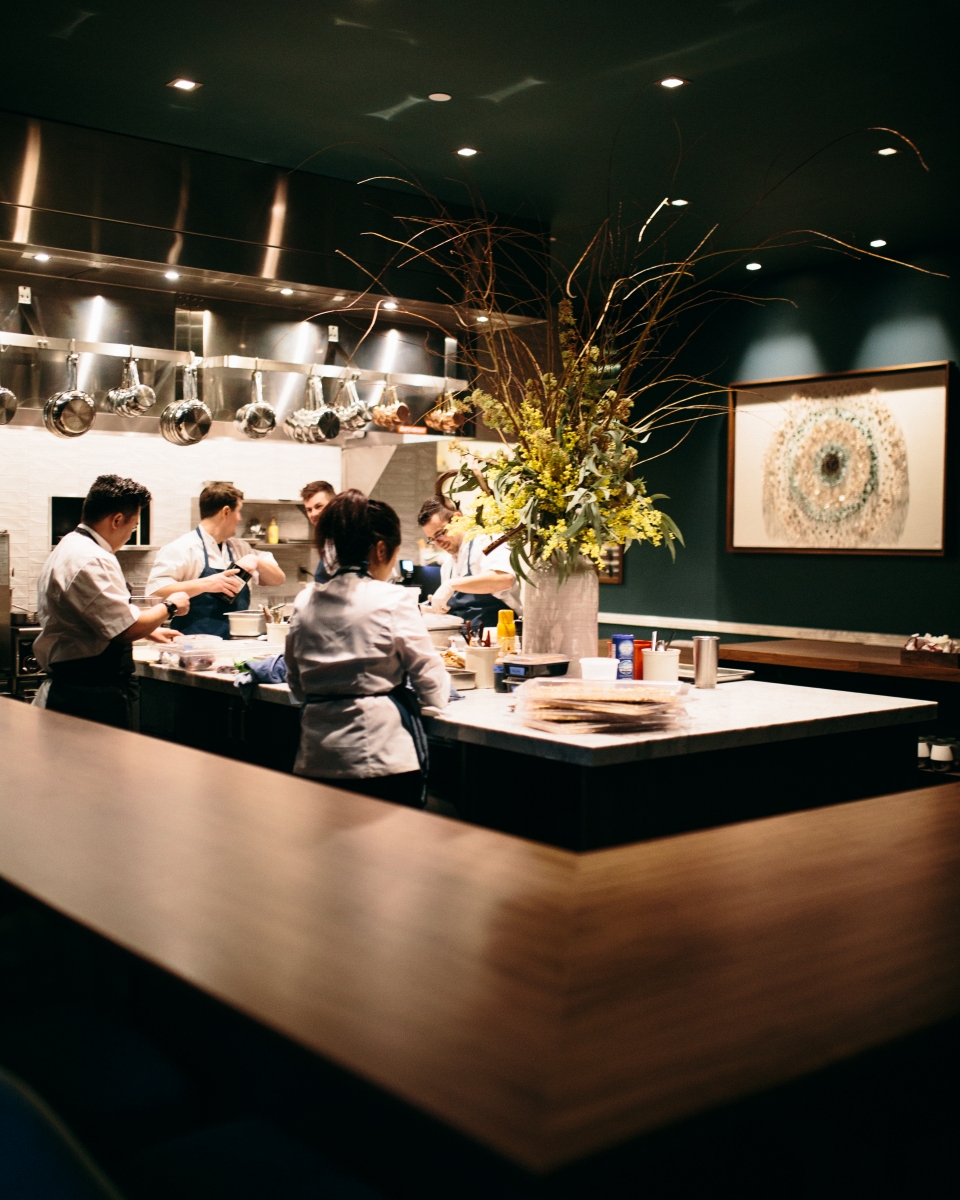 Photo by Libby Anderson, for Demi
---
The Barrington Menu is designed to be a two-hour experience, priced at $95. The regular wine pairing is an additional $55, bringing the total to $150 before tax and tip. The menu is ambitious. It pushes the limits of flavor and presentation—an exercise in precision. Technically, there are 14 courses on this base menu, but some of them are tiny little bites. They're marinating trout roe in chai before delicately placing them on a turnip-and-maple tart. There's an incredible winter-squash tamago (an eggy Japanese mini-omlette you often see with sushi). Also: a venison tartare bite and a Belon oyster. Before the parade of small bites, prepare your palate with an herby beef broth, layered with allium (including scallions, chives, leeks, shallots) and matsutake mushroom flavors. 
Photo by Jason DeRusha
---
The first substantial plate (relatively speaking) is a king salmon dish, with two pieces of belly served raw, one piece charred on a Japanese grill. It sits in a rhubarb-ginger-radish jus, with dabs of blood orange and linden honey. Then: an homage to a Minnesota fruit salad, with foie gras, hickory nuts, and surroundings of gelatin and thin slices of apple, all topped with a dab of fromage blanc. Cheeky! Fun! Not like my mom's fruit salads! (With all due respect to Mom…)

Not your mom's fruit salad
Photo by Jason DeRusha
---
Two fish dishes might be the most mind-blowing. First, a black cod in sabayon with mildly pickled crabapple (boshi), chestnut, and charred scallion. Fatty, luscious—a wow bite.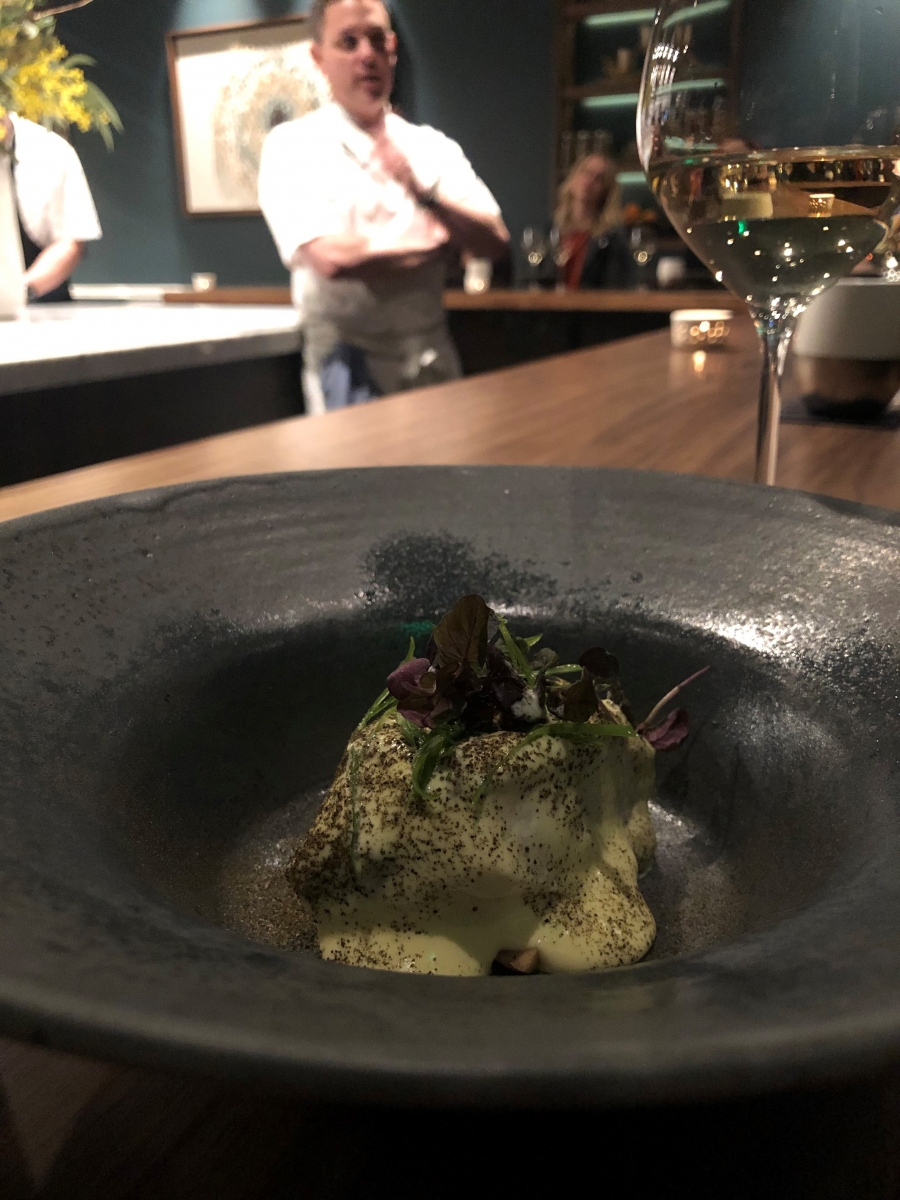 Black cod in sabayon
Photo by Jason DeRusha
---
Then, the octopus arrives, a sort of deconstructed stew with bacon lardon, mushrooms, red currants, and a crazy combination of earthiness and acidity. Perfectly seasoned and cooked. 

Octopus with bacon lardon, mushrooms, and red currants
Photo by Libby Anderson, for Demi
---
For some of you, the Iowa wagyu beef-strip loin will be the most mind-blowing, served with two paper-thin raviolis made from butternut squash, plus a crazily addictive, raging-green nettle mustard. The sauce (thickened with pig blood) is applied right in front of you.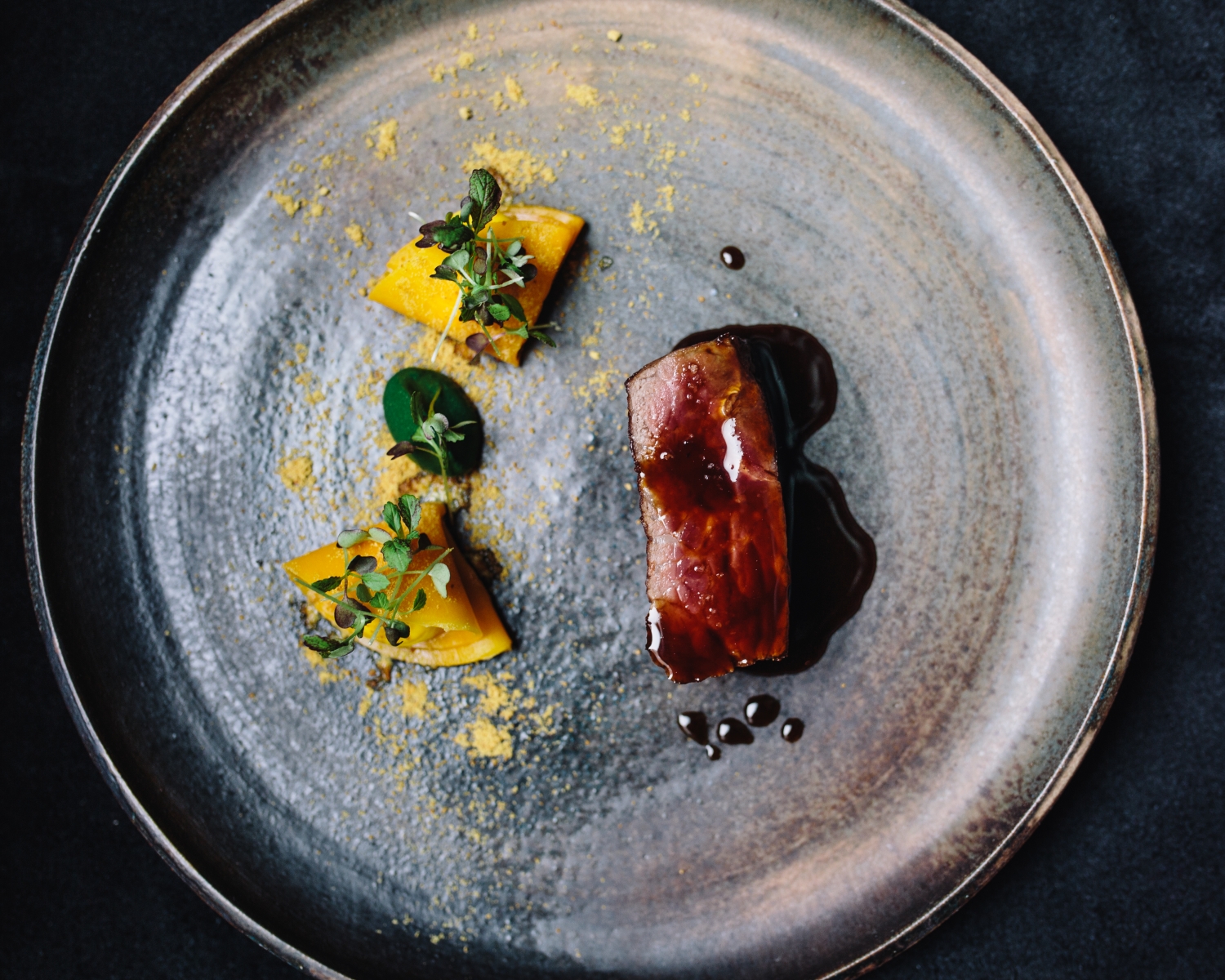 Wagyu beef with raviolis
Photo by Libby Anderson, for Demi
---
Finally, Diane Moua's desserts. She is one of the great talents in the U.S., and this stage allows her to stretch and create and innovate. The chocolate crémeux, served with a crunchy orange candy and beeswax ice cream, was particularly fantastic.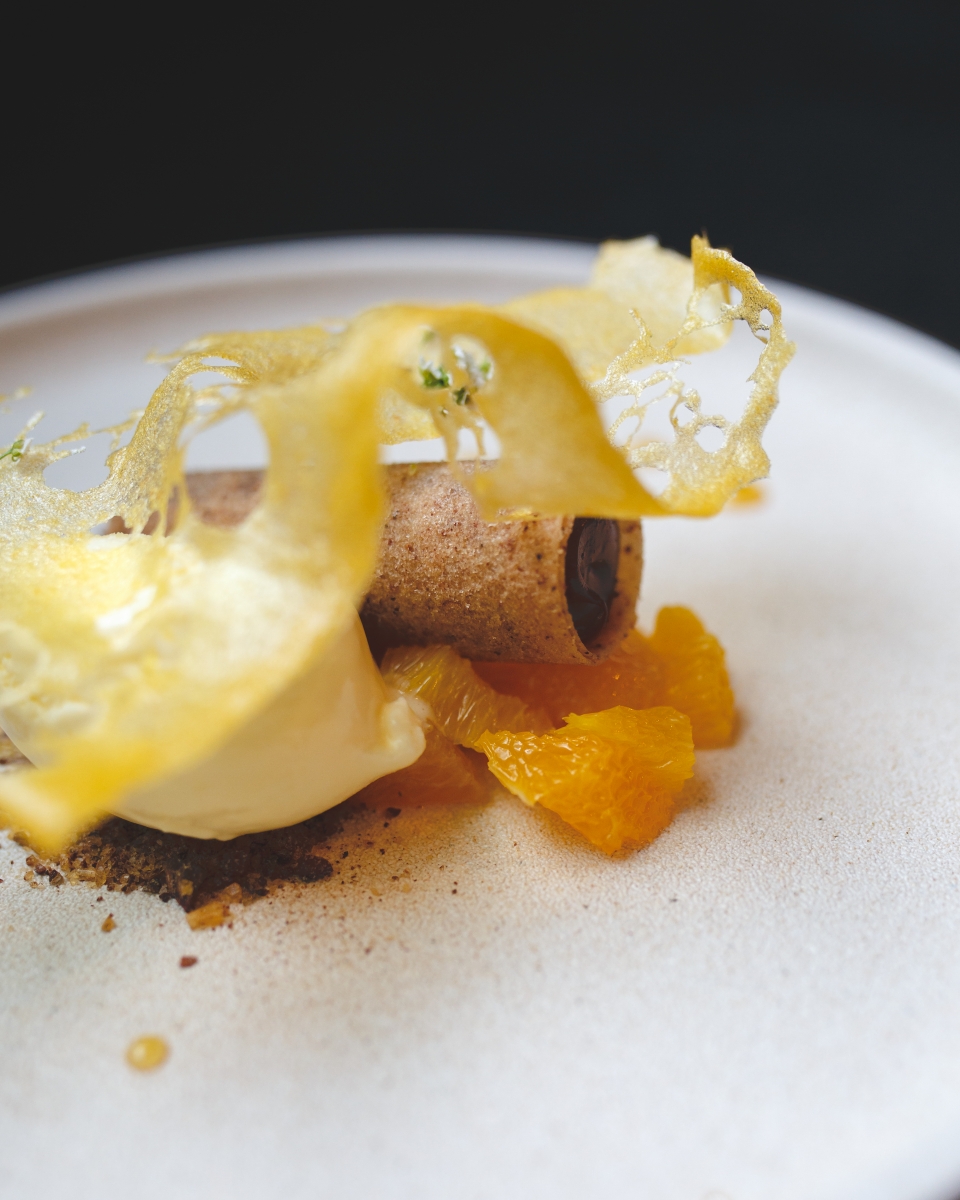 Chocolate crémeux
Photo by Libby Anderson, for Demi
---
The wines were great complements. The $55 Demi base pairing works so nicely that, unless you're a crazy wine fan, there's really no reason to upgrade to the Reserve pairing. The 2016 Goisot Côtes d'Auxerre had a citrus finish that flowed right into the salmon. The Sweetland Orchard Rustic apple cider had a sweetness that played perfectly with the foie gras fruit salad. A red Vinho Verde from Portugal will be a new experience for many, and a 2007 Marqués de Varga Rioja Reserva is the perfect match to the wagyu and that nettle mustard.
We can't wait to see what the first reports will be from people quick enough to snag those early reservations. And I'm curious to see how the $125 W.C. Whitney menu compares to the Barrington menu we got to preview. This isn't a review, of course. It's impossible to judge a restaurant when it's putting on its best show for media members. But it does give us—and you—a sense of what they're shooting for. It's a lofty target. 
---
Demi
212 N. Second St., Minneapolis
Facebook Comments