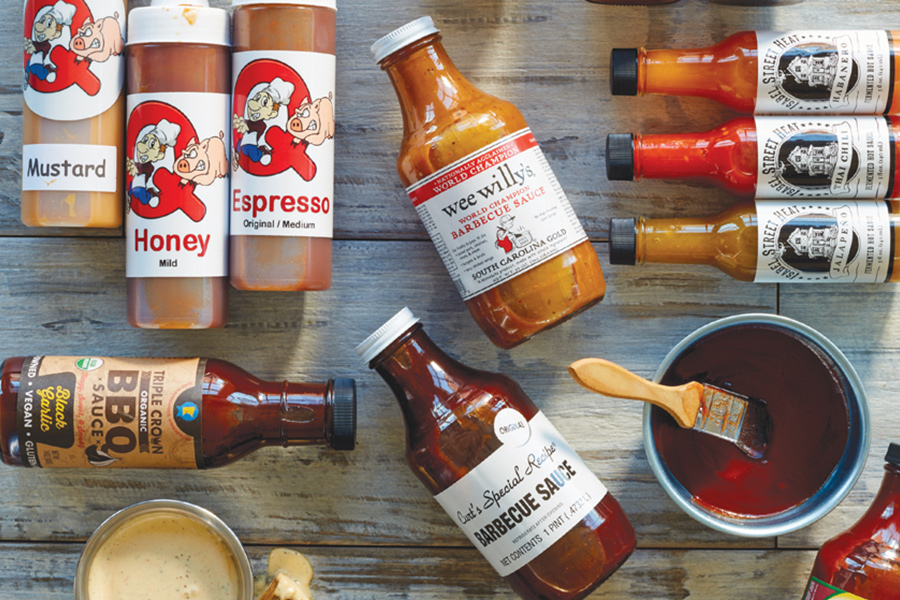 photo by terry brennan; styled by lara miklasevics
---
Q Fanatic BBQ And Grill
Charlie Johnson is a student of great barbecue. No thanks to his upbringing on a central Minnesota farm, where his mom made Scandinavian Minnesotan-style boiled ribs, "and used sauce to cover up the lack of flavor," he says, laughing.
At the Culinary Institute of America, one of Johnson's instructors made a barbecue sauce that featured coffee. So, like any bright student, Johnson took that inspiration and went for a slightly larger jolt: espresso.
He started giving it out for Christmas in canning jars around 1990, and when he was running an Italian restaurant, he used it for a pizza sauce. Fast forward to 2007, when Johnson decided to open a barbecue restaurant in north suburban Champlin. He read a bunch of Southern kids' college papers to learn barbecue sauce's origins.
"It came from Scotland to the Carolinas," he says, and it was pretty simple: just vinegar, sugar, and peppers. Johnson says he looked at about 100 recipes for vinegar sauces before settling on his favorite; he did the same for mustard.
"It's a 'love it or hate it' kind of thing," he says of Q Fanatic's mustard sauce. The mix of basic yellow mustard, cider vinegar, brown sugar, peppers, Worcestershire, pepper sauce, salt, and pepper is the dream match for his smoked sausage and awesome beef brisket.
He makes a pepper vodka sauce, too. Like all Q Fanatic's sauces, it's made fresh almost every day. "I like vodka as a cooking ingredient," he says. "It picks up all the nuances of the herbs you use." Take a pile of peppers, jam it into a bottle of vodka (What kind of vodka? "Junk! It doesn't matter!"), then flame off the booze, and create the sauce.
Still, it's that old Christmas present, the espresso barbecue sauce, that's the most popular. "It has a touch of coffee," he says, but the real magic comes from jalapeños and cilantro, "that's what gives it that different flavor."
It's sweet on the palate at first, but then reveals a depth and complexity of flavor that sings. For a guy making some of the best sauces in Minnesota, Johnson doesn't want you to overdo it. "Good barbecue doesn't need sauce," he says. "Barbecue needs to stand on its own. Sauces should enhance." -J.D.
180 Miller Rd., Champlin | 763-323-6550 | also: 6009 Nicollet Ave. S., Minneapolis | 612-702-2530 | qfanatic.com
---
Triple Crown Organic BBQ Sauce
Named after its three blue ribbons from the Minnesota State Fair, Triple Crown is USDA-certified organic, gluten-free, and vegan. More importantly, each flavor is packed with complex, smoky, saucy magic. Don't miss the spicy Cayenne variety, or the rich Black Garlic. -J.D.
Ken Davis BBQ Sauce
Ken Davis used to own a joint selling ribs, chicken, and pizza in Minneapolis in the late 1960s, but closed it to try peddling his sauce instead. Thank goodness. For more than 40 years, this smoky-sweet sauce has coated Minnesota's ribs, briskets, and turkeys. Can't beat the original. -J.D.
---
More Sauce
Double Take BBQ Sauce
Sweet Baby Ray's BBQ
Croix Valley Sauce
Cry Baby Craig's
Curt's Special Recipe
Isabel Street Heat
Wee Willy's BBQ Sauce
Sven's BBQ
Cookie's BBQ Sauce
Legendary Mr. B's BBQ Sauce
Demon Pig
Saucy Tip
Many of your favorite restaurants will have their sauces for sale. Savor the flavor of Smokey's Pub & Grill and OMC Smokehouse in your own kitchen.
Facebook Comments