Martina's artful cocktails (above) include (back row, left to right) the Viceroy, the Gancia Batido, (front row, left to right) the Naked Ballerina, the Sous Les Mers, and the Spanish Gin and Tonic
photo by terry brennan; styled by lara miklasevics
---
No. 1 Martina
4312 S. Upton Ave., Minneapolis | 612-922-9913 | martinarestaurant.com
Consistently excellent. Maybe that doesn't sound like bombastic enough praise to make Martina our top new restaurant of the past year, but the high-quality, intensely flavored pastas, meats, and Argentinian-inspired small plates that chef Daniel del Prado and his team bring every day are a true achievement.
"That's an Issac thing," del Prado says, crediting his mentor, chef Issac Becker. The menu shines at any point during a nightly dinner service: "At 5 o'clock you want to put 15 dots on a plate, and at 8:30, it's totally different. So we designed the menu so the food would be good always. At the end of the day, it's all about flavor. It's just food. You're not a painter."

Chef Daniel del Prado
photo by terry brennan
---
Del Prado ran Becker's Italian staple Bar La Grassa and opened the acclaimed steakhouse Burch Steak in Minneapolis. No surprise: He has a knack for pastas and meat cooked over an open fire.
Martina's chilled seafood platter with oysters and smoked scallops would make the perfect start to a baller anniversary celebration. But Martina is also a neighborhood restaurant: gnocchi and lamb fusilli are both under $20, the pork chop is just $26, the grilled swordfish $25, and there's even a kids' menu perfect for your future Linden Hills foodies.
photo by terry brennan; styled by lara miklasevics
---
"It's all about highs and lows in the menus," del Prado says. "The space has expensive chairs and tables but the floors are really rustic."
It's true to del Prado's Argentinian heritage—a desire to work hard, be consistently excellent, and offer great service. In other words, there's no cheffy ego here.

Tuna tiradito
photo by terry brennan
---
"We constantly question ourselves: 'How are we doing?' I ask the servers, 'What is your feedback?' If someone says they liked a dish but they're leaving half of the plate uneaten, I want to know why," says del Prado, the first chef I've ever heard admit to taking Yelp and OpenTable reviews seriously.
photo by terry brennan
---
What makes Martina special, though, is the total operation. It's the service, ambiance, and culinary craft. The cocktails are works of art that shock and amaze with unique flavors and Instagrammable design. Weekend brunch features del Prado's addictive potato churros—their creamy insides and crunchy outsides inspired by McDonald's hash browns, he says. Del Prado's cheeseburger is equally addictive. All in all, it's made Martina the spot to be. –Jason DeRusha
Must-try Dish: Tuna Tiradito
---
photo by matt lien
---
No. 2 Hai Hai
2121 University Ave. NE, Minneapolis | 612-223-8640 | haihaimpls.com
Without question, the most thrilling strip-club-turned-national-critic-baiting restaurant of the year is Hai Hai. The second culinary outing of Christina Nguyen and Birk Stefan Grudem, who launched the wildly popular Hola Arepa, is a tropical vacation in the heart of northeast Minneapolis. It's a restaurant that bursts out the gate with fistfuls of herbs and plenty of fish sauce.
In the kitchen, Nguyen connects with the flavors of her Vietnamese heritage, evoking the streetside cuisine you can find traveling through Southeast Asia—which the two used to do during their off season. Serving something so un-Minnesotan in its spice and funky flavor was a huge risk that paid off. Nguyen and Grudem have been happily surprised by the response. "When we were dreaming up the restaurant and building it out, there was always a fear that people wouldn't understand," Nguyen says. "We were pleasantly surprised to find that people are adventurous and open to new flavors, textures, and ingredients."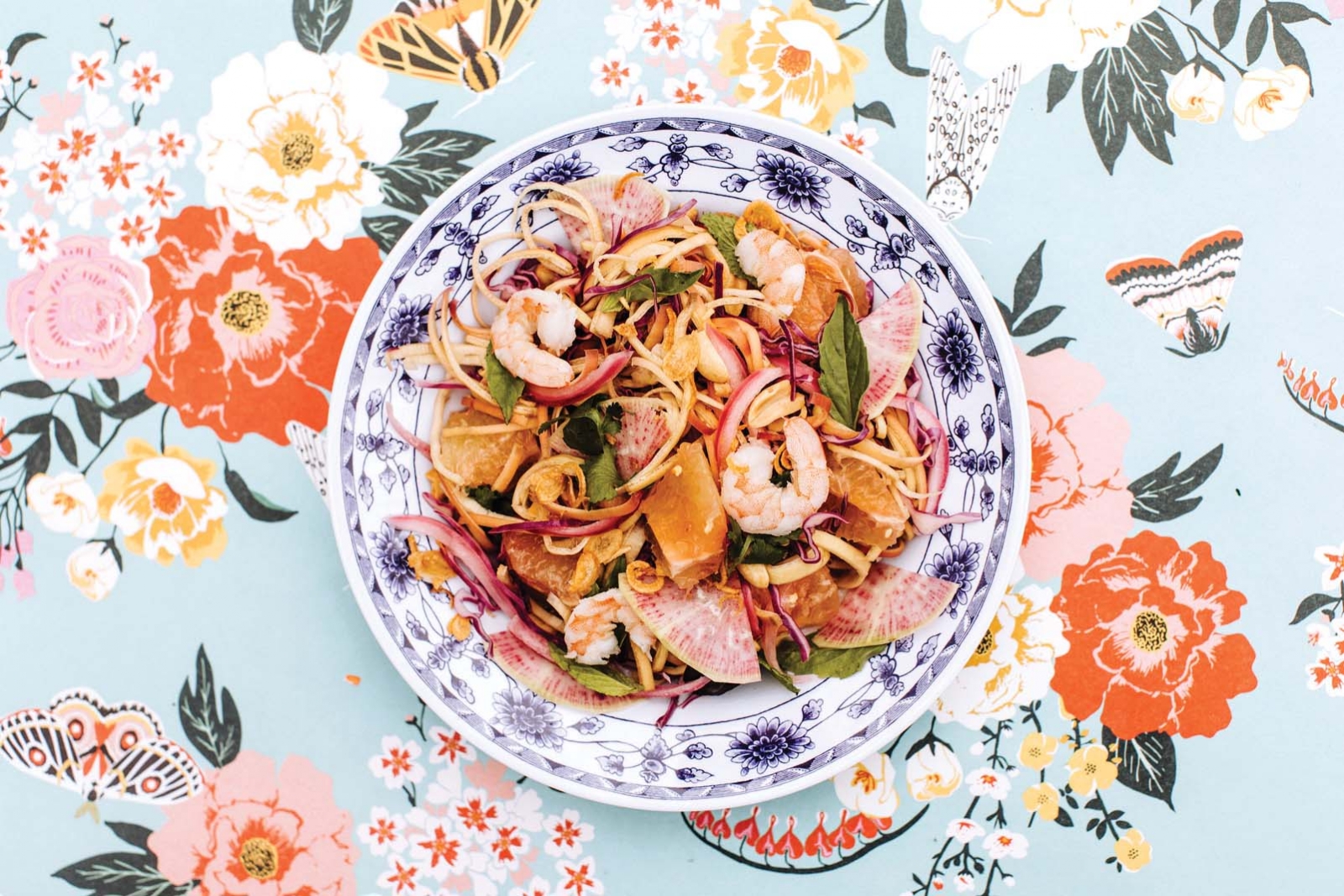 Banana blossom salad
photo by matt lien
---
Behind the bar, Grudem's crew freshly juices sugarcane for tropical drinks that go beyond the tiki trend. Try the Next Up…, with ginger, Thai basil, and your choice of spirit. (Personal opinion: Go with bourbon.)
Dishes like the banana blossom salad, dressed with earthy nuoc cham and zingy grapefruit and mixed with shrimp, aren't found on many Minnesota tables, but it's a dish everyone should experience.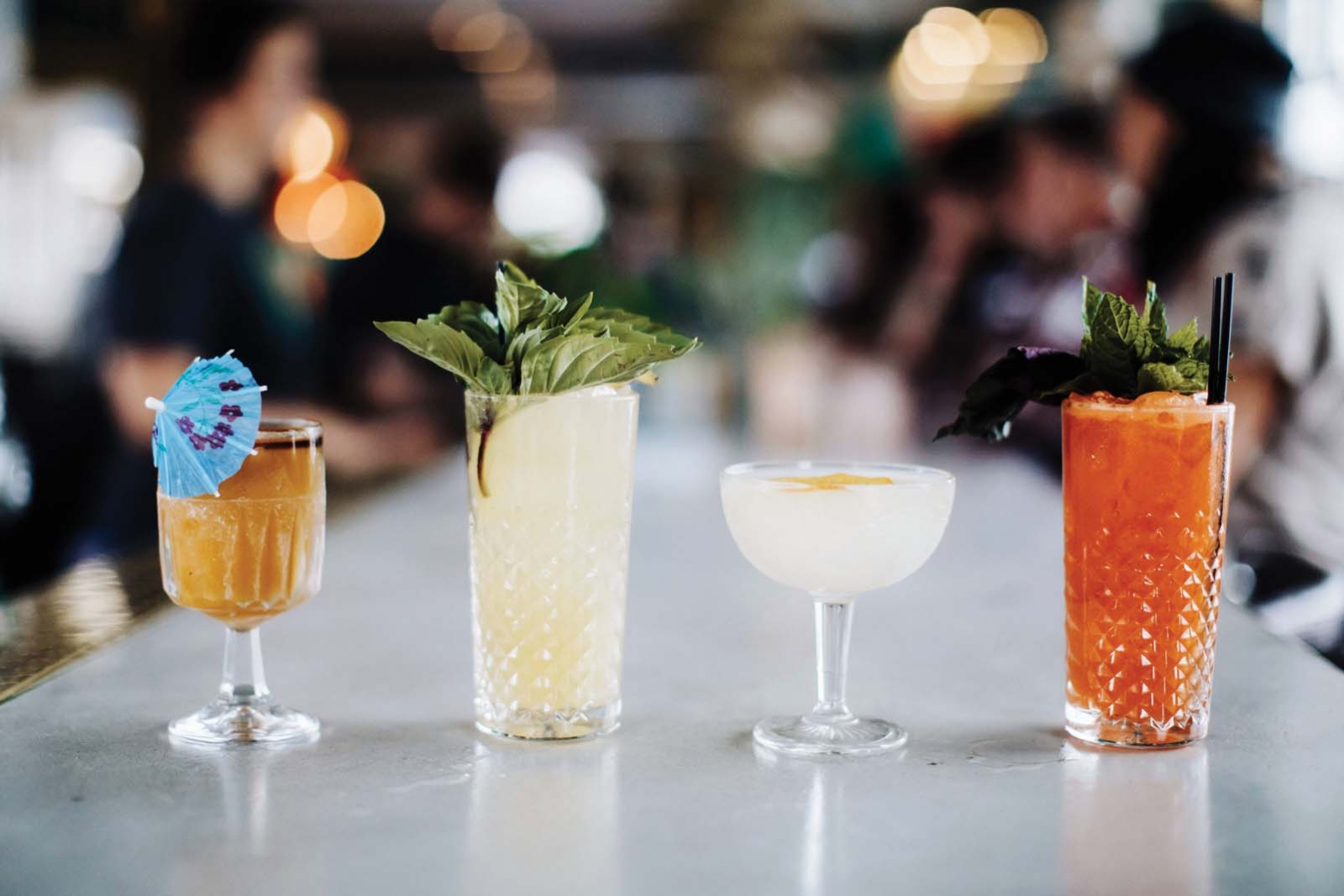 Cocktails with Southeast Asian kick (below, left to right): Hai of the Storm, Next Up…, Lychee Keen, and Hai Thai
photo by matt lien
---
"It's heartening to hear that this food that's so nostalgic for me and close to my heart can also make other people nostalgic for dishes they grew up eating or have tried in their travels," Nguyen says. –Joy Summers
Must-try Dish: Banana Blossom Salad
---

Mezzalune
photo by terry brennan
---
No. 3 The Bungalow Club
The elegantly understated craftsman design of this humble Longfellow restaurant befits the new Italian cuisine served here, as chef Andrew Kraft fills his ever-evolving menu with local comforts and gracefully transformed seasonal produce. Just as we fell in love with one dish, like the springy fried chicken with dandelion greens—it gave way to another, like the tea-smoked half chicken, with succulent flesh and crusty skin. There is also the wine and cocktail list to swoon over. Kraft co-owns the restaurant along with Jeremiah Dittmann and Sam Rosen, who bring considerable restaurant experience to this worthwhile endeavor.
With the cozy wood accents and of-the-minute fresh pastas and entrées, the Bungalow Club fills the emptiness in our hearts left by Uptown's recently closed farm-to-table spot Lucia's. It's a new neighborhood treasure. –J.S.
Must-try Dish: Mezzalune
---
How We're Eating Now
Fixed Course Menus
Date-night dining has shifted into a new era. Gone are the chef's table menus with their odd locations, steep price tags, and all control surrendered to the chef. Replacing that way of eating are coursed options, where we, the dining public, get to be stewards of our own edible adventures with build-your-own tasting menus. –J.S.
Alma
The leader of the trend, with menus that are even sometimes called "Alma-style." Alex Roberts' groundbreaking northeast Minneapolis restaurant lets guests choose first, second, and third courses from ever-evolving, reasonably sized dishes.
Corner Table
This south Minneapolis restaurant's new chapter is led by chef de cuisine Karyn Tomlinson, and her courses are artful little bites of beauty. Delicately placed ingredients are visually sumptuous and often change depending on what arrives in the kitchen that day.
Joan's in the Park
This St. Paul institution has one of the most comfort-driven, inventive tasting menus available. The dishes are geared toward every kind of eater: Instagrammers, adventurous ingredient cravers, and even steak-loving dads will find something that speaks to them.
---

Share dishes family-stlye, like the tuna poke with swordfish (front) and the peel-and-eat shrimp (back)
photo by terry brennan
---
No. 4 Octo Fishbar
289 Fifth St. E., St. Paul | 651-202-3409 | octostp.com
Award-winning, iconic local chef Tim McKee and seafood: What more do we need to say? After a year working with seafood wholesaler the Fish Guys and learning everything he could, McKee and his team have brought the sea to St. Paul in the form of Octo Fishbar. Nostalgic dishes like the fried bluegill—a.k.a. sunnies—conjure up fishing with family; saltwater offerings like peel-and-eat shrimp, generously dusted with Old Bay seasoning, make you feel like you're on the Southeast Coast; and refined, raw items like the spicy and silky marlin aguachile remind you that McKee was the genius behind Minneapolis' French-Mediterranean eatery La Belle Vie. The seafood is the star here, but McKee elevates everything with rich and focused flavor.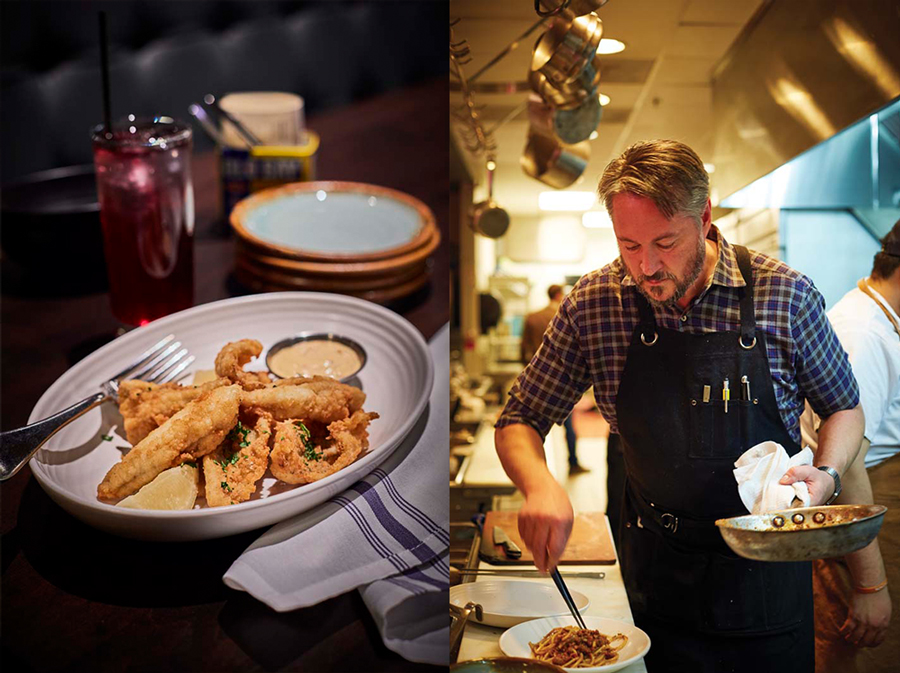 Left: Shore lunch sunnies; Right: Chef Tim McKee brings years of experience to an eclectic seafood menu
photos by terry brennan
---
Octo anchors St. Paul's Market House Collaborative food hall, which features Almanac Fish and Peterson Craftsman Meats, and they'll prepare your market purchase for $12. Don't miss weekend brunch, where a poached lobster comes with togarashi hollandaise, and the bar's top-notch cocktails include a fruity and smoky mezcal daiquiri. –J.D.
Must-try Dish: Shore Lunch Sunnies
---

Head-on shrimp in awesome sauce
photo by derrick koch
---
No. 5 Grand Catch
1672 Grand Ave., St. Paul | 651-348-8541 | grandcatchmn.com
This riotous St. Paul seafood boil is brought to us by just enough cooks in the kitchen. Sameh and Saed Wadi, of World Street Kitchen in Minneapolis, teamed up with chef Thien Ly of Brooklyn Park's Cajun Deli and the building owners who operate the Mediterranean restaurant Shish next door. The result: a Cajun boil with a Thai twist. Order seafood by the pound and get ready to make a joyful mess with Cajun or Isaan-style sauce.
photo by derrick koch
---
In addition to all the shellfish delights found here, this is also home to one of the best fried chicken sandwiches in the metro area. It's best to bring friends, and don't wear anything you would mind getting butter stains on. –J.S.
Must-try Dish: Head-on Shrimp in Awesome Sauce
---

Mushroom ramen
photo by michelle bennett
---
No. 6 Martha's Daughter
The room feels like a Nordic dream out of Brooklyn, but these rough-wood, church-pew seats, accented with fuzzy white pelts, are located in downtown Duluth. Owner Nyanyika Banda (whose mother is the eponymous Martha) has worked in several notable kitchens, and the tacos and bowls of ramen she has sold at pop-ups in area bars have had fans swooning. She transformed the original space of gyro empire Coney Island, and it marries the best of big-city dining and Duluth's artistic hometown charm. The cocktails are divinely refreshing, but it remains the thoughtfully built ramen broth that has folks driving in from all over the state for a slurp. This city has been known to experience sweater weather in July, so it's a welcome soup all year round.
The restaurant also serves as a culinary arts space where Banda teaches cooking classes. Martha's Daughter is an excellent addition to the exciting new food boom happening in the city. –J.S
Must-try Dish: Mushroom Ramen
---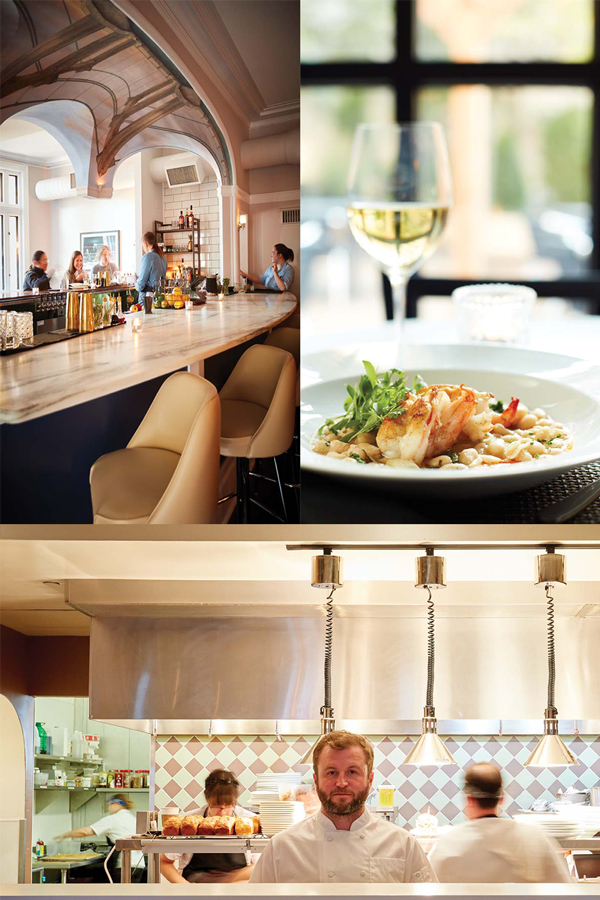 Top right: Yes, even more shrimp—crispy, butterflied, with white beans; Bottom: Check back in on chef Remy Pettus's menu as the seasons change
photos by terry brennan
---
No. 7 Bardo
222 E. Hennepin Ave., Minneapolis | 612-886-8404 | bardompls.com
It's a common dream of chefs to create a restaurant that suits their culinary whims in a way that still pleases neighborhood diners and critics, but very few can pull it off. Chef Remy Pettus achieved all of this in Bardo. Service in the restaurant's cozy room (with killer patio) runs smoothly, the seasonally changing menu keeps things interesting, and the restaurant is open late—even on Monday nights. The wine list is packed with interesting sips, and the cocktails are some of the best in the city. The mixed grain risotto might sound like something of a health food, with its farro and wild rice, but it's an astoundingly complex dish that mixes nutty flavors and textures into a marvel of a vegetarian dish. –J.S.
Must-try dish: Mixed Grain Risotto
---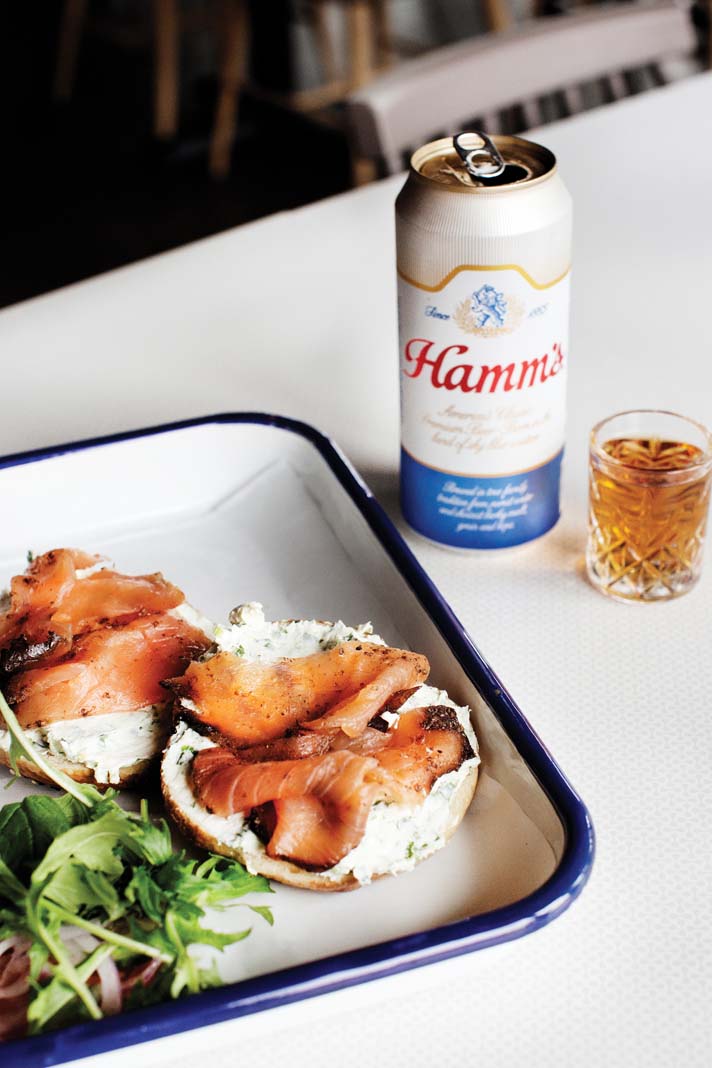 Everything bagel, horseradish schmear, with nova lox
photo by the restaurant project
---
No. 8 Meyvn
901 W. Lake St., Minneapolis | 612-315-4608 | meyvneats.com
Trying to make an authentic, New York-style bagel in the Twin Cities is a fool's errand. That's why chef Adam Eaton and restaurateurs Tim Niver and Laurel Elm were smart to make a Montreal bagel: No one knows what that is! Well, at least not until now.
Meyvn's bagel is yeasty and chewy on the inside, crispy on the outside, and slightly browned because of the beautiful wood-fired oven they've named Liza. But the fantastic bagels are only part of the story here: They're making peppery, juicy pastrami and corned beef for sandwiches, and serving a ribeye cheesesteak sandwich that puts the tourist traps in Philly to shame.
For dinner, Meyvn becomes a casual-yet-sexy destination for Mediterranean-inspired plates. We love the fried cauliflower and saffron rice with chermoula, the wood-fired chicken with harissa, and the Midwestern Caviar, which is whitefish roe served with a bag of potato chips.
It's rare to see a counter-service restaurant in our list of top 10 restaurants, but Meyvn's service is clearly inspired by Niver's impressive St. Paul restaurants, Mucci's and Saint Dinette. It's warm, friendly, and authentic. A top spot without question. –J.D.
Must-try Dish: Everything bagel, horseradish schmear, with nova lox
---
How We're Drinking Now
Pour Your Own
Combining high technology and seemingly infinite choices, the pour-your-own beer trend saves bars money on staff and gives drinkers portion control. A microchip-equipped bracelet tracks your purchases. –J.D.
Tap Society
From Hamm's and Miller Light to IPAs, sours, ciders, and tap wine, Tap Society is bringing new life to the south Minneapolis corner it shares with Patisserie 46. Most craft beers are either $0.44 or $0.47/ounce, or about $7 a pint. Owner Mike Fritz hopes to franchise the concept, and his sub-$6 burger is a great start.
First Draft
In Target Field's shadows, First Draft impresses with 54 taps of craft beer, wine, and cider. The locals represent, but because this is the second outpost of a national chain, there's depth to the list of outstate craft brewers. Perennial from St. Louis, Deschutes from Bend, Oregon, and Founders from Grand Rapids, Michigan, are all on tap. Small plates and shareable meat-and-cheese boards on the menu are designed to pair well with beer.
Can Can Wonderland
This artist-designed mini-golf course in an industrial St. Paul warehouse always gives me joy. Same with their self-service tap wall, featuring great beers and solid wines along with eight of Can Can's cocktails. Yes, you can still order artistic cocktails designed by Bittercube, but sometimes you just want a couple ounces of an Old Fashioned or Cuba Libre
---

Traditional spaghetti and meatballs
photo by aaron kessler
---
No. 9 Red Sauce Rebellion
I know recommending a simple spaghetti with meatballs at a top-10 eatery seems crazy, but red sauce is in the name of this downtown Excelsior favorite. Another popular spot by Red Sauce Rebellion chef Eli Wollenzien, Coalition, serves American fine dining up the street (and now in Edina), but there's something so joyful about his home-style Italian place.
The sauce is bold, dark, and deep red. It's thick and rich, and uses gremolata (a combo of lemon, garlic, and parsley) for acid and lift. While the creamy vodka sauce in the trofie pasta is surprisingly light, the lasagna is the polar opposite. It's a monster serving, with incredibly fluffy layers of ricotta cheese and mozzarella. Add meat sauce and thank us later.
Instead of traditional pizza, there's biscuit-crusted, deep-dish Rebel Pie in a cast-iron pan. And who doesn't want to be a rebel? Especially sitting a block from Excelsior Bay, drinking a glass of Barbera, and eating Italian food that you wish your grandma had made. –J.D.
Must-try dish: Traditional Spaghetti with meatballs
---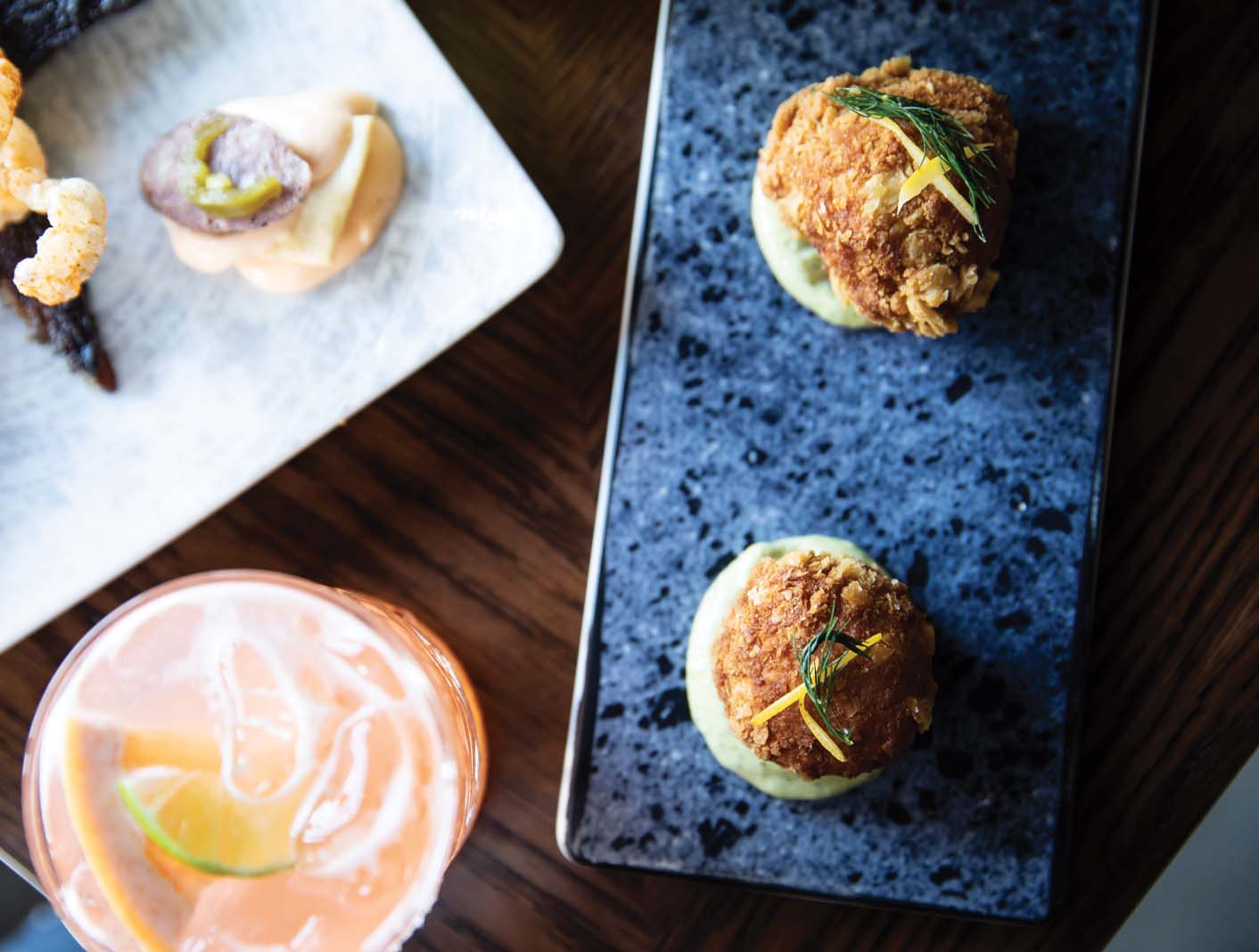 Smoked trout fritters
photo by leigh loftus
---
No. 10 Feller
402 Main St. S., Stillwater | 651-571-3501 | fellerrestaurant.com
Inside the knockout of a new, boutique Lora Hotel in downtown Stillwater sits a revelation of a restaurant—inspired by hunters and gatherers and featuring grass-fed beef and bison, beer-brined quail, and wild vegetables and herbs. Chef Sam Collins manages to run a hotel restaurant serving lunch and dinner (plus breakfast and brunch on weekends) that appeals to any diner, but with integrity for the most food-forward. The trout fritters are magical, with great texture on the crust and smoky creaminess on the inside. A wild nettle spaetzle with mushroom butter sauce tasted as if it emerged from the forests lining the nearby St. Croix River.

Patio-perfect cocktails (left to right): Amelia's Choice, Old Fashion Feller, and Pink Panther
photo by leigh loftus
---
The room is rustic and elegant, with exposed brick evocative of the caves that the hotel and restaurant are nestled into. There's also a vibrant bar and a nice patio overlooking the revitalized and interstate traffic-free downtown. –J.D.
Must-try Dish: Smoked Trout Fritters
---
New Suburban Stars
You don't have to drive into the Twin Cities anymore to find great restaurants. Wayzata has blossomed into a full-on dining destination, and now we're seeing it happen in Stillwater, Hopkins, and
Elk River. –J.D.
Pearl and the Thief, Stillwater
This sexy space with an upstairs lounge overlooking the river serves incredible oysters. You'll also find one of the state's best sandwiches: buttermilk-fried chicken thigh. Collard greens are bright and earthy with smoked mushrooms. At dinner, go for shrimp etouffee or oxtail ravioli, and don't miss the cocktails.
Thirty Bales, Hopkins
Fennel-dusted goat cheese? Hay-roasted chicken? What the heck is happening in the former Big 10 restaurant in downtown Hopkins? With consulting from the team behind the farm-to-table Wise Acre Eatery, Thirty Bales is a locavore's dream with suburban appeal. (Don't miss the deep-fried deviled eggs!) And they really roast chicken on parchment atop soaked hay, which infuses the bird with grassy, earthy flavor. Cool!
Chow Grill, Elk River
"Something for everyone" is usually a recipe for disaster, but chef Marco Serrano makes it work at his newly opened destination eatery. The room is beautiful, with a large, open, modern-lodge feel. Date-night dinner? Get the ribeye with au poive sauce, or scallops with fiddlehead ferns and shishito peppers. Family dinner? Wood-fired pizzas, solid burgers, and pastas made from Serrano's family recipes. 
---
What's for Dessert?
The pie craze that has swept the nation in the past few years has landed, fresh and ready, in the Twin Cities. –J.S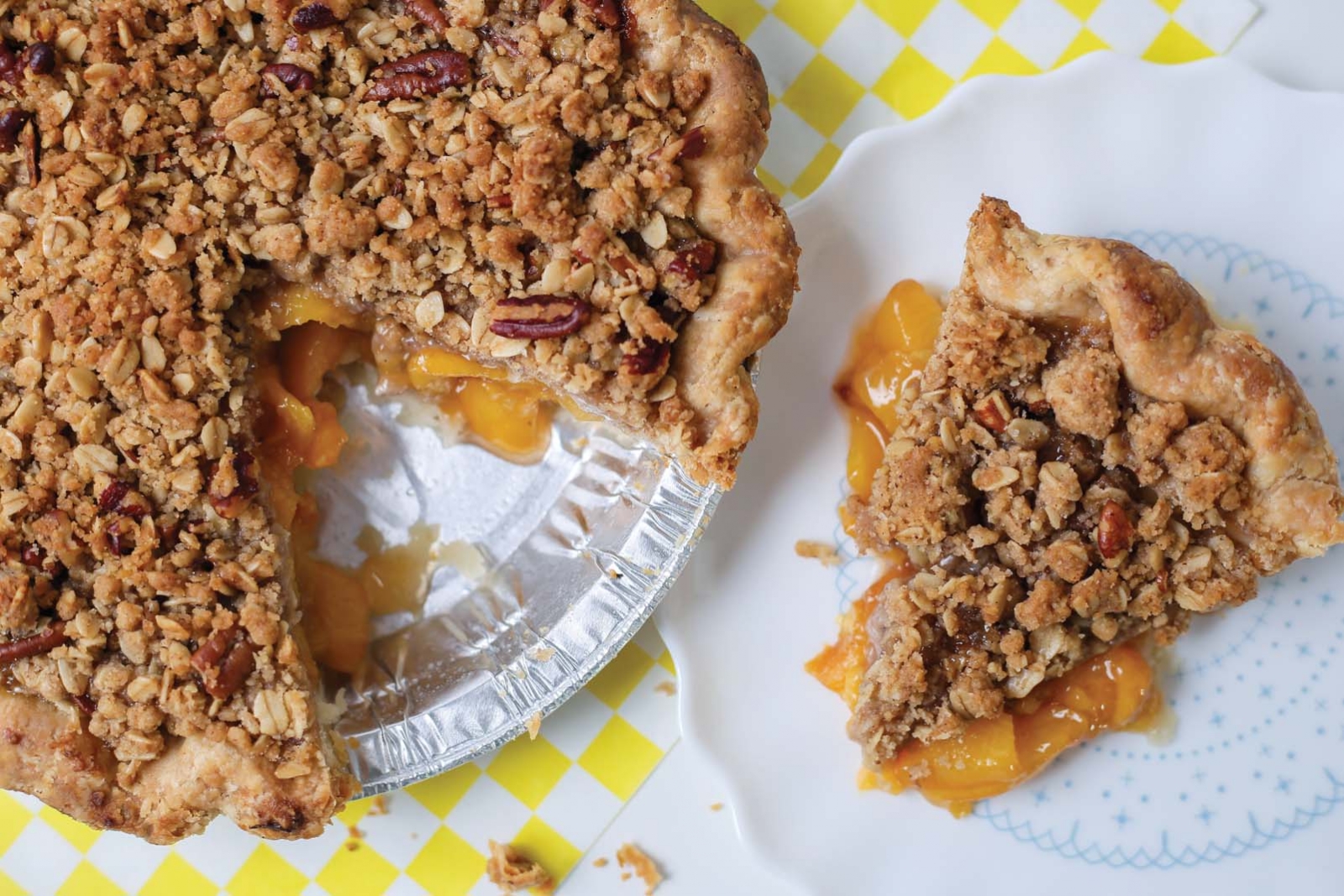 Pie & Mighty
photo by kat peterson
---
Pie & Mighty
When plans for a pie shop didn't work out, Rachel Swan found a new way to do business: subscription pies baked out of a south Minneapolis church kitchen. Pie pickups are almost like a confessional, where people share reasons for ordering, hugs, and even sometimes tears. This is the power of great pie, filled in a fantastic, just barely salty, lard-and-butter-crisped crust.
The Bungalow Club
Always save room for pie after dinner at this new Longfellow spot. Rugged dough cradles seasonal ingredients in a way that is more grandmotherly than fine-dining cheffy.
Revival
Same as they did with the fried chicken, this restaurant was ahead of the pie trend with mountain-high banana cream pies. The new location in Keg and Case Market promises hand pies stuffed and crimped in a perfectly mobile single serving.