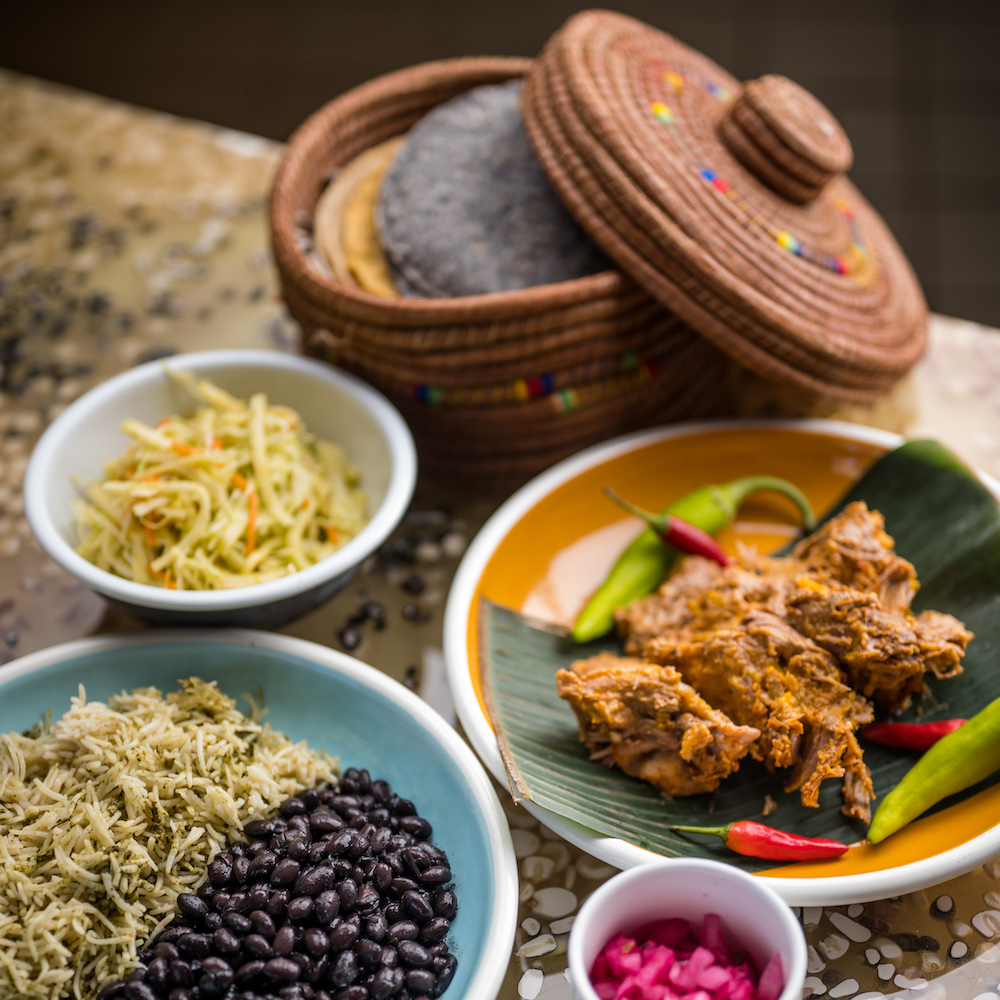 Takeout, meal kits, parking lot patios: every restaurant in the Twin Cities has adapted to COVID-19, whether that's by tweaking the menu or pivoting their business model. Some spots have taken adversity and used it as creative inspiration—from multi-course takeout dinners to food truck fare, here are nine unique pandemic dining experiences.
BardoG
Upscale Bardo is weathering the pandemic by transforming into BardoG, a more casual eatery highlighting hot dogs—but not just any hot dogs. Think duck sausage garnished with chevre or a gourmet take on the Coney dog. A handful of favorites from Chef Remy Pettus' classic Bardo menu are also available, and there's live music Thursday through Saturday. 222 E Hennepin Ave., Minneapolis
CHX
The world is complicated these days, so make dinner easy. At Chx, there's only one thing on the menu: extra crispy chicken tenders served with crinkle cut fries, a honey buttermilk biscuit, and secret sauce. The pint-sized Uptown restaurant operates out of a previously under-utilized space inside the Pourhouse, serving straight from the kitchen via a walk-up window. 2923 Girard Ave. S., Minneapolis
https://www.instagram.com/p/CC8_59QnzBx/
Cookies & Custard
Celebrate Minnesota's all-too-brief ice cream season at Cookies & Custard, a walk-up window at each Craft & Crew location (Pub 819 in Hopkins, Stanley's in northeast Minneapolis, the Howe in south Minneapolis, and the Block in St. Louis Park). The menu includes cones, shakes, and floats made with frozen custard or vegan ice cream, as well as cookies from Amy's Cupcake Shoppe. There's even pup cream for furry dining companions.
Kado no Mise
Kado no Mise is offering what might be the most elegant takeout option in the Twin Cities: a kaiseki shokado bento. Available for pickup on Saturdays, expect the artistic presentation and seasonal ingredients that are a hallmark of multi-course Japanese kaiseki dinners. Even the fabric packaging is a delight. 33 N. 1st Ave., Minneapolis
La Pistola
Chef Jamie Malone's Eastside has become La Pistola, a counter-service outdoor space specializing in seafood, fancy ham, and burgers. Splurge on the fries topped with lobster and white sauce, order a large format cocktail to share (only with household members, of course), and settle in for an evening on the patio. Or get your food to-go and add in a picnic kit with a blanket, wine glasses, cooler, and ice. 305 S. Washington Ave., Minneapolis
Little Blue Food Truck
Since the State Fair is a no-go, the beloved Blue Barn has taken to the streets. The Little Blue Food Truck will be serving some of the restaurant's greatest hits—like Nashville hot chicken on-a-stick and blue cheese and corn fritz—at local breweries and events through Labor Day. There's also a Blue Barn pop-up scheduled for August 31-September 7 at the Blue Plate Group's other restaurants, including the Lowry and Groveland Tap.
Nixta
Nixta crafts artisanal tortillas from heirloom Mexican corn, and they also offer family-style takeout dinners twice a week. The ever-changing menu includes generous helpings of proteins, rice, beans, toppings, and tortillas to serve four people. Sign up for the e-mail list via Nixta's website to receive upcoming menus. 1222 NE 2nd St., Minneapolis
Psycho Suzi's Motor Lounge
A tropical getaway might be off the table, but Psycho Suzi's is open for an "All-inclusive Food and Open Bar Vacation." Reserve a 1.5-hour slot on the riverside patio, and enjoy up to four beverages (famously strong tiki drinks included), along with all-you-can-eat pizza and deep-fried snacks. 1900 Marshall St. NE, Minneapolis
Thr3 Jack
Since this has been the summer of patio dining, Thr3 Jack has pivoted from an indoor golf simulator hangout to an outdoor sports bar, complete with Twins games streaming on the television. They've also added a brunch menu—the custard-stuffed French toast is a must. 729 N. Washington Ave., Suite D, Minneapolis