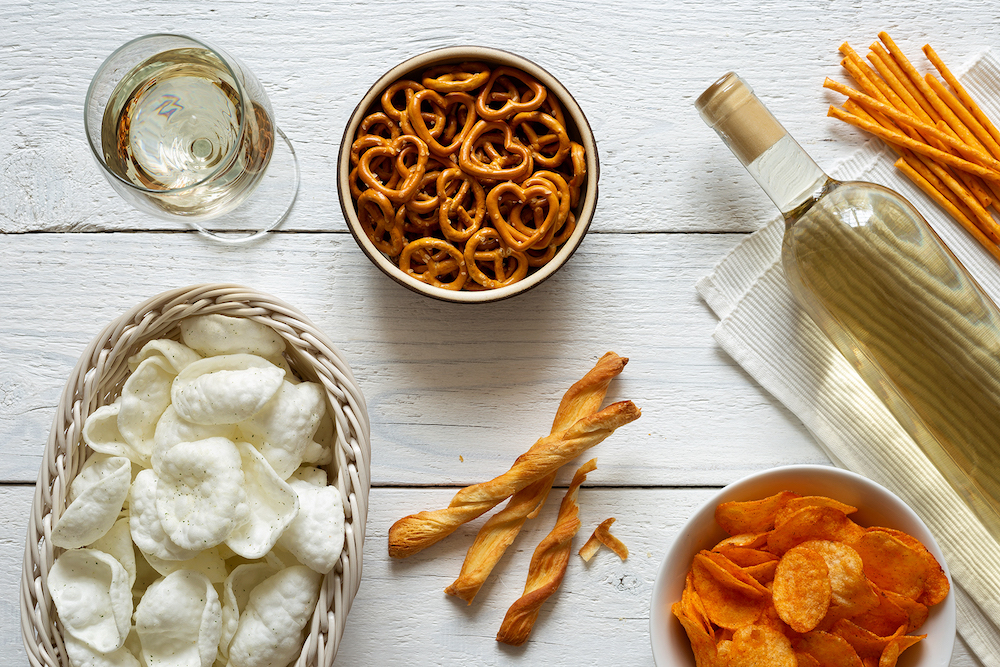 A good deal of thought and experimentation on the part of sommeliers and wine experts have gone into finding suggestions for pairing food with wine—from cheese or steak and chicken to fish and spicy food. But it's not always a steak-and-potato dinner or celebratory meal that calls for wine. Sometimes you just want to kick back on the couch and watch a movie or have a few friends over and pull out the chips or pretzels and a bottle of your favorite vino. But what goes with savory, crunchy "junk food"?
Whether you prefer red or white—or even Champagne—there's a bottle to uncork that will play just as nice with your snacks as it might with a steak. Following are a few suggestions to make pleasing pairings—plus it's always fun to experiment.
Cheese Curls
Cabernet Sauvignon: Cheddar cheese pairs well with the wine's cherry and black currant flavors so could crunchy or puffy cheese curl snacks.
Hummus Dip
Pinot Grigio and Sauvignon Blanc for whites and Pinot Noir and Chianti for reds, suggest Andrew Dornenburg and Karen Page in their book, What to Drink with What You Eat.
Nuts
Beaujolais, Chianti or Sangiovese with mixed nuts and nuts with dried fruit.
Dornenburg and Page suggest the following with these specific selections:
• Almonds: Chardonnay, Port, Prosecco, Sauternes, Sauvignon Blanc
• Hazelnuts: Burgundy (white), Chardonnay, Port
• Peanuts: Chardonnay, Gewürztraminer (avoid red wine)
• Walnuts: Chardonnay, Cabernet Sauvignon, Merlot, Pinot Noir, Riesling, Port
Popcorn
Chardonnay's buttery qualities go great with buttery popcorn. Also try Champagne and other sparkling wines, especially with plain popcorn. More ideas: Pairing Cheesy Popcorn and Wine
Potato Chips
Pinot Gris/Grigio will balance the oil and salt of chips. Merlot can pair well with onion-flavored chips, or with chips and sour cream dip. Try Zinfandel with barbecue chips.
Pretzels
White Zinfandel's fruit with a little sweetness is a nice counterpoint to salty pretzels and also complements a tangy mustard dip.
Tortilla Chips
Pinot Grigio is light and crisp, and it balances the salty chips. Also try with lime flavored tortilla chips.
• Salsa: Chardonnay's fruitiness complements salsa.
• Nachos: Zinfandel or Syrah will be a delicious match.
• Guacamole: Especially if guacamole is on the table, pair your tortilla chips and salsa with a chilled Torrontés from Argentina. Or go with a nice, cold Spanish Cava, suggest Page and Dornenburg.
Veggies and Dip
Try a Sauvignon Blanc, especially if it's an herb-based dip—the herbs in the dip will cancel out those in the wine, playing up the wine's fruitiness, says the pair. Merlot can balance the herbaceous veggies for those who prefer red.
Read More:
Tips for Pairing Cheese and Wine
Pairing Wine with Holiday Dinners
Rosé Wine Pairing + Lemon Shrimp and Gnocchi in Mascarpone Sauce Recipe
Cool Union: Pairing Wine and Fruit
Pairing Cheesy Popcorn and Wine
Thirsty for More?
Check out the 26th annual Minnesota Monthly Food & Wine Experience on November 6-7, 2021 to try a great range of wine alongside delicious food—and snacks to test your pairing preferences. Find more info and tickets here.
Facebook Comments