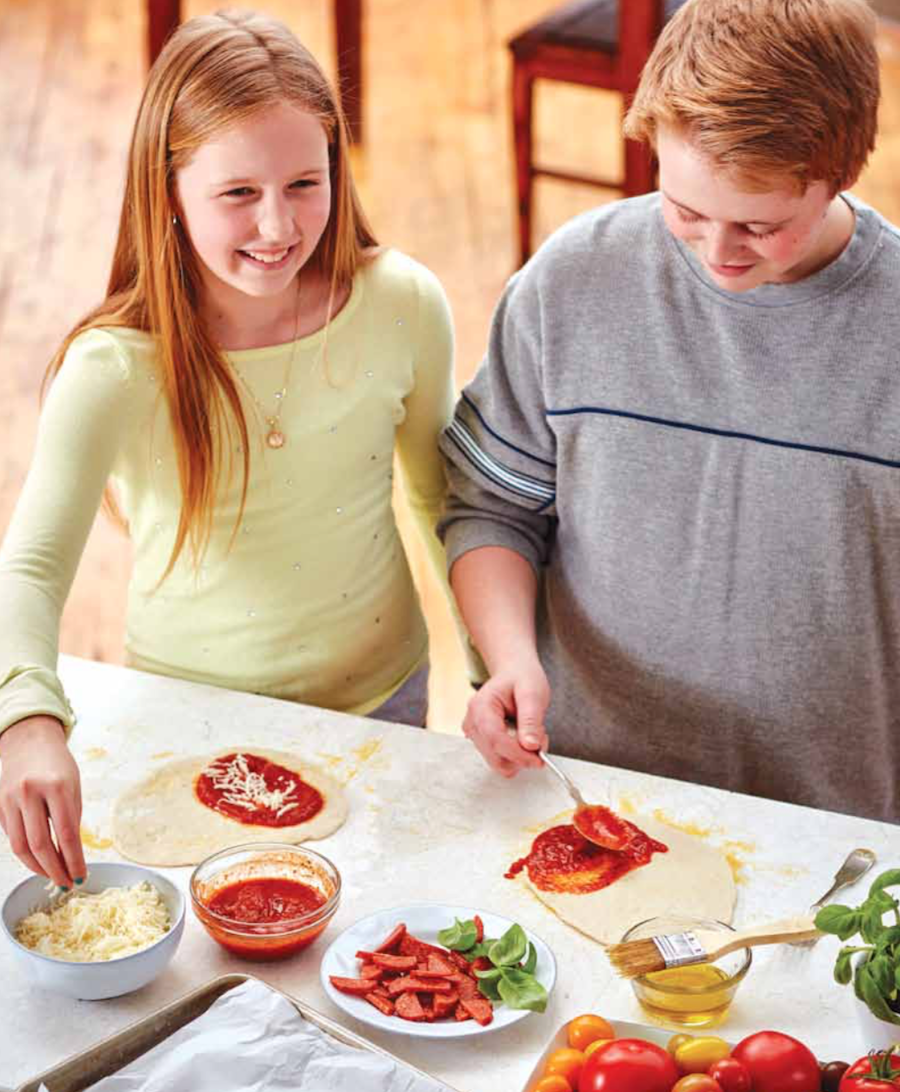 As we are cooking more at home these days, it is the perfect time to get kids in the kitchen to teach them skills; the older ones might even be able to take charge as we juggle school, work, and more.
Twin Cities chef and Saint Paul College Culinary Arts instructor Jason Ross, who has two daughters, has ideas on how to include your kids in the kitchen. For instance, kids ages 9 to 11 years old can help read a recipe and prepare ingredients before the cooking begins. Then you can put them to work stirring hot foods, handling and preparing meats, and cutting some vegetables with a small knife. As for kids ages 12 years to teens, that is the perfect time to begin meal planning and classic cooking skills such as sautéing, roasting, and creating simple desserts, he says. (More of Ross' age-appropriate skills and tips for ages 3 and up can be found here.)
When I was 12 years old and my mom went back to work part-time outside the home, some afternoons I made dinner. I would come home to find a recipe and ingredients set out for me on the kitchen table. I remember an easy favorite was a chicken rice casserole—uncooked rice mixed with cream of mushroom and cream of chicken soups, which was spread in the bottom of a 9×13-inch pan. The mixture was topped with chicken pieces and sprinkled with a packet of dried onion soup mix. Baked and voila! Classic hot dish—and actually tasty.
In the following recipes Ross created for Real Food, older kids can take charge with planning taco night, and the younger kids can use their Play-Doh skills to assist with tasks such as making the pizza pockets dough. If after one night you're looking for more family cooking ideas, try Oven "Fried" Chicken Tenders, Fresh Pasta with Peas and Bacon, and Baked Mac 'n' Cheese Bites. Everyone can enjoy these favorites, and the recipes were made with little helpers in mind.
Kids like to help, and they will be more invested in eating homemade food if they helped create it—even if it takes more work than opening a package from the freezer. Think of it as reading, math, science, and art lessons.
Fresh Pizza Pockets
Makes 4 servings
This is a hands-on recipe with plenty of kneading, punching, shaping, and stuffing to keep the kids busy.
1½ teaspoons instant yeast
1 teaspoon honey
1 tablespoon olive oil, plus more for brushing
2½ cups all-purpose flour, plus more for dusting
1 teaspoon salt
2 tablespoons cornmeal
12 ounces pasta or pizza sauce
12 ounces shredded mozzarella cheese or sliced fresh
1 cup roughly chopped basil
For optional fillings
Pepperoni, cooked sausage, ham, spinach (See Cook's Notes)
In a large mixing bowl, whisk together yeast, honey, and 1½ cups warm water, forming a cloudy liquid (see Cook's Notes). Let sit 5 minutes. Add oil.
In a separate bowl, whisk together flour and salt.
Add flour mixture, stirring until dough comes together in a ball.
On a lightly floured cutting board, knead dough 10 to 15 minutes until smooth and elastic. Roll into a ball.
Coat a bowl with oil. Gently roll dough in bowl to coat. Cover and let rise at room temperature 45 minutes, until doubled in size. Dough can be made up to 24 hours ahead and refrigerated.
When dough has doubled, punch down with fists. Divide into 6 pieces. On a lightly floured work surface, roll into baseball-size balls using your hands.
Line a baking sheet with parchment paper and lightly dust with flour. Space out dough balls on baking sheet to prevent touching when they expand. Cover with plastic wrap. Let rise at room temperature 10 minutes, until doubled in size.
Generously flour a work surface. Using a rolling pin, roll out dough balls, turning a ¼ turn with each roll, to make ½-inch-thick discs that are 8 to 10 inches in diameter.
Preheat oven to 475°F. Line 2 baking sheets with parchment paper and sprinkle with cornmeal.
Spoon ¼ cup sauce into center of each dough disc. Sprinkle over cheese and basil. Fold dough over filling, forming a half circle. Pinch edges to seal. (Pizza pockets can be stuffed up to 8 hours in advance, wrapped on a baking sheet and refrigerated. Bake an additional 2 minutes.)
Transfer pizza pockets to baking sheets. Brush with oil. Bake 16 minutes, until golden brown, rotating baking sheet halfway through to ensure even cooking.
Serve warm, having children take care with hot cheese and sauce.
Cook's Notes:
• For the yeast, it is important the water is not hotter than 120°F or it can kill the yeast. Warm water from the tap is warm enough.
• Personalize your pockets with optional fillings such as pepperoni, cooked sausage, ham, or spinach. Just make sure not to overstuff, which makes it difficult to seal the pocket. About 3 to 4 slices of pepperoni, for example—roughly ¼ ounce—is all you need.
Taco Night
Makes 4 servings
Why not let your young adults make dinner tonight? The individual components of taco night are simple, and the fun is in bringing it all together for mealtime. Fair warning: If the kids do the cooking, you might have to clear the table.
8 hard taco shells taco filling (below)
Spanish rice (below)
Guacamole (below)
½ head iceberg lettuce, shredded
2 Roma tomatoes, diced
mild cheddar or Monterey Jack cheese
sour cream
Preheat oven to 325°F.
Spread taco shells on a baking sheet and bake 5 to 7 minutes to crisp. Arrange on a plate.
Place remaining ingredients in separate bowls for easy self service.
Taco Filling
1 tablespoon vegetable oil
1 pound ground beef
¼ teaspoon chili powder
4 teaspoons ground cumin
½ teaspoon paprika
pinch pepper
½ teaspoon salt
½ teaspoon cornstarch
Heat oil in a medium saucepan over medium heat.
Add beef, stirring to break up, and cook until browned.
Pour out excess fat. Sprinkle in spices and cornstarch, stirring until incorporated.
Pour in ½ cup water, stir, and bring to a boil. Reduce heat and simmer 10 to 15 minutes, until thickened.
Keep warm until ready to serve. Taco filling can be refrigerated in a sealed container up to 7 days. Reheat in a saucepan over medium heat with 2 tablespoons water, stirring until warm.
Spanish Rice
1 tablespoon vegetable oil
1 cup white rice
¼ cup tomato paste
1 teaspoon paprika
½ teaspoon salt
In a medium pot with a tight-fitting lid, heat oil over medium heat.
Add rice and stir until coated.
Add tomato paste and paprika, stirring until rice is coated.
Stir in 1¾ cups water and salt. Increase heat and bring to a boil.
Reduce heat, cover and cook on low 20 minutes.
Turn off heat and let sit uncovered 5 minutes.
Keep warm until ready to serve.
Guacamole
2 ripe avocados
4 sprigs cilantro, roughly chopped
1 tablespoon fresh lime juice
1 teaspoon salt
1 small pinch ground coriander
Halve and pit avocados. Use a spoon to remove flesh to a mixing bowl. Mash with a fork into a thick paste.
Add remaining ingredients and stir to combine.
Refrigerate in a sealed container until ready to serve. Guacamole can be made up to 2 hours in advance.
Nutrition info (per serving)
• Fresh Pizza Pockets: Calories 442 (140 From Fat); Fat 16g (Sat. 7g); Chol 37mg; Sodium 986mg; Carb 54g; Fiber 3g; Protein 21g
• Taco Night (Without Rice): Calories 643 (408 From Fat); Fat 47g (Sat. 17g); Chol 113mg; Sodium 1236mg; Carb 28g; Fiber 8g; Protein 32g
• Spanish Rice: Calories 214 (34 From Fat); Fat 4g (Sat. 1g); Chol 0mg; Sodium 427mg; Carb 40g; Fiber 1g; Protein 4g
Facebook Comments