Faegre's
Faegre's Bar and Restaurant raised the bar on bar food; where else, in 1982, could you find French fries with béarnaise? Owners of the downtown Minneapolis hot spot, at the corner of First Avenue and Fifth Street, included Bob Faegre and Lowell Pickett. Peter Kelsey was the original chef, followed by Ken Goff and Alexander Dixon, all of whom have made significant contributions to the local dining scene. Although the restaurant closed more than a decade ago, its caesar salad is still talked about.
FAEGRE'S CAESAR SALAD
SERVES 8
DRESSING
3 egg yolks
1/2 cup smooth Dijon mustard
1/4 cup plus 2 tablespoons Worcestershire sauce
17 anchovies, rinsed
2 ½ tablespoons kosher salt
20 cloves garlic
1/2 cup lemon juice, divided
1 ½ cups pomace (very light) olive oil
1/4 cup plus 2 tablespoons water
1 1/2tablespoons cracked black peppercorns
2 ½ cups Romano cheese, finely grated
SALAD
1 large head romaine lettuce, chopped or torn
In a blender, combine egg yolks, mustard, Worcestershire sauce, anchovies, salt, garlic, and one-quarter cup of lemon juice. Blend until liquefied. Slowly add remaining liquids while the blender is running, alternating oil, water, and remaining lemon juice. After the mixture emulsifies, pour into a storage container and stir in the peppercorns and cheese.  When ready to serve, place the chopped or torn lettuce in salad bowl and mix with dressing.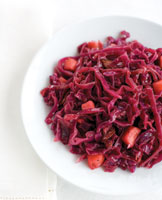 Photo by Terry Brennan
Schumacher's Hotel and Restaurant
John Schumacher opened his hotel and restaurant in 1974. Until it closed in May 2005, it was one of the most popular destination-dining spots in the state. The charming European inn drew crowds to New Prague for its famous menu of traditional European wild-game specialties as well as updated regional fare. As for Schumacher's former venture, he says, "I would do it all over again, and I will!" Until then, aficionados can make his renowned red cabbage at home.
SCHUMACHER'S RED CABBAGE
SERVES 6
A classic accompaniment of German and Central European cuisine, this dish is best prepared a day or two in advance and refrigerated. (It will last up to a week.)
1 head red cabbage (about 3 1/2 pounds)
1/4 pound bacon, diced 1/2 inch
1 1/2 cups onion, sliced thin
3/4 cup apple juice
1/2 cup red-wine vinegar
1/2 teaspooon black pepper
2 fresh garlic cloves
1 tablespoon beef base
2 tablespoons brown sugar
1/2 cup red wine
1 red apple, peeled and diced 1/2 inch
Core cabbage and cut into quarters. Slice each quarter thinly and set aside. In a stockpot, sauté bacon until brown and crisp. Add onion and cook until clear and tender. Add cabbage, apple juice, vinegar, pepper, garlic, beef base, brown sugar, and red wine. Stir well, making sure nothing sticks to bottom of pot. Cover and cook on low heat for 30 minutes, stirring gently and often. Add apple and cook for another 15 minutes.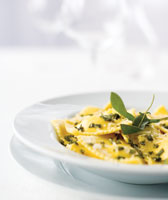 Photo by Terry Brennan
Pronto Ristorante
After its 1981 debut at the Hyatt Hotel in downtown Minneapolis, Pronto Ristorante quickly became "the place" to go for high-end dining, special occasions, power meetings, and any other want-to-impress occasion. It was one of many successful restaurants owned by Parasole Restaurant Holdings, which most recently launched Salut Bar Américain in Edina. The original chef at Pronto was Wayne Skjelstad, who previously had been the chef at another Parasole restaurant, Muffaletta. Co-owner Phil Roberts recalls, "Pronto had star quality…celebs, celebs…but the most interesting was the night after an Orchestra Hall performance. There sat Pinchas Zukerman, Neville Marriner, and Yo-Yo Ma at the same table relaxing and winding down after the performance. Talk about the right vibe!" After acclimating us to Italian food without red sauce, as exemplified by its Ravioli con Salvia, Pronto was replaced by Oceanaire in 1999.
PRONTO RISTORANTE'S RAVIOLI CON SALVIA
SERVES 4
FRESH PASTA DOUGH
1 pound durum flour
5 extra-large eggs
Combine flour and eggs in mixer on low speed until dough pulls from sides of bowl. Cover and let rest at room temperature for 30 minutes.
CHEESE FILLING
1 pound ricotta cheese
6 cups Parmigiano-Reggiano cheese, grated
4 eggs
4 teaspoons nutmeg
Mix well together and set aside.
RAVIOLI
fresh pasta dough
cheese filling
1 egg
1 tablespoon water
Roll out dough to desired thickness and cut into shape for ravioli maker. Put a spoonful of filling in the center of each ravioli. Mix the egg with water. Wash the edges of the pasta with egg and top with another sheet of dough. Press the ravioli and reserve in the refrigerator until ready to cook. Boil 4-9 minutes, until ravioli begin to float.
SAUCE
3 tablespoons fresh sage
3 tablespoons butter
2 tablespoons Parmigiano-Reggiano cheese, grated
Chop sage and sauté in butter over low heat; toss with cooked ravioli. Toss with cheese.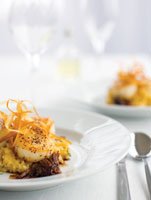 Photo by Terry Brennan
Table of Contents
Chef and co-owner Philip Dorwart put St. Paul back on the dining map when he cooked at Table of Contents, which opened in 1990 attached to the Hungry Mind bookstore on Grand Avenue. "Table of Contents really broke the barrier between new, great food and how you could get it," says Dorwart, who also ran the Minneapolis outpost of Table, which opened in 1995. "You did not have to wear a suit and tie or break the bank to get the experience of fine dining. This model is now everywhere you look." The St. Paul venue closed in 2000, and, in 2001, the Minneapolis location became the ill-fated Dish. Fans were happy to see Dorwart revive a version of his pan-seared scallops with risotto and braised oxtail during his tenure at Tryg's in Minneapolis.
TABLE OF CONTENTS' PAN-SEARED DIVER SCALLOPS WITH RISOTTO AND BRAISED OXTAIL
SERVES 4
SCALLOPS
12 large diver or other high-quality sea scallops
1 tablespoon canola oil
salt to taste
pepper to taste
Preheat oven to 400 degrees. Temper a sauté pan until near smoking hot, then carefully add oil. Salt and pepper the scallops, then place in pan. Transfer pan to preheated oven and finish cooking, 5 to 8 minutes.
RISOTTO
2 tablespoons canola oil
1 shallot, peeled and minced
2 cloves garlic, peeled and minced
2 cups Arborio or Carnaroli rice
3/4 cup white wine
6 cups chicken stock, divided
1 teaspoon fresh thyme, minced
3/4 cup Parmesan cheese, grated
2 tablespoons butter
salt
pepper
Cook garlic and shallots in oil over low heat in sauce pan covered with foil or parchment paper and lid. Add rice to pan and lightly toast. Add wine and two cups of stock. Cook slowly over medium heat and stir occasionally while adding remainder of stock in a slow continuous stream. Cook until rice is at desired texture, about 20 minutes. Finish with thyme, cheese, butter, salt, and pepper.
OXTAIL
1 whole oxtail, cut into thirds
cooking oil
4 cups red wine
1 onion, chopped
1 carrot, chopped
2 stalks celery, chopped
6 cups beef stock
salt
pepper
Preheat oven to 375 degrees. Brown oxtail in oil in large oven-proof pot on stove. Add remaining ingredients; cover and simmer. Finish in oven until falling off the bone—about 4 hours—turning occasionally. Cool to room temperature; pick off meat and reserve with braising liquid.
GARNISH
2 parsnips
canola oil
Peel parsnips into ribbons and deep fry in a stock pot with canola oil until crispy. Drain on paper towels.
TO PLATE
Place a small amount of risotto in the center of each plate. Add three dollops of braised oxtail around the risotto. Place one scallop atop each dollop. Garnish with parsnips.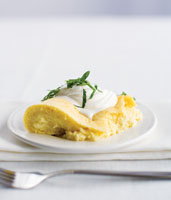 Photo by Terry Brennan
The New French Café
Lynne Alpert and Pam Sherman brought a new level of French dining to Minneapolis in 1977 when they opened their café in the Warehouse District. Authentic café au lait, baguettes, terrines, and crème caramel were just a few of the basics beloved by the see-and-be-seen crowd. Over the years, these classic items were joined on the menu by the current chef's progressive creations. Thom Lowe, who was owner and chef of the New French when it closed in 2001, created the popular Souffléd Lemon Custard.
THE NEW FRENCH CAFÉ'S SOUFFLÉD LEMON CUSTARD
SERVES 6
1/3 cup unsalted butter, at room temperature
1 1/2cups sugar
6 eggs, separated
2/3 cup freshly squeezed lemon juice
1/8 cup lemon zest
2 cups whole milk
2/3 cup flour
boiling water
Preheat oven to 350 degrees. Cream butter and sugar with electric mixer, adding egg yolks, one at a time, until smooth.
Add lemon juice and zest; mix thoroughly. Transfer to a large bowl; stir in milk and flour. Beat egg whites in a metal bowl until soft peaks hold; fold slowly into lemon mixture. Pour into a shallow baking pan. Place baking pan into larger pan and add enough boiling water to reach halfway up the side of the smaller pan. Bake 30 to 40 minutes, until custard is set.
Lara Miklasevicks is a food stylist who has worked in the restaurant industry in Minneapolis for 15 years.