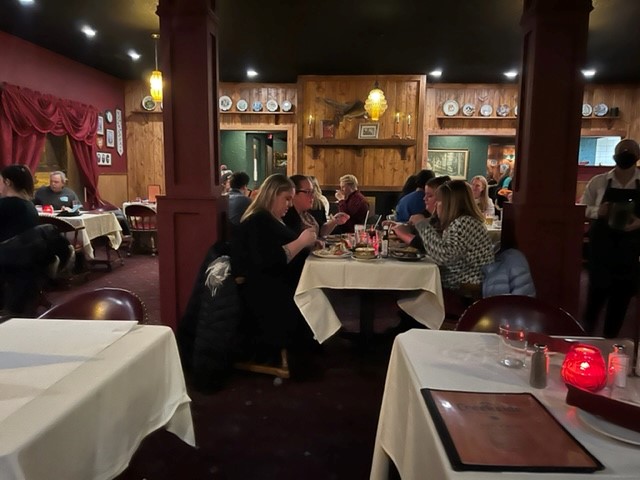 Kitschy. Charming. Adorable. Creekside Supper Club is all of that.
Perhaps the closest of the new breed of supper clubs to an actual rural Minnesota or Wisconsin supper club, Creekside plays the hits. Wood paneling, check. Curtains from your great Aunt Shirley's house, you betcha. The only thing missing is a bunch of old guys sitting around smoking Camels.
This is a fabulous makeover of the former El Burrito and Pepito's space on Chicago Avenue, next to the Parkside Theatre. You'll sink right into the pleather seat cushions on rolling chairs, and feel like you need to get out a deck of cards and play a round of Pinochle. The service is warm and friendly. The crowd is young families from the neighborhood. The feel—is the thing. The food—is comfortable, familiar, and I'd file it very squarely under the "pretty good" category.
What to eat: I hestiate to recommend a $19 relish tray (shouldn't it be free?!?!), but this is worth the money. Think of it more as a charcuterie platter. On our visit we had a tremendous smoked-trout dip and a really nice wild-game sausage. There are some so-so cheese curds on it that got cold rather quickly.
We enjoyed the prime rib, as well, although the Queen Cut was $28 on our visit, and the website now lists it at $36. (Spend $42 and get the big boy with that minor differential.) Tender, juicy, perfectly prepared—I love prime rib, and this is a treat.
The $11 French onion soup warmed my soul on a cold winter night (yes, there's Brandy in it), and the steaks were nicely cooked if not underseasoned. Still, who's complaining about a $28 sirloin with a side and choice of soup or salad?
Save room for a supper-club classic: a grasshopper mint-colored ice cream drink or a cocoa-colored brandy Alexander for dessert ($8 each).
This is not perfectly cooked, precise cooking. it's more like a hug, a warm blanket, and in a time where many of us are emerging from a couple years of uncertainty, maybe that's all we need?
4820 Chicago Ave., Minneapolis, 612-354-3675, creeksidemn.com
Facebook Comments