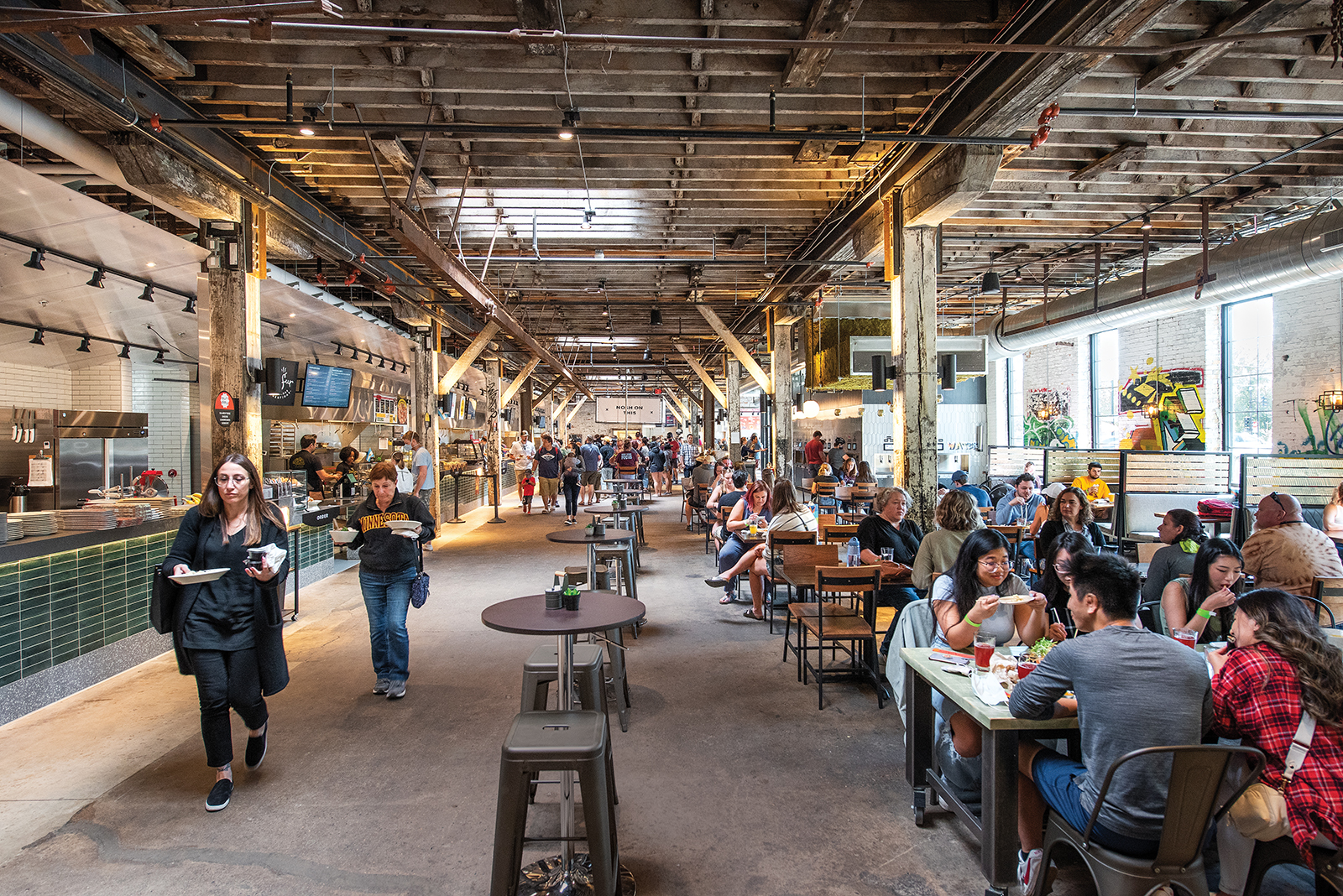 I'm a food hall skeptic. Yes, I've been to Reading Terminal Market in Philadelphia and I adored DiNic's broccoli rabe sandwich. Grand Central in Los Angeles is cool, as is Chelsea Market in New York, but the Minnesota efforts have left me wanting. I want more variety at St. Paul's Keg and Case, I want better quality and vibe at both Graze and North Loop Galley, I want to know why I should go to a fancy food court instead of an actual local restaurant.
Enter the Market at Malcolm Yards.
Over the last couple months, every single one of my friends has asked if we can meet there. They heard the buzz about the chef from Bellecour killing it with a Korean-fried chicken sandwich, or the burger they never got around to ordering from that Minneapolis ice cream shop. The list continued: the vegetable-focused restaurant, the dosa people, the empanadas, sushi, Joey Meatballs' handmade pasta. Malcolm Yards offered so much variety at such high quality.
Bike from the University of Minnesota campus or park your car in the shadows of Surly's destination brewery, and you'll be ready to explore in a few easy steps. You essentially open a tab by swiping your credit card, and you then receive a card that you use at the nine independent restaurants, the cocktail bar, and the pour-your-own beer, wine, and cider wall. Drop your card at the end of your visit and you're set, with an 18% surcharge. There's no tipping—the surcharge pays for the market staff who also clear your table—and the prices are clear.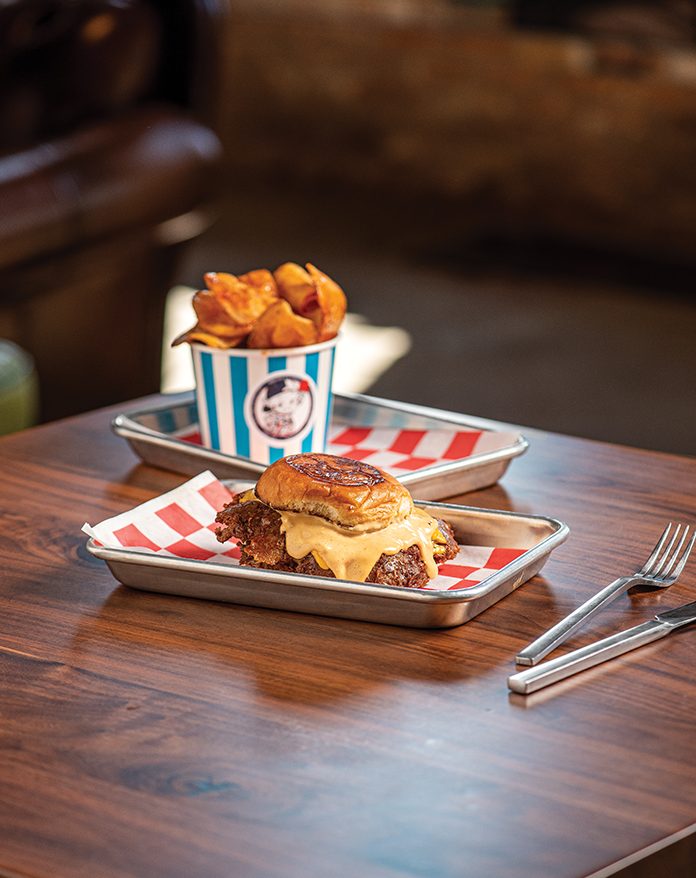 Make sure to get that Bebe Zito beef-and-bacon burger, and I'd get the double for $9. With great pickles and an incredible special sauce, this is unctuous, fatty decadence. Balance that burger with a stop at Advellum, where chef Michael Shaughnessy (who helped Ann Kim open Young Joni) knows how to coax flavor out of vegetables. Order the Bowl Lotta Love ($14), featuring brown rice and quinoa and a ton of seasonal veggies in a pineapple-turmeric chutney. You can add protein to anything—if you must—but don't sleep on the Benjamin Bacon ($15), two mung bean pancakes topped with maple-glazed pork belly and bok choy kimchi. Breakfast for dinner has never tasted so good.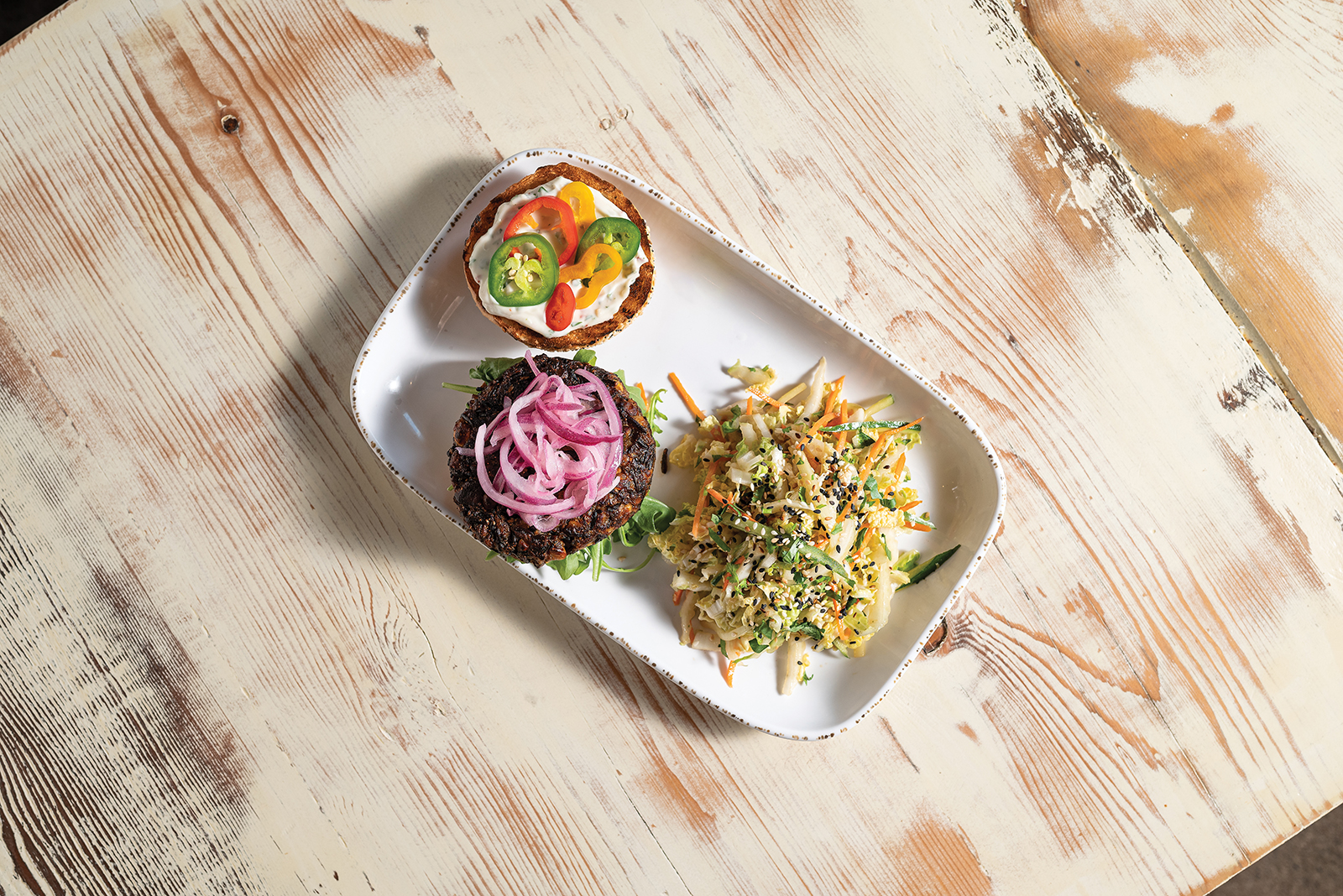 Abang Yoli's fried chicken sandwich sells out most days with its stunningly crispy breast coated in sweet and spicy gochujang sauce, topped with cabbage slaw and pickled vegetables. The chicken marinates for a day, then is coated in buttermilk batter and fried twice to get it extra crispy ($12). You can get it outside the bun, too, for a KFC knockoff that would make the colonel proud.
You also can't go wrong with MoMo Dosa's Indian-Nepali street food. The crepe-like dosas, created by the team behind Indian stalwart Gorkha Palace, are light as a feather with just a hint of filling. Masala is the traditional choice with a spread of spiced potatoes, but I loved the earthiness of the curry leaf dosa ($9). Try the ground bison momo ($13), a stuffed, steamed dumpling served with two different chutneys: tomato and cilantro mint.
Chef Josh Hedquist is doing crazy delicious pastas at Joey Meatballs. How he's doing those handmade gnocchi with your choice of sauce (go butter and garlic) for $11 is a mystery to me.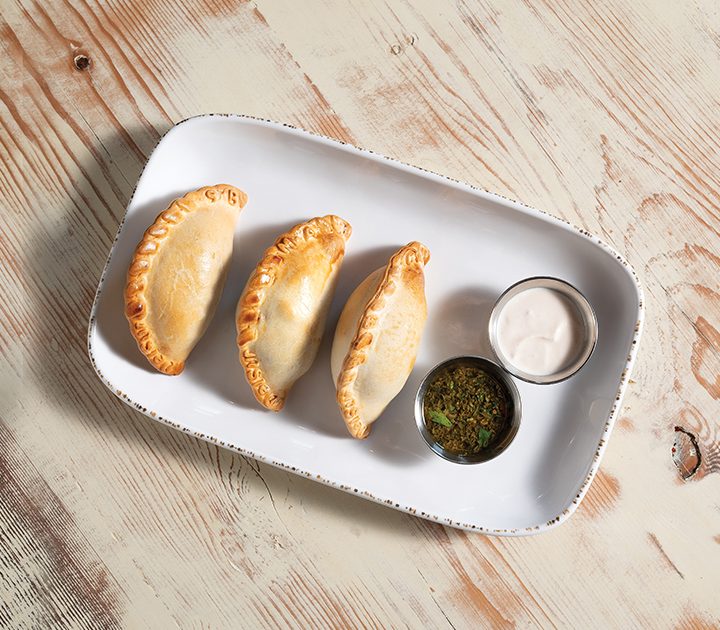 You may know DelSur Empanadas from the food truck or Minnetonka spot, and it's a great addition to the Malcolm Yards mix. And it's the same with Jeff Rogers' Detroit-style Wrecktangle Pizza, which debuted in the North Loop and offers a pe
rfectly crunchy, caramelized focaccia-like crust that can easily serve three. With roasted corn, queso fresco, and an aioli with Tajin, check out Wrecktangle's inspired pizza-take on the elote ($20).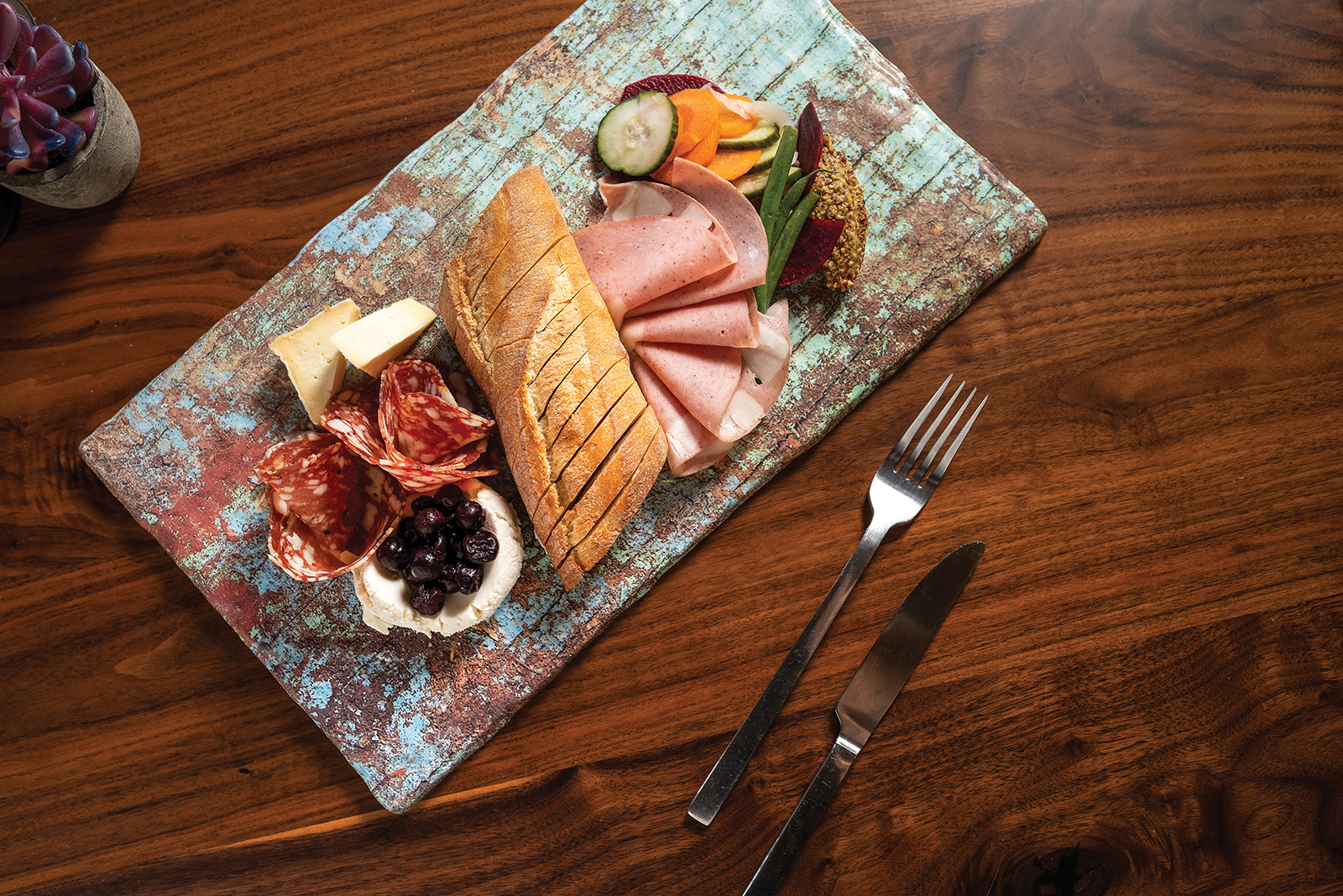 If you're in the mood for a charcuterie plate, Sunday has you covered with Red Table Meat Co. and local cheeses. I also liked the sleeper hit of a sandwich with half Japanese-style egg salad, half albacore tuna salad ($6.50). BaGu Sushi may have the most delicious dish of the market with the sake ceviche ($12): sliced raw salmon in a citrus sauce plus dollops of edamame, fish roe, and cilantro. I was there one day when the team rolled a whole tuna behind the counter and started breaking it down.
All the cocktails are on tap for quick service and consistent execution, and longtime Twin Cities bar genius Nick Kosevich has captured the vibe of each vendor with a signature cocktail. The Argentine Sour with fernet and prickly pear is a particular standout ($12).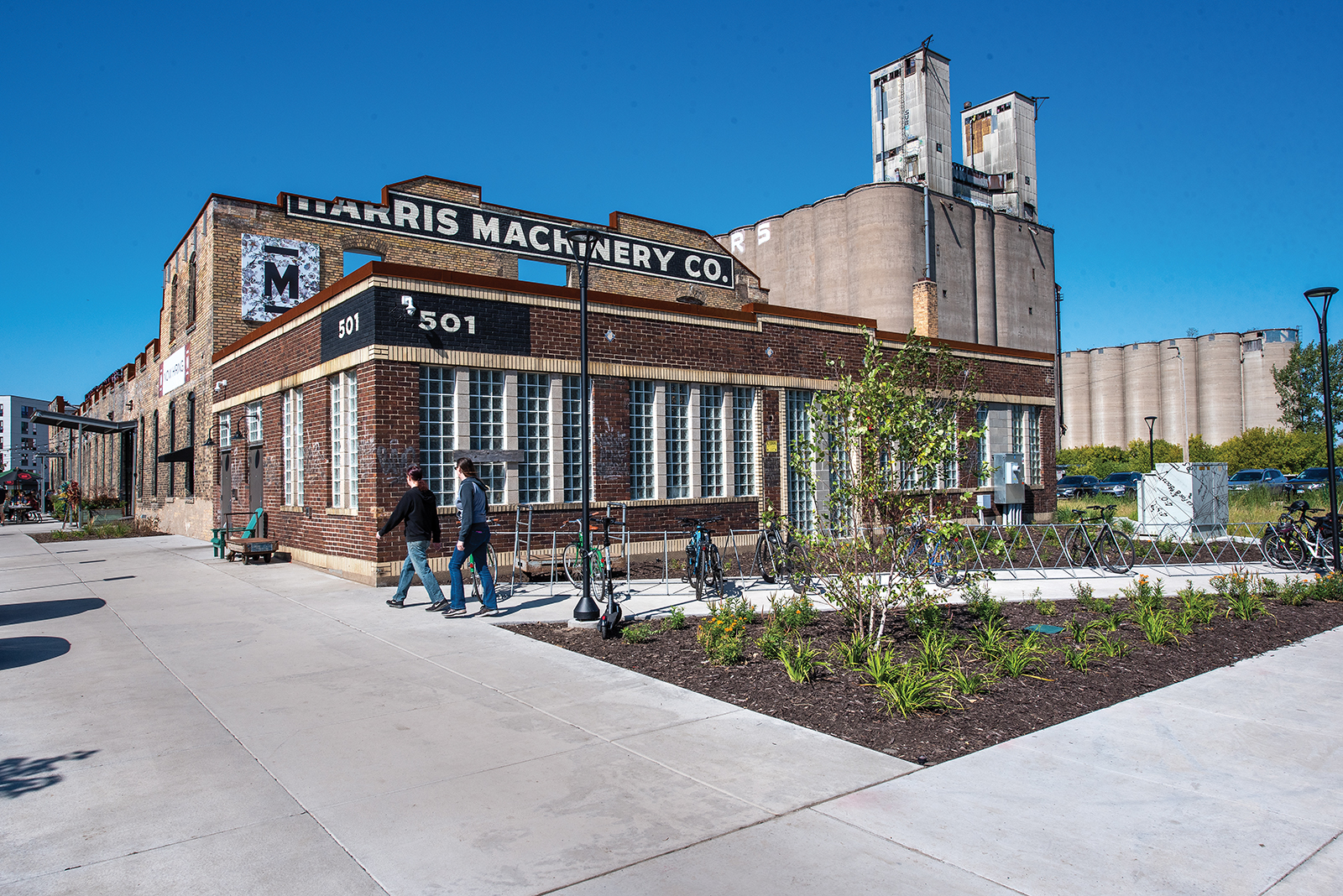 Somehow, Malcolm Yards owner Patricia Wall makes all of these separate restaurants feel like one unified space. The industrial open feel of this abandoned factory building and much of the preserved PG-rated graffiti give the hall the cool quotient. But what brings this place together is the extremely high quality of the food from every single vendor. It's fun. It's lively. It may be enough to make me a food hall convert for good.
501 30th Ave. SE, Minneapolis, malcolmyards.market