Apple & manchego cheese
photos by kevin kramer
---
Joy: One of the best-kept secrets in fine dining is inside a sleepy St. Paul neighborhood. Joan's in the Park is a cozy bistro on Snelling Avenue run by two industry veterans who found each other while working at a Morton's Steakhouse and are now living out their dream of restaurant ownership.
Jason: Partners in life and in business, Joan Schmitt and chef Susan Dunlop's kindness and love radiate through the restaurant. This is some of the best service you'll experience in the state. Before they took over in 2011, the building was a pizza place. Dunlop still cooks mainly using the large pizza ovens, and the quality is remarkable.
Joy: The menu has evolved considerably over the years. Now, they're serving a tasting menu styled much like Restaurant Alma, featuring appetizers, small plates, and entrées. Diners can order a tasting menu of their own design or just a small dish or two.
Jason: Our group of four ordered the entire menu, all 16 items, and could not believe the inventiveness, the beautiful plating, and the intense, seasonal flavors. The brightness of raw salmon, chopped like a steak tartare, served on a sunchoke puree topped with tarragon oil and smoked roe? Wow! And the foie gras with pistachio crackers and the sweetness of strawberry caramel? The flavors and combinations surprised and delighted—yet remained approachable in the completely unpretentious environment.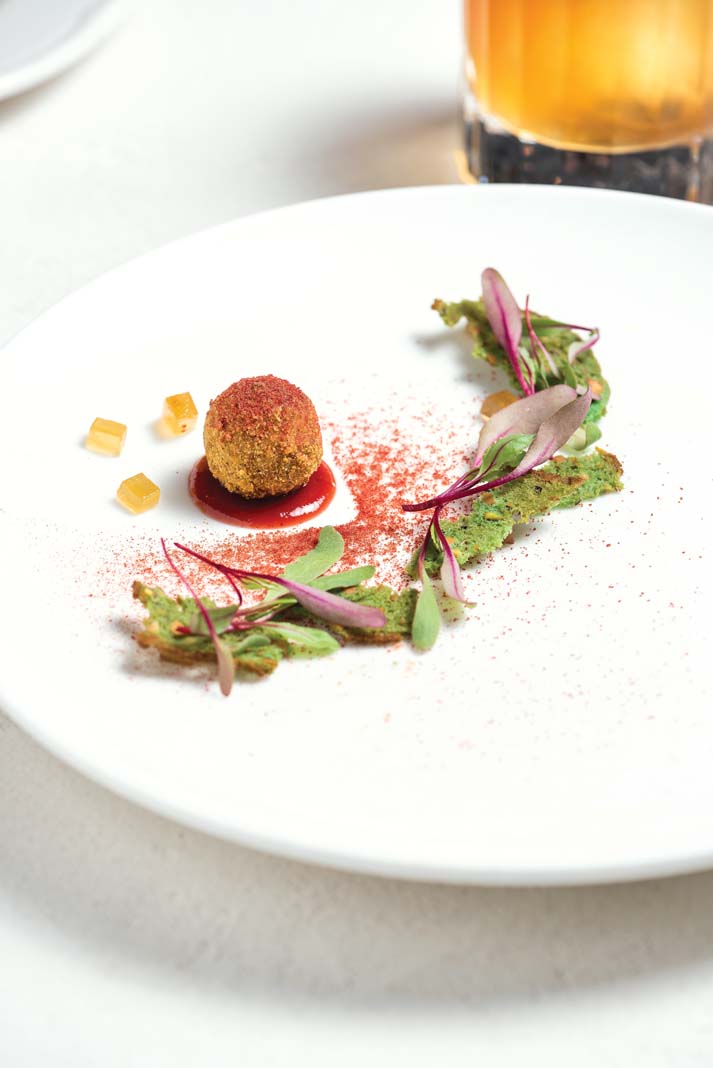 Foie Gras
Joy: We did the same. Four parents on a rare everyone-has-a-sitter night meant we were giddy before we even put our orders in. Swapping bites made a four-course dinner into more like eight. The creamy rabbit rillettes with the unexpected peach gelee were pinkies-up fancy fare; smoked trout was silky, toasty, and fun to eat. By the time we got to the entrées, I couldn't believe I was still swooning over every bite—but I will be damned if that wasn't the most perfectly cooked pork chop I've ever had.
Jason: Joan's can get expensive (for St. Paul)—still, $62 for these four courses is an incredible value. This is about the same as what Alma charges for three courses, and dare I say the caliber of food is in the same league? I dare. It is.
Joy: These women are living the dream, and we lucky diners get to exist in their culinary reverie.
---
Joan's in the Park Quick Tips
Reservations
Almost a necessity: This is a small, 40-seat space
Wine
A glorious wine list, with bottles mostly in the $40-$60 range, although wine lovers will find some gems $80-$120
In the park?
The only park here is the patio that overlooks Snelling Avenue; the restaurant is named for its Highland Park neighborhood
Joan's in the Park
631 Snelling Ave. S., St. Paul, 651-690-3297, joansinthepark.com