Open since 1906, Palmer's Bar is a legendary dive bar that has survived Prohibition, bootlegging, raids, two World Wars, the smoking ban, and dry Januarys. 
Tony Zaccardi took the helm at Palmer's on Minneapolis' West Bank in 2018 as a musician and proud Black business owner just in time for a double whammy of COVID-19 and social upheaval. Under his watch, can this well-trampled nexus with its laconic, iconic Palmer's Guy painted on the bar's exterior wall remain standing? 
Places like Palmer's are becoming rarer and rarer. It is now the last continually operating bar on a storied stretch of Minneapolis' Cedar Avenue. An incoming pharmacy will soon replace its longtime across-the-street neighbor, the former 5 Corners Saloon/Nomad World Pub/Part Wolf. Other stalwarts have preceded it into oblivion: the Viking Bar, the Triangle, the 400 Club, and Blondies on the Avenue/Triple Rock.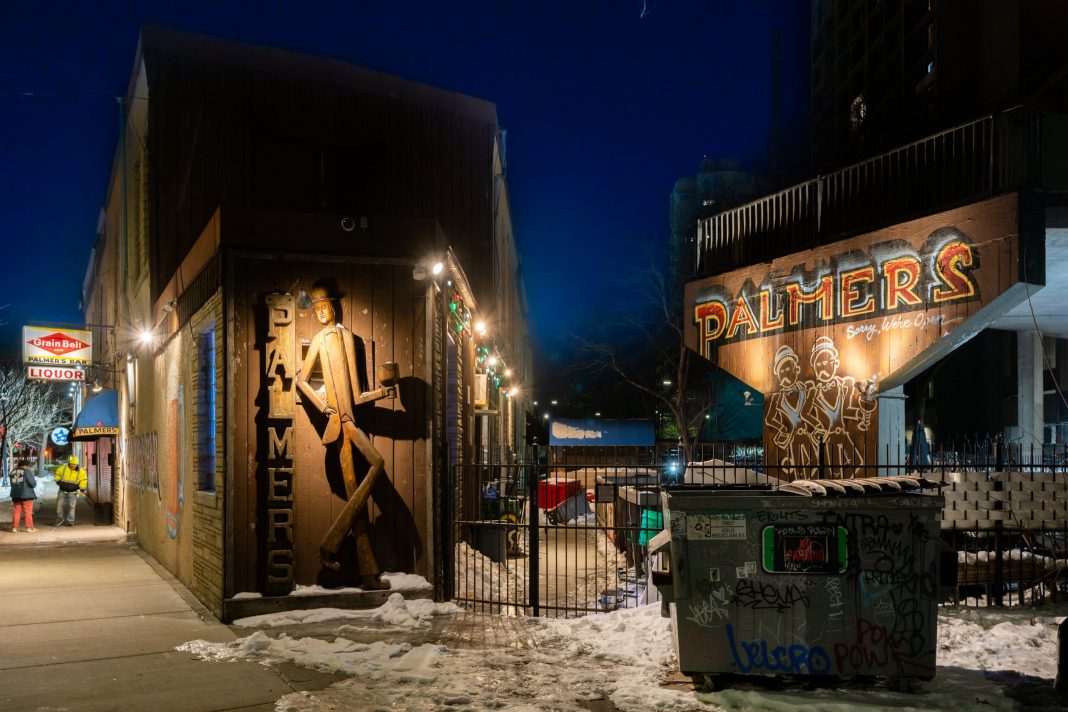 Spider John Koerner, the renowned blues musician and occasional bartender, counts 60 years as a patron. The spry octogenarian explains, "There's a quality in Palmer's, and I don't know how to describe it, but people who are interested in that kind of quality recognize it right away. It's an unusual place."
Palmer's is "a church for down and outers and those who romanticize them, a rare place where high and low rub elbows—bums and poets, thieves and slumming celebrities," its website boasts.
Patrons range from the neighbor-hood regulars and nurses to poets and artists, from aging hippies and Gen X hipsters, to anarchists, counterculture intellectuals, and students from the nearby universities of Augsburg and Minnesota. The Palm Club, as it is affectionately known, has always been a neutral gathering place.
"Everyone is treated the same. Black, white, gay, straight, trans, left, right, rich, poor; it doesn't matter, everyone is welcome—until you're [a jerk]," Zaccardi says.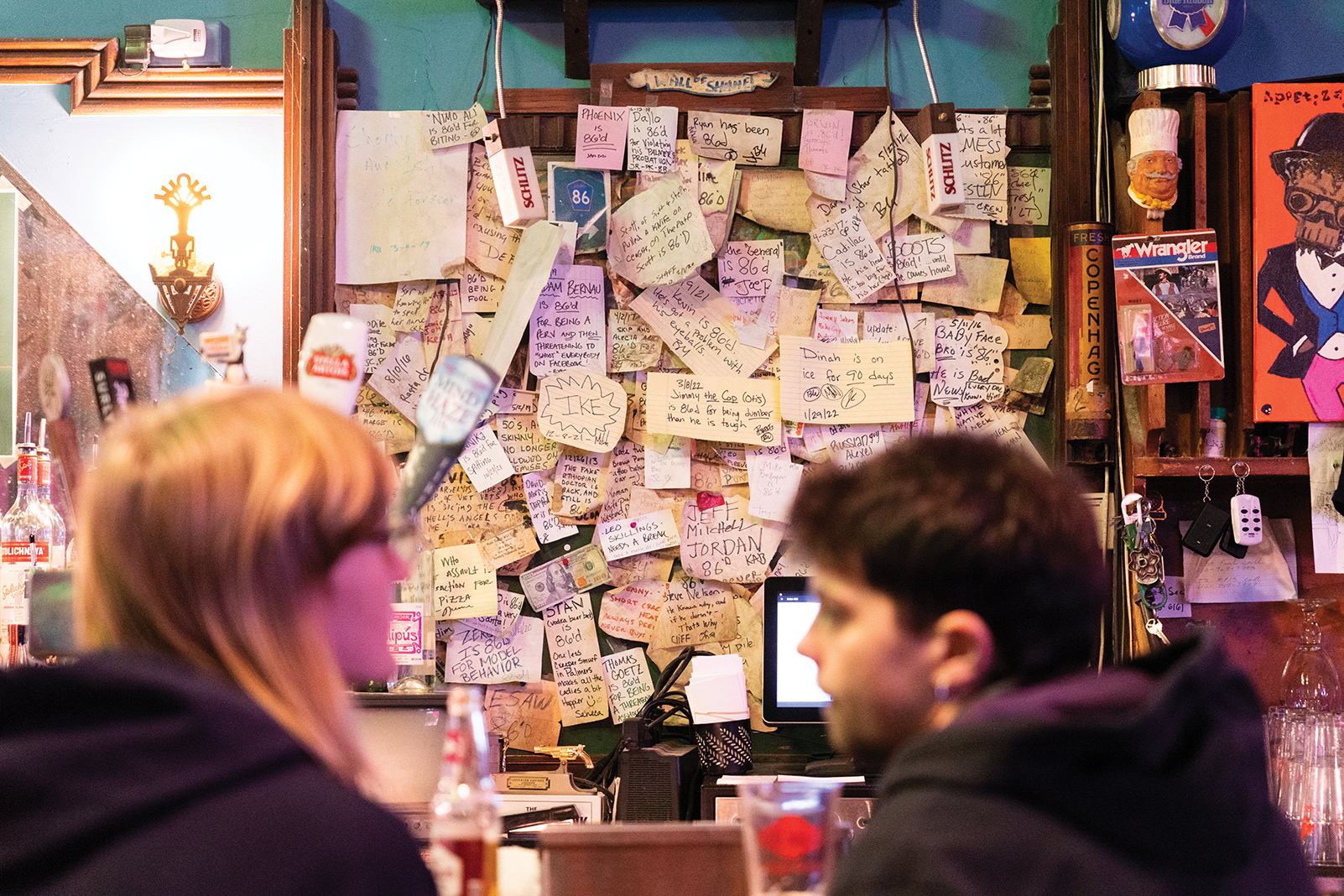 The uncooperative end up on the bar's infamous Wall of Shame. 
Even if folks across town or the state never set foot in Palmer's, arguably every neighborhood has its own version of a public house. It could be a coffee house or a local café, a church basement or the lone surviving VFW on a dusty Main Street.
The public house's potential demise is not only a United States thing. Looking across the pond, pub closures are more frequent, despite a community purpose that has become more vital with increasing divisions and isolation. The United Kingdom's lofty Institute for Public Policy Research even did a 2012 study about their social value. They "play an important role at the heart of their local communities. Pubs provide meeting places, supporting formal and informal social networks, community events."
New Face of Palmer's
Zaccardi benefits by standing on the shoulders of the dozen or so owners before him. Called Carl's Bar in 1906, it was named Palmer's in 1950 by Henry Palmer. Adam Folta ran the bar from 1959 to 1975. His son, Roger Folta, co-owned the bar with "Flo" (Florence Johnstone) from 1975 to 1996. Zaccardi says it was Folta the younger who brought home the signature "Sorry We're Open" phrase painted on the bar's wall from a bar in Boulder, Colo.  
Zaccardi's recipe for success includes extensive experience with music and bars. The Robbinsdale native plays bass for bands including Romantica and Eleganza! He is also responsible for a new lineup of tap beers, wines, and cocktails—and for the cash-only poor, a credit-card reader.  
He was also a popular Grumpy's Northeast bartender and general manager. He bought into his Palmer's bar dream with the help of Pat Dwyer, his former Grumpy's boss of almost 20 years. A nearly silent partner, Dwyer is now the low-key co-owner of both bars. Zaccardi especially credits Dwyer with showing him how to work with every kind of person, while still getting the job done.
Dwyer describes Zaccardi as the face of Palmer's, and the perfect man for the job. "It's in Tony's DNA."
Zaccardi and Dwyer purchased Palmer's from Lisa Hammer, who operated it with husband Keith Berg since 2001. The couple had met at Palmer's. When Berg died unexpectedly in 2015 of cancer, Hammer kept the club humming but had been looking to sell.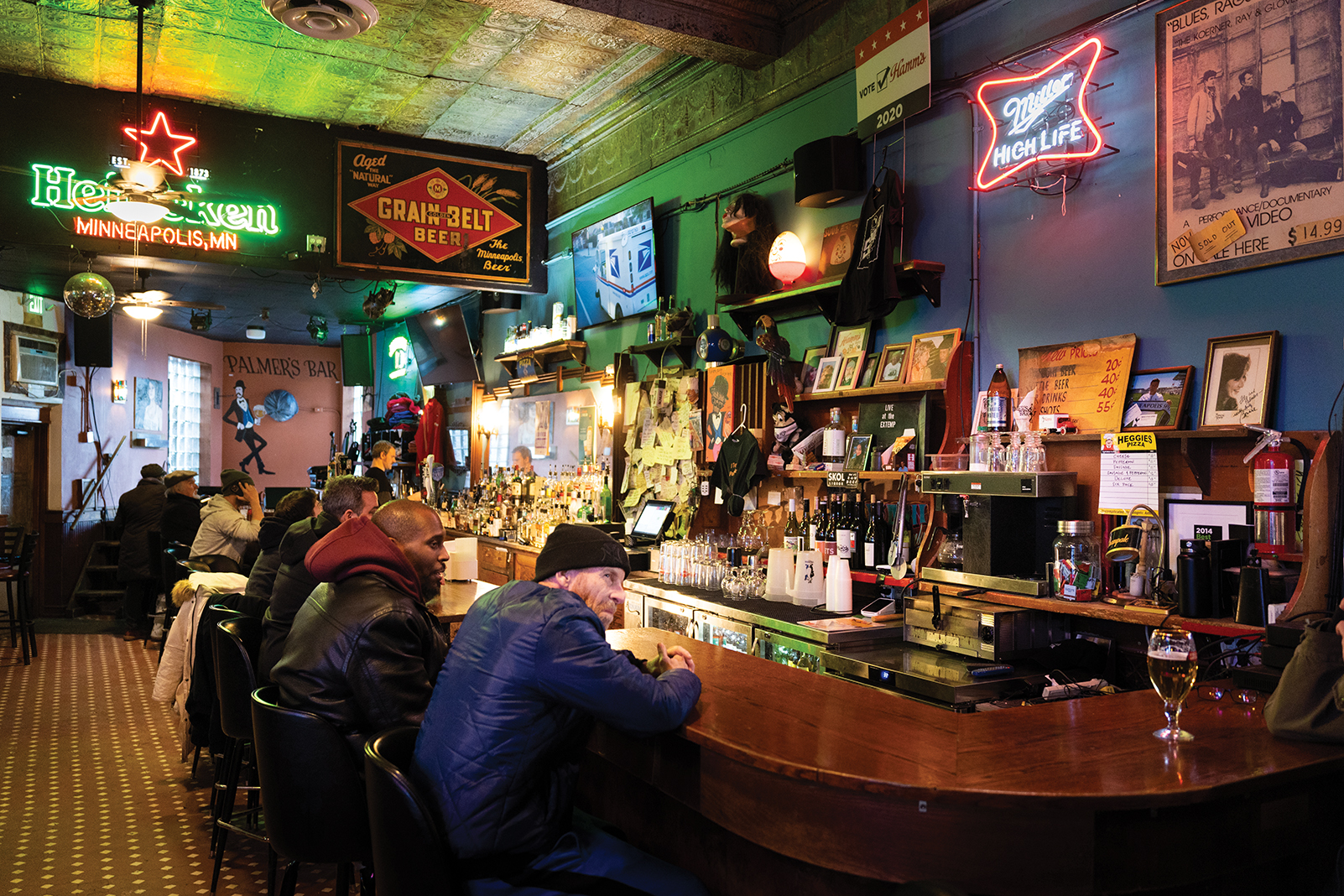 "I could have sold to other suitors, but I wanted it to stay a bar," Hammer says. "Or as one customer called it, a 'community center with a kick.' And I got a whole new family out of the deal."
She is now Zaccardi's friend, informal adviser, and co-conspirator, sharing hard-won bar insights. She helps Zaccardi navigate the West Bank neighborhood, which Hammer describes as "a special and challenging situation. … We share a 'party wall' with a mosque."
The regulars are part of the fabric. Tony Paul is a veteran KFAI radio DJ who plays percussion with the International Reggae Allstars and the Front Porch Swinging Liquor Pigs every Thursday at Palmer's. He holds a place of honor at the Palm Club, where he's seen a thing or two and knows nearly everyone.
"I don't feel a racial divide here," when asked why the bar is welcoming to all. "It's more a darts-versus-live music crowd, not a white-versus-Black thing. No one messes with each other. Just behave yourself and you're welcome. Often, it's somebody's birthday, a reunion, a retirement, or a memorial. People come and go. Nearly everyone knows one another—and if you don't, you will soon."
Hammer agrees: "I have traveled the world, and everywhere I go I try to find a Palmer's. As a single woman I can arrive alone and feel comfortable and safe. You can come and be happy, or come and be sad."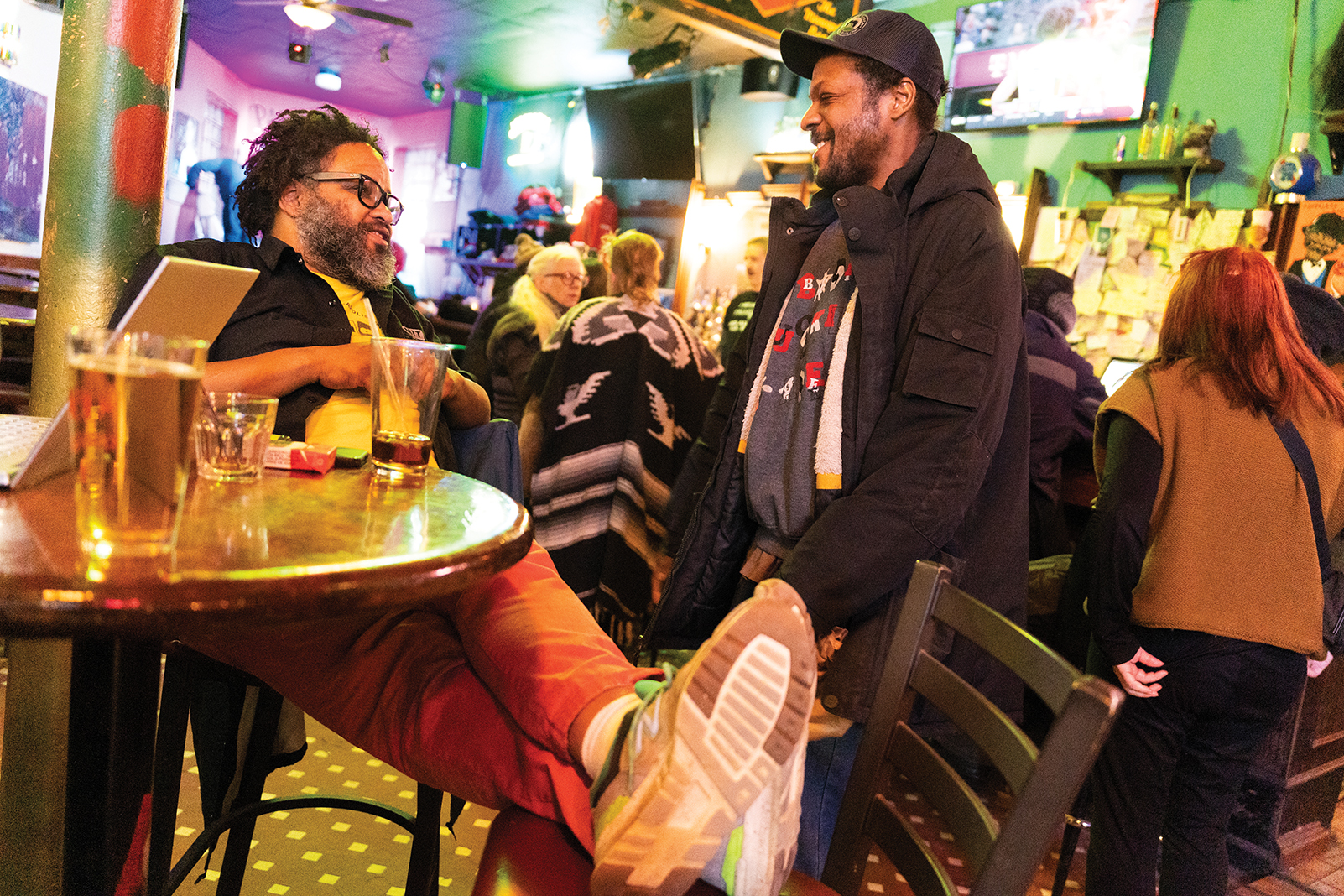 In the Limelight
Media attention has added to Palmer's sheen of notoriety and longevity. In 2014, Esquire magazine named it one of the "Best Bars in America." As Zaccardi tells it, the "Madison Avenue" writer asked "the scruffiest looking guy at the public library" where he drank. 
Last January, Jon Hamm of Mad Men made a Palmer's pit stop while in Minneapolis for the Winter Classic, what is known as the coldest game ever played in the NHL. He posed for photos with Zaccardi and Hamm's beer paraphernalia. 
Some of Zaccardi's less playful media moments came after George Floyd was killed. He returned shaken from one night's protests and fires to board up Palmer's windows and write "Black-owned Business" on the plywood. He woke up to an email from Newsweek's London Bureau that had already been shared thousands of times and interview requests from Live on Air with John King and CNBC's Squawk Box. Not least was the news that Barack Obama was following him on Twitter.
'Everyone's Living Room'
Palmer's came out of the gate as one of the first venues to offer live music to starved music heads post-COVID-19. 
Christy Costello, who stays busy booking the robust music schedule, recalls, "We redid the outdoor patio—added a bar, a stage, audio equipment and sound proofing. … Music is so fun out there. Something's got to keep this block alive!"
Cyn Collins, a local music writer, sums it up: "Palmer's has hosted excellent live music for decades, carrying on the legendary reputation of the West Bank music scene since the '60s. There's a stellar array of artists, newer and older, most local and some from afar. There are brass bands, indie rock punk, country, soul, garage, funk, DJ events … and wildly fun dance nights."
Coming out of collective trauma, Zaccardi says he has learned to put money into things that matter. He isn't naïve about the challenges. More people are staying home by choice or necessity, eating and drinking while binge-watching Netflix. Tastes have shifted from beer to craft cocktails. People understand that drinking can be harmful to their health, and many have adopted no alcohol lifestyles. Business owners everywhere still worry about keeping staff and customers safe. Yet, Zaccardi believes the Palmer's guy is still standing as a testament to the bar's culture of welcoming and acceptance.
"You can't 'own' this bar. It's everyone's living room—people have a stake in it and care passionately," he says. "Sure, it's had its share of troubles and low points, but this place has been exactly what it has been for 116 years: a bar with a soul and heart. I've invested my life in making sure it stays that way."
Palmer's Bar
500 Cedar Ave., Minneapolis
612-333-7625
For upcoming concert dates at Palmer's, click here.
Facebook Comments