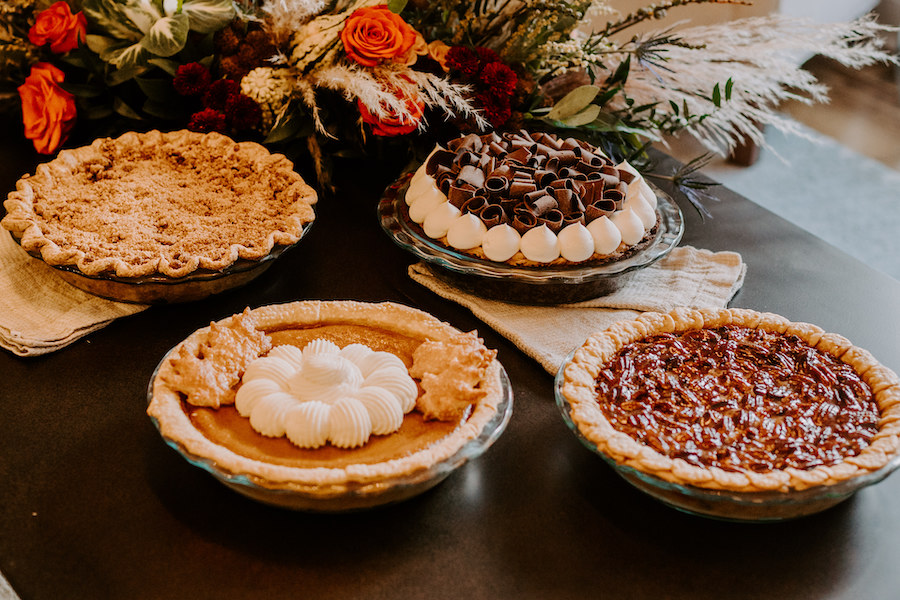 Being able to gather with family and friends again will be a bright spot of this holiday season—and those holidays are fast approaching. Thanksgiving is on November 25 this year and it will come up quickly, so you'll want to start planning. Whether you're having a small or large Thanksgiving dinner party, local restaurants are ready for dine-in and takeout with specially prepared turkey day menus and meal kits that you just need to heat at home. Grocery stores also have delicious options for ready-made meals to heat and serve at home. You'll want to make reservations for dine-in and order meal kits ahead and then you can relax knowing it will all be taken care of. Following are highlights at this time; check back for updates as more may become available.
Birch's on The Lake, Long Lake
• Dinner To Go: Pre-order a family style feast that includes peel and eat shrimp, apple harvest salad, roasted turkey, cranberry cherry jam, smoked ham with brown mustard sauce, smashed potatoes with giblet gravy, brown butter sage stuffing, mac and cheese casserole, Parmesan spaghetti squash, green bean casserole, dinner rolls and pumpkin pie. $265 (Serves 4-6)
Order online for curbside pickup Nov. 24, 12-4 p.m.
• Thanksgiving Day Buffet: For dining in, Birch's offers the same menu as the dinner to go plus a carving station that includes New York strip steak in addition to roasted turkey and a lox platter, egg bake, sweet potato casserole, Brussels sprouts and a selection of pies 11 a.m.–6 p.m. Reservations are required. Adults $51, Kids 4-12 $25, 3 and under free.
Blue Plate Restaurant Company
Take and Bake Thanksgiving Family Meal (Serves 4) $75
Includes: Roasted turkey, mashed potatoes, cornbread stuffing, green bean hot dish, holiday salad, and turkey gravy.
Pre-order by Nov. 20 for pickup Nov. 24 at Edina Grill, The Freehouse, Highland Grill, 3 Squares Restaurant, Longfellow Grill, and The Lowry.
Buca di Beppo, 5 Metro Locations
The popular Italian eatery knows a thing or two about cooking for a crowd. The restaurants will feature Thanksgiving classics—sliced white meat turkey, homestyle gravy, roasted garlic mashed potatoes, spicy Italian sausage stuffing, green beans, cranberry sauce and pumpkin pie—available for dining in or ordering online for takeout. Their regular menu of Italian favorites is also available. Thanksgiving Feasts to take out are prepared cold (heat and eat) or hot (ready to serve).
Thanksgiving Dinner To Go: Small: $78.99 (Serves 3); Large: $148 (Serves 6)
Pre-order by Nov. 23
Thanksgiving Hours: 10 a.m. available for order pick up / Dining rooms open at 11 a.m.
The Buttered Tin
The Buttered Tin has branched out and will be offering a Thanksgiving feast to go (only at Lowertown St. Paul): Fischer Farms ham with honey, brown sugar and ground stone mustard, candied yams and green beans tossed in gremolata $137.94 (Serves 4–6).
Order by Nov. 17 at 3p.m. Pickup Nov. 24 (7a.m.–3p.m.)
Pie: Both freshly baked ready-to-eat pies and frozen pies (ready to bake at home) are available to order by Nov. 18 and pick up Nov. 24 at five locations throughout the Twin Cities. If you forget to place an order you can stop by on Wednesday, Nov. 24 and they will be stocked full of extra pies. But arrive early for the best selection.
The Capital Grille, Minneapolis
Celebrate Thanksgiving with a chef-prepared dinner in the restaurant or order sides for at home.
• Dine-in: A traditional meal with an upscale twist includes turkey with brioche stuffing, French green beans with Marcona almonds, cranberry-pear chutney and mashed potatoes, with the option to add mashed sweet potatoes and pumpkin cheesecake. Adults $43; children $15 (Full dinner menu also available.)
• Thanksgiving sides at home ($125, Serves 4) includes: brioche stuffing, house-made gravy, mashed potatoes, pecan-crusted sweet potatoes with hot honey, French green beans, cranberry-pear chutney and seeded rolls. Store the prepared sides in your refrigerator and reheat on Thanksgiving Day.
Pre-order sides for pickup on Nov. 24 (9 a.m.–5 p.m.) or Nov. 25 (9 a.m.–11 a.m.) or make a reservation to dine in here.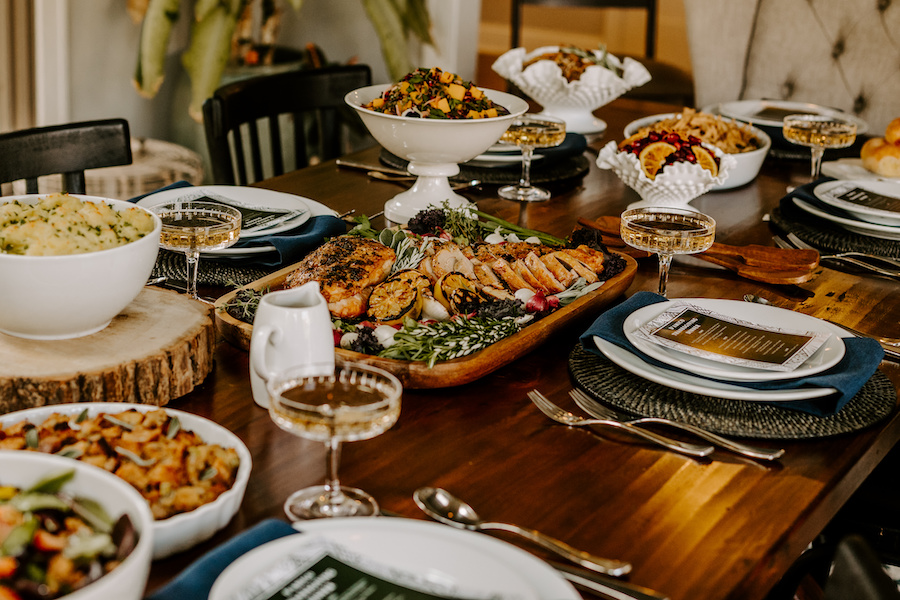 D'Amico Catering
A traditional meal prepared by D'Amico's team of chefs includes turkey breast and thighs, mashed potatoes, gravy, salads, cranberries, sweet potatoes, green bean casserole, dressing and pumpkin pie with an option to add more pies.
Order by Nov. 22 for pickup on Nov. 24 at either Edinburgh USA in Brooklyn Park or Metropolitan Ballroom & Clubroom in Golden Valley. $235 (Serves 6)
D'Amico Catering D'Amico at Home Thanksgiving menu and order here.
FireLake Grill House, Mall of America
Dine in and enjoy a pre-fix menu of traditional Thanksgiving fare with a FireLake twist: Greens Salad, Local cider-cured turkey, white cheddar herb mashed potatoes, cranberry orange relish, Minnesota wild rice stuffing, cider gravy, maple-glazed yams and apples, green bean, cremini mushroom, crispy shallot casserole and Pumpkin Praline Pie with cinnamon whipped cream. 11a.m.-10p.m. $45 per adult and $22 per child, ages 6-12.
Holman's Table, St. Paul
Open for dine-in Thanksgiving and offering a chef-crafted three-course pre-fixe menu. 11a.m.- 4p.m. Adults $39.95, kids $15
The Lexington, St.Paul
The Lexington's heat and serve meal kit ($220 serves 4-6) includes Bell and Evans Herb Roasted Turkey Breast and Cider Braised Turkey Leg, Roasted Brussels Sprouts with Bacon and Smoked Shallots, Whipped Yukon Gold Potatoes, Dark Rum Sweet Potato Casserole with Homemade Marshmallow, Whole Wheat Brown Butter and Sage Stuffing, Dinner Rolls, Cranberry Chutney, Scratch Brown Gravy, Homemade Pumpkin Pie with Salted Caramel Whipped Cream. Pick up is available Nov. 24 from 4-6p.m. at the front door of the restaurant on Grand Ave. Also check for dine-in reservations.
Mason Jar Kitchen, Eagan
Take-and-bake and ready-to-serve Thanksgiving Feasts. Dinners include herb-roasted sliced turkey with both light and dark meat, sage and rosemary stuffing, garlic mashed potatoes, turkey gravy, candied yams, buttered green beans, choice of garden or Caesar salad, and dinner rolls with butter. $145 (Serves 4-6) Customize with add-ons, including cranberry sauce, smoked gouda mac & cheese, and extra sides. Pumpkin, pecan, and French silk pies (18-$22) from their own Cupcake Bakery may also be ordered separately.
Order online by 12 p.m. Nov. 23. Pick up from 1 p.m. to 7 p.m. Nov. 24 for take and bake; 10 a.m. to 2 p.m. Nov. 25 for hot and ready to serve. Supplies are limited, so order soon.
Nicollet Island Inn, Minneapolis
The elegant inn along the banks of the Mississippi River is featuring a three-course Thanksgiving feast—plus, each dinner comes complete with a "leftover" turkey sandwich to enjoy the next day. Click here for this year's menu, which includes a choice of entrée whether diners are traditionalists who enjoy turkey, steak or a vegetarian ravioli. $60 per person. Seating for large parties is available.
Red Cow/Red Rabbit, Minneapolis/St. Paul
Thanksgiving dinner comes fully prepared; just heat and serve at home (instructions provided). Meal kit includes: turkey breast, mashed potatoes, gravy, stuffing, butter pecan sweet potatoes, mac n cheese, green bean casserole, cranberries, bread with garlic butter and pumpkin pie. You can add on additional sides, a bottle of wine or a cocktail kit.
Order online by Nov. 21 and pick up from Red Cow Uptown Nov. 24, 9 a.m-5 p.m. $209 (Serves 5-7).
As part of their inspiRED giving campaign, this holiday season, for every Thanksgiving meal kit purchased, Red Cow will donate $25 to M Health Fairview Masonic Children's Hospital.
Sugar Factory, Mall of America
When pumpkin pie alone is not quite enough, or if you're looking for a treat throughout the month of November, the Gobble Gobble Milkshake is a decadent pumpkin spice ice cream milkshake, decorated with a sweet pumpkin mellow creme, milk chocolate turkey, Autumn mix sprinkle, and salted caramelized pepita (pumpkin) seeds. It is even topped with a creamy slice of pumpkin pie with whipped cream. All of this is served in a milk chocolate covered mug. This taste of Thanksgiving will be available Nov. 5–30. The perfect milkshake for two to split; $21.
Travail Kitchen, Robbinsdale
Thanksgiving Family Meal: Turkey (a whole 12-14 lb bird), Apple Cider Turkey Gravy, Potato Pave with cheese sauce, Creamed Spinach Green Bean Casserole, Sage Sausage Stuffing, Bob's Famous Sweet Potatoes, with mint, maple, and lime, Foccacia, Shrimp Cocktail with cocktail sauce and lemon, Cranberries and Brown Butter Pumpkin Pie.
$300 dinner (serves 4) Optional add-on ($100): Turducken with foie gras sauce and truffle, Cream of Mushroom Soup, 6-inch round Chocolate Cheesecake
Order online and pick up Nov. 24 2-6pm
Grocery Store Thanksgiving Options
A great selection of cooked and ready meals that you just need to heat and serve are a saving grace for Thanksgiving and upcoming holidays—and many include pie. Keep in mind that while the meals are fully cooked, the elements are cold from refrigeration and will need time to heat, so factor that into your planning. A fully cooked turkey will still need about an hour in the oven to heat before serving. Meals should come with heating instructions. Meals are available while supplies last at select stores and need to be ordered in advance. Here are highlights; stores offer additional selections and a la carte items.
Cub Foods
Two options this year are fully cooked and then chilled so the whole meal is ready to heat and eat whenever you want to serve it. Both meals include stuffing, mashed potatoes, gravy, sweet potatoes, dinner rolls, cranberries and apple or pumpkin pie.
• Turkey Breast Dinner (Serves 6) $79.99
• Whole Turkey Dinner (Serves 10) $119.99
Pre-order: Stop by the deli at your local Cub, place a pre-order over the phone, or visit Cub's deli pre-order site. Order 48 hours in advance; available while supplies last. Meal pickup beginning Nov. 8, so is available for Friendsgiving dinner, too.
HyVee
• Family Feast Turkey Dinner (Serves 12) $149.99
• Turkey Party Pleaser (Serves 8) $99.99
• Turkey Breast Bundle (Serves 6) $89.99
• Brown Sugar Spiral Ham Meal (Serves 8) $99.99
• Ham or Turkey Dinner $34.99 (Serves 2); $59.99 (Serves 4)
Orders can be placed up to 25 days prior to pick up
Kowalski's
• Small Turkey Dinner (Serves 4-6) $119.99
• Oven-Ready Raw Turkey Dinner—for those who want to roast their turkey from scratch, minus the messy parts. The turkey is dressed and ready to pop straight into your oven. Sides come cold but are fully cooked and ready to reheat. (Serves 10-12) $169.99
• Turkey Dinner, fully cooked (Serves 10-12) $179.99
Thanksgiving meals are available for curbside pickup, in-store pickup or delivery on November 23 and 24, only. There will be no deliveries after 4 p.m., and all orders for curbside or in-store pickups must be picked up by 4 p.m. (Stores closed Nov. 25.) If ordering with less than 48 hours, call your local market.
Lunds & Byerlys
Dinners come complete with side dishes, buns, dessert and step-by-step cooking instructions. Additional side dishes also available for order—and, of course, a variety of pies from the bakery.
• Turkey Dinner $99.99 (Serves 3-5), $199.99 (Serves 8-10)
Order by Nov. 17. Available while supplies last at select stores. Items will be available for in-store pickup on Nov. 23 after 10 am or by 8 pm Nov. 24.
• Gourmet holiday dinners are also available through Lunds & Byerlys Catering.
Whole Foods
• Classic Whole Roast Turkey Breast Dinner $74.99 (Serves 4)
• Classic Whole Roast Turkey Dinner $84.99 (Serves 4); $139.99 (Serves 8); $189.99 (Serves 12)
• Festive Feast for 12: Includes both a turkey and ham as well as sides and two desserts $299.99
Order online by Nov. 23 for in-store pick up.