As of May 11, Valleyfair is officially open for the summer, and with its recent revival comes an abundance of new foods and drinks waiting to be sampled by hungry fair-goers. To save you time and money (and let's be real, precious calories, too), we tried a lot of them for you. We loved some, but we definitely threw a hard pass at others. Before you head out for the day, take note on which new foods we loved and which we left behind.
Gluten-Free Hashbrown Burger Basket
If you didn't know any different, you'd never guess this breakfast-inspired masterpiece was gluten free. And really, if we had to rate it, we'd give it a strong 10/10. Two hash browns (the buns) sandwich together bacon, cheese, and a burger with a creamy hollandaise sauce tying it all together. Our only aversion: There's a little (OK, a lot) of grease.
Where to find it: Coasters
Cost: $12.59
Flaming Hot Cheetos Deep-Fried Pickle on a Stick
To put it lightly, this is a total bust. Imagine a corn dog, but a pickle on the inside and it tasting significantly worse. I'm a big Hot Cheetos fan, and an even bigger fried pickle fiend, so this was a major let down. Stick with the traditional Pronto Pup instead.
Where to find it: Wild Thing Pronto Pup
Cost: $4.99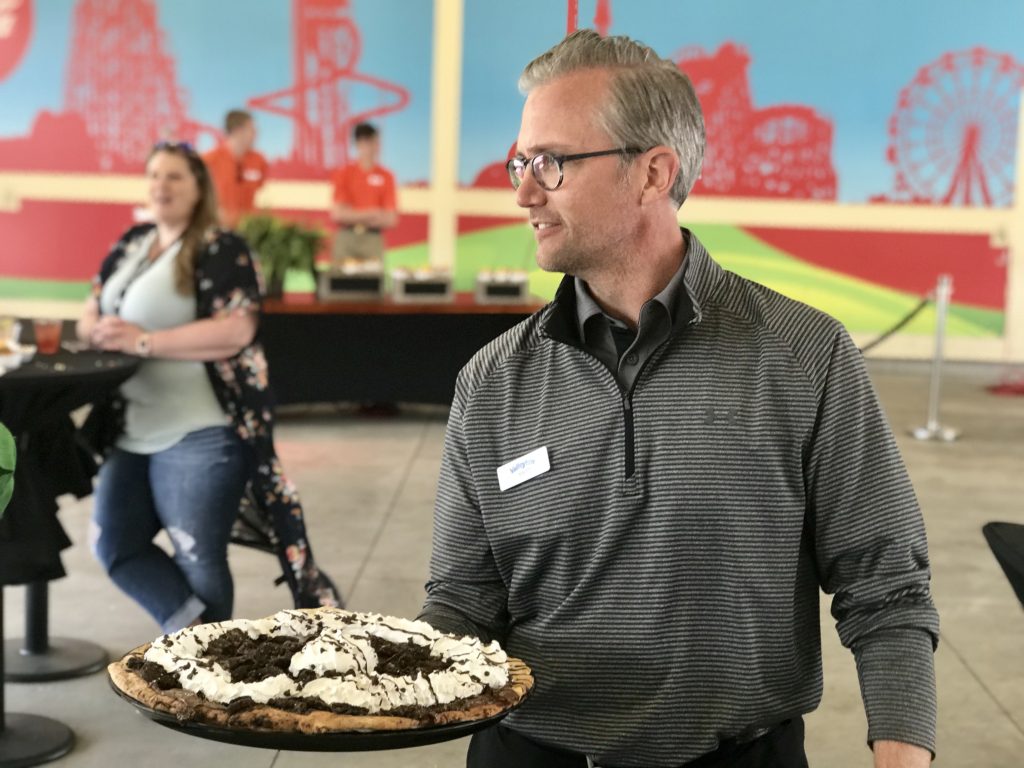 Dessert Pizza
This dessert pizza's cinnamon sugar crust is smothered with Nutella and topped with crushed Oreos, whipped cream, and chocolate and caramel drizzle. Essentially, this thing is a spectacle in all its chocolatey glory. I liked it, but probably wouldn't get it again. (If chocolate isn't your top choice, you probably won't be able to stomach more than a few bites. It's rich.)
Where to find it: Mama Chetta's
Cost: $19.49 (for the whole pizza)
Cotton Candy
The fair's new cotton candy flavors include Birthday Cake, Grape Sizzle (complete with grape-flavored Pop Rocks), and S'mores. We only were able to sample Birthday Cake, but it surely (and unsurprisingly) did not disappoint.
Where to find them: Games Cotton Candy
Cost: $7.99
Gourmet Hot Dogs
I'm usually not a big hot dog person, but these were a pleasant surprise. The Lobster Mac 'N Cheese Dog was as fabulous as it sounds, and the Giardiniera Dog was good, but probably my least favorite of the three. The Cubano Dog, pictured above, had the best flavor—hands down.
Where to find them: Route 76 Refreshments
Cost: Lobster Mac 'N Cheese Dog, $8.99; Giardiniera Dog $7.49; Cubano Dog, $7.49
Mostaccioli con Ricotta
If we're going to make this an honest review, we've gotta say you can find better pasta at Olive Garden, or really anywhere. Flavor was bland, but the noodles were cooked well, so we'll give them that. Equally poor was the Italian Chopped Salad, found at the same location. Skip 'em both.
Where to find it: Mama Chetta's
Cost: $5.99
Gourmet Tacos
There are a few choices, but we're definitely not the type to complain about an abundance of taco options. There's the MN Taco, which is essentially the "traditional" taco that Mom made for family dinner growing up with ground beef, shredded cheese, lettuce, and tomato. Then there's the Al Pastor (my personal favorite), with juicy carnitas cooked on a vertical broiler and topped with green salsa, white onion, and cotija. Finally, there's the new Fire Roasted Chicken taco—topped with corn, salsa, and queso—which was a close second.
Where to find them: El Taco Mercado
Cost: MN Taco, $5.99 for three; Al Pastor, $6.49 for two; Fire Roasted Chicken, $7.49 for two
House Smoked Pulled Pork Sandwich Basket
This sandwich was undoubtedly a favorite amongst my crew. The pork was cooked fabulously, and the cold, crunchy slaw on the top created the perfect pulled-pork balance I didn't even know my life was missing.
Where to find it: Northwoods Grill
Cost: $12.99
Roasted Elote
When considering the flavor to price ratio of this dish, it's a steal. We already know you can't go wrong with roasted corn, but Valleyfair's version of the Mexican delicacy is no exception. It's topped with queso fresco, sprinkled with chili powder, and drenched in a lime aioli. Lots of it. Whether that's good or bad, we'll let you decide.
Where to find it: Corn Cart
Cost: $4.99
This summer, Valleyfair is also bringing in the breweries—some of the best in Minnesota. From pale ales to IPAs and rosé to pinot, you can be enjoy them all throughout the park at select locations.
Valleyfair Rum Punch with Tattersall Barrel Select Rum
If you don't like sweet drinks, I can imagine this one might be a hard pass for you. I'll admit it grew on me after a few sips, but it's a bit much. Not the booze, surprisingly, but the sugar.
Where to find it: Depot Refreshment, Breakers Bay Bar, Catering Events
Cost: $10.99 for 16 ounces
Valleyfair "Aw Shucks" Cream Ale from Badger Hill
I didn't give this one a try due to my designated-driver status, but my brother (who doubled as a trusty taste-tester with me) did. He said it was pretty good, but in the same breath, "quite average."
Where to find it: Depot Refreshment, Atomic Bar, Chickie's & Pete's, and Catering Events
Cost: $9.99 for 16 ounces
Underwood Can Wine
Served unconventionally in a can, these Oregon-based wine selections include Pinot Gris, Rosé, and "The Bubbles"—a wine with ripe citrus, tropical fruit, and white flower flavors.
Where to find them: Depot Refreshment, Atomic Bar, Chickie's & Pete's, El Taco Mercado, and Breakers Bay Bar
Cost: $11.99 for 12 ounces
Surly Brewing Company
Surly Brewing's Beer Hall in Minneapolis has a rotating tap list of 25-35 beers, and though there are only four at Valleyfair, it's still worth the taste. Try the rosé-inspired lager, +1 (a golden ale brewed in collaboration with First Avenue), the pale ale Xtra-Citra, or their famous IPA called Furious.
Where to find them: Taste of Valleyfair Food Truck
Cost: $9.99 for 16 ounces

Summit Brewery
You have three options: First, there's the Dakota Soul, a Czech-style pilsener with Saaz and Loral hops. Then there's the Slugfest Juicy IPA, established in April 2019 as a seasonal and limited-release brew. (Yes, that's a subtle hint at "try it before it's gone for good.") In contrast, the third brew, Extra Pale Ale, has been around since 1986, and isn't going anywhere anytime soon.
Where to find them: Route 76 Refreshments
Cost: $9.99 for 16 ounces
These new foods weren't available to sample, but if they were, we would've been particularly curious about them:
Colonel Ompahpah This 42-ounce vanilla shake, found at Cool & Creamy for $19.99, features everything sweet, including mini donuts, funnel cake, and candy treats.
Grilled, Thick-Cut Bacon on a Stick I'm not sure if you can ever go wrong with product like this, especially for $4.79. Head to On a Stick in the waterpark to try it and let us know what you think.
Fresh Kettle Chips For only $2.99 at Route 76 Refreshments, take your pick between parmesan, ranch, and BBQ flavors.
House Smoked Brisket Sandwich Basket If this sandwich basket is anything like the pulled pork one we sampled, you're in for a treat. Try it at Northwoods Grill for $13.99.
Dessert Waffle Taco It's everyone's favorites combined into one for $8.59 at Nordic Waffle. Dessert, waffles, and tacos. Separate? Good. Together? Even better.