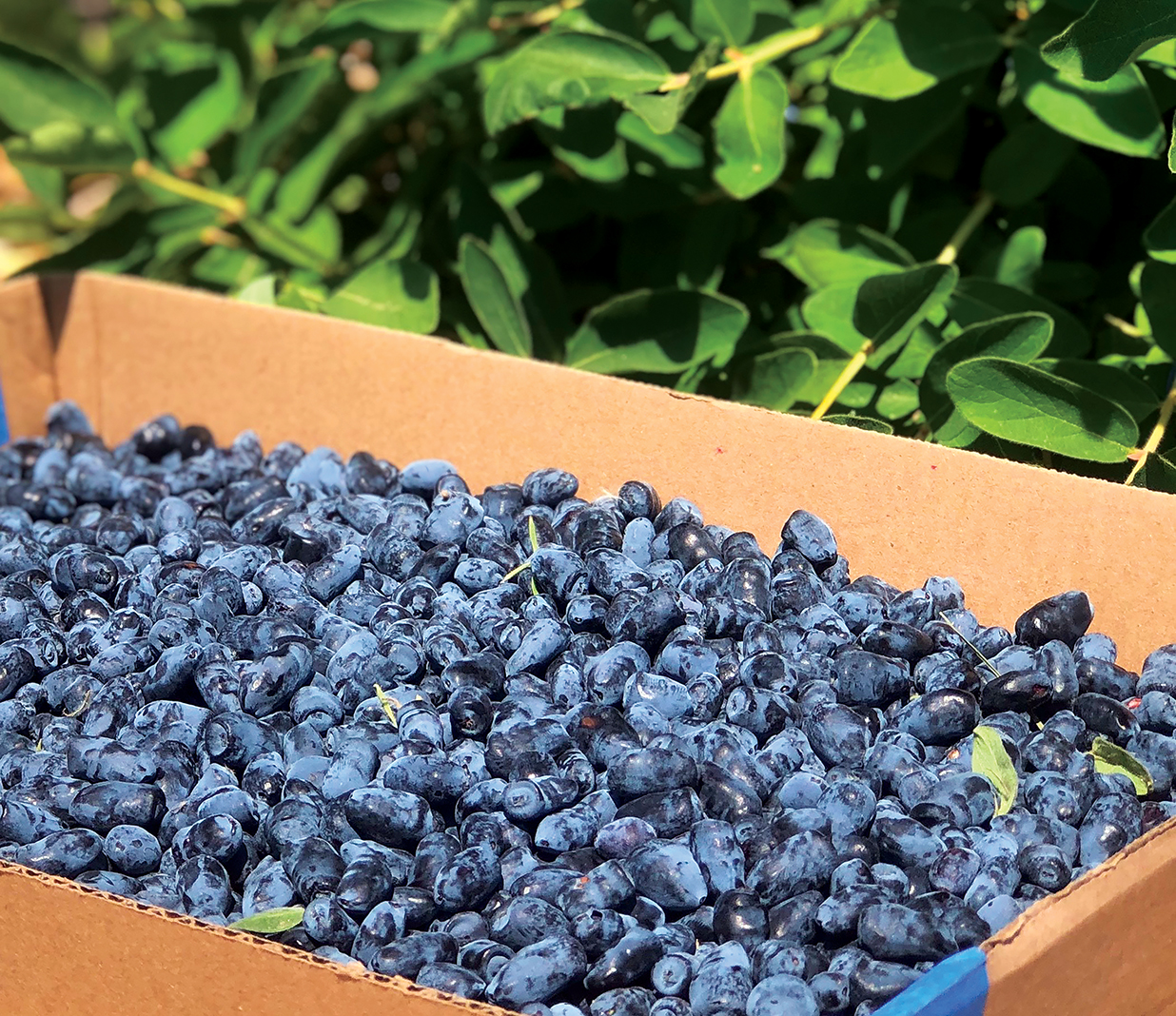 Berry season in northern Minnesota ripens in the last week of June, offering course after course of delicious sweetness—from the well-known raspberry to the little-known serviceberry.
We have made a point of picking berries every year since our three children were born. I have fond memories of bringing them to the strawberry fields on a summer morning and hiking a ridgeline in search of wild blueberries. When your family is ready to head up to the Arrowhead region with your buckets and sun hats, here are some ideas for farm-picking and forest hunts targeting wild varieties.
Farm Finds
The farmers of Carlton County really know how to grow delicious fruit. One of Carlton County Fruit & Berry Growers' seven member farms, Spectrum Farm in Carlton, is strawberry heaven. Formerly known as the much-loved Finke's Berry Farm, Spectrum bought the 40 acres located off I-35, about 30 miles southwest of Duluth, in 2017 when Finke's owners retired. Overall, Spectrum has practiced sustainable farming for two decades. The delicious berries attest to the crop-rotation practice of production and rest. But act fast: The season usually begins at the end of June or early July and runs for only a week or two. Call 218-389-6265 for a daily voice recording that gives picking details. When you're in the fields, stick to your row or risk a scolding from fellow pickers, and don't be surprised to find grasshoppers and toads hopping around you.
Another pick-your-own option in the region is Farm Lola, run by Locally Laid Egg Company in Wrenshall. Locally Laid built its quirky name on ethically treated hens and partnerships. "We explored berries because we had land, a lot of chicken manure, and, of course, farm bills to pay," says Lucie Amundsen, who owns and runs the farm with her husband, Jason. "Big commodity crops didn't speak to our ethos. Berries seemed like a viable answer."
In addition to raspberries and blueberries, Lucie and Jason explored the unique option of honeyberries. Jason had traveled Canada and Scotland to see honeyberry operations in action and was hooked. The oblong berries have a sweet, delicious taste—some say a bit like a blueberry mixed with a Sweet Tart—and lots of antioxidants to go with their vibrant blue color. They're also tannin-rich, making them popular among brewers and distillers. The berry's preferred growing climate is Siberia, so northern Minnesota is a good fit for early-July ripening. (They've also got a berry hotline: 218-203-5995.)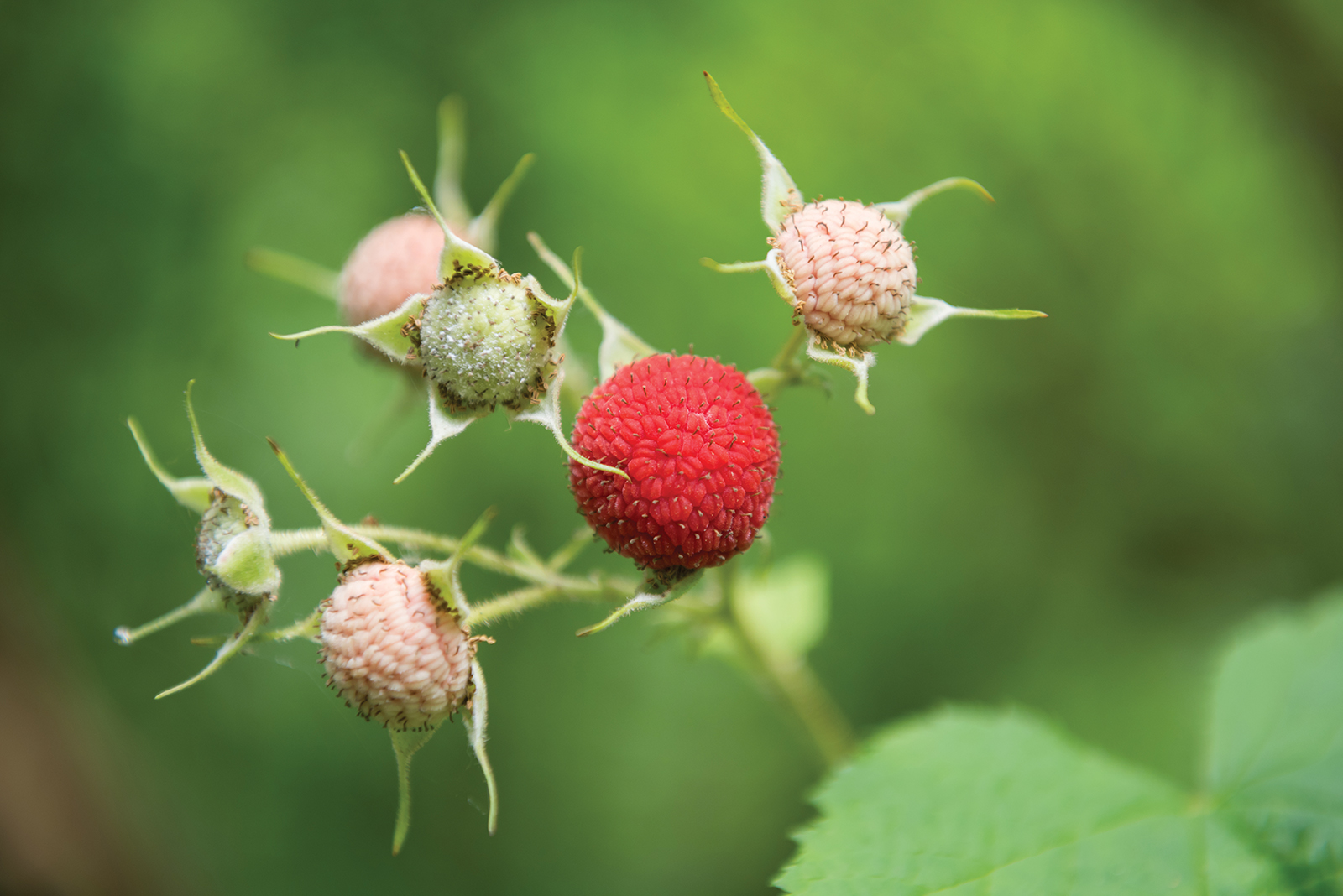 Urban Park Picking
For more of a hunt, try Duluth's Lester Park. This historic city park tracks 10 miles of berry-picking trails between Lester River and Amity Creek. Early in the season you'll find the isolated wild strawberry or dewberry, which looks like the raspberry's younger cousin, growing isolated and low to the ground. By late July, there's an explosion of two under-the-radar treats: thimbleberries and serviceberries.
You may have walked right past a patch of ripe thimbleberries before. Underneath wide, wrinkled green leaves hides a perfect blend of sweet and tart. A ripe thimbleberry looks like a small, dark-red golf ball, about the size of your thumb. It will fall right off the single stem, leaving the core behind. It's so fragile that it's nearly impossible to save—unless you're part of a group of monks making thimbleberry jam in Michigan's Upper Peninsula, but that's another story—so it's best to eat that delicious fruit right there in the patch.
Serviceberries, also known as juneberries or saskatoons, are a little harder to spot until you know what you're looking for. They can grow on single small trees or groups of low bushes. The fruits look like a cross between a blueberry and a tiny apple, and they grow in clumps on long stems. The ripe berries can be dark red, purple, or even black. (Fortunately, there are no poisonous doppelgängers to watch out for.) Birds love them and will devour a tree's supply in no time.
While you're out there hunting berries, bring along Teresa Marrone's Wild Berries & Fruits Field Guide: Minnesota, Wisconsin and Michigan. With its methodical description of Upper Midwest berries, it will keep you from picking those poisonous red baneberries—which look like they should be edible—and may inspire you to try a not-too-tasty survival staple, bunchberries.
After scouring Lester Park's trails, take a walk or a drive up the nearby Seven Bridges Road, a two-mile scenic path ascending along and over Amity Creek through towering birch, pine, and maple trees. Watch for thimbleberry patches blooming roadside. Just past the first bridge at the bottom, you'll find a large collection of wild thimbleberry plants growing. Near the highest point of Seven Bridges Road, look for the spray-painted smile on a rock next to the creek. "Smiley Rock" marks one of the best local swimming holes, and you'll find more serviceberries here, too.
At this point, you can keep going on East Skyline Parkway or on the Hawk Ridge bike trail, which also welcomes hikers. These miles along the Duluth ridgeline will have more serviceberries, and maybe wild blueberries and huckleberries. But, hey, the stunning big-lake vista makes even a stale granola bar an event.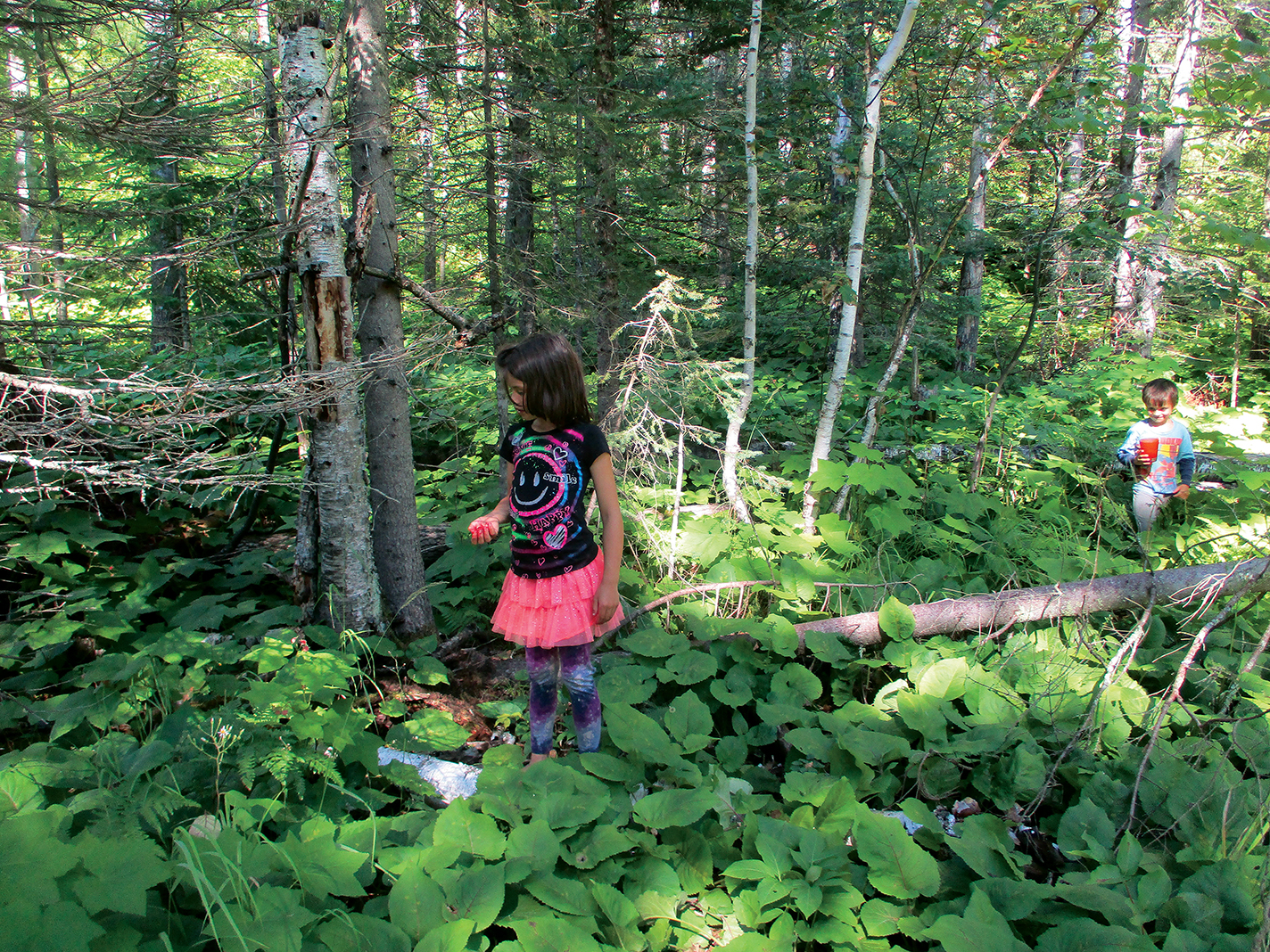 True Blue
If you're after blueberries and a more rugged experience, head farther up the shore to Grand Marais and the Gunflint Trail. Wild blueberries and their sweet sister, the huckleberry, grow in open areas, often in rocky outcrops with a lot of direct sunlight, on shrubs low to the ground.
The Gunflint Trail's Biggest Blueberry Contest, hosted by area businesses, runs mid-July to mid-August during peak blueberry season. For a chance to win cash and bragging rights, you have to find that berry in a public local area, which does not include state parks or the Cook County Whole Foods Co-op. Try the Superior National Forest or the Boundary Waters, or spots along the Gunflint Trail. The Chik-Wauk Museum and Nature Center is known for its wild blueberry patches. You may also want to explore an area hit by the Ham Lake Fire of 2007, as wild blueberries prosper in burned areas. (Indigenous fire management practiced by the Ojibwe used controlled ceremonial burnings, partly to invigorate the blueberry crops.)
For a lot of berry hunters, it's all about the thrill of the chase and the chance to see wildlife. After a few sweaty, buggy hours picking amid the deep woodsy scenery near the end of the Gunflint Trail, Grand Marais' parks and recreation director Dave Tersteeg recommends a swim at the Blankenburg Landing beach on Sea Gull Lake.
These days, Tersteeg rarely packs out the quarts necessary to have fresh blueberries in his pancakes by January, but he says it's worth the effort when he does. "It's a silent summer sport hunting the elusive motherlode patch," he says.
Where Berry Pickers Eat, Play, and Stay
Eat: Gordy's Hi-Hat in Cloquet is a must-stop for berry pickers hauling home boxes of fresh strawberries. This old-fashioned 1960s diner still doles out hamburgers and onion rings made like your Grandpa liked them, and the to-die-for malts use fresh berries, just like the ones you've spent all morning picking.
Play: If you can't get enough trail time, check out one of the many outstanding trails maintained by COGGS (Cyclists of Gitchee Gumee Shores) in Duluth and the neighboring Superior, Wisconsin. From the beginner flow trail at Lester Park to the advanced options at Mission Creek and Spirit Mountain, bring your own mountain bike or rent one for the day from Continental Ski & Bike.
Stay: About the size of a small city, the harborside Grand Marais RV park and campground has excellent sites, friendly campers, easy access to downtown attractions, and campfires ablaze every night.
Facebook Comments