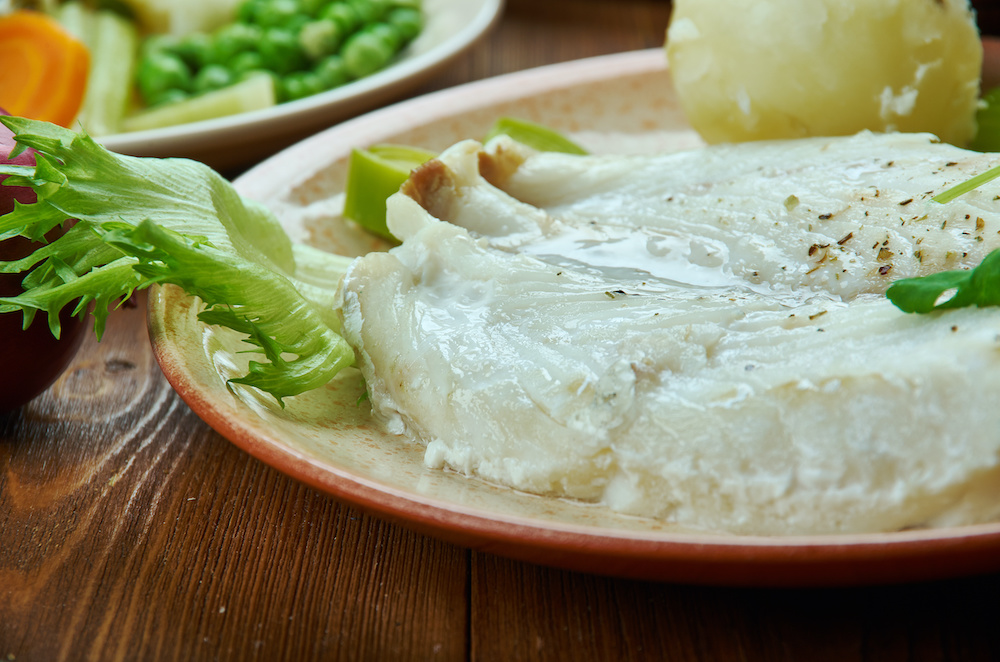 If you grew up in the Midwest, odds are you've heard of lutefisk. And if you've never tasted this lye-soaked fish for yourself, it may be somewhat of an urban legend. (Find a hilarious definition here.) But annual lutefisk dinners held between October and February at Lutheran churches around the state are very real. They epitomize a comfort food experience, as well as Scandinavian tradition in small-town Minnesota.
This past fall, I attended the dinner at First Lutheran Church in Blooming Prairie, which attracts more than 1,000 guests each year.
Upon entering, the first thing I noticed was a smell that can only be described as unusually cooked seafood. Although it wasn't pleasant, it was not pungent. We arrived at the 6:30 p.m. seating a little after 6 p.m., per the recommendation of a veteran dinner-goer named Sandy. Old friends and family greeted her, remarking, "This year is the best yet," which heightened my already soaring excitement. Friendly faces working the dinner had an air of knowledge that they are a part of something that is important to both a culture and many families.
Some dressed in traditional Scandinavian dresses, others just in jeans. Like ushers in a busy showroom, they all worked together to make sure the guests knew when to sit, wait, stand up, and get in line. It soon became clear to the group around us that this was my first-time eating lutefisk, and many retired farmers made sure to give me a hard time.
Though the smell seemed to disappear initially, it did get a bit more intense as we entered the dining hall. Not offensive, mind you, just unfamiliar. Tables were filled 10 each, and as we were seated, we were instantly welcomed by a friendly mom and 12-year-old daughter duo offering decaf coffee. The lutefisk would be out in a moment, they added.
Joined in accompaniment, and perhaps necessity for non-lutefisk-eaters, the meal also featured Swedish meatballs, buttered corn, real mashed potatoes, dinner rolls, lefse, cranberry salad (I'll get to that in a bit), and pitchers of melted butter. Yes, pitchers. Though there is also table butter for the rolls and lefse, pitchers of melted butter are extravagant, shocking, and so, so mandatory.
How to Eat Lutefisk
Lutefisk can be eaten multiple ways. I'm sure there are other mix-and-match options, but these seemed to be the most common in descending order:
As one would normally eat a filet of fish, covered in melted butter
Placed on buttered lefse, then rolled up, covered in more melted butter
Or on top of mashed potatoes, covered in melted butter
Here's the thing. Lutefisk is not bad when cooked perfectly. The first batch that came lived right up to expectations of flakiness and excellent preparation. It has an essence of fish and was very mild in flavor. Now put some melted butter and salt over the top and you have yourself the reason why so many hearty Midwesterners love it—it tastes like butter. Invite mashed potatoes to the party, and well, it's a delicious, rich, and artery-clogging masterpiece. Cut through the fat with the somewhat famous cranberry salad/relish/fluff and it all makes sense.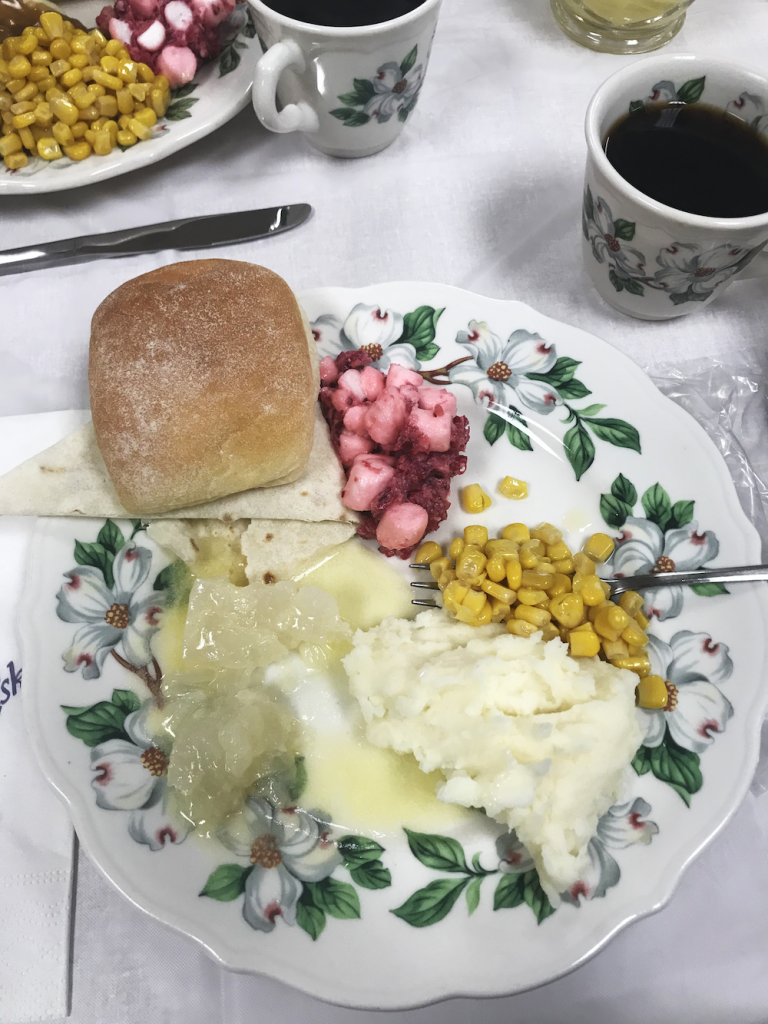 You can imagine how everything else pairs so willingly with the melted butter, which I am almost admitting was the main course. The meatballs, corn, and lefse soak up the remaining butter beautifully, and the meal comes together as does a traditional Thanksgiving dinner. Comforting, warm, hearty, and filling. Not an ounce as intimidating or obnoxious as once thought.
There is a reason why generations upon generations dig in multiple times a season. Blooming Prairie's dinners are reservation-only due to outsized popularity and a legacy dating back to 1934. We observed one group all dressed in blue shirts with a line-up of towns on their backs marking a tour of lutefisk dinners around the region. It seems the more dinners you attend, the higher your lutefisk street cred.
And although this experience has left me more appreciative of my small-town roots (born and raised in Waseca), I find myself feeling the slight sting of nostalgia for something that still exists. The reality is that small towns do not live in a vacuum. Open minds are harder to come by. Accessibility to education and lack of diversity play a large role in the hardening of mentalities of small-town dwellers, causing dinners like these to become an afterthought to many of those in the metro area.
Some dinners have died off, including one famously eulogized in Forest Lake. But, Mindekirken, Bethlehem Lutheran Church and the American Swedish Institute in Minneapolis still host them each fall. First Lutheran Church in Columbia Heights (Jan. 18) and Dell Lutheran Church in Frost (Feb. 2) are still ahead in 2020.
Perhaps with more open minds and mouths we'll be able to meet and gather around the table, together, for years to come. Just make sure there is plenty of butter.
Related: A photo essay of a lutefisk dinner at the Christ Lutheran Church in Marine on St. Croix
Facebook Comments