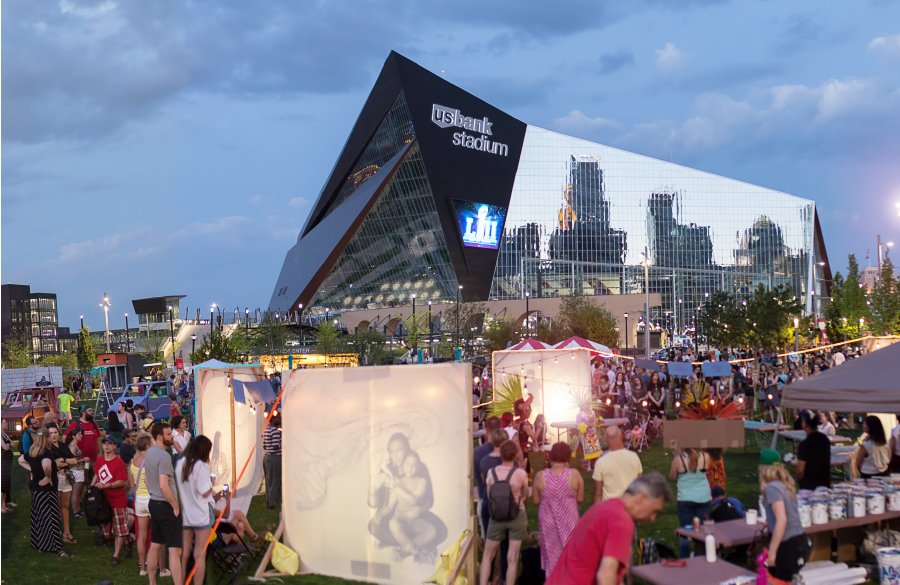 Northern Spark is back! After taking a hiatus in 2020, the annual art festival showcasing creative public art will be held in-person in St. Paul, June 12-27. There will also be other ways to participate, via the mail or online.
This year's theme, "alchemy," centers around holding space for grief while sparking a hunger for joy. The 2021 Artist Council collaborated with Northern Lights.mn to choose the theme, asking the questions, "How do we transform isolation into intimacy?" and "What community wisdom might we mix together for recovery?"
In years past, Northern Spark has hosted tens of thousands of people in locations around the Twin Cities. In 2019, the festival was held at the Commons greenspace in downtown Minneapolis and featured temporary art installations, live music, dance performances, and food trucks. The fair-meets-art-exhibit event is known for celebrating emerging artists and inspiring the Twin Cities community to unite for late-night, experimental (and often participatory) programming.
At Northern Spark 2021, part of the programming will include "mail art"—sending handmade or printed postcards, letters, stickers, collages, and even small objects through the postal service. Milkweed Collective will present "Seed Paper of Hope," and artists Corinne Teed and Tia Simone-Gardner will lead a "Community Map" project. There is also a paid opportunity for Black, Indigenous, and community members of color to create a coloring book illustration as part of a postcard project that will be mailed out to over a thousand East Side St. Paul residents.
Northern Spark will also feature a virtual and public art storytelling project dubbed "Braiding Our Generations Together." This project is a collaboration with Indigenous Roots, American Indian Family Center, Elder's Lodge, and Metro State University, and will be led by Reyna Day and Ruti Mejia of International Indigenous Youth Council. Artists Dameun Strange, Gabrielle Civil, Yeej Moua, and Lightning Rod will all share projects on virtual platforms, and more information about artists' work will become available closer to the festival dates.
"As our city still grapples with the effects of COVID-19, in 2021 [our] festival still support[s] artist projects that encourage our communities to safely connect and inspire the kind of experimental, surprising experiences we love at Northern Spark," says Northern Lights.mn in a press release.
Facebook Comments