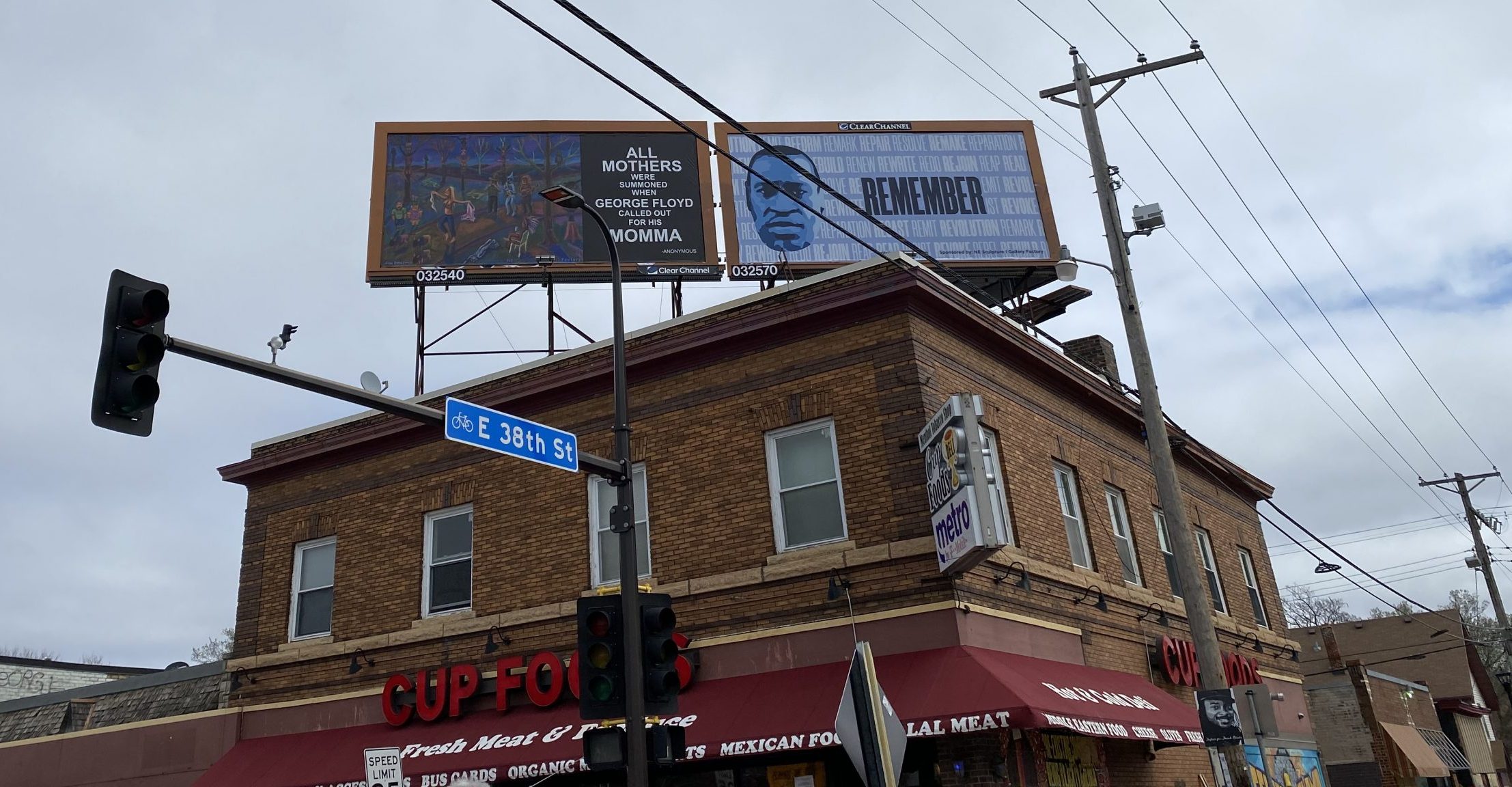 Next time you pay a visit to George Floyd Square, just look up. Elevated above Cup Foods, the clenched metal fist, flower beds, and bouquets are three billboards installed this past Sunday. One is a bright sky blue with a portrait of George Floyd at center. Another depicts a fantastical reality riddled with symbolism. Across Chicago Avenue, a third billboard shows a used tear gas canister photographed on a stark white background.
These are more than just billboards—they're the works of Minnesota artists Seitu Ken Jones, Jim Denomie, and Xavier Tavera. The three are part of the second phase of NE Sculpture Gallery Factory's Social Justice Billboard Project. Kicked off in July and propelled by donations, the project recently received funding as one of four nationwide 2020 Abbey Mural Prize recipients. The award committee includes internationally renowned artist Dread Scott.
Since July 2020—when NE Sculpture struck a deal with the billboards' owner, Clear Channel—artists' work has appeared in place of ads at George Floyd Square. The Social Justice Billboard Project drew inspiration from Peyton Scott Russell's mural, "Icon of a Revolution"—a grayscale portrait of Floyd erected at his memorial site in the days following his death, which has since been shared around the world. (Russell was also one of the artists featured in the preliminary rounds of the project.)
George Floyd Square continues to be a sacred zone where the community can remember Floyd and reflect on the events of the past summer. The unveiling of the billboards comes at a moment when the square's future is uncertain. The city has pushed to reopen the intersection, but many community members are steadfast in the importance of its presence. It also coincides with the news of another police killing on April 11—a mere hours after the billboards were unveiled—which has left the Twin Cities shaken with grief and frustration again over the death of 20-year-old Daunte Wright. (Learn more about lending support here.)
Art as activism
"Leave your community more beautiful than you found it." That's one mantra of artist Seitu Jones, a lifelong Twin Cities resident. At 70 years old, his expansive career has made him known as a purveyor of community connection and activism. It's become a tradition and way of life for Jones, who has organized community meals and is behind large-scale public artworks around the country. He's said in the past, "I see the power of the museum of the streets,"—and agrees that the Social Justice Billboard Project fits the bill.
On Jones's billboard, words swim around the bold blue of Floyd's portrait, beckoning passersby to "remember and honor Floyd's life, and to resist state violence," Jones wrote in an Instagram post. The largest text, spelling out "remember" in all caps, makes an immediate impact. Other words act as a backdrop—all using the prefix "re-": REVOLUTION, REFORM, REMARK, REPAIR, RESOLVE, REPARATION, RECAST, REBEL, REVOKE, REBIRTH, REBUILD, RENEW, REWRITE, REDO, REJOIN, REAP, READ, RESIST.
Jones grew up not far from 38th and Chicago. His experience as a Black man in Minneapolis is layered with racist run-ins with police. "I'm old enough to remember my encounters [with police] as a young man, and how that has followed me," Jones says. "I still get a little anxious when I see a squad car behind me, even though I have this white beard. I still sometimes am viewed as a threat…there's this tension that exists, and we all know what needs to be changed."
Jones's billboard is a continuation of his #blues4george project, which began in the days after Floyd's death. He created a five-layer stencil and made it free for public use to contribute to the outpouring of public art in Minneapolis.
For Jones, the color blue is steeped in nuance and meaning. The different shades of his #blues4george portrait and billboard pay tribute to George Washington Carver, an influential Black agricultural scientist, inventor, and artist in his own right. Around 1940, Carver rediscovered the formula for Egyptian blue—a royal blue color extracted and oxidized from clay. Playwright and poet August Wilson was also inspired by blues. Jones says: "One thing [Wilson] said is, 'The blues form our sacred text.' That is something else that resonated with me. I want to reclaim [blue] and think about it—what blue has meant to a lot of folks on the street."
Like Jones, artist, photographer and filmmaker Xavier Tavera has deep ties to the neighborhood. He lives just a few blocks from George Floyd Square. Born in Mexico, Tavera has been based in Minneapolis since 1996. His work focuses on capturing the marginalization and erasure of Latino/Latina/Latinx people and social justice movements.
When Minneapolis became the center of a worldwide protest movement in summer 2020, Tavera only had to step out of his front door to experience the chaos—flying rubber bullets, clouds of tear gas, and buildings ablaze. His billboard displays his photo of a tear gas canister recovered after the unrest at the Third Precinct. "It's a very disturbing image and a very disturbing object," he says. "I think it symbolizes what we went through during those couple of weeks last summer." Tavera chose to overlay the image with the message, "Don't let anyone convince you that non-violence is ineffective."
The tear gas canister is one of many found items left in the ashes of the unrest that Tavera has photographed, from cinder blocks on Lake St. to charred objects, against a clinical, white background. He took photographs of the violence, too, but never shared them, not wanting to contribute to more of what he calls "riot porn." Tavera is more concerned about demonstrating the community's resilience.
"Even if they throw us these kinds of objects [like tear gas canisters], we can still be non-violent," he says. "There's that possibility, and convincing people of that possibility is important."
The third artist, Jim Denomie, is an Ojibwe painter whose work often dips into surrealism interwoven with social, political commentary. His painting that made it onto the billboard was going in a different direction before Floyd's death. "I was too stressed and nervous about the riots, so I put it on the shelf," he says.
When he did return to it, his perspective had shifted; now, the painting is inspired by revolution. Among all of the varied shapes and characters—some familiar, like the lion, tin man, and scarecrow from The Wizard of Oz—a toppled monument rests face down in the foreground and a wolf on the prowl for rabbits has come to represent the police. It's paired with the anonymous quote, "All mothers were summoned when George Floyd called out for his momma."
"This was supposed to be a lyrical piece, but when I got back to it, I had all of this other energy around me and it became a reflection of the current times we're in," Denomie says. "I can't escape what's happening around me."
These three billboards will be up until June. To learn more, go to the Social Justice Billboard Project's website.
Facebook Comments