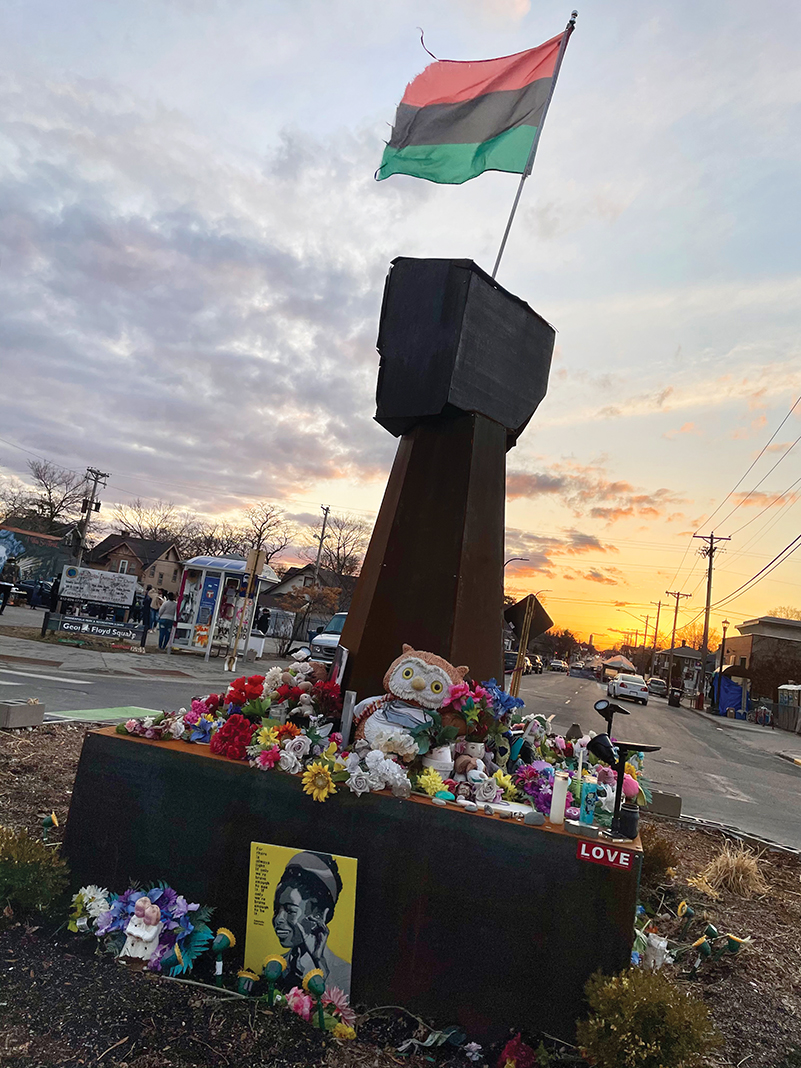 Editor's Note: A shorter version of this story went to press prior to the police killing of Daunte Wright in Brooklyn Center. For resources on donating and healing in the aftermath of the police-involved death of another Black man and the civil unrest that followed, click here.
On a warm Saturday afternoon in March 2021, Theodore "Butchy" Austin's trumpet rings through the barricaded intersection known as George Floyd Square.
It's sunny, and the four-block zone in south Minneapolis is lightly peopled as a little girl on a bike glides south along Chicago Avenue. Over a backing band, a few singers cry, "So I will shout with the voice of triumph!" The church parking lot on the corner is hosting a cookout, a grocery giveaway, and exuberant prayer: "We did not ask for it, Father"—a man's voice rises, shakes—"but you landed here."
This is the intersection of 38th Street and Chicago Avenue. On 38th, between Interstate 35W and Hiawatha Avenue, you'll find a busy west-to-east stretch of small eateries and businesses. Chicago Avenue is a wide connector that crosses Minnehaha Creek and continues north to Midtown Global Market, a fortress-like food hall full of international vendors. Today's event in the church parking lot is the first in a Saturday series meant to heal the neighborhood after a traumatic year.
On the intersection's four corners, you'll find the Cup Foods convenience store; the Dragon Wok Chinese restaurant; an abandoned gas station where the red letters of "Speedway" have been painted over to read "Peoples' Way," with a fire pit situated between the pumps; and the roughly four-decades-old Worldwide Outreach for Christ Ministries.
After things wrap up, Butchy walks his bike a quarter mile west to the home he shares with his wife and four young kids. In the alley behind his house, he pulls out a wagon and tosses in a few water bottles, among several Sunny Ds and Red Bulls, then leads it back to the intersection. Along the way, someone tucks in some protest signs, as well.
Concrete Jersey barriers block all four entrances to the intersection. City officials have discussed reopening 38th and Chicago to the everyday drone of cars and buses for well over six months now. In mid-February, Minneapolis Mayor Jacob Frey said the city would remove the barricades by the end of April.
Butchy's response, which he wrote on a city survey about reopening the square, was the same as the slogan on the protest signs, soon to pop up in local lawns and shop windows: "No Justice, No Streets."
"As a Black man in this community, and even in this country, we've always approached life a little differently than the average person might, always understanding that we may be perceived as a threat, knowing that we are not a threat in those very moments," he says. In 2019, he moved back to the neighborhood after time away, into the house next door to his childhood home. He considers it part of God's plan for him that he would come back right before something monumental happened. "In the wake of George Floyd, this is an opportunity for our voices to finally get heard."
38th and Chicago:

Before George Floyd
Although George Floyd Square is only about a year old, the conditions leading to its existence go back generations.
The intersection sits at the meeting point of four neighborhoods: Central, Powderhorn Park, Bancroft, and Bryant. The working and middle classes of a business-owning, home-buying Black community once flourished in this southern region of Minneapolis. But in the 1960s, the construction of Interstate 35W speared through that prosperity. The highway displaced residents and razed more that 50 square blocks. Meanwhile, decades of racially discriminatory policies not only segregated Twin Cities neighborhoods but prevented Black families from owning homes and accruing wealth. Milwaukee, Wisconsin, is the only U.S. metro area with a wider earnings gap between Black and white residents than Minneapolis, which ranks among the worst in racial inequities across education, employment, and other measures of opportunity.
Minneapolis police are at least seven times more likely to use force against Black people than white people, according to city data collected between 2015 and 2020 by The New York Times. Within that time, the Twin Cities have witnessed a chain of protests roused by the police killings of men of color: Jamar Clark in 2015, Philando Castile in 2016, Thurman Blevins Jr. and Travis Jordan in 2018, and Kobe Dimock-Heisler and Brian J. Quinones in 2019. Yet the killing of George Floyd went public in a newly graphic way. And when it happened, Minnesotans were already living at a more intense frequency; folks nationwide had retracted indoors that spring as the novel coronavirus pandemic stretched onward.
A viral cellphone video sparked it all on May 25, 2020. It showed Floyd, a 46-year-old Black man, pleading for air more than 20 times. A white officer, Derek Chauvin, pressed his knee into the back of Floyd's neck for nine and a half minutes outside of Cup Foods. An employee at the store had called 911 on Floyd for allegedly using a fake $20 bill, and about 90 minutes later, Floyd was pronounced dead at a hospital.
Even before Floyd, this intersection marked a fraught crossroads, notes Dr. Yohuru Williams, a professor of history who focuses on racial justice at the University of St. Thomas in St. Paul. Many of Minneapolis' historically rooted problems with racial inequity overlap here, a site known for gentrification, gang membership, and Black businesses trying to make it.
"It's not only an intersection in terms of it being a place where roads cross; it's an intersection in terms of where issues meet, where poverty, inequality, homelessness, Jim Crow justice converge in a very visible form—at 38th and Chicago," Dr. Williams says. "[The intersection] can be a stand-in for thousands of communities across the country that are very similar."
Protests of thousands surged in the Twin Cities, in streets and on highways, demanding justice for George Floyd and the arrest of the four officers involved in his apprehension. The movement caught on across the globe, in cities like London, Madrid, and Rio de Janeiro. At night, civil unrest broke windows, burned buildings. (Reports of white supremacist agitators spread.) There was the sense of a tectonic shift, and the hope among protesters that this one would last.
Overnight Change
In multiple ways, it proved to be a reckoning. "It was clear that the coronavirus, the pandemic, was negatively impacting Black and brown people at higher rates," Andrea Jenkins, vice president of the Minneapolis City Council, observes, "and so it really uncovered this level of intrinsic, inherent racism in our society—and then that murder really exasperated that feeling."
In late May and early June, immediately after Floyd's killing, 38th and Chicago—ground zero—burst into a new, vibrant identity. Split between two Minneapolis City Council jurisdictions, the intersection is partially overseen by Jenkins, whose domain is Ward 8, while the northeast side of the intersection, where Floyd was pinned by police, is represented by Council Member Alondra Cano, of Ward 9.
Jenkins has lived in a house two blocks from the intersection for 23 years. She is a poet and the country's first openly trans Black woman elected to public office, serving since 2018. Before then, in her almost 13 years as a policy aide, she was already calling 38th and Chicago "the soul of Minneapolis." It has remained central to the African American community, she explains. It's "where Black culture thrived"—where Prince, former mayor Sharon Sayles Belton, and Judge LaJune Lange grew up. After a midcentury of government-sanctioned disinvestment, lasting through a cocaine epidemic and the domino closures of Black businesses, the area has ached for redevelopment.
Jenkins launched her city council campaign here, she says—they ordered food from Cup Foods. Her policy work has helped christen area businesses, like the Chicago Avenue Fire Arts Center, which trains young people in metal works, and the Seward Co-op Friendship Store a few blocks away. "For the past 10 years or so, we have seen lots of improvement," she says. She recalls how the Central neighborhood even closed off the streets to host a roller skating party here two years ago. Since taking office, Jenkins has also backed a long-in-the-making, 10-year development plan called 38th Street Thrive. Approved by the council in March, it will, in part, build affordable senior housing, a mental health agency, and an incubator space for Black entrepreneurs, Dreamland on 38th—named for the cafe that drew Black luminaries in the '30s.
With the intersection's closure, Jenkins says, parts of the region's historic struggle have flared up. "There very much has been a gang presence at 38th and Chicago for a long time. The Bloods. It is no secret," she says. Before, the growth had enabled a kind of coexistence. "I would walk up to 38th and Chicago with no deep concerns. We used to have a gas station and a 7-Eleven—now we don't. We used to have thriving businesses—now, those businesses are bleeding, bleeding money that they desperately need to feed their families."
Still, when the intersection first closed, she understood why. "Initially, it felt so organic," she says, "and so appropriate."
Within a few days, thousands of daily visitors had funneled in from across the globe. At the start of a hotter-than-average Minnesota summer, they came to pay respects, to scream or bow their heads in grief, and to fill out or lead protests.
There were all kinds of media—"documentary filmmakers, Swiss news anchors, every cable station in America, The Guardian, the AP, New York Times, Washington Post, the L.A. Times." Jenkins says she now has the cellphone numbers of NBC's Ali Velshi and CNN's Don Lemon. As her first public comment, she sang "Amazing Grace" at a press conference, face mask dangling from one ear.
It was surreal, and in some ways, it still is. Jenkins' neighborhood, her ward, the intersection she has adopted—it was being livestreamed to the entire world. "This is me," she says.
As a poet, she can see the many stories—all true, all different. "Some really speak to the power of a community," she notes. "And I think some really speak to the deep, adverse actions of what we might call lawlessness, or—" She pauses, turning something over mentally. "I really hesitate to use that word." Her laugh is slow, nervous. "Because it suggests something. And the word is 'anarchy.' But in some ways, we do see that, sort of, playing out. It's not helping."
Summer at the Square
In visualizing how 38th and Chicago transformed into George Floyd Square, it's difficult to say whether it could exist without the barricades.
The City of Minneapolis' website says the Public Works Department put in the barricades on the day of Floyd's killing. But some protesters have documented this day as June 2, after community members already set out their own barricades to prevent vehicles from disturbing an ever-churning public vigil.
Since then, a monument has taken over as George Floyd Square's defining image. Fresh into the aftermath of Floyd's killing, artist Jordan Powell Karis drove up from Denver, according to a November interview on Instagram. He ultimately wanted to build something that was "structurally there, that they can't just walk with and take." The result: a fist, towering atop a pillar-like forearm. Constructed of wood, it evoked the clenched-fist logo made popular by the Black Panther political group in the 1960s. It seems to burst through the middle of the square even today—remade in steel and visible from blocks away.
On May 28, a small group of non-Black artists took it upon themselves to paint a mural on the south side of Cup Foods. It frames a portrait of Floyd within a sunflower, as well as the names of other Black victims of police violence.
The day the mural was finished, Gov. Tim Walz set a nightly curfew in response to unrest that had, by then, galvanized the nation. But it couldn't empty the square.
Graffiti artist and south Minneapolis native Peyton Scott Russell contributed a sobering, 12-foot-tall black-and-white portrait of Floyd—affixed to a bus shelter and a magnet for visitors' offerings.
In early June, a group of men from a Texas church wheeled wooden crucifixes into the center. They placed their hands on the shoulders of those open to prayer.
One evening, a local Native American artist, Joe Geary, set up an enormous dreamcatcher, to conduct the good energy and block the bad. That same day, under an intense sun, a Minnesota-based traditional African healer knelt on the street before the mural, wailed into the sky, and burned sage to lift the senses. "On the eighth day of someone's passing, we like to try to elevate their spirit," the healer, Gogo Nyazzendara, told me. "We're not even supposed to say the name of the person before those eight days, just so they can transcend easily. But with all the mourning, and all the anger, and all the sadness surrounding this—of George Floyd and police brutality—it's just unearthed so much, that his spirit stays until we help him elevate."
On balmy evenings, DJ Phoenix, a Twin Cities-based emcee, improvised block parties near the gas station. The community had rallied to bring in sound equipment, he said. Mixing joy and anguish, he led a diverse crowd in the "Cha Cha Slide," peppered with the call-and-response "Say his name!"—"George Floyd!"
"We had a minor talk, but there was really no plan to do this," he told me—adding, with a charge of the day's energy, "I shouldn't have to plan on if I can get oxygen. I shouldn't have to plan for that."
Along the curbs, offerings ebbed and swelled—flowers and art among protest signs and stuffed animals. On the day of Floyd's Minneapolis memorial service, Reverends Al Sharpton and Jesse Jackson came through, as did celebrities Kevin Hart, Tiffany Haddish, and Ludacris. In mid-June, on Twitter, the Minneapolis Police Department pledged not to disrupt the offerings.
Jenkins recalls a beautiful Juneteenth celebration at the square. "There was this sense of camaraderie."
Summer wore on, and the crowds of tourists and media thinned. But the barricades remained.
The 24 Demands
As well as an open-air memorial, George Floyd Square has become an example of occupation protest.
Dr. Yohuru Williams, the history professor, tracks occupation back to 1894. To lobby for the creation of jobs amid an economic crisis, populist businessman Jacob Coxey led a march of unemployed workers to the U.S. Capitol. "Essentially, what he did in addressing that group was say, 'We choose to march to the Capitol because this is the property of the people,'" he explains. "It's this idea that, in our democratic republican form of government, ultimate power rests with the people."
Other occupations have taken over college campuses and public parks, exercising a kind of "right to the city." Occupy Wall Street popped up nationally in 2011. Some of the Hong Kong protesters of 2014 squatted on major city intersections.
When the City of Minneapolis first said it would reopen 38th and Chicago, in August, protesters refused to leave.
On August 7, protest representatives submitted 24 demands in the form of the "Justice Resolution 001" document. Reportedly drawn from talks with community members, the document asks, "What does justice look like?"
Some demands call for big, top-down changes in law enforcement that experts say could take years—ending qualified immunity, requiring professional liability insurance for police. Others ask for "accountability and transparency" in a list of prior local police killings of people of color. Others seek public investments—like $400,000 in new jobs for area youth, funding for integrative health services for local residents, and a rent-to-own option applied to new housing. As a set of commandments, it itemizes the fact that "Justice for George Floyd" resounds deeply, beyond Floyd, all the way back to the city's and the nation's racist foundations.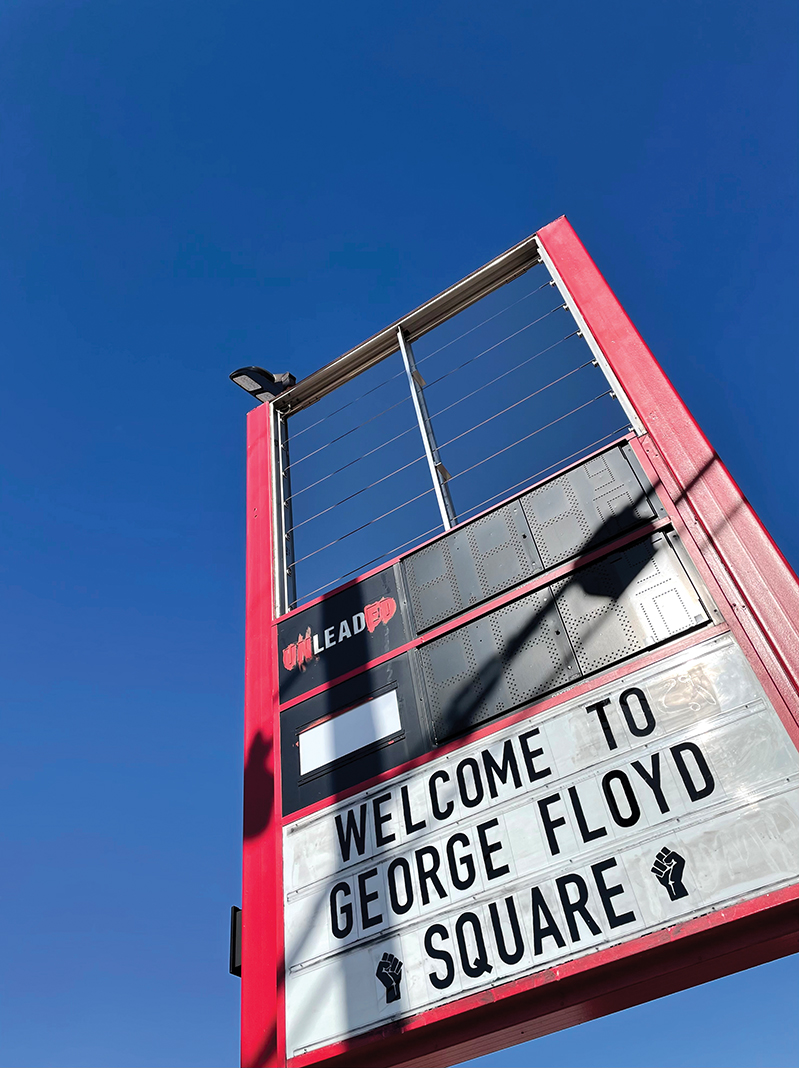 And as far as protest demands go, Dr. Williams says, "24 is a big number." Jeanelle Austin, the lead caretaker of George Floyd Square, counters that it's a small ask given the need. But Dr. Williams notes that the Black Panther Party had a 10-point plan, and the Montgomery bus boycott made just three demands.
Public support of an occupation protest gets tricky, he says, if the public perceives it as jettisoning the law, or reverting to what scholars call "popular constitutionalism"—"simply stepping away from the rules and establishing our own rules in this space, and devil may care," he says. A protest, in contrast, remains tied to its demands.
Marcia Howard, a 47-year-old Black woman who lives near the square, has helped lead the occupation since last summer. She is a rousing, electric presence—an English teacher and a former Marine.
On a bright mid-March afternoon, she is as busy as always. Her work covers the square's logistical upkeep, media relations, and twice-daily meetings with community members at the gas station.
"I don't see beyond the end of my nose and these barricades," she tells me. "When people are trying to ideate how the future of George Floyd Square will be, or look, and they talk about street names, or monuments, and promenades where people can stroll—I can't think that. It's leverage, to get the demands met from Justice Resolution 001. Those 24 demands are where our communities—Bancroft, Bryant, Powderhorn, and Central—are seeking redress for historical inequity. Disenfranchisement, underinvestment, overpolicing, overcriminalization, overpromising, and underdelivering. So, as we stand here on this street, you can keep your murals. I'm here for justice."
Back on August 14, a spokesperson for the city reported to the Star Tribune, "City staff had discussed the possibility of a potential phased reopening, but discussions continue with community and no firm plans have been announced."
Gridlocked
In the early Saturday evening of March 6, hours after the musical healing event at Worldwide Outreach for Christ, a 30-year-old Black man named Imaz Wright is shot and killed outside Cup Foods.
By March's end, the city reports 19 shootings around 38th and Chicago since the intersection closed. At least five in a half-mile radius have been fatal. Police Chief Medaria Arradondo says gunshot-detecting activations in the area rose more than 2,500% from 2019 to 2020.
Reports describe Wright as a man leaving behind a rough childhood to become a mental health practitioner, working with a social service group to guide youth away from gang life and drugs.
Days before the shooting, a few residents of color in and around George Floyd Square tell me they actually feel safer since the occupation, with police keeping at bay and neighborly bonds tightening. Carlos Becerra, a 28-year-old who says he has rented his house a block and a half west of the intersection for four years, says he and his wife "haven't been feeling anything but safe" since the intersection closed. "We've had a lot of people from the community stop by, asking if we're OK, if we need food, water, things like that."
Butchy, the trumpet player, says that after growing up in the neighborhood, he does not feel as though there is more or less intentional violence. "Those seeking to do harm, they will seek to do harm until there are hard changes," he says. His position against reopening the square has not wavered, although he acknowledges the shooting as "awful."
Cano, of Ward 9, says she sees the other side. "Residents have texted me, called me, emailed me over the last nine months, saying, 'I'm dodging bullets on my front lawn. What are you doing about this?'"
"It is a site of tremendous trauma for a lot of people," Jenkins says in mid-March, "and unfortunately that trauma is continuing to manifest because—the people who you call 'caretakers'?" She gives a small, ironic laugh. "Unfortunately, you know, that has become more like 'enablers.' Enabling criminal activity, enabling destructive behaviors, gaslighting neighbors. I have people shooting me emails: 'Stop lying! Tell the truth about 38th and Chicago, because you know that people there are really peaceful!' And I'm saying, yeah, but five people have died there since George Floyd was murdered. Like, am I lying about that?" She says she receives nightly texts about gunfire. "'Andrea, they just shot up my car,' 'My kids are sleeping under the bed'—you know, I mean, it's insane!"
Experts have cited pandemic tensions—unemployment, online schooling—as catalysts of violent crime in cities nationwide. On average, homicides in 20 U.S. cities increased 53% in the summer of 2020, according to the nonpartisan Council on Criminal Justice research institution, and based on a sample of 34 cities, homicide rates were 30% higher in 2020 compared to 2019. (Update: Theories have also connected these figures to eroding police-community relations since the summer of 2020 and a growth in gun sales.)
Likewise, reports of violent crime went up in nearly all Minneapolis wards in 2020 compared to 2019. Jenkins' Ward 8 saw the steepest rise, at slightly more than 100%. Most others saw an increase between 20% and 40%, with Cano's Ward 9 seeing 33% growth. (Although Ward 5's number of incidents increased about 16%, it had the most by far: 1,079, compared to Ward 8's 282 and Ward 9's 689.)
Last summer, in police scanner audio, an officer could be heard referring to the intersection as a "hot area." Since then, Minneapolis Police spokesperson John Elder has consistently denied the square's popular description as a "no-go zone" for police—also called an "autonomous zone" by the protesters.
The Powderhorn Park Neighborhood Association and the adjacent Corcoran Neighborhood Organization released a joint statement in mid-March declaring that they do not see the rise in violent crime as resulting from the closure of 38th and Chicago. "Our associations firmly believe that some community members, who were willing to cause harm before Mr. Floyd's murder, actively look for ways to use George Floyd Square as a shield to further illegal and detrimental activity in our community," the statement reads.
Meanwhile, Howard has used social media to document what she describes as the work of "opps"—short for "opportunists" or "opposition." On TikTok in January, she posted what appears to be a house's security footage of a car plowing head-on into one of the barricades. In another video, she finds a Black Cat firework at a bus stop. Then, a car reported as stolen to the city appears in the square, and Howard calls it double bait: for cops and for media. She often quips, "There are no coincidences at GFS."
After a two-victim, non-fatal shooting near the square at the end of December, Howard posted a TikTok that appeared to show a caretaker calling a medic. "Even though this is a historic site and a protest zone, it is still 38th and Chicago," she says in the video. "Interpersonal beef over here ain't new."
Without knowing the history of the neighborhood, onlookers may come to uninformed conclusions, says K.B. Brown, a North Minneapolis business owner and member of the Main Street Alliance that serves small businesses in the Twin Cities.
"I think it's not fair to sit back and let people blame everything on gang violence, and they do the same thing in North Minneapolis," he says. Brown was convicted of second-degree murder in south Minneapolis in 1993. After serving time, he climbed his way up, opening Wolfpack Promotionals in 2014. Over the years, he says he hasn't seen enough progress by organizations and nonprofits designed to curb gang-related violence. "People don't sell drugs because it's a fun thing to do. People sell drugs because they need to try to survive," he says. "Treating them as if they're not a part of the community is not the option out."
The Monday after Wright's fatal shooting, the intersection was supposed to be bustling, to mark the beginning of Chauvin's trial season. But all events are canceled. Visitors are encouraged to attend a virtual prayer. Howard tells her followers on TikTok that the square is closed for those grieving and soberly signs off, "No justice, no street. Seek justice."
Some residents are sick of bracing themselves. A 51-year-old African American woman who did not wish to be named says she has lived for 14 years at the nearby intersection of 37th Street and Elliot Avenue. If she hears gunfire at night, she gets out of bed and onto the floor. This happened a lot last summer, she says, and it's happening again. She bathes in the dark because she is afraid. She has been prescribed sleeping pills because her anxiety keeps her up. Without the buses, it's harder to get to monthly doctor's appointments. Last summer, police found Leneesha Columbus, a pregnant 27-year-old who died of a gunshot wound, near her home. "I was never afraid of my neighborhood until last summer," she says.
She understands the need to end systemic racism. "You need to get justice," she says, "because he didn't need to die like that." But she says she does not understand the method, and she's thinking about moving. "I just feel like I'm a prisoner in my own neighborhood."
Collateral Damage
To describe how the occupation has aligned with and diverged from history, Dr. Williams recalls the Black Panther Party of Oakland, California. In 1967, members took it upon themselves to patrol an intersection where kids were getting hit by cars. To move the Panthers out, the city put a stoplight in. Thus, the Panthers had leveraged the intersection.
Similarly, the occupation of 38th and Chicago at first "felt like a lot of other historic protests that we've seen, where a group of protesters comes to a space and occupies a territory as a way of saying, 'Pay attention,'" Dr. Williams says.
But where other protests—such as the sit-ins of the '50s and '60s, he says—have had time limits, the occupation of George Floyd Square feels open-ended. "Some of the demands were, I think, low-hanging fruit," he says, pointing to the demand for an investigation into the case of Myon Burrell. (Burrell walked free last year after 18 years in prison for a murder conviction, after an independent legal panel uncovered flaws in the Minneapolis police investigation.) "But then, there are other things on there"—he notes the demand to ban indemnification of law enforcement officers. "I don't know if that's going to happen anytime soon." Howard says the demands are ultimately negotiable.
In the meantime, some in and around the intersection have called for attention, too. In mid-March, a group of about a dozen residents contributed to a letter to the Star Tribune dubbing the square "a revolution by day and a devolution by night," according to the writer, Monica Nilsson.
A week before that, a GoFundMe campaign launched for four Black businesses at 38th and Chicago. They were three restaurants and a clothing store—Smoke in the Pit, Just Turkey, Dragon Wok, and Finish Touch Boutique. The problem: Customers weren't coming through the barricades.
Rashad West, the 31-year-old business owner of Dragon Wok, who opened just as the pandemic was getting underway, says he speaks with his wife every day about whether the restaurant can last through Chauvin's trial season.
At first, it wasn't so bad. He started saving, and there were a lot of people at the intersection over the summer. "Especially as a Black man here, I understand exactly why they locked the streets," he says. But the 24 demands took him by surprise, and he started to feel left out of the conversation.
He says his attempt at dine-in service stopped short after customers had to hit the floor because of gunshots outside. By March, he had received no direct aid from the city, and his issue is mostly with them. "Don't allow our utility to be ran through the roof when our revenue can't keep up," he says. "Don't allow our garbage to pile up, and then we have to call in, and you send a couple garbage cans out." He and the other business owners have threatened to sue the state for leaving them adrift. (Update: A proposal to deploy up to $1 million in $50,000 forgivable loans to small businesses and nonprofits in the square was approved by city council vote on April 16.)
West believes the city won't move the barricades "until they feel like there's not going to be any damage." Until then, "they're allowing us to be collateral damage of their indecision. And that's where the anger comes in."
Like West, Sam Willis Jr., of Just Turkey, describes the square as a safe zone where people can run after committing crimes. "There's other places—you could go to a park in order to make change," Willis says, of the occupation. "We shouldn't be the guinea pigs, you know what I mean?"
An Abbott Northwestern Hospital employee, who wished to remain anonymous, says she has felt unsafe commuting to the hospital, about a 10-minute drive north of George Floyd Square. She says she has witnessed "traumatizing" scenes, like an apparent scuffle between two men in the middle of traffic that she captured on her cellphone. (Abbott and the neighboring Children's Minnesota hospital did not offer comment.)
Earlsworth Letang, the community engagement director of Midtown Global Market, which neighbors Abbott, says he feels safe in the area and has been more concerned about the pandemic's impact on businesses. To promote the vendors—all people of color—he has worked with area organizations to nurture positive goings-on, such as the Black Flea Market and an Open Streets Minneapolis event. "If people thought it were dangerous, they would not park in the ramp, they would not go anywhere, and our goal is to open, to put out seating, so people can sit outside, can enjoy a cup of coffee," he says.
The protesters have known that business is a concern. One of their 24 demands calls for a contingency fund that would compensate businesses at the square. Another requests $10 million for public and private investments into south Minneapolis businesses and infrastructure. It brings forward a proposal formed by the community-led South Minneapolis Public Safety Coalition in 2019.
"When you look at the cost analysis, to make an impact, you might need $1 billion," says Tabitha Montgomery, executive director of the Powderhorn Park Neighborhood Association. She acknowledges that blocking traffic negatively impacts businesses. "And yet, traffic flow is always one component of what makes a corridor vibrant, right? When you think about North Loop, or 50th and France, or other commercial corridors that seem to be bustling all the time, you think about the hundreds of millions, if not billions, of dollars of investment that has gone into those corridors—the property tax rates, the average median income." She says the city needs to think about massive, long-term redevelopment to see meaningful economic justice here.
Meanwhile, the two bus lines that pass through have been rerouted. Updates to the Chicago Avenue line—to be called the D-Line, and meant to serve the nearly 60% of residents who are Black, Indigenous, and people of color within a half-mile of the line, according to Metro Transit—have omitted 38th and Chicago as a stop for now.
"The other thing I'll say to you that's probably not very sexy to talk about is that there's a rat infestation," Cano says. She guesses it resulted from last summer's fair-like aspect of the intersection. Speaking via Zoom, she jots down a reminder to herself to figure out how to take care of it. "Residents have had to take out golf clubs and guns to kill and shoot the rats themselves." (A spokesperson says the city received one complaint about rats in the area last fall and baited the sewers in response.)
Sacred Space
All along, above the ground-level noise, there's also been transcendence for those who stop and listen.
Ten months after Floyd was killed, in the sleepy season of late winter, Jeanelle Austin continues to pay close daily attention here. As the square's lead caretaker, she is working toward eventually showcasing thousands of offerings at a George Floyd Global Memorial.
The barricades today look almost like toll booths. There are makeshift guard shacks, where civilian volunteers greet visitors, offer pandemic-precautionary hand sanitizer, and pull away what look like metal bike racks so delivery trucks, garbage trucks, and other vehicles can get through. Community-based medics and members of the Agape Movement security service—a coterie of young adults trained to "bridge the gap between the community and law enforcement," and who have an office at the intersection—are on hand.
On Martin Luther King Jr. Day, the wooden monument was replaced with a version made of weathering steel. A crew of volunteer fabricators redid the fist with help from the Chicago Avenue Fire Arts Center. Today, it rises out of a flower bed hemmed in by cinder blocks, with a Pan-African flag flying at the top.
"I think that going back to business as usual is not an option, because business as usual might end in more suffering and more deaths that are absolutely unnecessary," Austin says, of reopening the square. "And so, if the community is offering ways to correct that, what's the harm in listening?"
Austin likes to show up at 6 a.m., picking up any trash before visitors arrive. In winter, she sprinkled salt or sand on slippery patches and swept snow off the painted outline of an angel marking the place where Floyd drew his last breaths—now cordoned off with stanchions.
Visiting the square last summer, you might have heard the word "sacred" a lot. Austin can explain why.
After growing up in south Minneapolis, blocks from the intersection, Austin went on to found a Texas-based coaching organization for racial justice leaders. She has a master's degree in Christian Ethics from a seminary in California, where she previously helped lead protests for Black lives lost to police violence. She came home after Floyd's killing and started tending to the square in the first week of protests. (Jeanelle is "Butchy" Austin's sister.)
The sanctity here comes from an interfaith embrace, she says. "When people started laying down flowers and protest signs and objects and artifacts and things that were of meaning to them, we naturally called them offerings," she tells me by phone. At sacred sites the world over—like Cenote Sagrado in Mexico, or Bear's Lodge Butte in Wyoming—pilgrims come to leave markers. "I think it's sacred because the people deemed it to be sacred."
Twice, the mural was vandalized. In August, the perpetrator—a white male med student—was caught spray-painting over Floyd's eyes. The second time, a message read, "[Expletive] Walz Commies & Satan." The culprit was not apprehended.
In winter, protesters built a rudimentary ice rink for kids, neighbors formed a shoveling crew, and an event in late February expressed Black joy as musicians and poets made jubilant sounds in the middle of the intersection.
When a polar vortex hit, Austin worried about the plant offerings, so she and some volunteers crafted a greenhouse north of the monument. "I had consulted with a greenhouse contractor, and everyone said, 'It's not gonna work!'" she recalls, triumphant. It joins other features of the square that have emerged over time: a shed-size community library, a clothing drop-off site in a bus shelter, a "Say Their Names" cemetery up the road, where 100 white grave markers memorialize Black lives lost to law enforcement. The cemetery, too, was apparently vandalized; Howard posted video in December of folks using a long pole to retrieve grave markers from the middle of a pond.
Signs on the barricades advise white visitors to behave as they would at the Vietnam Veterans Memorial or Auschwitz. Her work feels like self-care, Austin says. She and her crew have preserved 3,000 or so offerings so far, with help from the Midwest Art Conservation Center.
Each is its own act of protest, she says. "Within capitalistic constructs and within white constructs, land and space is something to be claimed, is something to be owned, is something to be commodified—but is not something to be held sacred."
Attempts to Yield
After the initial proposed reopening of George Floyd Square, in August, new timelines have emerged and disintegrated. The parties involved have not reached a clear consensus.
Protesters want city investments in Black life. City officials want to curb an uptick in violence. Businesses want financial support. On all sides, the voices are frustrated and triggered.
In February, the City of Minneapolis released two proposed redesigns for George Floyd Square. Traffic would skirt the towering fist, which would stand in the center of a roundabout or off to the side, according to residents' survey responses.
The plan contained other proposals. Many seemed at least within sight of some of the 24 demands. Since last fall, Jenkins has been spearheading a truth-and-reconciliation process for Minneapolis, and the city announced it would collaborate with local organizations on youth job training—although it's not job creation, as the protesters wanted. "Well, I'm not sure how I can build a manufacturing plant in George Floyd Square," Jenkins says, sounding flustered.
Cano says she has been in touch with city foundations to try to move money to businesses at the intersection. She is also hooking up with leaders in racial healing, who teach in-the-moment methods of coping with trauma responses.
Of the record $27 million settlement that George Floyd's family reached with the City of Minneapolis in March, $500,000 went to businesses at the intersection.
"But the more I'm thinking about it—OK, we give them $25,000, $50,000, but if people aren't able to come to their businesses, what's the point?" Jenkins says.
The city's plan also has about $10.5 million in the mix: $5.5 million for businesses and developers in "economically challenged" areas of Minneapolis; $4.75 million for a two-year reconstruction project at the intersection, in conjunction with bus-line improvements; and $300,000 for "reconciliation, economic inclusion, and transformational racial healing." "Without a clarity of definition of what they have in mind, it's difficult to respond to that," Austin says.
Ultimately, Austin describes racial healing as insufficient. "I've used this example over and over again in the past nine months: If you break your leg and let it heal without resetting it, you will heal with a limp. And justice is resetting the break."
Distant Horizon
The trial of Derek Chauvin began on March 29 and provides the latest unofficial countdown for the reopening. At this point, the court's interpretation of Chauvin's force against Floyd—and the public's reaction—could totally commandeer the future of 38th and Chicago.
With nearly 400 potential witnesses, the trial could take four weeks, involving charges of second-degree unintentional murder, third-degree murder, and second-degree manslaughter. (Three other officers charged in Floyd's killing—J. Alexander Kueng, Thomas Lane, and Tou Thao—are set to go on trial in late August.)
At times, officials' apparent hesitancy to reopen the intersection has felt like the fear of reopening a wound. In January, council president Lisa Bender accused Mayor Frey of unwillingness to use his authority to remove the barricades. At that point, Frey had asked council members to sign a reopening proposal. Seemingly, Bender said, this was an "end-run" around the council's legislative process. "It is past time for Mayor Frey to make a decision," she wrote on Twitter, "and it should be one that reflects and includes a commitment to equity, justice, and safety."
Although Mayor Frey intended to open the square at the trial's conclusion, Police Chief Arradondo said, at a mid-March press conference, his department would not let the trial dictate that timeline. With the stated goal of "restoring peace," police announced a plan to enhance their presence at the square, with support of the FBI Minneapolis Field Office, the ATF St. Paul Field Division, and the U.S. Attorney's Office District of Minnesota.
The mayor acquiesced—so long as there is safety for Public Works staff removing the barricades, plus a plan ensuring that tires never roll over the "sacred ground" where Floyd was pinned.
And how will the occupiers respond if the city moves in?
Powell Karis, the artist behind the fist monument, offered one answer via email in March: "We are over nine months into protesting at 38th and Chicago with people and art. If the city prematurely moves the people or art they are protesting with, they will have to deal with the same energy but in more, new spaces."
Similarly, at the bottom of the 24 demands, a paragraph promises to bring the protest to every significant "unbothered" neighborhood instead.
As helicopters chatter overhead in south Minneapolis—part of a winter crackdown on 2020's tripling of carjackings in the city—Howard's work to keep the intersection closed also feels like work to keep the region's history at the surface of public consciousness. "This neighborhood, 38th and Chicago—we suffered under the Third Precinct, we suffered under the gang task force, we suffered under Operation Blood Drive," she says. "And now they want us to just sweep everything under the rug, open up a bus line, and go about our merry way."
Dr. Williams echoes Howard's point: "[This occupation is] about a history of police occupying communities of color and Black neighborhoods—as Huey Newton, of the Black Panther Party, once famously said, 'in the same way that a foreign troop occupies territory.'"
For her part, Cano has set a personal deadline. After eight years on the city council, she is not running for re-election in November. She's going to pursue higher education in arts and cultural leadership, and wants to focus on Lake Street, where she remains concerned about the immigrant Latino community members who saw businesses burn during civil unrest. "This time of change requires new leaders, too," she says—noting surprise that more aren't stepping down.
Jenkins will run for re-election. She says she spends 50% of her life thinking about George Floyd Square—even while teaching poetry at the Minneapolis College of Art and Design. Over Zoom, she tells me her class is reading 1919, a book of poems about Chicago in a pandemic year marked by race riots. She laughs darkly after reading aloud a section about a white police officer who killed a Black man, got dismissed from the force, and was reinstated. "So, what was, is," she says.
She reads from an introductory section in the book: "'The riot left an indelible mark on the city. Its sense of boundaries, of relationships between neighbors, of fear and mistrust, were cemented for a century to come.'" Is she afraid for Minneapolis in the century to come?  "If we don't take this moment and really address it fully and stop talking over each other, I am," she says.
"I know people are really angry about what happened—the historic context of why we are here. There's no denying that, you know?" she continues. "But to wallow in it? To let the actions of Derek Chauvin completely disrupt our entire way of life, I think, plays into the whole white supremacist narrative. Because, clearly, he did not have any regard for Black life, for this community, for its residents."
Austin compares the occupation to the mid-1950s Montgomery bus boycott—which lasted more than a year and saw phases of doubt, even for Dr. Martin Luther King Jr., before victory.
She recalls Black abolitionist and social reformer Frederick Douglass, too, warning us not to lose sight of the cause in the glare of a protest's inherent inconveniences. One Douglass quote reads, "Power concedes nothing without a demand. It never did and it never will."
"Long before George Floyd, people were suffering," Austin says. "The injustices that existed within policing systems existed long before George Floyd. The injustices that exist in the housing system existed, the injustices that exist in the financial, healthcare, education, and other aspects of criminal justice—it existed.
"How can we identify racism and respond to it, so we don't have George Floyds," she continues, "so we don't have Jamar Clarks, so we don't have Philando Castiles, so we don't have Breonna Taylors, so we don't have Sandra Blands, so we don't have Mike Browns, so we don't have Ahmaud Arberys?" She begins to choke up. "So we don't have Trayvon Martins, so we don't have Eric Garners, so we don't have Tamir Rices?"
When I ask about Austin's own connection to history, she texts me a photo. It's of a tall, door-size painting propped up against the side of Cup Foods, behind the black-and-white portrait of Floyd. It depicts a swan-like bird craning its neck to look behind. I later see this same creature drawn in chalk on the pavement near the west barricade, underneath the words "Black Power." Then I see it as a mural on the side of a building a few blocks away.
"The Sankofa bird comes from East African tradition, in Ghana, and within African American culture," Austin explains. "The meaning of this bird is you have to look back to understand where you are going."
Update: On April 20, former Minneapolis police officer Derek Chauvin was found guilty of all three charges against him. Shortly before the verdict, Marcia Howard posted a video on TikTok saying that the protest will not leave the intersection "until the conviction of all four officers who killed George Floyd." This is according to the 24 demands. "So, no justice, no streets."
Correction: A previous version of this story had the name of a clothing store as Urban Touch Boutique, when it is Finish Touch Boutique. We also should have specified the timeframe of a statistic: Homicide increased 53% on average in 20 U.S. cities from June to August, 2020.
Facebook Comments