Adam Thielen
photo by ackerman + gruber
---
Long before Adam Thielen signed a $27-million contract to play wide receiver for his home-state Minnesota Vikings football team—long before the 27-year-old became a breakout success in the NFL—he was a recently minted graduate of Detroit Lakes High School, and he had no idea what he was going to do with his life.
It was the summer of 2008, and Thielen didn't have a plan. He'd been a standout four-sport athlete in high school, but he was always too something to be considered a big-time college prospect: too slow, too skinny, too short.
Basketball was always his favorite sport, but his high school football mentor, the well-known Detroit Lakes coach Flint Motschenbacher, would always tell him, "You're not a basketball player—you're a football player. You're going to play football in college." But when Thielen visited the University of North Dakota and other small or mid-size schools with strong football programs, those coaches told him: stick to basketball. He planned to enroll at Concordia College in Moorhead and play basketball and football, but Division III schools can't give scholarships, and Thielen knew he couldn't afford the tuition.
Then, over Fourth of July weekend, Thielen got an out-of-the-blue call from Todd Hoffner, the head football coach at Minnesota State University, Mankato, offering him a $500 scholarship to the more affordable public school with a Division II athletic program.
One of Hoffner's assistant coaches had seen Thielen play in the state high school all-star game the month before. And he'd told Hoffner that there was something about Thielen that jumped out: Sure, he was small, only 160 pounds, and not very muscular, but…those hands. Even as a 6-year-old, people had noticed his hands; older boys in his neighborhood had nicknamed him "Golden Hands" when they played backyard games. It wasn't their size that stood out, but their inexplicable stickiness, as if they were coated in Super Glue. Every ball that came in Thielen's general direction seemed to stick to those hands. Football coaches know you can't teach hands like that. "OK," Thielen told Hoffner. "Let's do it." It's not like he had other options.
photo courtesy of minnesota vikings
---
A month later, Thielen showed up for training camp in Mankato. He was so small that his coaches made him sit out his freshman year and focus on adding muscle in the weight room. By his sophomore year, Thielen worked his way into the starting lineup, and by his senior year he became the team's top receiver. In the world of college-level athletics, he was a good player on a good team. But this was where things, for nearly all players on Thielen's level, would typically end. To make it to the pros, good isn't enough. You need to be golden.
Each year, some 1.1 million American high school students play football. Of those, roughly 2 percent go on to play Division I football, the highest level of college football and the primary feeder to the NFL. (Division I players usually fill about 90 percent of the draft's 250-some slots.) A high school player who goes on to play at the Division I level in college has about a 1-percent chance of becoming an NFL draft pick. That leaves all the other aspiring high school players, Thielen included, with a .002-percent chance of someday being selected in the NFL draft.
And so, unsurprisingly, when the NFL chose its top new players the spring of Thielen's senior year, no team called his name. But hell, it had been a long shot for him to make it even this far, to go from the skinny kid overlooked by all 128 schools in the top division of college football to one of the best pass catchers in all of Division II football. And Thielen was determined to take it even further. The number of undrafted rookies and free agents on NFL rosters—those who enter the pros through the proverbial side door after being spotted by a scout—has increased in recent years. Thielen still had that slim chance, even though he knew everyone, from his teammates to his parents to his future wife, thought it was a long shot—the longest of long shots. Some suggested he might try the Canadian Football League, or the NFL's minor-league-like variant, arena ball. "Everyone doubted me," Thielen recalls.
Despite the odds, the morning after his final college game at Minnesota State, Thielen went to the weight room. And the next day. And the day after that. A former Minnesota State teammate who was working at a Mankato freightliner, Tommy Langford, became his trainer since Thielen couldn't afford a proper professional. Langford slept on Thielen's couch and roused him every morning for a workout. For four hours a day, they worked on Thielen's strength and speed.
"You can't measure what's between the ears, what's in the chest, and what's in their guts."
If there's one thing that matters most to aspiring NFL wide receivers, it's clocking a good time in the 40-yard dash. Hands matter, and so do strength and intelligence, but there's no better way to get on NFL teams' radars than speed. Thielen knew that if his time was around 4.4 seconds—elite speed for an NFL player—teams would take notice. Thielen hadn't been invited to the NFL's official Combine, a week-long opportunity for hopeful players to impress scouts through a series of drills, tests, and interviews. Instead, Thielen paid $200 to participate in a second-tier regional combine full of long-shots and fat-chances. He already had a corporate job lined up selling equipment for Patterson Dental, but this was his opportunity—probably the last one—to fulfill his dream. His family and friends were supportive, but it's not like they expected anything to come of it. "I don't think anybody would have thought he'd be in NFL—absolutely not, no way," Langford remembers.
Thielen and Langford drove to Chicago for the combine. Afterward, Thielen had his first indulgent meal in months at a Chicago deep-dish pizza restaurant. The two were huddled around a computer in a hotel room that night when Thielen's official 40-yard dash time was posted: 4.45 seconds. They screamed. Now they knew he had a chance.
On a rainy spring morning earlier this year, during offseason training, Thielen walks into the Vikings' cafeteria at the team's practice facility in Eden Prairie and grabs a cup of coffee. The once-undrafted, unsigned player turned a Hail Mary tryout with the Vikings into a training camp invitation and, after impressing the coaches with his work ethic, a spot on the Vikings' practice squad. In three short years, he went from a player who graduated from the practice squad to a roster spot on the bone-crunching special teams unit—the foot soldiers of an NFL team—to one of the NFL's most unlikely breakthrough players of 2016, when he caught 69 passes for five touchdowns and a team-leading 967 receiving yards.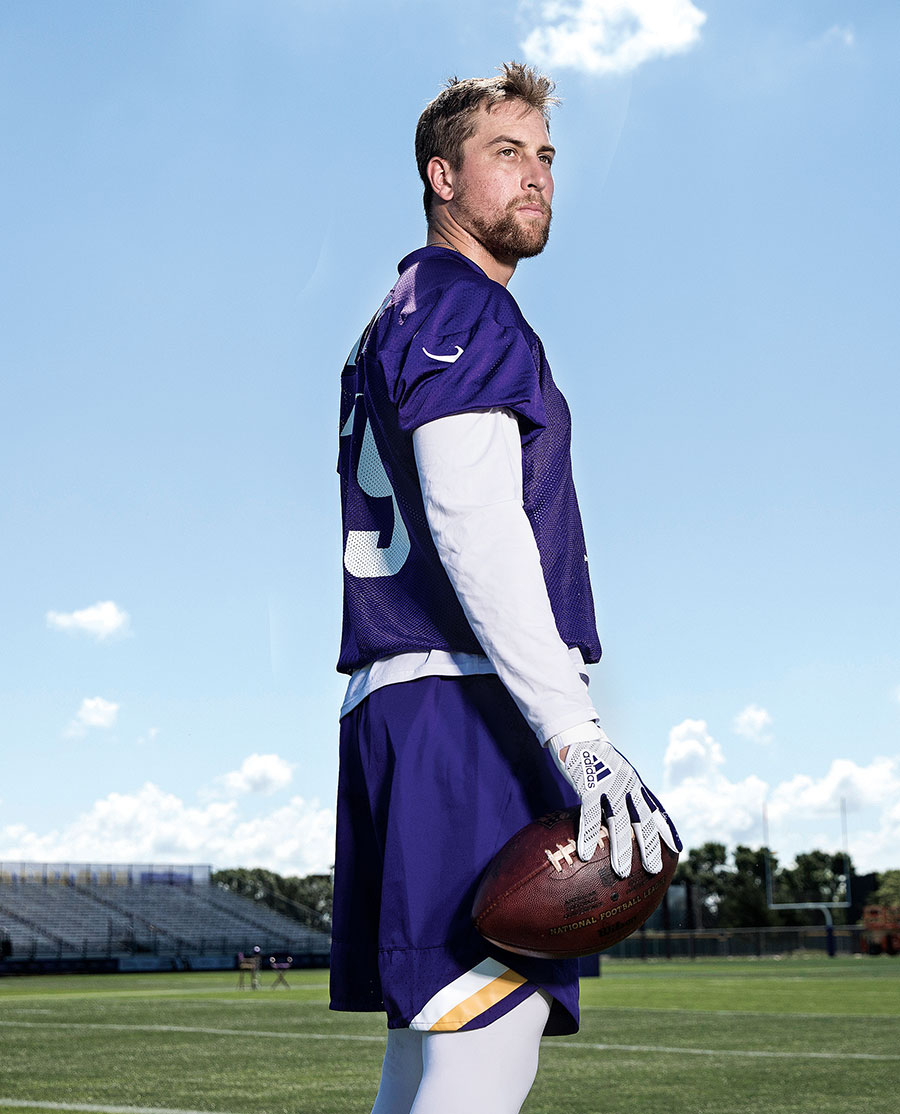 Adam Thielen prepares for the upcoming season at Vikings training camp in Mankato
photo by ackerman+gruber
---
Despite the improbability of his success, Thielen is a star—but without any of the pomp and swagger that often accompanies such roles. Today's meeting is nothing like Esquire interviewing Patriots quarterback Tom Brady in the back of a limo on his way to hit golf balls for a corporate sponsor. There are no handlers or cameras or canned quotes. Just Adam Thielen, seeming as grounded as when he left Detroit Lakes, still a little bit in awe that the right combination of hard work and good luck actually brought him here. He seems a little tired—his first child, a boy, was born in October—but otherwise he's just a relaxed dude wearing a Vikings hat backwards on his head and a cross around his neck, sitting by himself with an easy smile and a pair of golden hands folded in his lap.
"No matter what your passion is, use that passion and give it everything you've got—put all your energy into that and good things will happen," Thielen says. Sure, it's a sports cliché, but knowing his story makes it ring true. "That's not saying you're always going to make it to the highest level," Thielen adds. "But at worst case you're still going to be a dang good football player, basketball player, salesman, whatever. That's the biggest misconception. People want to have this feel-good story or whatever, but they forget that there's a lot of work that goes into it. And a lot of luck, too. There's a lot of luck along the way that I ended up playing football in college. That somebody saw me at the regional combine, somebody saw me at the superregional combine. There's a lot of luck that goes along with it, but there's a lot of work that goes into it, too."
We watch sports because of our attachment to teams, or because of the excitement of close games, or to see humans achieve physical feats far beyond our abilities. But on a deeper level, we watch sports because of what they tell us about our own lives—especially when they suggest that not all pros were born champions, that talent can blossom later in life, that someone like us might still have a shot. The most compelling sports stories are those of athletes who were overlooked or doubted, second-guessed or ignored, but, through a combination of the hard work and luck Thielen describes, became the best in their profession. Think of Tom Brady, now the greatest quarterback of all time, who was once the 199th player selected in the NFL draft.
Nine years ago, when Thielen was just a recent high school grad without a plan, this future millionaire jumped at the chance for a $500 scholarship to play at a school far off the NFL's radar. "That scholarship we gave him didn't amount to peanuts and popcorn, and look at him now—he's eating steak and potatoes, shrimp and lobster," says Hoffner, Thielen's Minnesota State coach. "You have to just shake your head. Anyone can have all the measurables. But you can't measure what's between the ears, what's in the chest, and what's in their guts."
---
Digital Extra: Highlights of the Vikings' unlikely breakout star Adam Thielen