THEATER
Cat Brindisi and Sun Mee Chomet
Actresses Sun Mee Chomet and Cat Brindisi work at the same theaters under the same directors and with the same actors. But it wasn't until this summer that they actually met. While chatting about their upcoming seasons—Chomet performs in Ten Thousand Things's A Midsummer Night's Dream October 10–November 3, and her one-woman show, How to Be a Korean Woman, at the Guthrie's Dowling Studio September 19–22; Brindisi acts in The Chronicles of Kalki at Mixed Blood Theatre October 5–27—the women found that they had more in common than shared connections: recent ventures into producing, for one.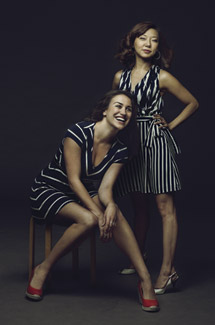 Sun Mee: So I just saw Hair, the show you not only produced but also acted in, on Friday. It was great! I was like, "I can't believe this woman is organizing this huge show!"
Cat: It was pretty insane. We actually weren't even going to form a company; we were just going to do a production of Hair. But then more people got involved and Kickstarter needed a producer's name, and we made up a name (7th House Theater Collective), and all of a sudden there it was! It was a lot of work. Have you ever produced anything?
Sun Mee: Yeah, I'm producing my one-woman show, How to Be a Korean Woman, at the Guthrie. It feels like I'm working 82 hours a week.
Cat: It's insane! You thought acting was a full-time job, but with producing you go to bed dreaming about it and then you wake up thinking about it.
Sun Mee: You realize what a luxury it is to just act.
Cat: Totally! Is this your first time?
Sun Mee: It is. Well, I first presented the show last year as part of the Origins Project. It was with one other woman—we produced and Kickstarted it—and this time it's just me.
Cat: Are you just dying?
Sun Mee: Well it's a one-woman show; it's not a full-out 20-person cast like yours!
Cat: But still. And alone!
Sun Mee: Yeah, it is a lot. It's way more planning than I've ever done in my life!
Cat: Totally. What's it about?
Sun Mee: I was on a reality-television show, I Miss That Person, in Korea in 2010, and through that I found my birth mother.
Cat: Are you kidding me? Oh my gosh, I have goosebumps.
Sun Mee: We did DNA tests, and I flew back to Korea two times. She didn't want to go on the show, though, so she disappeared for awhile then reappeared eight months later at my adoption agency with pictures and a letter. We did another round of DNA tests, I flew back, and it was a match.
Cat: That's crazy!
Sun Mee: When I came back, I was in Burial at Thebes at the Guthrie, but I couldn't focus. You reach a point in acting where you can't be generous to the character you're playing because you have to deal with your own stuff.
Cat: Yes.
Sun Mee: So I left to write. I worked with my director, and I was like, "I'm just going to perform this for my own sanity because I need to tell the story to get it out." Then two runs sold out.
Cat: Who's directing it?
Sun Mee: Zaraawar Mistry, the co-owner of Dreamland Arts in St. Paul. But yeah, talk about ironic, both of us producing! When I came to Hair, I pointed you out to my friend and was like, "That's Cat? She's so young! And she's in this? AND she's raising money for this? How does she do it?!"
Cat: I feel 90. But I am just so into self-producing now. It's so interesting to me how, when you're producing and constantly working, you feel like you're going crazy, but actually it's feeding your soul.
Sun Mee: Even though it is so much work, in the end we're doing what we love.
Cat: Exactly.
Sun Mee: There are times where I go to sleep at night and go, "What am I doing?! I just want to act!" And then I wake up and go, "No, it's worth it."
Cat: It's so empowering. I would love to write and jump on that train, too. This town is becoming a place to build.
Sun Mee: That's what is so great about it here: there are so many phenomenal artists and we don't not become artists when we're not hired. I think everyone—artists, actors, singers—is just taking that creative power right now, claiming it, and saying, "I'm not going to wait." I feel like I'm just now finding what my place is in theater. I know I want to be in it, but I also want to define how I'm going to be in it—to not be at the mercy of the structure.
Cat: Exactly. Fumbling with that "typical" path and choosing different things and making it come together—figuring out how to be happy. That's really what it is.
Sun Mee: I feel really proud to not only be an actor, but also a female who is figuring out how to be a leader in the arts. We need more women in positions of leadership in the arts community. I'm thinking more about that now: how can I be a leader, not just to create my own work, but also as part of a larger vision?
Cat: That's why I have the need to create in the first place: to tell a story and to attempt to change peoples' lives. That's the soul of why we do what we do.
For extended interviews with this year's featured artists, visit mnmo.com/fallarts2013.
---
7 Other Must-See Shows
Fool for Love, Jungle Theater, 9/6–10/20, jungletheater.com
A Brown Tale, Penumbra Theatre, 9/12–22, penumbratheatre.org
Uncle Vanya, Guthrie Theater, 9/14–10/27, guthrietheater.org
The Hollow, Workhaus Collective, 9/26–10/12, workhauscollective.org
The Road Weeps, the Well Runs Dry, Pillsbury House Theatre, 9/27–10/27, pillsburyhouseandtheatre.org
Baby Case, History Theatre 10/5–11/3, historytheatre.com
A Strange and Separate People, Hillcrest Center Theatre, 10/12–11/3, mnjewishtheatre.org
MUSIC
Eric Pollard and Haley Bonar
At first glance, Haley Bonar and Eric Pollard appear to total opposites: Bonar is petite and slender, with delicate features and bright, warm eyes; Pollard, a.k.a. Actual Wolf, is tall and broad, his red-tinted sunglasses suggesting an air of secrecy—but in a playful way. In fact, the two have been good friends for nearly a decade, playing on each others' tracks and hanging with the same crowd of local musicians. This fall, both are releasing new albums: the self-titled Actual Wolf is Pollard's first full-length record; Bonar is on her fifth. (The title was TBD at the time we went to print.) The two sat down to chat about their upcoming records, the life experiences that have shaped their songwriting, and prejudices in the music-making business.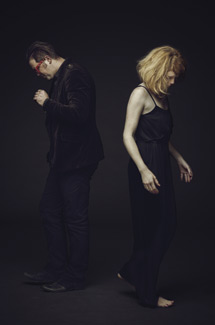 Haley: I came prepared! (Holds up a sheet of paper with typed questions.)
Eric: All mine are in my head.
Haley: Okay, first question: you've been a drummer and on keys, but you haven't actually been the front man of a band until recently. How long have you been writing? And when did you start wanting to play your songs in front of people?
Eric: I've been writing seriously since 2007. I realized I wanted to be the front man when I was demoing songs for what would eventually become my EP, Lightning & the Wolf, three years ago.
Haley: Was that an easy transition?
Eric: No, it was tough. I didn't think anyone would take it seriously; that they'd all think, "Oh, that's Al [Sparhawk]'s buddy who plays drums." Luckily that didn't happen.
Haley: Tell me about your new record—I heard that you had a song with 19 verses?
Eric: That is true!
Haley: (reading from the paper): What is the inspiration behind this? Do you think people in our Twitter-happy, ADD generation will listen to it all the way through? Have you played it live?
Eric: I have played it live, people have listened to it, and it's gotten quite a bit of positive feedback. The inspiration came when I was at my first Pines show—I wrote 10 verses during their set. Then over the next four or five months I kept writing and ended up with 26 verses.
Haley: And you whittled it down to 19.
Eric: Now it might only be 17, but it's going to stay at 17. Now tell me about your new record.
Haley: Lovely. It's hopefully coming out in the fall. We got it tracked in two days. I got Justin Vernon to sing—well, actually, he offered—on a few songs. His voice is so good! He has a "man voice"—you know, he sings like a girl a lot (I told him that, too!), but he also has a man voice.
Eric: He does. You forget that in his other bands he used to sing in his normal voice, which is very good.
Haley: What else… There are eight songs, and it's 29 minutes long.
Eric: I'm a big fan of shorter albums—35 minutes or less. Do you feel you've said everything in those 29 minutes?
Haley: Yup. Any longer and it would just be saying the same thing over and over. It's totally my divorce record. It's really heavy and dark, and I think it's the best songwriting I've ever done. I've had such a shitstorm few years, and it's good to have that documented and be like, "Bam! Go out into the world, be gone from me." Every record feels like a sort of exorcism, but for as strong and personal as this one is, it's still something everybody can relate to.
Eric:: Are you ever going to make the "every girl" commercial record?
Haley: I hope this record is commercial! I want to tour it, do TV, all that stuff; I really believe in it. Plus, it's been awhile since a record that's dark has made it big. Everything is so fakey—it'd be nice to have something more fierce.
Eric: I would love for people to get back into songwriting again.
Haley: What do you think about the Avett Brothers, Mumford & Sons, that "hey, ho, hey" song?
Eric: First of all, they're all ripping off Trampled by Turtles. But it appeals. It's taking simple ideas and packaging them in a way that makes people feel down home.
Haley: Do you think folk music has reached the mainstream again?
Eric: I think it's starting to, like in the '60s when Bob Dylan, Phil Ochs, and Leonard Cohen were laying down heavy poetry beneath all the other prepackaged pop stuff. I think we're on the edge of where people are going to be like, "I want to hear real music about real things."
Haley: Okay, changing subjects. If you were hypothetically granted a sex change, would you choose to be a woman in the music industry or would you remain male?
Eric: I would definitely remain male. I've actually written a song about how hard it is to be a woman in this industry.
Haley: Thank you.
Eric: Women only have a certain window of time in which they can make it, whereas men can age and, for some reason, the public perceives that as them being more wise and more distinguished.
Haley: Not only that, but you're constantly being pigeonholed and compared to other women. The main thing I've heard from most labels is, "This is really great, but we just signed another female singer/songwriter." Literally: I've heard that three or four times. You don't want to think it's really like that in 2013, but oh, it is.
For extended interviews with this year's featured artists, visit mnmo.com/fallarts2013.
---
7 Other Must-Hear Albums
Si Sauvage, The Suburbs, 8/27, thesuburbsband.com
Manopause, Ginkgo, 9/3, ginkgoband.com
The Starfolk, The Starfolk, 9/10, thestarfolk.com
Shoot the Dog, The Cloak Ox, 9/17, facebook.com/thecloakox
House of Rust, Martin Devaney, 10/4, martindevaney.com
Half about Being a Woman, Caroline Smith, 10/8, thegoodnightsleeps.com
Shulamith, Polica, 10/21, thisispolica.com
VISUAL ARTS
John Marks and David Petersen
In the early aughts, John Marks and David Petersen were an arts-scene odd couple: brainy grad-school theorist (Petersen) and punky noise-obsessed sound artist (Marks). But in 2005, the two found themselves partnered up, running what many considered the most visceral contemporary-art gallery in Minneapolis: Art of This. Today, the guys are all grown up. Marks just had a kid. Petersen recently opened his own gallery. And this fall, they're reuniting to curate an ambitiously unusual anti-biennial of Minnesota art at the Soap Factory. Not only does the show, which runs September 7–November 3, not have a name, but it barely has a catalogue; the two plan to issue artist interviews and an LP instead. You can take the boys out of the DIY, but you can't take the DIY out of the boys.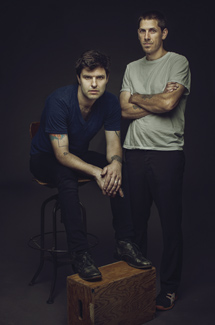 John: We haven't worked closely together in years.
David: Do you regret it yet?
John: I don't. Not yet. I do, though, sometimes question our control, question the scope of the show.
David: In what way?
John: Like we're losing part of our roles as curators. We're avoiding the typical biennial feel, you know, of sectioning off one gallery per artist.
David: Yeah, the installation process. Which we're, um, imposing on the artists. It's carte blanche. The artists can install almost wherever they want in the gallery, even if that means they put pieces in multiple sites. At Art of This, the artists never had to worry about their neighbors.
John:  True. And that's the big challenge. I wonder if we're losing part of our curatorial practice.
David: At AOT, we talked a lot about this idea, this mantra: "trust the platform." Time and time again, we handed control to the artists. Things seemed to work out. But this is as much as we've trusted it, for sure. We're using their words and input in all facets of the exhibition. We're using their words in the freaking catalogue! They're going to have so much more say than they've probably ever had, certainly in a group exhibition.
John:  Well, it isn't a good show unless it has the very real possibility of failing. That was the AOT philosophy. And those were the good shows, the ones that rode that edge as closely as possible. But now we have more resources. This exhibition, in terms of budget, is like one year of AOT programming.
David: Which makes me wonder how on earth we pulled AOT off. We were accommodating six shows a year, plus 15 to 20 events.
John: Every show was a process of complete renewal. And certainly the first few One Nighter Series—eight to 10 weeks of just.…how many different projects? There were projects that I didn't see because I didn't even know they happened.
David: There were myths! In some cases, no one was there but the artists themselves. I remember Julia Kouneski's piece, where she stood in the basement on top of what was then the bar and held her hand to a hole that she had cut into the floor above her. Upstairs, you stepped into the empty gallery, you'd look down, and all you'd see was this hole—this palm portion of her hand; this strange, fleshy circle. There was absolutely nothing in the space. I think that piece was seen by six people. It was in the top five of my favorite experiences there. And for her, it was perfect that nobody saw it. Much of the concept of the piece was about absence.
John: We were able to develop such an identity and an aesthetic at AOT. Now we're using someone else's platform.
David: You remember back before we approached the Soap Factory? We weren't certain of who, exactly, was going to be the curator. Was it going to be curated by John and David? Or was it going to be curated by Art of This? Is there even a way for us to divorce ourselves from Art of This?
John: Probably not. There's no need in pretending that AOT was this thing that was bigger than us, that we were just stewards of something larger. We did make it, logistically. I think it's one in the same. You can't really change history.
David: Absolutely.
John: I consider AOT being something that we did.
David: Or as something that we were. I wasn't really involved in the birth of AOT. So how exactly did AOT become realized? It came out of what was a fairly tight-knit group of artists working in the Sexton building in 2005.
John: We all had studios there. And we all got evicted because the building was getting converted into condominiums. We already had this cooperative mindset, we had all been working in these collectively run businesses: Seward Café, Hard Times Café, the old Seward and North Country co-ops. So instead of renting a new studio, we decided we would open something street level that we could not only work out of but also show other artists. And a space the public could actually walk into, without a door code.
David: AOT gave me so many opportunities; it opened a lot of doors for me. It pushed me harder than doing my own work ever did.
John: I always thought that, too, about the One Nighter Series: "If we mess this up, we can always do better next week."
David: It will always be the foundation for whatever I do going forward. That, and Rococo painting.
John: Ha ha.
David: Duh.
For extended interviews with this year's featured artists, visit mnmo.com/fallarts2013.
---
7 Other Must-See Shows
Lynn A. Gray and Wayne E. Potratz, Katherine E. Nash Gallery, 9/3–10/12, nash.umn.edu
Fabled, Altered Esthetics, 9/5–9/26, alteredesthetics.org
Tom Maakestad, Groveland Gallery, 9/6–10/19, grovelandgallery.com
Claes Oldenburg: The Sixties, Walker Art Center, 9/22–1/12/14, walkerart.org
Exquisite Pots II: Red Handed, Northern Clay Center, 9/27–11/3, northernclaycenter.org
The Modern Face: Portraits from the Pompidou, Minneapolis Institute of Arts, 10/6–1/5/14, artsmia.org
I Am Water, Form + Content, 10/31–12/7, formandcontent.org
DANCE
Uri Sands and Toni Pierce-Sands of TU Dance Kristin Van Loon and Arwen Wilder of HIJACK
We know it takes two to tango. But it also takes two to "contact improv," two to pas de deux—and in the world of local contemporary dance, two to prod, percolate, and persevere. Some of Minnesota's best choreography comes from couples, and this year two of them—Kristin Van Loon and Arwen Wilder of the anarchic, mirthfully post-modern HIJACK, and Toni Pierce-Sands and Uri Sands of the sinewy, sensuous TU Dance—celebrate major milestones. HIJACK turns 20, marking the occasion with a commission from Walker Art Center December 5–7 and a national tour. TU turns 10, debuting a new work at the Cowles Center November 15–17 and investing further in a youth dance center in St. Paul. We paired up the pairs to talk improv, instigation, and the dearth of diversity in the art scene.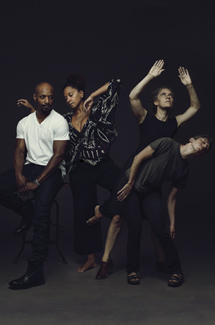 Toni: So why the name "HIJACK"?
Kristin: Right away we wanted something that sounded like a rock band. I came across the word "hijack" in an arts-criticism context. It was an article about [guerilla text artist] Jenny Holzer. She was saying that's what an artist should do to expectations, to culture. You hijack.
Arwen: Plus, we undermine each other. Kristin has ideas that I challenge and vice versa. That's another part of the hijacking that happens. kristin: We like to have both instability and stability.
Arwen: You make the choreography impossible so that you have to improvise. But then you can't get too flowy in the improvisational world because you have to get back into your move on the right count. And that constant battle—that undermining—is very much like the battle between us, which is the meat of the work.
Uri: What are the rules, if any, when you use improvisation as a tool?
Kristin: It's not what people expect. It's not that we're just experimenting.
Arwen: Most of what we're doing is set. But we're big fans of the chance device. One section of the pieces we're working on now is very set. It features two guys dancing with us, and what they do is very set, too. But we're all moving at the same time. So the way we match up can be a little random. Even though we're doing all the moves in a precise order, there's a lot of improvisation because suddenly they're in the space that we are used to being in. The moment of the performance is improvisational even though the movement itself is something we've practiced over and over again.
Uri: It takes technique! Improvisation is actually a technique!
Toni: You guys are actually creating work together. We don't do that. Uri, he's really the choreographer for TU Dance. I always think of myself as a dancer, of being inside the work. But you guys—you both get to be the watcher and the maker, simultaneously.
Kristin: With two people choreographing, I feel like we're practicing the performer-audience relationship all the time, with each other.
Toni: When Uri first came to Minnesota, he was always the one doing the movement. He was creating dance on his own body. But he's such an amazing mover that dancers were just too in awe of it. It made them less confident. So I had to say to Uri: "Stop moving. Sit down." As he develops as a choreographer, he's not as dependent on the way that he moves. Now it's the bodies in front of him that influence the work. When the movement comes out, it's manifesting on the bodies actually doing the dance.
Arwen: So, about 10 years ago when you guys were starting, when Minnesota Dance Alliance was ending and [then director] June Wilson was moving away, I remember June talking about advising young dancers of color. She said she loved the dance community here but would often advise dancers of color to move someplace else. She would say, "It's just too hard here, and I hate to do this—I'm the head of MDA—but personally, I can't tell you this is a good place to be." Hearing her talk about it was so sad to me. And now, 10 years later, you guys have this school in St. Paul. Have you seen it change in the decade you've been here?
Toni: From my perspective, there aren't enough bodies of color. It's not culturally integrated enough. I can say it, I can own it, because I was raised here.
Uri: Me not being from here, I was blown away to find that Minnesota was really culturally mixed. There's an enormous Scandinavian population, of course, but there's also Hmong, East African, and Mexican populations. I had no idea Minnesota would be like that. Then you go into the arts, into the Guthrie or wherever, and you say, "Of the 1,200 people sitting in this audience, I am one of two black guys…And the only other black guy is the one black guy that's on stage!" I feel like the arts have a responsibility to reflect the community that's supporting it. We just felt like that's what we wanted to do with the school.
Kristin: It's a gorgeous space.
Uri: We want to provide access to dance to people that wouldn't otherwise have it. Are we seeing a difference? Yes. The evidence is there in the studio on any Saturday morning: diverse middle-school kids taking dance classes. That's where the next audience is coming from. We believe that in 10 years we'll see that reflected in the companies. We'll have our students in Xenon, maybe even in HIJACK. We're beginning to infiltrate. All we did was crack the door open a little bit.
For extended interviews with this year's featured artists, visit mnmo.com/fallarts2013.
---
7 Other Must-See Shows
Mohana: Estuaries of Desire, Ananya Dance Theatre, 9/20–21, oshaughnessy.stkate.edu
Three and Three, Joe Chvala and the Flying Foot Forum, 9/20–21, flyingfootforum.com
Casi-Casa, Hubbard Street Dance Chicago, 9/21, northrup.umn.edu
Venus and Adonis, Ballet of the Dolls, 9/27–29, ritz-theater.org
Fall Season, Minnesota Dance Theatre, 10/4–13, mndance.org
20th Anniversary, James Sewell Ballet, 10/25–11/3, jsballet.org
Flower of Algeria, Jawaahir Dance Company, 11/14–24, jawaahir.org
LITERARY
Kevin Kling and Kate Hopper
There's no telling the stories that will surface when two literary artists converge. Such was the case with Kate Hopper and Kevin Kling. Both are masters of their craft—Hopper a writer and teacher, Kling a writer and storyteller—and true word artists, their questions and answers strung together like impromptu poetry. With Hopper preparing for the October release of her memoir, Ready for Air, about the premature birth of her daughter, and Kling releasing both a children's book, Big Little Mother, and a compilation of stories, plays, and essays, On Stage with Kevin Kling, this fall, the two were at no loss for things to discuss.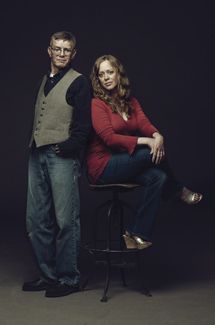 Kate: I wanted to talk with you a little bit about storytelling versus writing. Does one feed you in a different way than the other?
Kevin: Yeah, especially storytelling. It's a visceral, audio-visual-chemical experience. When you tell a story, you're really working on imagery. The worst thing you can do is "tell words." But I think you understand that; your stories feel as if they're of the oral tradition.
Kate: I do feel it's important for me to read my work. Saying it out loud helps my humor come out, even in the darker areas of my writing.
Kevin: Do you find that humor and darkness have a symbiotic relationship?
Kate: I do. Sometimes you have to use humor. In my memoir, I talk about how Stella was in the NICU for a month. Then I was home with her for five months and I couldn't take her out in public—I felt like I was losing my mind. I had to really focus, then, on where to create breathers for the reader, where I needed to lighten it up before the next crash. You have to laugh about hard stuff.
Kevin: You do. I work at Interact Theater, with performers with disabilities, and have learned that any time you're in a culture on the fringe, there's a kind of humor that can't leave the room—the kind of thing you should be ashamed of for laughing at, but you have to. Also, humor opens doors, and storytelling is all about opening doors. That's where we get into the heart. Once you're in the heart, you can talk about the tougher stuff.
Kate: That's what I tell my students: humor makes anger palatable—it makes that experience accessible to people.
Kevin: There's a big sign at Interact that says: "Anger is a tool." It's not the outcome or the idea or the method, it's just an indicator of something, similar to pain.
Kate: I think the key to humor is to recognize that sometimes things aren't funny. There has to also be room for the dark stuff to just be dark and hard. In my memoir, it's giving myself permission to say "fuck"—to really let those parts of me that are ugly and misbehaving show. I had to develop that authentic voice that's funny in places and snarky in others.
Kevin: Exactly. You've got to lean into it. In a performance, an audience will only give back as much as you put out. Early on, I try to give them something funny but also let them know we can go to some dark places. Revealing something allows the audience to take a step closer.
Kate: Could you talk a bit about how writing and storytelling has been healing for you?
Kevin: Simply put, I think when you can tell a story about something then it doesn't control you anymore. Krista Tippett interviewed John O'Donohue on her show, On Being, years ago, and he talked about how we all have inner and outer landscapes—the inner being how we perceive and how we perceive ourselves, the outer being how we perceive the world and how it really is. Often, the two are very different. One crucial element of art is bridging the two. And that can go into healing. I tell stories about losing my arm, but I could be talking about losing a person. Loss is loss. My arm becomes a metaphor to whatever someone else has lost.
Kate: I talk about fear with my students, about how it can be so debilitating and actually control you. But once it's on the page, it loses some of its power.
Kevin: They found that it's easier for soldiers coming back from Iraq and Afghanistan to write than to tell. The idea of telling is a little too personal, too revealing. But when you write it down, you can put it away until you need to bring it up; it's left you, but it's still in your possession. I think writing can be a very important tool as a step toward telling your story.
Kate: Do you fear that with today's generation focusing on 140-character Twitter blurbs we lose, as a culture, the sense of narrative? Because there's a deeper story than just the situation.
Kevin: It's going to be interesting to see where we go. There are a lot of very new, different forms, but it's the form of the people. This is what people need to hear and tell right now, and you've got to honor that. I sit on a much more traditional form, and I'll stand by that, but if my form helps serve as a pair of shoulders for new forms to stand on, go for it. I think it's the responsibility of every generation to test the form: what can it handle? What can we add? Then, what's important will stay and what gets added is the exciting part.
For extended interviews with this year's featured artists, visit mnmo.com/fallarts2013.
---
7 Other Must-Read Books
I Will Not Leave You Comfortless, Jeremy Jackson, 8/13, milkweed.org
Silhouette of a Sparrow, Molly Beth Griffin, 8/13, milkweed.org
Leaving Rollingstone, Kevin Fenton, 9/1, mhspress.org
The Land of Dreams, Vidar Sundstøl, 9/1, upress.umn.edu
Potluck Supper with Meeting to Follow, Andy Sturdevant, 10/1, coffeehousepress.org
The Thoughtbook of F. Scott Fitzgerald, Edited by Dave Page, 10/1, upress.umn.edu
Non-Stop: A Turbulent History of Northwest Airlines, Jack El-Hai, 11/1, upress.umn.edu
Conversations curated by Ellen Burkhardt and Gregory J. Scott