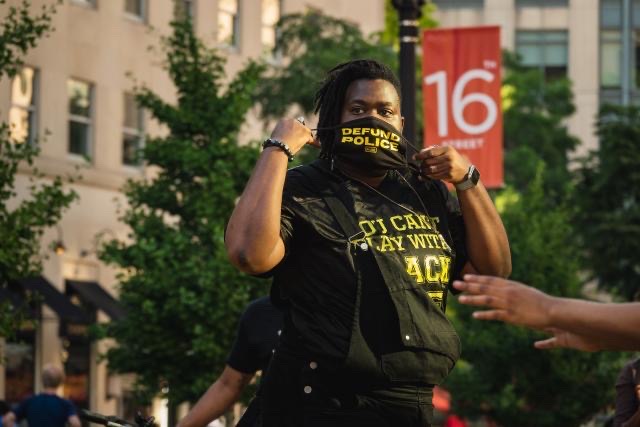 Droves of protesters in the Twin Cities have called on city officials to defund and disband the police since the killing of George Floyd by a Minneapolis officer on May 25. Black Visions Collective (BLVC) is no stranger to this argument: The group has been working for the long-term success of Black people—and the abolition of the police—since 2017.
Conceived by the organizers of Black Lives Matter Minneapolis, BLVC originated from the tireless fight to break down the systems that have prevented and continue to prevent Black people from thriving and feeling safe.
"We wanted something sustainable that was based in building Black folks in Minnesota, and we didn't really see an organization that reflected that, especially one that was rooted in queer Black feminism," says Oluchi Omeoga, a core team member and co-founder of BLVC. "So, we decided to create an infrastructure for Black folks to be able to advocate for themselves and their own self-autonomy." 
BLVC follows a vision of Black leadership and transformative justice, which broadly describes an approach to criminal justice that does not involve the police. The group has pushed to redirect police funding into investments in community resources.
In 2018, BLVC worked with partner organization Reclaim the Block to negotiate $1.1 million of the Minneapolis budget away from police hires and toward community-driven public safety programs, including a new Office of Violence Prevention. That same year, on the morning of Super Bowl LII in February, BLVC activists blockaded a light rail station to demand allocation of resources to the citizens of Minneapolis, particularly the homeless, people of color, transgender folks, and queer folks. Also in 2018, BLVC rallied against police presence at Minneapolis Pride in June, a powerful reminder to attendees that Pride began as a riot led by trans women of color against the police.
This year, on June 7, in response to protests, nine members of the Minneapolis City Council pledged to dismantle the Minneapolis Police Department. Exactly how that looks remains to be seen.
We checked in with Omeoga to discuss a few ways BLVC is continuing to guide the Twin Cities' energy of change.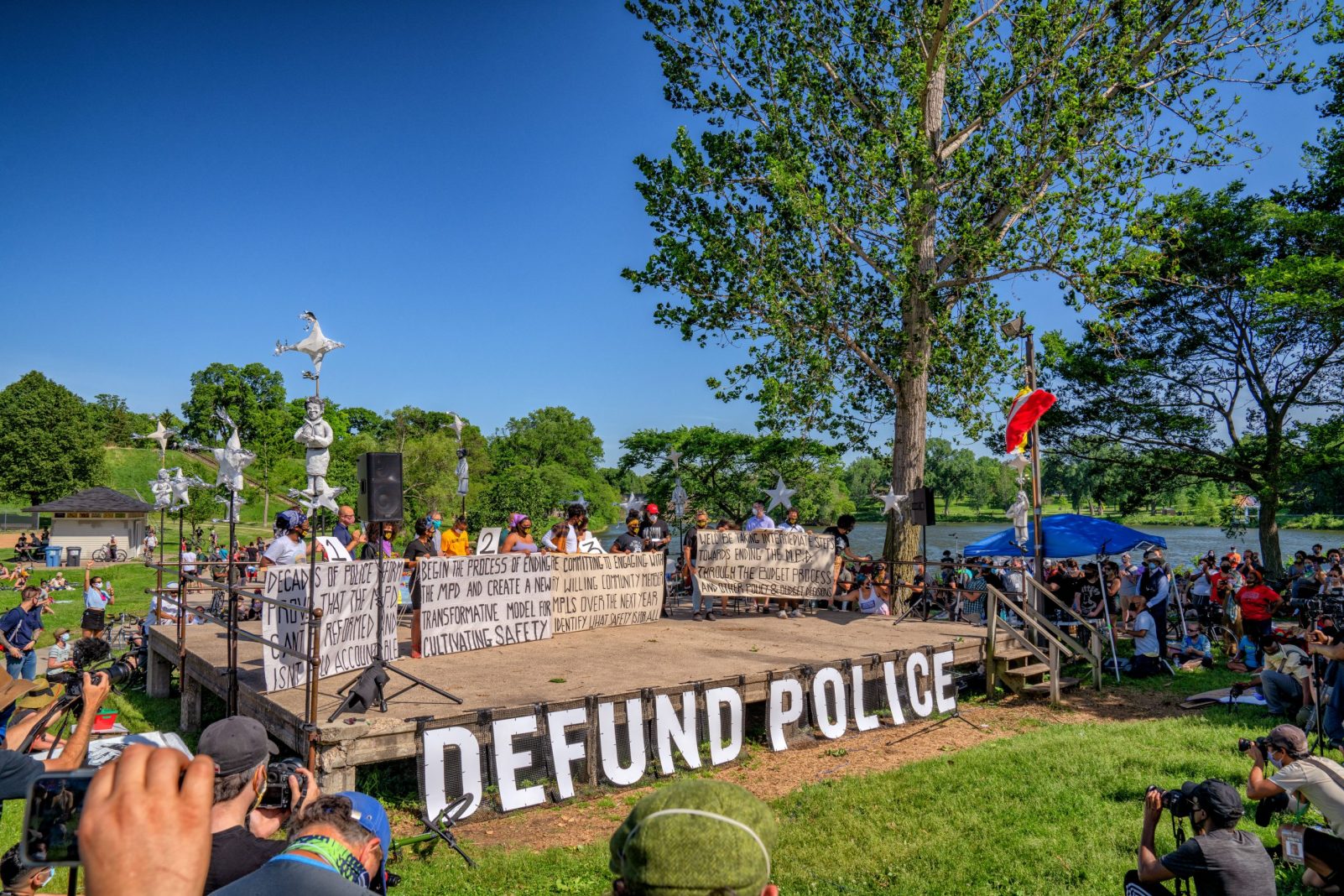 Making Short-Term Change into Long-Term Justice
As waves of protests followed George Floyd's killing—in the Twin Cities along with the rest of the world—Omeoga says BLVC focused on finding its own lane. 
"No nonprofit can be everything to everyone," they say. Black Visions connected with local activism to better spread their impact and effectively strategize. "We reached out to other Black folks doing work in Minneapolis. We reached out to policy folks like Witana Melekin and Erin Maye Quade. We reached out to folks that do art and direct services like Signe Harriday and Million Artist Movement." 
Right now, Omeoga says, organizations like BLVC have gained momentum and visibility thanks to queer Black folks and Black youth who were ready to mobilize, as well as persistent demonstrations.
"I want to make sure that the narrative is that these are queer Black women, these are queer Black youth that are doing this work," they emphasize. 
Omeoga stresses that lasting change is rooted in local, sustainable ecosystems of organizers and organizations that spotlight the voices of those with multiple marginalized identities. "We believe that we are not the only organization that's doing amazing work," they say. "We really want to make sure that the ecosystem in Minneapolis is sustained."
Building on the Discussion to Transform Policing
Black Visions Collective, along with a citywide ecosystem of advocacy groups, has continued to engage in community discussions, such as a collaborative anti-policing webinar, and has been "meeting with national transformative justice folks like activists Mariame Kaba, Shira Hassan, Mia Mingus—all of these people who have dedicated their careers to thinking about alternatives to policing," Omeoga says. After the Minneapolis City Council's recent moves to change the city charter, visions for a police-free future are forming.
The point is to lead while listening to the community. "To create a community-led safety plan, we need to have the first word in that—the community," Omoega says. "So, it's not [BLVC's] plan for the city; it's 'How do we actually create a process that engages every Minneapolitan in the process, but still centers Black folks and folks with marginalized identities?'"
On May 30, BLVC sparked conversation with a grave markers project. Members created paper graves emblazoned with a cry to "defund the police" and a portrait of George Floyd, and placed them in front of city council members' homes.
Omeoga explains that the response to the project was polarized. "A lot of folks called us out and said that that was the wrong choice, but them even saying that means that it impacted them in the ways that it was supposed to, and it actually made them think, 'How grave'—no pun intended—'is this situation?'"
Getting Involved and Celebrating Blackness
If you're looking for Minnesota organizations to support the greater network of change, Omeoga recommends consulting this list compiled by Reclaim the Block.
As for joining BLVC, they say, "If you are a Black person that thinks within a queer Black feminist lens, or that would like to learn what that means, you should definitely follow us on Instagram, Facebook, and Twitter, and become a member." (You can also follow them on social media—it's one way to stay up to date with and support the social justice movement.)
The organization also hosts a monthly program called Black Joy Sunday, led by core team member Ar'Tesha Saballos, to focus on healing, well-being, and happiness. It provides a space where Black Minnesotans can get together and relax, in contrast to the all-too-common phenomenon of Black communities gathering in the wake of tragedies. 
"How do we, as Black people, have a revolutionary day where we can just find joy in each other in a Black autonomous space or we can just be who we are?" Omeoga poses. "That, in and of itself, is a revolutionary act."
Black people of all ages are invited to join the BLVC movement, Omeoga says. "As of right now, our membership is very young, but … to gain the liberation that we need or that we want, we have to have a multigenerational approach." They add, "I just want to uplift the work that's being done in Minneapolis right now. It's happening with folks who are Black, queer and Black, trans and Black, women and Black."