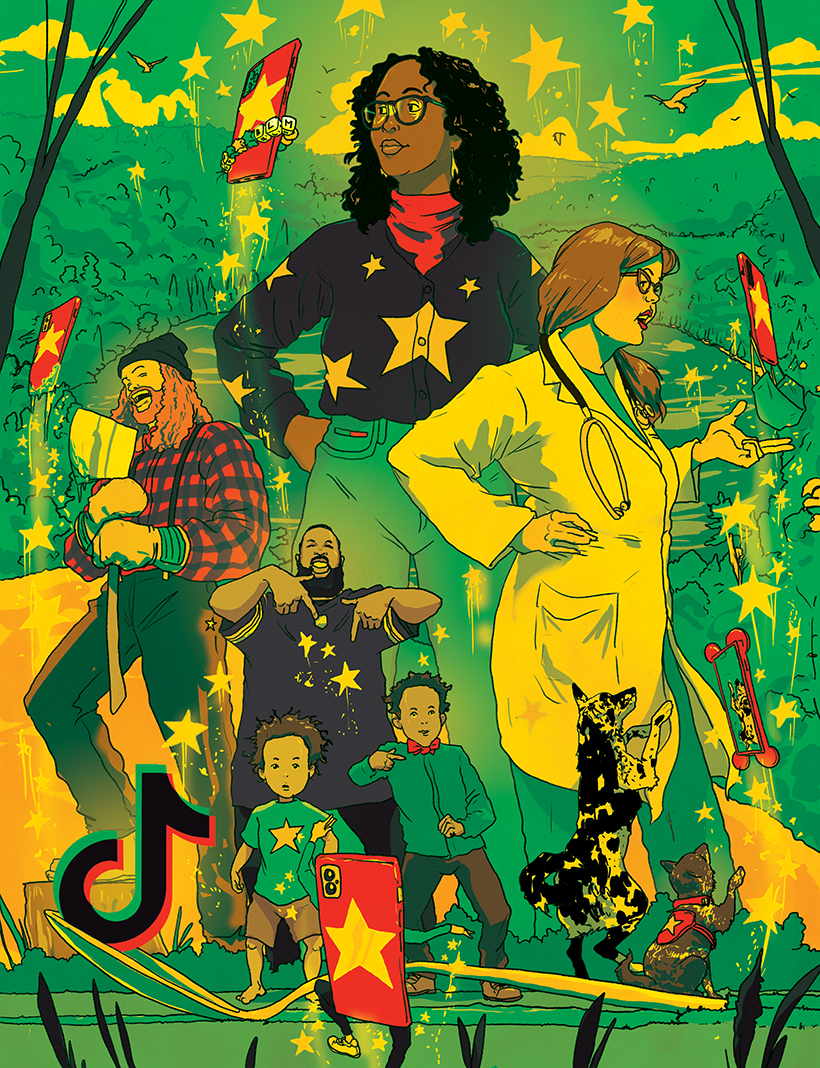 Sometimes all it takes is 15 seconds.
The day before Thanksgiving 2020, Michael Tovar and his young sons danced in their living room to a snippet of Perry Como & the Fontane Sisters' "It's Beginning to Look a Lot Like Christmas." In it, 2-year-old Silen—standing, but a little wobbly—manages to mimic his dad, Michael, and 4-year-old brother Stiles. This undeniable bright spot in the pandemic holiday season soon went viral.
Now nearly 10 million views later, the Tovar family of Austin, Minnesota, are legends on the social media app TikTok. It's clear the video's extreme cute factor goes beyond language or culture, with people commenting in French ("super mignons," or "super cute"), Spanish ("El bebé es todo lo que está bien en el mundo," or "The baby is all that is right in the world") and Japanese ("微笑ましいんだけど," or "I'm smiling").
Our mobile device obsessions, shortened attention spans, and a hunger to create, especially during the pandemic, have all fed into a TikTok boom. The app, which has quickly become a dominant platform, allows users to post videos under a minute of anything they please. Maybe you're familiar with the app as a platform for teens to create elaborate dance routines—and there's plenty of that—but peek beneath the surface and you'll find more, a lot more.
The beauty of TikTok is how people can use it to express themselves uniquely and easily, and then connect with others through popular hashtags. Like Instagram, YouTube, and Twitter, it has its own stars. In recent years, TikTok's reach has helped turn songs like "Old Town Road" into hits and spawned viral moments that marketers dream about. Ocean Spray and Fleetwood Mac couldn't possibly manufacture the fleeting, low-key moment Nathan "@420doggface208" Apodaca captured of himself skateboarding, sipping cranberry juice, and lip syncing to "Dreams." Since its upload in late September, it has been viewed nearly 80 million times and more than 600,000 TikToks now feature the song. With enough followers, TikTok users can ply their content for income by partnering with companies and promoting their products and services. But to get those followers, as @420doggface208 proved, you need something genuine first.
Out of 800 million monthly users, there are plenty of Minnesota-based creators. Type in #minnesota and you'll scroll through snapshots of lives from across the state. There are protesters with fists in the air, chanting "What's his name?" "George Floyd!" during the Minneapolis uprising. Keep going, and you might find a daredevil smashing through the top layer of a frozen river using a rock (and reacting to the thunderous sound of ice cracking beneath the surface). Scroll further, and someone has stacked up eight hammocks on two tall trees and climbed to the highest one for a tree top hang.
TikTok is now a powerful platform for Minnesotans to share activism, education, art, comedy, and of course, the lives of two fluffy, loveable dogs. Step into the worlds of these five Minnesota creators below—each one reaching thousands of viewers every day and carving out a decidedly original niche for themselves.
The Educator: Dr. Leslie
@drleslie / Minneapolis
Named the "most impactful creator" by TikTok in 2020, University of Minnesota Medical School graduate Dr. Rose Marie Leslie is one of the platform's loudest health education voices. A family medicine resident at North Memorial Hospital, Dr. Leslie began posting videos on TikTok in spring 2019, sharing tidbits about doctor life, responding to health news, and giving advice to close to 900,000 followers.
TikTok seemed like the right place to share her expertise from the start. "It has video, audio, text, the ability to use images—it's really perfect for education," she says. "As a primary care doctor and former health educator prior to going to medical school, I thought it was this great way to get health information across."
She emerged as a trusted voice during the coronavirus pandemic, even posting a video of herself receiving the first dose of the Pfizer vaccine in late December 2020 and answering questions about side effects (her only one being that she was "excited" to finally get her shot).
"Even if [watching me] inspires one person to take action and get the vaccine or decide to take preventative measures and wear a mask when they're seeing their grandparents out in the backyard," she says—"those are things that are really meaningful and could help save someone's life."
Either minutes or hours in the making, Dr. Leslie's video ideas come from North Memorial colleagues and common questions from patients. She hits topics ranging from the ways vaping can put people at a higher risk if they contract COVID-19 to the basics of coronavirus symptoms.  Since Dr. Leslie firmly believes that "medicine can't exist without advocacy and social justice work," she's made TikToks on controversial topics like conversion therapy, contraception, sexually transmitted infections, social justice, and racism in medicine.
In a recurring segment called "Daily Doctor Fact," she responds to health news and comments from viewers, or doles out interesting body facts. "Did you know that your lungs are encased in a sack full of fluid?" she says in one video, clad in her white medical coat. Hundreds of brief TikToks are a virtual catalogue of health information that might not be otherwise accessible to such a broad audience. A parent once told Dr. Leslie that her TikTok videos are where her 14-year-old daughter gets all of her information about COVID. Dr. Leslie also answers viewers' comments, citing credible sources and even responding to the occasional internet troll with compassion.
"Ultimately, I've found a love of joy in doing this, and a lot of support," Dr. Leslie says. "There are a lot of people who have reached out saying they learned something and they're changing something that they're doing, or that they're feeling acknowledged or recognized because of the videos I post."
The Activist: Isra Hirsi
@israhirsi / Minneapolis & Washington D.C.
Isra Hirsi is Minnesota congresswoman Ilhan Omar's daughter, but the has made it clear that her opinions are unmistakably her own. Hirsi has already established herself as an important voice and organizer representing a wave of ambitious teen activists. A self-proclaimed Marxist, she is using the platform to challenge the politically progressive status quo. Her TikToks make one thing clear: she wants a revolution and she wants it now.
When she's not finishing her senior year of high school, Hirsi is pushing the envelope of what can be accomplished during young adulthood. She's done her own TED Talk on her experience of constantly being called an "angry black girl," was recently honored in Fortune's 40 Under 40 list, and she graced the cover of Teen Vogue's November 2020 issue with her mother.
Hirsi's passion for changemaking started from a young age. "I've been politically aware my entire life," Hirsi says in a TikTok from November 2020. "The earliest memory I have is going to my first protest at 5 or 6."
As a freshman in high school, Hirsi organized her first rally and joined her school's environmental club. She went on to co-found the U.S. Youth Climate Strike. Starting with its first strike in March 2019, the organization has helped lead hundreds of thousands of students across the country fighting for climate justice.
When it comes to social media, she's as relatable as ever. She has large followings on Twitter and Instagram—and a growing TikTok audience of more than 85,000. She shares oft-witty (and sometimes biting) remarks about climate and social justice-related issues, including why, as a practicing Muslim, she chooses not to wear a headscarf (heads up: she tells haters to kindly "f off," because her journey with religion is hers, and hers only), how people should stop idolizing politicians, and how to call out performative activism. (If you're wondering, yes, her mom even makes the occasional cameo.)
And though she's an avid social media user, she also acknowledges its limitations, telling Teen Vogue, "Everybody's seeking activism and co-opting it. Kids who do nothing—like, literally, just post on social media—calling themselves activists is so frustrating."
The Comedian: Jake Fischer
@voicesofjake / Princeton
As his TikTok handle suggests, Jake Fischer is a man of many voices. He can do killer Australian, Southern, Scottish, and Scandinavian accents—and perhaps most importantly, one that is classically exaggerated, folksy, and unmistakably Minnesotan. The 28-year-old still hasn't totally figured out what to call himself. A comedian? "No, not really." A voice actor? Sometimes. A creator? "OK, that'll work."
Fischer's approach to TikTok is also a laid-back, one-day-at-a-time kind of deal. He started posting in December 2019, and has amassed 1.7 million followers, though he says he has no real structure to posting. In January 2020, he posted a TikTok that changed everything.
"I had 12 followers and the next day, I had 50,000," he says. In the video, Fischer is standing outside during a Minnesota winter documenting what his face looks like after increments of 5 minutes, 15 minutes, and 30 minutes. Then, after hours one and two tick by, accumulated ice clings to his bushy beard, eyelashes, and eyebrows. All the while, he's deep in character, using his perfected Minnesotan accent.
He was never expecting to gain so much success on the platform. "I thought of that idea, and … I put all of my good energy into it because I loved it. And then that directly translated to a lot of people loving it. It was a win-win," he says. "And let's say people didn't love it. I still loved it, and that's fine."
Since his overnight fame, he's curated a few recurring characters. The one his fans seem to get the biggest kick out of is the "Scandinavian woodsman"—a Swedish guy who loves to chop wood with his collection of axes (not unlike the real Fischer), sometimes sports a hat made from a blue Ikea bag, and speaks in a higher-pitched, soft voice. "He's just friendly and likeable. But it's also still genuine—it's still me, appreciating the axes and getting so excited. I just sound like a nice, little Swedish man," Fischer says.
In a way, the character is an ode to Fischer's own Swedish heritage—his great grandfather immigrated to the U.S. from Sweden. When Fischer was 10, a three-week family trip with stops in Denmark and Sweden deepened his connection to his roots.
Fischer calls himself a "kid at heart" and it's clear he still enjoys entertaining people. One way he does this is by styling his long ginger locks in outlandish ways. For the holidays, he coiffed his hair in a Christmas tree shape, wrapping it with colored lights and finishing the look with mini ornaments stuck to his beard. The most popular? The time he wrapped pieces of his hair around straws, creating tight, spring-like ringlets.
So far Fischer has only been noticed twice in public, but with his unmistakable red hair, he chalks it up to the pandemic keeping more people indoors. Even so, he's never been that concerned with fame, despite having an audience of well over a million.
"My main goal to start was to reach as many people as possible—to make them laugh a little bit and to remind them that all of life doesn't suck," he says. "My goal wasn't to become famous, really, just to entertain the masses."
The Dancers: The Tovars
@bearlytovar / Austin
For Michael and Teiler Tovar and their young sons Stiles and Silen, making TikToks started as a fun quarantine hobby in March. When their family holiday dance video went viral, they were flooded with text messages from family and friends, and not long after, they were watching their own faces on their TV screen.
"You always hear about viral videos and wonder how that goes," says Michael, who has lived in Austin for more than a decade. "It's just mind-blowing how much people appreciate that little 10 to 15 seconds of us expressing ourselves."
Just like the viral TikTok, not much planning is involved in day-to-day posts. "It's random. I'll be like, 'Hey Michael, I heard this song. Do this song.' And then he'll just put it on," says Teiler.
Since Thanksgiving, they've amped up TikTok creation from two to three per week to two to three per day. "Stiles, the older one, will ask to do TikToks. He's very into his style. He likes to dress up, put a tie on. He has his very favorite pair of pants that you'll see in a lot of the TikToks," says Teiler. "He says he wants to look 'swag.'"
Silen also loves being involved. "Every time he hears music on anyone's phone, he runs to where the music is to see what we're doing. He'll even take his pretend phone and set it up," says Michael.
Even with more than 28,000 followers, the Tovars plan to use TikTok as a fun way for the family to bond. In Michael's eyes, seeing more and more people enjoy the family's TikTok content just means one thing.
"Our [followers] see what we see, and that is how awesome our kids are."
The Fluffiest: Samantha, Ida, & Guava
@wildspotted / St. Paul
The two most adorable spotted shepherds on the internet just happen to be from Minnesota. Ida, 4, who has a black and white spotted coat, is "extremely smart, sweet, and loyal," says owner, Samantha [she wishes to keep her full name private]. The newest addition to the family is the brown and white spotted, blue-eyed 8-month-old Guava, who is "full of life and a lot of energy."
The 21-year-old recent University of Minnesota graduate has been sharing TikToks of her adventures with the dogs since the summer of 2019. "When I started TikTok, it was a way for me to document our life together," she says. "I never expected to reach over 1 million followers in less than a year, but I guess people really enjoyed the content I made."
Samantha, who works part-time as a dog trainer and in a research lab, has been training dogs since she was 11 years old. She has used her skills to prepare her shepherds for wins; Ida already holds multiple titles for agility, and Guava "is currently learning disc and shows a bright future."
Her 1.1 million followers seem to love videos where the dogs show off their tricks. In one video with 65.4 million views, Ida and Samantha face each other, and every time Samantha stretches out her leg, Ida extends her opposite paw. Then, when Samantha does a 360-degree clockwise turn, Ida turns around her, counterclockwise.
In the summer of 2020, Samantha brought Ida to Austria, Poland, the Czech Republic, Italy, and Germany—sharing bits and pieces through TikTok along the way. Swipe through, and you'll see Ida surrounded by mountains, hiking in the Austrian alps, running around a wooded Polish forest, and impressing strangers with tricks at a train station.
"Ida is a great traveler, sleeping on trains, planes, and automobiles, which contributed to making this trip great and low-stress for the both of us," she says.
They also love exploring Minnesota—taking trips to the North Shore (which is "underrated" in Samantha's eyes) or going on hikes and weekend trips. For longer road trips, Samantha has also taken the pups west, often to Colorado and Utah, she says. Next on the bucket list? A trip to the Pacific Northwest and Canada with Ida and Guava in tow.
Savoring special moments with her dogs doesn't always require recording a TikTok, though. "Creativity comes in waves, which is why some months I am making a lot of TikToks, and other months, maybe only making one, especially when life gets busy," she says.
Samantha also shares professional-style portraits of her dogs on Instagram, to her 82,000 followers (@wildspotted). In 2018, the platform's official account took notice, featuring a photo of Ida looking majestically to the side, swathed in a field of blue flowers.
At the end of the day, sharing her dogs with the world virtually has proved to be an incredible experience. "TikTok has been a great way to show our adventures, tricks, photography, and more," she says. "It's a fun platform that really inspires creativity."
Explore More MN TikTok
2.4 million followers
A University of Minnesota student with a knack for dark and self-deprecating humor.
2.7 million followers
This Minnesota dad tells funny stories and plays pranks on his family members for giggles.
1.6 million followers
Taylor Hage has used TikTok to vault her status as a local fashion icon, sharing daily outfits inspiration and lifestyle tips.
532.5K followers
A skilled photographer, Lucas Greenwaldt's forte is recreating famous characters, people, and aesthetics—from singer Harry Styles to Matthew Broderick's Ferris from "Ferris Bueller's Day Off."
20.3K followers
Lana Davis, a 20-something based in Minneapolis, shares her knowledge on beauty and skincare, lifestyle tricks, and plans to read 100 books in 2021 (so if you're looking for a recommendation, she's got you covered).
Read More: This Minnesota Cookie Artist is a Viral Star on TikTok
Facebook Comments