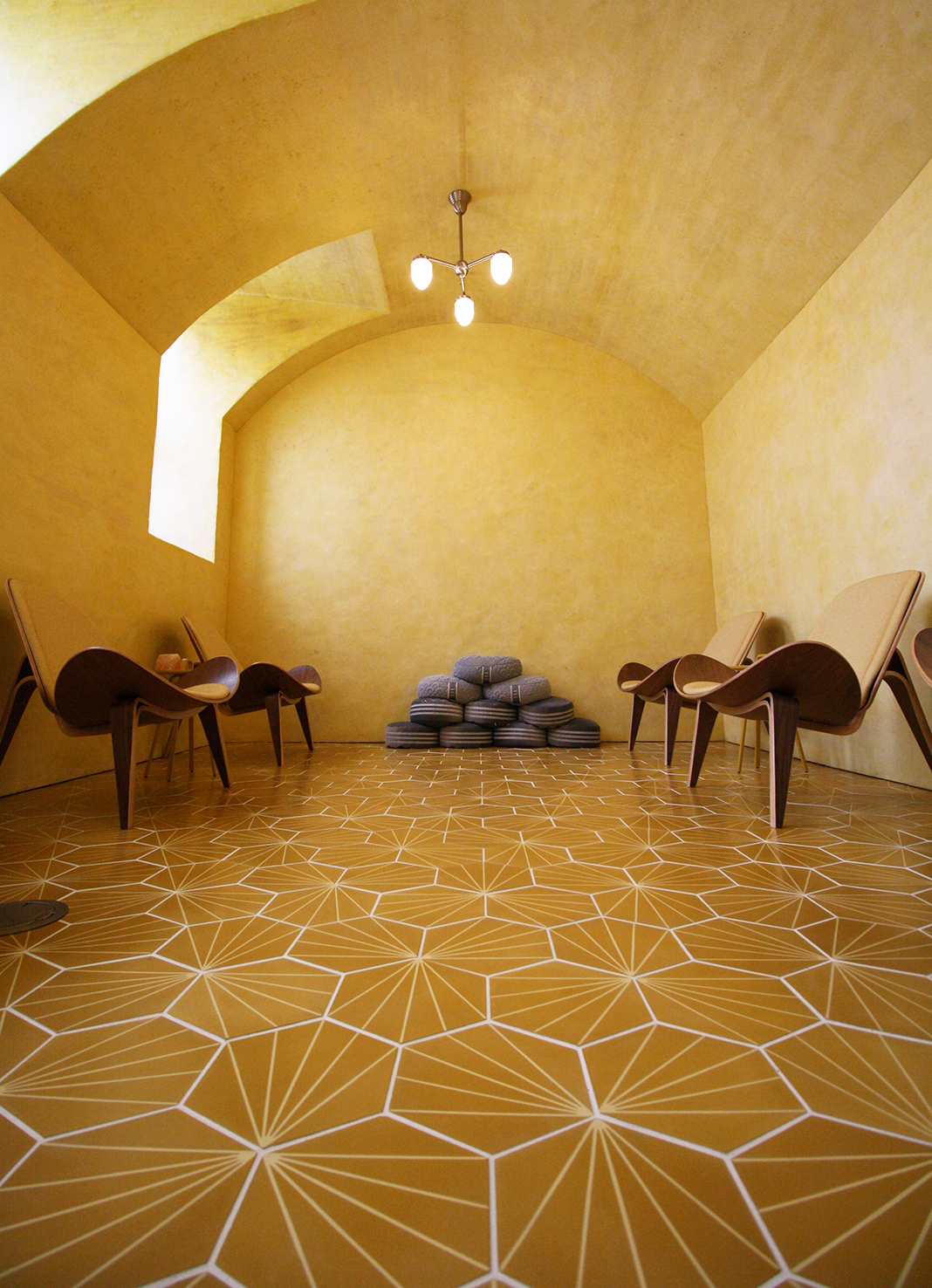 Ever sat in a room made of beeswax while breathing in the scent of honey and listening to the ambient noise of an actual beehive? Chances are you haven't—at least, not yet.
I recently heard the buzz behind one of the Twin Cities' newest wellness centers and had to check it out for myself. Nestled in The Rathskeller, one of the buildings on the old Schmidt Brewery property off Seventh Street in St. Paul, Worker B Wellness offers holistic services that focus on apitherapy (wellness practices using products from honey bees) in a historic site.
Rachel Romanelli—chief operations officer, one of four founders of Worker B/Worker B Wellness, and a massage therapist—told me about what makes Worker B and its wellness center so unique.
What is Apitherapy?
Apitherapy is a form of alternative medicine that uses honey bee products such as honey, propolis, pollen, royal jelly, and bee venom. This type of therapy has existed for thousands of years. According to The American Apitherapy Society Inc., rock art created in ancient times illustrated that early hunter-gatherers viewed honeybees as a source of natural medicine. In fact, apitherapy was used to treat arthritis and other joint problems, which is still practiced today.
Romanelli has always had an interest in bees. She laughs as she says her family was "urban hippies"—always growing fresh produce and eating organic, local foods.
"My interest in bees is really an interest in the product they provide and also how they work in community with each other, which is really fascinating," Romanelli says. "Each bee has a specific job in the hive to help the whole as a superorganism. So, when we were looking at this, we're like, 'OK, so Worker B Wellness is a superorganism—we're all doing something to help the concept of the hive."
Services
Worker B Wellness offers a variety of holistic services, including massages, facials, floats, sauna treatment, salt therapy, and time in the Beeswax Meditation Room. They even have a facial that incorporates silk cocoons "because they contain sericin, a protein used to improve skin elasticity and reduce wrinkles by increasing moisture retention. Made by silkworms, the cocoons produce immediately visible results, improving skin texture and radiance while also refining pores." All treatments use Worker B's bee-derived products.
Romanelli frames it as "an opportunity to check your brain off at the door and come in and just take time to breathe and relax."
In addition to paid services, Worker B Wellness offers free guided meditation in the beeswax room every Sunday morning and bee education every third Monday of the month. Each Monday night session focuses on a different aspect of apitherapy.
Wellness Center Environment
Let's talk about the space itself, because the Worker B Wellness center—in its construction alone—is pretty amazing.
From the front door itself—which resembles the honeycombs of a beehive—to the gold, hexagon tile flooring, the comb-shaped window coverings, bee fabric window treatments, beeswax walls, geometric furniture, and the aroma of real honey, no detail was spared in the creation of this wellness center. From May through October, Worker B Wellness will even have four active hives on the roof, which will provide fresh scent to the meditation room.
But much of the space remains unchanged since it served as offices for Jacob Schmidt Brewing Company staff (which closed in 1990). The result? A beautiful mixture of old and new.
Not only is the design aesthetically pleasing and calming, but the staff is kind and calm, too. You are greeted at the door in a joyful, hushed voiced (so as not to disrupt other visitors). You are asked to remove your shoes and offered comfy slippers before receiving your service.
Beeswax Meditation Room
The Beeswax Meditation Room is the only of its kind being used in a wellness center setting, according to Romanelli. German artist Wolfgang Laib has installed beeswax rooms in various art museums around the globe including The Phillips Collection in Washington, D.C., Museum of Modern Art in New York, Kunstmuseum Stuttgart in Germany, and the Museum De Pont in the Netherlands. Having never created a beeswax room of her own, Romanelli used Laib's experience as a starting block.
Romanelli's beeswax room was designed and constructed by her father, a builder and ecologist who lives in Seattle, Washington. Because the building is historical, the owners are required to maintain the historic look. So instead of adhering beeswax to the original walls, which wouldn't have worked well anyway, a plywood room was constructed inside the original space. "It's a room inside a room," Romanelli says.
Romanelli, her father, and a team of volunteers constructed the walls and ceiling from plywood, the best material for adhering beeswax, as she discovered. From there, 570 pounds of beeswax, sourced from a local farm, were warmed and carefully "painted" to each wall and the ceiling. As the wax cooled, Romanelli ended up with a smooth, 1/4-inch-thick beeswax wall. The coolest thing about the beeswax? It's always in bloom, which is where the scent of honey comes from.
Gold, hexagon tiles cover the floor. Yellow mid-century modern chairs line the walls. The room is kept warm to keep the wax moldable and blooming. A track plays quietly in the background—a combination of four tracks including slowed bee wing flutters and buzzing that was all recorded from a live beehive.
Worker B Products
Across the street at Keg & Case, you can purchase more Worker B products and sample varieties of honey. Honey can taste vastly different depending on what flowers the bees pollinate. Current honey varieties include Basswood, Bosque, Buckwheat, Snowberry, Azahar, Desert Bloom, and more.
Worker B's 28 skincare line products are made from various combinations of 140 all-natural ingredients such as beeswax, propolis, and raw honey. "There really isn't any necessity to have anything synthetic in the product at all, and there isn't," Romanelli says. "There is a shelf life on it, but the shelf-life value on it is, like, a year."
Everything at Worker B is from local beekeepers who use organic bee practices, meaning they use no antibiotics or pesticides—"all the honey is raw," Romanelli says. The product line includes everything from lip balm and lotion to honey scrubs, serums, cleansers, and masks. They also sell apparel and beeswax candles. According to Romanelli, the most common is a beeswax and propolis lip balm or lotion bar—all of which include beeswax, propolis, and honey.
While personal wellness is the goal, Romanelli can't ignore broader, environmental stakes, with declining bee populations threatening global food systems. "I think right now there's a lot of information in our media environments around the environment and around bees," she says. "It's important to pay attention to our bee populations because they are directly interfacing with the chemicals that are unnatural in our environment [such as pesticides]. It's important to tend to not only bees but every pollinator that we have available … because that's how our food sources become available to us."
Want to know what else is housed in Keg & Case Market? Click here.
Facebook Comments