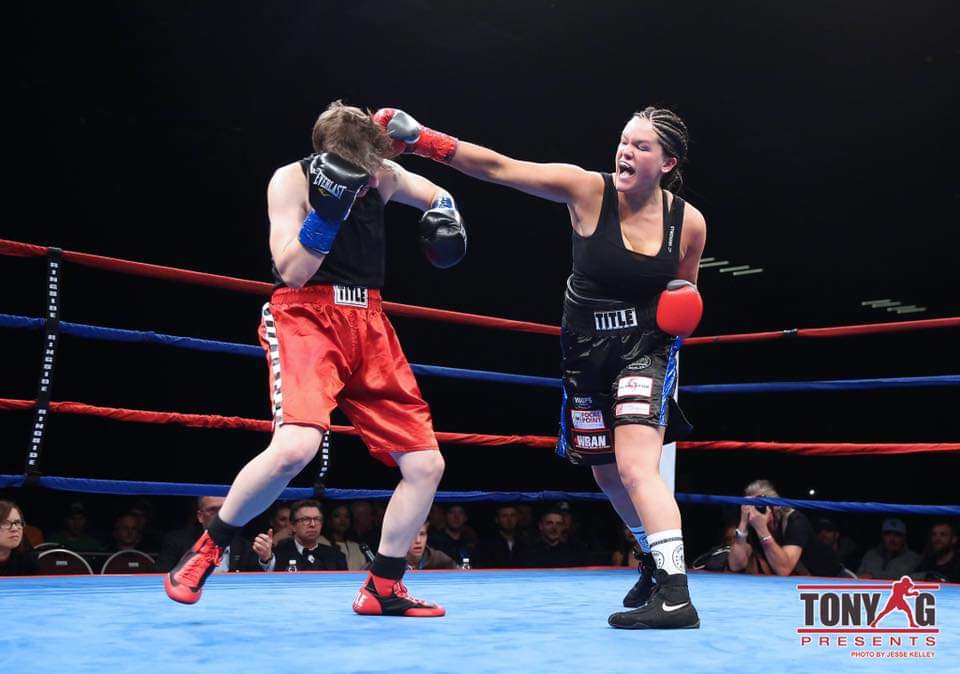 Even during the pandemic, Amy Lemenager has continued training every day—because the 22-year-old is eager and ready to get back in the ring. "I'm really watching my weight and what I eat, so once this does settle down and come to an end, I'll be able to get right back into it."
Lemenager has made a name for herself as Duluth's first professional female boxer, and the only currently in Minnesota. A recent graduate of the University of Wisconsin-Superior, Amy "Hard Hands" Lemenager has managed to juggle both academics and athletics, fighting professionally for over a year now while pursuing a career in law enforcement.
Dynamic, bright, and insightful, Lemenager embodies a contagious energy. She's currently ranked fifth in the U.S. for middleweights, and 13th in the world. Growing up a two-sport athlete, she began her athletic career playing hockey before taking up boxing at the age of 12. What started as a hobby soon became her outlet after a visit to Lorenzi's Boxing Gym in West Duluth with her father. She fell in love with the sport. "My intentions were just to work out to get in better shape. I didn't have any intentions on fighting or starting another sport," says Lemenager. "One thing led to another, I started fighting, my gym became my family."
In high school, she fought and beat Canadian National Champion Taylor Ross, and went on to win several more matches before competing in the 2016 USA National Tournament (where she lost to that year's champion, Oshae Jones). Following this, Lemenager went on to win the United States Intercollegiate Boxing Association's 2018 championship, representing UWS as the school's first official female boxer. She recounts the win that put her name in the spotlight at a pro level, in which she beat Leslie Pope at the Minneapolis Convention Center this past January.
"Boxing is such a cool sport—it teaches you so much," she says. "Every sport is different, but with boxing you need to have some tenacity, and push forward even if you get knocked."
Despite her success, Lemenager's journey hasn't been easy. The summer before leaving for college, a catastrophic knee injury ended her hockey career. Deciding to trade the rink for the ring, Lemenager turned to boxing to focus on her recovery. Her persistence is evident throughout her story, as she again became a two-sport athlete, taking up soccer soon after recovering.
Aside from her boxing career, Lemenager has landed a job as a law-enforcement officer with the Duluth Police Department, after an internship her senior year. "Lorenzi's Boxing Gym was in West Duluth, a low-income area where I witnessed a lot of drug dealing going on outside," says Lemenager. Seeing the police presence and what a big impact they made on the safety and well-being of her community ultimately sparked her interest in joining the law enforcement. "In my mind it'd be helping the community I grew up with, and it makes me really proud to know that I'll be working for them and this city." A proud homebody, Lemenager plans on staying in Duluth for as long as she can.
Where did your nickname "Hard Hands" come from?
AL: I hit really hard. In boxing, I've always hit super hard. I'm not the fastest fighter, and I don't have the best head movement or quickness, but I hit really hard, and every single person I've fought has always commented on it. I think it comes from when I was a little girl messing around with my dad and him teaching me how to throw a punch correctly, and mastering that over the years.
I understand you had your pro debut in your hometown of Duluth. What was that like for you?
AL: It was a little nerve-racking, because all of my friends and family were there watching me on the stage. Getting that win was really important to me, getting to start out my pro career with a win. I fought a couple months after that in Minneapolis, at the Minneapolis Convention Center where I beat Leslie Pope, which was a much tougher fight than my first fight. That was really exciting because she was ranked a lot higher than me, and I was definitely the underdog.
What have been some of the biggest accomplishments in your boxing career?
AL: There aren't a ton of female fighters in this area that I can fight, so learning from the males who are stronger than I am has been a really good learning opportunity for me. Also just having the mental strength to push forward, through cutting weight [weight loss prior to competition, a common practice in boxing], has taught me a lot. When you have to lose 10 pounds in a week, you can't eat a lot and have to work out religiously every day, which is really hard on your mind and body. There's also been a lot of really cool people that I've had the opportunity to work with and learn from. My two coaches Joe Lorenzi and Aaron Resberg have had such an impact on my life. Joe is in law enforcement, too, and has become like a second dad to me, and the people I've met in the gym I've become really close to and, like I said, they're family. You think of this sport as a singular sport because you're the only one in the ring fighting. But, in actuality, you really do have a team.
Do you feel like there are any lessons you've learned from your athletic career that you can apply as a law enforcement officer?
AL: For sure. In any competitive sport, you learn discipline and respect. That was a great foundation for me as a kid. I focused all of my attention on hockey and boxing, having to maintain good grades and represent my school. So the discipline behind both sports is something I believe can be applied to really any career.
How has the police killing of George Floyd impacted your pursuit of a law-enforcement career?
AL: I am a woman, I know my privilege, and I think a lot of the new generation of people going into law enforcement, including myself, are very progressive and aware of the racial issues in our country. That, if anything, makes me excited to go into law enforcement. If you want to see a change, you have to be the change. I don't want to see these things continue to happen, and I'm really excited to be going into this field and to make a change in our country.
Facebook Comments