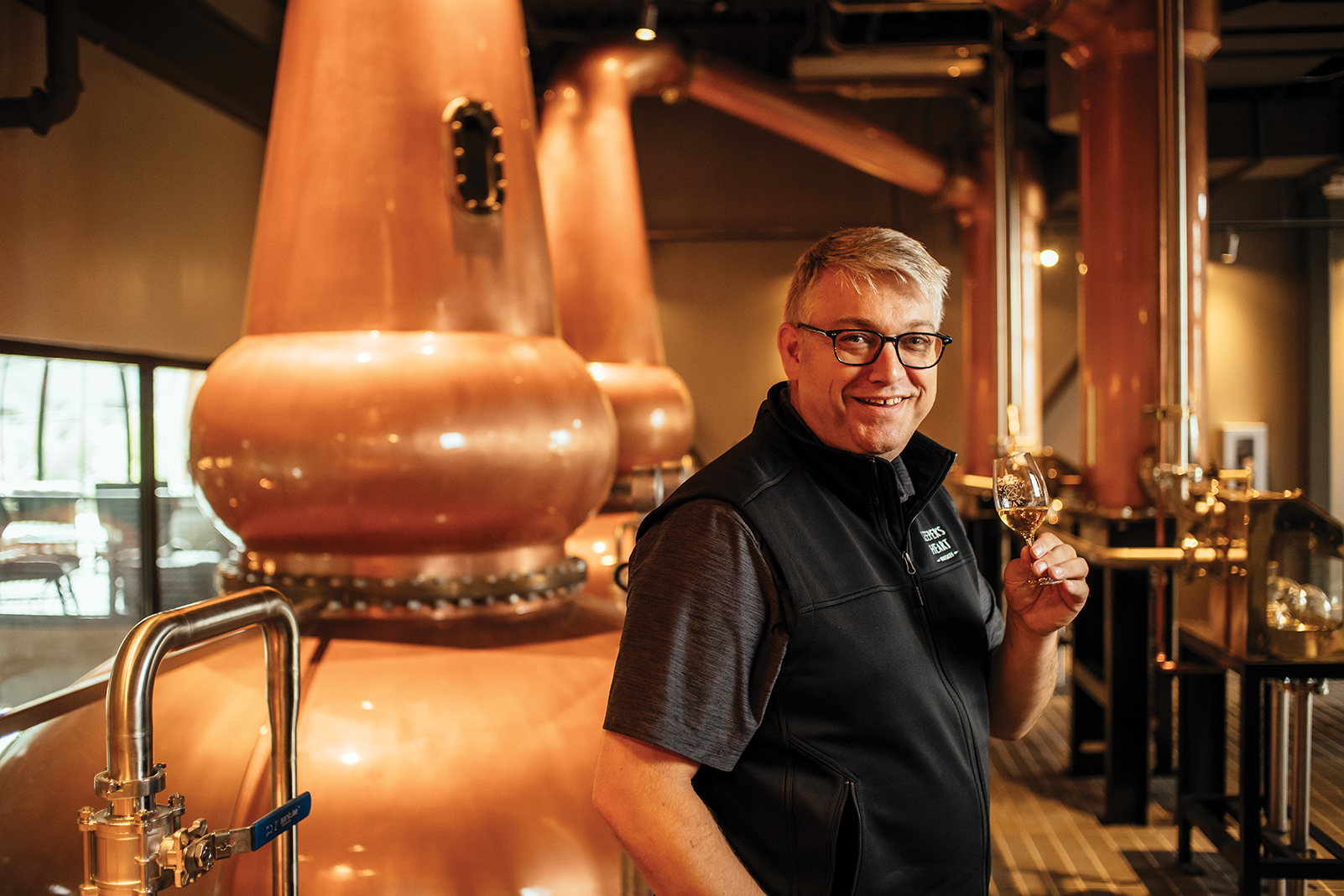 Brian Nation says he is no risk taker. But is it not a risk for the leading talent behind Jameson whiskey to pack up his family, descend from the heights of traditional Irish distilling, and start from scratch in the Midwest?
"This is quite special, because you're the first person to smell alcohol in the distillery," Nation tells me during a recent tour of Minneapolis' new O'Shaughnessy Distilling Co. He lifts the circular lid on a massive steel fermentation tank, and I peer down at a milky, churning wort. The waft—a biscuit-y sweetness—is too complex for me to grasp in one whiff.
Tall and portly, with a boyish face and a jut of silver hair, Nation walks through O'Shaughnessy explaining its unique angle: This will be a sort of "Irish American" spirit, a high-pedigree mutt of a whiskey. He will deploy techniques and ingredients from both the old and new country. So, imagine Midwest-sourced cereals (barley, rye, corn) triple-distilled in copper pot stills—the quintessentially Irish way to make whiskey—then aged in virgin American oak casks. "We have this saying, where we're going to Irish-ize American whiskey and we're going to American-ize Irish whiskey," Nation says.
O'Shaughnessy opened in August, meaning it doesn't yet have its own stock. Those whiskeys will be ready in roughly two-and-a-half to five years, Nation says. (Barrels, expanding and contracting, need time to swish the distillates.) Instead, O'Shaughnessy's first year will focus on a blend. Back in Ireland, Nation spent the pandemic dialing in Keeper's Heart, a concoction of American and Irish varieties. "Because of its blend, it has all that brutishness of American whiskey with the subtleties of Irish whiskey in it," bar manager Matty McGee says. For Nation, the flavor conjures up a sweets factory he toured in his hometown of Cork, Ireland, as a boy. At the distillery's bar, I had to consciously stop drinking an old-fashioned made with Keeper's Heart so I could drive home later. "You could mix it with anything, and you know you're going to end up with something that is delicious," head bartender Tyler Staples says. "Could you do that with another whiskey? Honestly, I don't think so."
The dual-country methodology, the immaculate space, the big-fish distiller—they all make O'Shaughnessy the latest stud on the restored leather jacket that is the fast-developing Prospect Park neighborhood. In the distillery's whiskey lounge, three bulbous pot stills, shipped from Ireland, lord over patrons like copper deities. (An unusual sight in the U.S., they're commonplace in Irish distilleries, Nation says.) Here, a "potato bar" pays homage to Irish origins as well as to the site's history as a potato-processing plant. The distillery also makes its own vodka and gin, and O'Shaughnessy sources its water from the same aquifer as next-door neighbor Surly Brewing Co. Completing the area's new "destination" status, the nearby Malcolm Yards food hall opened around the same time.
Construction finished on the 30,000-square-foot distillery earlier this year, but it still feels a little mirage-like. Why is Nation here? How did Minnesota score the whiskey whiz behind brands like Jameson and Redbreast? Nation started in the industry almost 25 years ago, when whiskey's reputation felt more tweedy, more grizzled, he says. "You sat in front of a fire with your pipe and with your slippers on, and you drank it only neat." But Irish whiskey sales have soared in the past decade, with millennials reportedly driving interest. The Midleton Distillery, where Nation worked in Ireland, even doubled production capacity around the mid-2010s. So, why would he leave now?
To tell me that story, Nation sinks into a squat leather armchair on the lounge's upper deck. "I questioned a couple of times in my own mind, saying, 'How was I that certain?'" His face lights up. "I joke … 'Was I going through a midlife crisis, or what was it?'" Ultimately, he knows: "A lot of it was done for the people I met."
It started with a St. Paul-based venture capitalist. Patrick O'Shaughnessy, whose work has supported entrepreneurs in life science and tech, went to a family reunion in 2017 at Madden's, a resort on Gull Lake. The O'Shaughnessys go back four generations. Living stateside due to the mid-1800s Irish Potato Famine, a great-great grandfather trekked to Stillwater to sell boots to lumberjacks. "In a big, Irish-American Catholic family, families tend to get quite large," O'Shaughnessy says. The geographically dispersed clan wanted a way to get closer. "We were drinking whiskey when the running joke began, 'Wouldn't it be really cool if we had our own Irish whiskey?' Ha ha, hee hee."
But the idea took root. Noting Irish whiskey's steady resurgence, O'Shaughnessy dreamt of an Irish American distillery. In late 2019, he sent a message on LinkedIn to one of Irish whiskey's most prominent players.
At that point, Nation was pretty content. He had grown up in Cork, an industrial hub about 25 minutes from the Midleton Distillery, owned by Irish Distillers. "I went to school locally, played sports locally, and then, when I finished school, I went to college locally, as well," he says with a laugh. A natural pragmatist, he studied chemical and process engineering, then worked at an oil refinery, then at a pharmaceutical plant, both in Cork. "I felt that I didn't get a broad understanding of what was going on," he says of that work, "because you were given a particular task and you weren't allowed to move left or right with that."
One day, the distillery called for a job interview. "I had no appreciation of what they did, or how important a distillery was," Nation says. After a year as an environmental engineer, he moved into production. He says he became close friends with the master distiller and stepped into that role in 2013. (Helpfully, Nation has a keen palate.) The company's tight-knit ethos, built in part on Jameson's ubiquity, won his loyalty. "You go around the world, and you walk into a bar, and you see a product that you've been part of. It's a great feeling, and there's a great family atmosphere in a place where you're dealing with brands that are consumer-facing."
Eventually, O'Shaughnessy reached out to Nation by phone. Would he want to get dinner in the coming months? "I said, 'Yes, Patrick, but you know—look, I work for Irish Distillers. I'm very happy where I am.'" Twenty minutes later, Nation says, O'Shaugnessy sent a text: He, his cousin, and his dad would be there in a few days. "We had a meal in a hotel, and if we spoke 15 minutes about whiskey over five hours, that was a lot," Nation recalls. The chemistry was instant. The O'Shaughnessy family values entwined with Nation's. "If another group had come to me … I'd say I would still be at Midleton," he says.
He concedes he may have "subliminally" wanted a change. (His wife and three young kids were fully supportive, he adds.) On the technical side, Nation gets more room to innovate. "Every day's a school day," he tells his three-person distilling team. They have a five- to seven-year "roadmap," and Nation is partnering with the founder of Utah's High West Distillery. "Never done before" whiskey ideas are under wraps, but Nation hopes consumer input will keep experimentation from getting too wild.
And by chance, his risk-taking appears to have a precedent close to home. The team's research uncovered an "Irish American" whiskey promoted by a Jameson scion in the 1930s, says marketing director Patrick Caulfield. After Prohibition, Scotch had swept the market for a mix of economic reasons. Now, amid an Irish whiskey renaissance, will that idea see its day? "My mother has a saying," Nation says: "What's for you won't go by you."
For more information on O'Shaughnessy Distilling Co.—plus distillery tours—click here.
Facebook Comments