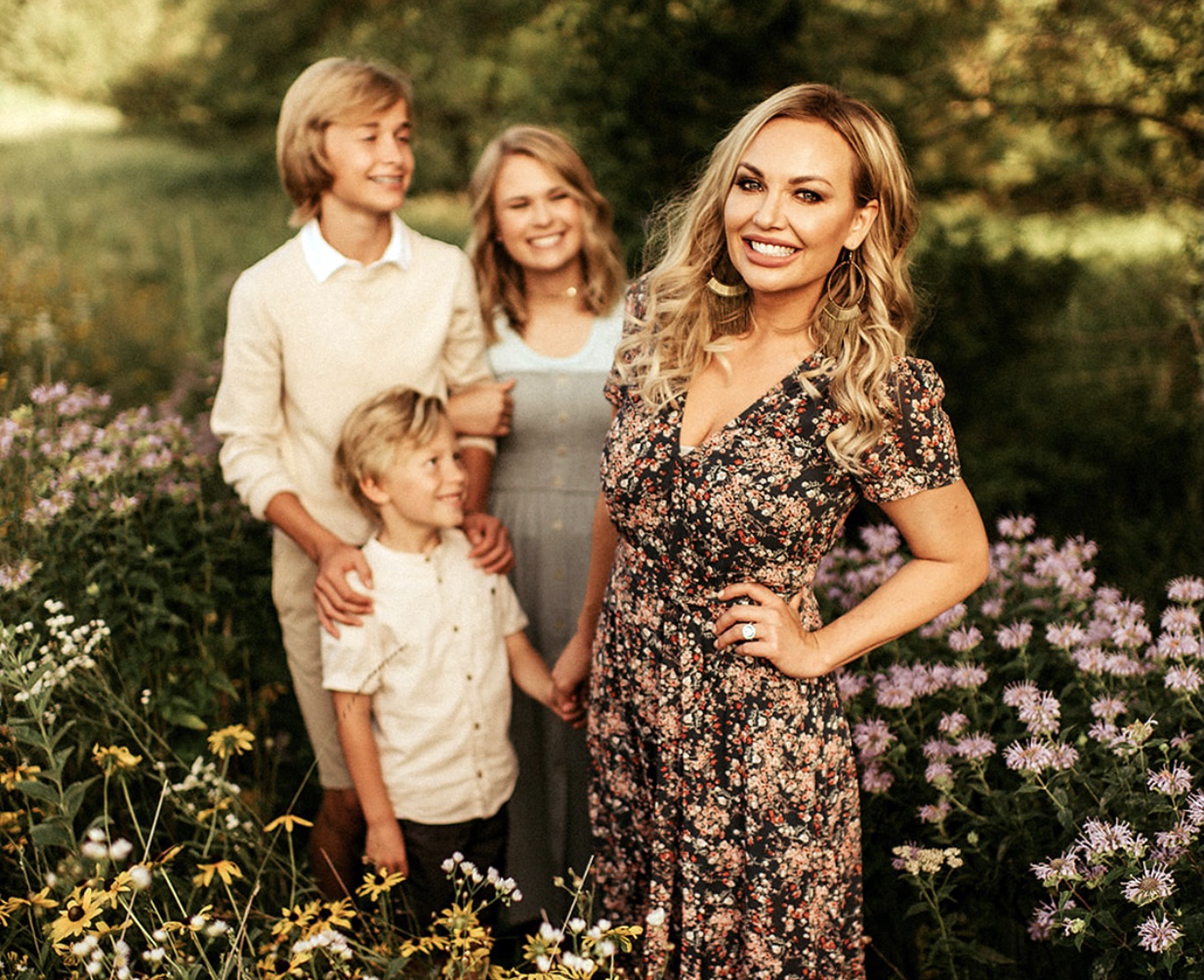 Jessica Koehler had no intention of competing in pageants post-college. But then, while working as an on-air model in 2010 with ShopNBC, Koehler met her now-coach, Wendi Russo, who was then a television host and pageant coach. Knowing that Koehler had competed in the Miss North Dakota USA competition in college, Russo encouraged Koehler to go for Mrs. Minnesota America.
The Mrs. America pageant is essentially the same as the Miss America pageant, but it shows off the successes of married women instead. It involves the same phases of competition: swimsuit/fitness, interview, evening gown, and costume. The pandemic hit before the Mrs. Minnesota pageant, which took place this past August. (Following state-mandated safety guidelines, seating was limited to 250 with 6-foot buffers.)
This past August, Koehler walked away with the Mrs. Minnesota title, scoring first place in the interview and swimsuit categories, and second for evening gown. For specialty categories, Koehler was awarded Most Photogenic and Best Complexion. Now, she's headed to Las Vegas at the end of this month to compete for the Mrs. America title.
Since winning, Koehler has raised awareness about America's opioid epidemic. She has a personal reason for doing so. Koehler met her husband shortly after he lost his wife to an opioid overdose. His two children suffered from PTSD for years following. After officially adopting his children in 2008, Koehler made it her mission to help them recover.
Throughout the past few months, Koehler's kids noticed a lot of their friends beginning to experiment with drugs and alcohol. Her kids urged her to tell their story, to use it to help others struggling with addiction.
"My children's blessing was the green light to go all in," says Koehler. Pageants, she thought, could be the perfect platform to amplify her message. "For the last 13 years, I've been raising two kids with special needs whose mom passed away." It has been no easy task, but Koehler says her kids are now vibrant and healthy. "Once I got them to the finish line, I realized I could use my experience to start helping other people, too."
She has been working as a volunteer at Minnesota Adult & Teen Challenge for a few years, acting as a mentor to young women recovering from drug and alcohol addiction. "Addiction is a disease of isolation and loneliness," she says.
On top of this, Koehler recently started attending a leadership development course through Harvard University. Alongside C-suite executives from Google and YouTube, Koehler took up the class as part of her mission to never stop learning. "As Mrs. America, I would love to be an active student at Harvard," says Koehler. "I think that says something for women. You can wear a swimsuit and be strong on stage, holding your head with dignity, but you can also be really smart. You don't have to just be one thing, you can be all the things."
We talked with Koehler about adapting to the pandemic, taking off the fluffy dress and tackling serious issues, and what's next.
What does your role look like as a mentor? Has it changed as a result of the pandemic?  
The most important thing about being a mentor is making sure you can shed light and offer a positive outlook for these women. What they need more than anything is for someone to be a constant in their life. They need a constant source of love, hope, and light, because they've had so many people that have abandoned them. I feel like I'm a lighthouse in the storm for these young women. I'm not going to lie, the pandemic has not made it easy.
How are you connecting with your mentees?
It's been totally different. They've had a couple shutdowns. Normally I would go once a week and we would have up to six hours a week to do whatever we would want. So, I've been sending care packages and chatting on the phone. It's really small gestures of love and hope that help them get through. When I can see them in person with masks, we do Bible studies, book clubs, and go for walks around the lakes. It's almost like a reward for them, and it's a reward for me, too. I get just as much, if not more, out of having time with them as they do with me.
Can you talk about some of your upcoming events?
Coming up, I'm doing a 12 Days of Giving on my Facebook and Instagram pages, where I've had local organizations donate gifts that I'll be raffling off to raise money for Victoria's Voice and Minnesota Adult & Teen Challenge. In January, we have a Voices of Hope campaign coming up where we've partnered with influencers around the Twin Cities who will offer short video messages of hope for the women to watch at Minnesota Adult & Teen Challenge.
What's next?
As of right now, at the end of January I'll be heading to Las Vegas to compete for the Mrs. America title. On a national level, the Mrs. America organization is partnered with the Victoria's Voice foundation, whose efforts go towards providing support to youth and families affected by substance abuse. I love how this ties into my story, and I have a 12-month action plan ready to go. With or without the crown, I'm going to carry it out. 
Can you reveal any specifics?
Right now, we're talking with different production companies to create a documentary series that shares my story and the stories of others struggling with opioid addiction. People who don't have a voice right now need someone who has a platform to amplify their voices. Right now, people do not investigate opioid addiction or overdose [the way they do] homicides. Addiction is not a disease that discriminates. It is a disease, and it needs to be treated like one without the stigmas around it. So we really want to focus on finding the source of the drugs and investigating opioid overdoses like homicides. I want Mrs. America to take off the crown and the big fluffy dress and get to the streets and tackle some serious issues, and I want to be the person to do that.
This interview has been edited for length and clarity.
Facebook Comments