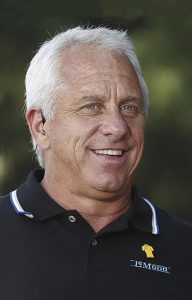 As a three-time winner of the Tour de France in the 1980s and '90s and two-time winner of the Road Race World Championship, Greg LeMond is regarded as one of the greatest U.S. cyclists. Born in California and raised in Nevada, LeMond lived in Minnesota with his wife, Kathy, and their children for nearly three decades before moving to Knoxville, Tennessee, in 2017. Now 61, LeMond spends time in the driver's seat of his own cycling brand, LeMond Bikes, which is headquartered in Knoxville.
After winning the Tour de France in 1989, LeMond began to speak out against performance-enhancing drugs and became a prominent voice against doping in the cycling community. He won his third and final Tour de France title the next year, in 1990, the same year LeMond and his wife relocated to Minnesota in hopes of escaping the spotlight and to raise their children. Also that year, he helped open Scott Kee's Tour de France in Edina, a restaurant that nodded to LeMond's fine dining experiences in France, Italy, and Belgium.
Despite a remarkable racing career, the road hasn't always been easy for LeMond. In 1994, he announced he was diagnosed with mitochondrial myopathy, a cellular disease that affects muscles and physical performance. That diagnosis, coupled with a hunting accident in 1987 that left him with more than 40 lead pellets in his body, led to his retirement from competitive cycling in December 1994. Still, he remains active in the industry as an entrepreneur and investor.
In 2017, LeMond sold his estate in Wayzata and moved south. In 2020, he won the Congressional Gold Medal for his dedication to activism and community involvement. In 2022, LeMond announced he was diagnosed with chronic myelogenous leukemia, a life-threatening but treatable cancer. Earlier this year, LeMond Bikes announced it is turning its focus toward electric bikes, with hopes of making biking "accessible to all." LeMond did not respond to repeated requests for this update.
Minnesota Monthly catches up with memorable personalities and events. Want an update on someone or something specific? Email your idea to editor Amy Nelson, anelson@greenspring.com