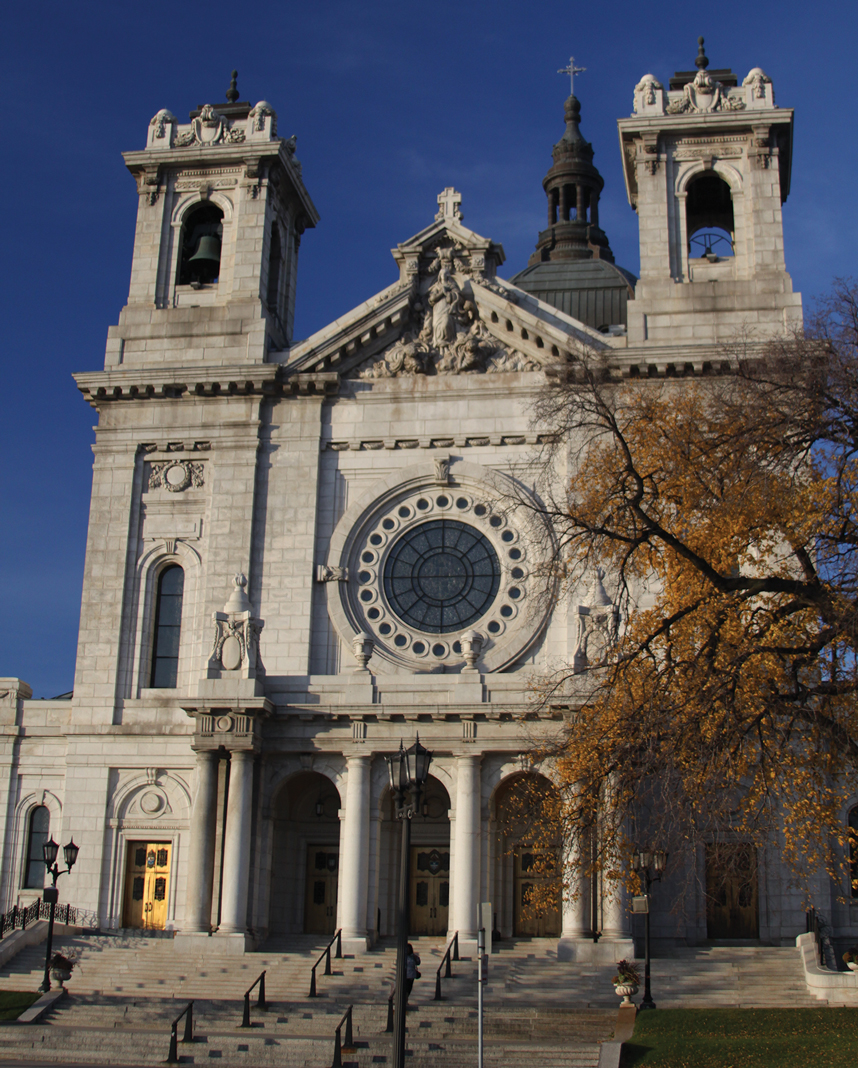 Minnesotans are known for inclusivity, and that's no different when it comes to religion. While Christianity has been the predominant religion in Minneapolis, St. Paul and surrounding communities since the 1800s, the metro is a culturally diverse melting pot of faiths. According to a publication by the University of Minnesota, "Global religions have become neighborhood practices in the Twin Cities."
Christianity
Depending on language, country and traditions, Christians have different religious observances, although they share beliefs. There are three main branches: Protestant, Orthodox and Catholic.
Protestantism
The Protestant branch of Christianity includes Lutheran, Methodist, Baptist, Pentecostal, Presbyterian, Congregational, Baptist, Amish, Quaker and Evangelical denominations.
Lutherans make up 20 percent of Minnesota's population, according to a 2015 Religious Landscape Study published by the Pew Research Center. Mount Olivet Lutheran Church in southwest Minneapolis serves 13,000 of them—the world's largest Lutheran congregation. Hosanna! Lutheran Church has 7,000 members, with campuses in Rosemount, Shakopee, Northfield and Lakeville that feature stadium seating for services, coffee shops and gyms, along with youth wings and an on-site preschool. Redeemer Lutheran Church in Minneapolis focuses on dismantling racism and stands in solidarity with Black Lives Matter. One of their beliefs is to "live faithfully and fully at the intersections of racial and LGBTQIA+ justice and equity." The church gives back through affordable housing, a community garden and a bike shop.
Methodism is the second-largest Protestant denomination in the state, with about 60,000 members and 360 churches. Nationally, there about 7 million members. Progressive Methodist denominations support unity by accepting gay clergy and championing marriage equality, whereas the newly formed "traditionalist Methodist" Wesleyan Covenant Association maintains a ban on LGBTQ+ clergy and same-sex marriage. Hennepin Avenue United Methodist Church in Loring Park, modeled after Ely Cathedral in England, is an all-inclusive Methodist church, as are Hamline Church United Methodist in St. Paul and Good Samaritan United Methodist Church in Edina.
Presbyterianism arrived in the 1830s when missionaries to Native Americans arrived at Fort Snelling. One of the most renowned Presbyterian churches in the Twin Cities is the Westminster Presbyterian Church, located in downtown Minneapolis. The church, listed on the National Register of Historic Places, is a Gothic and Romanesque masterpiece.
Orthodox
There are numerous Orthodox parishes in the Twin Cities, including Holy Trinity in St. Paul, St. Mary's Greek Orthodox Church overlooking Lake Calhoun in Minneapolis, Saint George Antiochian in West St. Paul, St. Stefan's Romanian Orthodox Church in South St. Paul, St. Herman's in Minneapolis, St. Michael's Ukrainian Orthodox Church in Minneapolis and St. George Greek Orthodox Church on Summit Avenue in St. Paul. FOCUS (an acronym for Fellowship of Orthodox Christians United to Serve) is an outreach of the Orthodox Christian churches in the greater Twin Cities area. Their mission is to provide the underserved, homeless and working poor with food, work, clothing, understanding and shelter.
Roman Catholicism
Catholicism makes up the largest single-denomination population in the state. In 2018, there were 188 parish churches in 12 counties throughout Minnesota. In the Twin Cities, the most well-known Catholic churches—for their rich history, stunning architecture, and strong congregations—are the Basilica of Saint Mary in Minneapolis, the Chapel of St. Thomas Aquinas in St. Paul, the Saint Thomas More Catholic Church on St. Paul's Summit Avenue, Our Lady of Lourdes in St. Anthony and the distinctive Cathedral of St. Paul, which serves as the Cathedral Archdiocese of St. Paul and Minneapolis. To better serve the Hmong American community, the Cathedral of St. Paul merged with the Hmong-serving Church of St. Vincent de Paul.
Nondenominational
The Twin Cities area is also home to a number of nondenominational churches. Grace Church in Eden Prairie is a popular megachurch in Minnesota, providing fellowship opportunities and often hosting concerts with Christian artists. Church of the Open Door serves thousands in a beautiful Maple Grove facility. More than 22,000 attend services each weekend at Eagle Brook Church, with campuses throughout the metro (Anoka, Blaine, Lino Lakes, Spring Lake Park, White Bear Township and Woodbury), making it the largest church in Minnesota. There are unaffiliated churches, too: Unitarian Universalist churches work to bring religious and non-religious people together, welcoming people from every background and walk of life.
Judaism
The first Jewish immigrants arrived in Minnesota in the late 1840s. Other German and Central European Jews soon followed, and in 1878, Shaarai Tov was founded (later renamed Temple Israel) in Minneapolis. Today, the Temple is one of the 10 largest Jewish temples in the U.S. After World War II, the quickly developing suburb of St. Louis Park became home to many Jewish families. Today, Beth El Synagogue in St. Louis Park serves nearly 2,000 families. Mount Zion Jewish Temple in St. Paul, another Reform synagogue, offers weekly Shabbat and daily services and welcomes everyone to worship, accepting those of mixed religious backgrounds and LGBTQ+ community members. The Minneapolis Jewish Federation, Minneapolis Jewish Foundation and Shalom Minneapolis all support the community.
Islam
Muslims are the second-largest religious group in the world yet relatively new to the Twin Cities area. It wasn't until the 1990s, in the wake of the Somali Civil War, that many Muslims found safety in the metro area. Now, the Twin Cities proudly offer a rich network of Muslim organizations, including 50 mosques. The Masjid Al-Huda Center in northeast Minneapolis is one of the most popular, and community resources include the Islamic Center of Minnesota in Fridley, the Islamic Civic Society of America and the first private Islamic school, the Al-Amal School, whose mission is to nurture a "generation of Muslims who have a solid understanding of Tawheed and Taqwa, have a strong Islamic moral character, have leadership skills and a strong sense of responsibility." The state's Muslim representation took the national stage when Minnesota Democrat Ilhan Omar joined Congress, making history as one of two Muslim women elected.
Hinduism
In 2009, the 43,000-square-foot Hindu Temple of Minnesota, built in a corn field in Maple Grove, became the largest Hindu temple in North America. Run by the Hindu Society of Minnesota, the massive space accommodates up to 5,000 people at a time. The main deity for this temple is Vishnu the preserver, one of the Hindu trinity of gods. Twenty-one shrines honor other deities, representing different regions of India. People of all faiths are welcome to dance performances, concerts, art shows, free yoga and meditation classes, vegetarian lunches on weekends, a Cultural Heritage Day carnival, and Holi and Diwali celebrations.
Buddhism
Minnesota is home to the sixth-largest Cambodian community in the country, with many first coming as refugees escaping the Khmer Rouge in the 1970s. Less than 30 miles south of St. Paul, in the town of Hampton, you'll find the spiritual center of Watt Munisotaram, one of the largest Cambodian Buddhist temples in the U.S. Run by the Minnesota Cambodian Buddhist Society, the temple aims to preserve Cambodian culture in the U.S. There are more than 30 Buddhist centers in the metro area, including the Tibetan Buddhist Gyoto Wheel of Dharma Monastery in Minneapolis and the Clouds in Water Zen Center in St. Paul. The Minnesota Zen Meditation Center is another destination for those wanting to learn about the discipline of Zen Buddhist meditation.
Paganism
Paganism is a term for spiritual traditions that reject organized religion. In many cases, Mother Earth is sacred; rituals of love, affirmation and acceptance are worshipped; cycles of the moon and seasons are celebrated; and the concept of evil is not accepted. Thanks to Minnesota's distinct seasons and open-minded people, the Twin Cities Pagan community is thriving. Nicknamed "Paganistan," the Twin Cities have one of the nation's largest concentrations of Pagans, Wiccans, Druids and Heathens, plus an assembly of other folk religions numbering more than 20,000. In most covens and groups—as in many spiritual and religious communities—members develop strong emotional bonds and refer to one another as chosen family.
Churches Represent Rich Diversity
Cultural diversity is celebrated in the Twin Cities. The Twin City Chinese Christian Church in Roseville is trilingual, offering services in English, Cantonese and Mandarin. Within the Archdiocese of St. Paul, 23 parishes serve the Latino community, and others cater to Korean, French, Filipino and Vietnamese communities with language-specific services. The Twin Cities area has also become one of the most welcoming homes to Hmong residents. The thousands of Hmong Americans who found Christianity in Minnesota attend services in both Hmong and English. The St. Paul Hmong Alliance Church, which is the nation's largest Hmong Christian church, and the Hmong Central Lutheran Church in St. Paul are among a growing number of Hmong churches in the Twin Cities. Holy Trinity Lutheran Church's Swahili-speaking ministry in St. Paul is another example of the area's Christian diversity, as are St. Paul's Bread of Life Deaf Lutheran Church and Deaf Life Church. Both offer full worship services in American Sign Language.
Facebook Comments