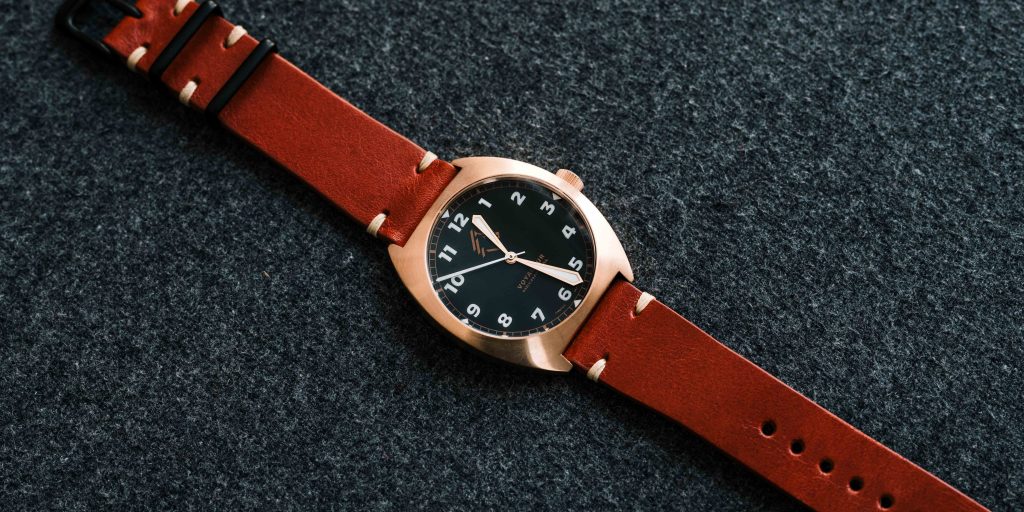 Michael Johansen has enjoyed mechanical watches for many years, but he has recently struggled to connect with the design of some modern timepieces. "As a watch enthusiast, I wasn't seeing what I wanted," he says. For Michael, these watches' aesthetics seemed overdone, and because of that, overpriced. These industry shortcomings led him to seek a solution.
Wolf Creek Watch Co. was founded in 2019 as Michael sought to create watches with a more balanced design at a more reasonable price point. As a guide, he looked to the natural world and the late Minnesota environmentalist Sigurd F. Olson, who once wrote, "Simplicity in all things is the secret of the wilderness and one of its most valuable lessons." 
The Voyageur Mechanical, which is the first production timepiece for Wolf Creek, takes the simplicity of the wilderness to heart and integrates the natural beauty of northern Minnesota into the design process. The Voyageur features an elegant bronze case, domed sapphire crystal over a dark matte green dial, and a chestnut leather strap. The timepiece embodies a vintage feel with its compact sizing and hand-wound mechanical movement. 
Michael chose a bronze material for the case due to the natural patina that will occur over time. "Many watches are pristine and won't age," he says. "I wanted something that has character, like the environment, where there's always evolution and change. That allows it to be a unique timepiece, and each will be unique to the individual who wears it." 
Michael chose a hand-wound movement to elicit a stronger sense of connection. "There's so much in our lives that is technological and complex, but not long-lasting," he says. "This is an object that, if properly maintained, can last decades."
The Voyageur is Swiss-made, and the primary design work takes place in Duluth. Wolf Creek has partnered with Minnesota artisans such as Leather Works Minnesota, which crafts the watch's premium leather straps. Michael says that partnering with Minnesota businesses has been an exciting and rewarding part of this journey—a journey that is just beginning.
Facebook Comments