Note: This list is from last year. You can read this summer's top 100 things to do here.

Ferndale Market. Photo courtesy of Ferndale Market.
---
Support Local Farmers
Take a road trip to Cannon Falls, less than an hour from the Twin Cities, and bike the Cannon Valley Trail, sample wine at Cannon River Winery, dine at Nick's Diner or Rancho Loco, or kayak down the Cannon River. Pencil time in to stop at Ferndale Market, a three-generation family-run turkey farm and local foods market. John Peterson, owner and general manager of Ferndale Market, opened a local foods store on the farm to connect local foodmakers with the general public. You can buy everything from antibiotic-free Ferndale Market turkey products to fresh smoked gouda, raw goat cheddar, cheese curds, maple syrup, pasta, bison, honey butter, grass-fed beef, and so much more. Visit the farm and store during the Co-Ops' Eat Local Farm Tour July 15 from 11 a.m.-4 p.m. for wagon rides and guided tours. The purpose of the tour is to explore local farms for a day of fun, learning, and discovery. ferndalemarketonline.com
Jump, Play, Crawl, Explore
Research shows that play is a powerful teacher, staying with a person throughout their life—at home, in school, at work, and everywhere else. It was this mentality that drove a $30 million expansion and renovation at the Minnesota Children's Museum, reopening this June with 10 new exhibits. The new exhibits include a four-story vertical adventure with climbing towers, a spiral slide, and a netted catwalk suspended more than 40 feet high (The Scramble); a maker-space with authentic tools and real materials (The Studio); air-powered ball launchers and a wacky car wash (Forces at Play); a laser maze, carpet skates, balance boards, and a green-screen climbing wall (Super Awesome Adventures); an expanded exhibit for babies and toddlers (Sprouts); two outdoor play spaces, and four more galleries. The Minnesota Children's Museum is located in downtown St. Paul, with parking available on West Seventh Street. mcm.org

Vertical Endeavors
Photo courtesy of vertical endeavors
---
Climb to New Heights
From first-timers to veteran climbers, Vertical Endeavors— with locations in Bloomington, St. Paul, Minneapolis, Duluth, and Glendale Heights, Ill.—offers climbing walls, bouldering, and top-roping with auto belays. The features are designed to help new climbers find their footing, and experienced climbers build their strength, balance, endurance, and coordination. "Our gyms offer routes available for everyone," says Ryan Ferrian with Vertical Endeavors. "Additionally, the climbing community is one of the most welcoming communities. Everyone loves the sport and loves to share their passion for the sport with others." They also provide individual outdoor lessons and guided climbing trips to some of the most beautiful parts of the Midwest. verticalendeavors.com
photo courtesy of kartouchken- fotolia.com
---
Go Mini Golfing, Biking & Paddling
Bikes, boats, and mini golf is what it's all about at Wheel Fun Rentals, a family-oriented, outdoor recreation company in the Twin Cities. Mini golf at Malt-T-Melt in Richfield (then have a cold treat at the adjacent Malt-T-Melt Malt Shop), rent a bike at Minnehaha Falls, Lake Nokomis, Como Lake, Veterans Park, or Canal Park in Duluth, or rent a stand-up paddleboard or single or tandem kayak at Lake Calhoun, Lake Harriet, Lake Nokomis, or Como Lake. If trying paddleboarding for the first time, staff will provide all necessary gear and training, and guests can stay in shallow water near the shoreline until they're comfortable (it typically only takes a few minutes to get the hang of it). Locker rentals are available at the Minneapolis water locations. Kids can request passports, get stamps at  local Wheel Fun destinations, then earn a prize if they hit all locations. wheelfunrentals.com

Canterbury Park
photo courtesy of canterbury park
---
Spend a Day at the Track
A beautiful afternoon or evening spent outdoors at Canterbury Park (Shakopee) or Running Aces Harness Park (Columbus, near Forest Lake) is entertainment, an outing, and a unique experience all in one. There's history and tradition behind horse racing, you get to watch beautiful animals perform at their peak, and you can bet as little as a few bucks per race if you want. Plus, there's cold beer, hot food, and poker. canterburypark.com • runaces.com

Good Ol' Days Resort
photo courtesy of rick hammer
---
Experience Lake Life
It's all about lake recreation at Good Ol' Days Resort and nearby Wilderness Resort in the Brainerd Lakes area of central Minnesota. Good Ol' Days, on Lower Cullen Lake, is six blocks from downtown Nisswa on the Paul Bunyan Trail; while just a few miles down the road there are cabins and villas for rent at Wilderness Resort, situated on beautiful Middle Cullen Lake. Guests staying at Good Ol' Days have access to Wilderness Resort amenities, including a fitness center, indoor swimming pool, game room, sauna and hot tub. Pets are welcome. goodoldaysresort.com • wildernessresortvillas.com
photo courtesy of marek fotolia.com
Head to the North Shore
Families have been coming to Lutsen Resort for generations, for the prime location on Lake Superior, campfires on the pebble beach, complimentary activity programs (night hikes, nature hikes, guided sea kayak instruction), shuffleboard, Par 3 golf, Kids Camp, and an Adventure Program for youth. Within minutes, you can be out your door paddling a canoe or sea kayak, hiking along the Superior Hiking Trail, mountain biking, cruising along paved biking trails, or viewing the area from spots on the Sawtooth Mountains (don't forget your camera). Enjoy casual dine-dining in the lakeside dining room or Poplar River Pub, and stay in the lodge, a log cabin, or a luxurious unit with fireplace, Jacuzzi, and private deck. lutsenresort.com
Take a Walk on the 'Wild' Side
Wander along paved trails, hand-feed the deer roaming freely around the property, see peacocks strutting across the lawn, and admire wild cats and wolves (and other wildlife) at Fawn-Doe-Rosa Wildlife Educational Park in St. Croix Falls, Wisconsin.  There's also a large pond where you can watch the ducks and geese, and a "farmyard" petting zoo with ponies (and pony rides), rabbits, pigs, and chickens. fawndoerosa.com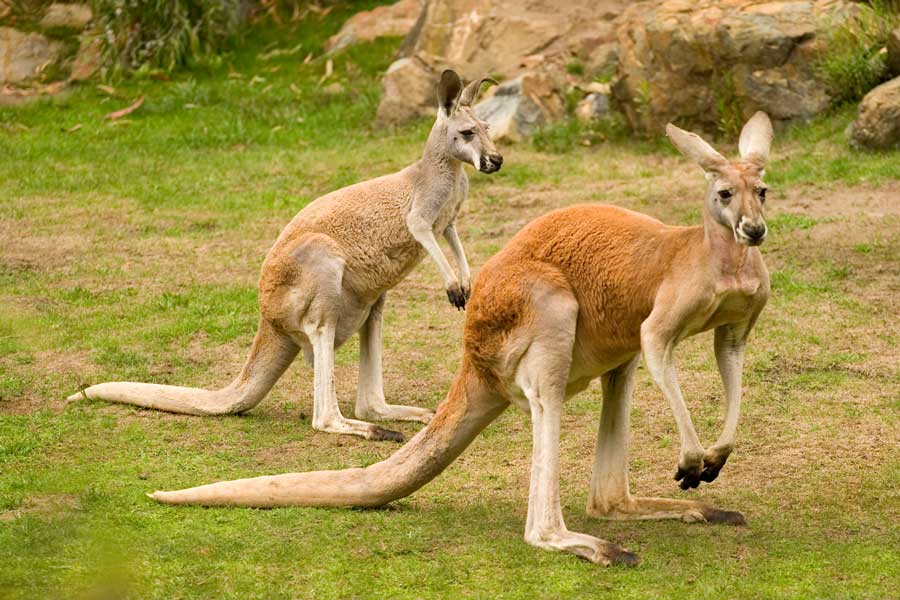 Minnesota Zoo
photo courtesy of carolina garcia aranda
---
Visit Australia (sort of)
Experience the Australian Outback at the Minnesota Zoo during the new, immersive "Kangaroo Crossing" seasonal exhibit from May 24-September 4, 2017. The exhibit will feature kangaroos, wallabies, and emus on a 5-acre habitat, with minimal separation between the animals and zoo guests."Although the Minnesota Zoo is open year-round, the summer season is an amazing time to explore," says Josh Le, communications and media relations manager. Admission ranges from $12-18 (and is free those 2 and under); parking is $7 per car. ​Another fun zoo event is Adults Night Out, a grown-up, kid-free, after-hours version of the zoo, complete with wine, beer, or cocktails for those 21+. mnzoo.org

Red Wing Brewery
photo courtesy of red wing brewery
---
Raise Your Glass
Summit, Lift Bridge, Fitger's, 612, Lucid, Surly, Fulton, Steel Toe, Castle Danger, Bent Paddle, Jack Pine, Dangerous Man, Indeed Brewing Co., Third Street, Schell's, Red Wing Brewery—so many local brewpubs and microbreweries, so little time. Taprooms are not only a great way for anyone who enjoys tasty brews to sit back and enjoy a pint of handcrafted beer in the very same area where the "beer magic" happens (at the brewery); the beer also tastes better, plus tours and taprooms are the least expensive way to experience Minnesota's booming craft beer movement. Each beer—and each location—has its own vibe. Call or visit the company's websites for tour times and taproom hours. For more information, visit the Minnesota Craft Brewer's Guild at mncraftbrew.org.
Stop Invasive Species
Minnesota is a destination state in summer, with thousands of outdoor recreationists traveling here for excellent camping, biking, and hiking opportunities. What also "travels" here are terrestrial invasive species, also known as TIS (those that live on land). Invasive species can be spread on boots, bike tires, pets, camping gear, your vehicle, and unused firewood.  When a species isn't native to an area, they can harm the economy, the environment, or human health once they become established. A few of the common species found on land include Canadian thistle, common buckthorn, wild parsnip, fungal species that cause Dutch elm disease and oak wilt, and the emerald ash borer. Long-distance spread is almost always accidentally human-assisted. Why should people care? According to the PlayCleanGo: Stop Invasive Species In Your Tracks® outreach campaign launched by the Minnesota Dept of Natural Resources, "Everyone should care because unless we can slow the spread of invasive species, life as we currently know it will change dramatically; from where we live and work, to the places we go, the products we buy, how we relax and play with our kids. All of it has the potential to change with the spread of invasive species. Protecting Minnesota is up to you. Come Clean, Leave Clean." Organizations interested in promoting this campaign can sign up at playcleango.org. There are currently 420 partner organizations across 36 states and four Canadian provinces involved in the campaign.
Take a Mini Class
The beauty of Grand Marais has attracted artists to the area for years, creating a vibrant year-round arts community. Visitors, too, are inspired by the scenery, and can let their inner artist shine during a weekend class at the North House Folk School, an educational nonprofit organization on the north shore of Lake Superior in Grand Marais. Some of the most popular classes are black ash and birch bark basketry classes, turning on a lathe (both electric and foot-powered), timber-framing, and wood-fired bread baking, pickling, jamming, and making sausage, says Carolyn Fritz, communications and outreach manager. These traditional northern crafts are taught in a supportive student-centered learning environment "that inspires the hands, the heart, and the mind," she explains. Classes range from $20 for a mini course to $3,500 for more extensive timber-framing and boat-building courses. The Wooden Boat Show and Summer Solstice Festival will take place June 16-18 with a large wooden boat display, a speaker series, craft demonstrations, a summer solstice pageant, and a featured presentation. In addition, special events and activities will be scheduled throughout the year in honor of the School's 20th anniversary celebration. northhouse.org

Grand Old Day
photo courtesy of james barton
Go to a Fair or Festival!
This summer, there's truly a fair or festival for everyone. Flint Hills International Children's Festival, May 30-June 4 St. Paul Lanesboro Rhubarb Festival, June 3. Sylvan Park Lanesboro Grand Old Day, June 4, 2017 Along Grand Avenue, St. Paul Minnesota Pet Expo, June 10 and 11 Minneapolis Convention Center Northern Spark, June 10 Lowertown, St. Paul St. Paul Summer Beer Fest, June 10 Minnesota State Fairgrounds, St. Paul Eaux Claires Music & Art Festival, June 16 and 17 Foster Farms, Eau Claire, Wis. Stone Arch Bridge Festival, June 16-18 Minneapolis riverfront. Twin Cities Jazz Festival, June 22-24 Mears Park, downtown St. Paul Moondance Jammin' Country Fest, June 23 and 24 Moondance Event Grounds, Walker Minnesota Street Rod Association Back to the Fifties Weekend, June 23-25 Minnesota State Fairgrounds, St. Pau Minnesota Food Truck Festival, June 25  Hennepin Avenue, between Lake and 31st.
Get 'Caught' in the Excitement of Baseball
Living in Minnesota, you have two options for watching baseball in open-air ballparks—the Minnesota Twins, playing at Target Field in downtown Minneapolis, or the St. Paul Saints, playing at CHS Field in St. Paul. There's a wide variety of concessions, from hot dogs to walleye on a stick, the stadium is steeped in history, and in "Twins Territory," the atmosphere is electric. The minor league Saints are nationally recognized for their in-game entertainment, with between-inning promotions, contests, and "ushertainers" making for a fun atmosphere. Where else can you get a haircut or massage, even rent a hot tub with friends—all while watching some really great baseball? twinsbaseball.com • saintsbaseball.com

Forest Lake
photo courtesy of Shawn Sarinske
---
Go Fishing
Whether you're drifting and trolling with spinners, or fishing with bait, there are more than 10,000 lakes in Minnesota (11,842 lakes of 10 acres or more to be exact), providing plenty of opportunities for good fishing. There's a reason, after all, that Minnesota is consistently ranked as one of the best states in the country for fishing. Regardless if you're angling for walleye, northern pike, sunfish, bass, or musky, catching fish can be fun for everyone. If you want to introduce your kids (or yourself) to the sport and don't know where to start, sign up for a $5 "I can fish!" workshop through the Minnesota DNR, where all equipment is provided (including tackle boxes!). dnr.state.mn.us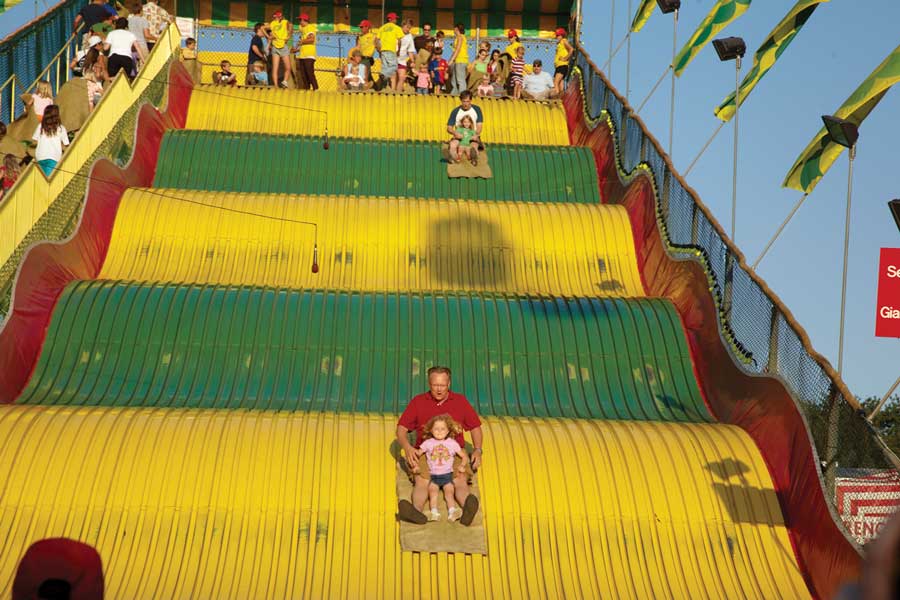 Minnesota State Fair
photo courtesy of todd buchanan
Go to More Fairs and Festivals!
Basilica Block Party, July 7 and 8 The Basilica of Saint Mary, Minneapolis St. Paul Dragon Festival, July 8 and 9 Phalen Park, East Side, St. Paul  Minneapolis Aquatennial, July 19-22   Lake Calhoun, Hennepin Avenue, West River Parkway Rock the Garden, July 22 Minneapolis Sculpture Garden Vans Warped Tour, July 23 Canterbury Park, Shakopee Minnesota Fringe Festival, Aug. 3-13  Venues in Uptown, downtown, and the West Bank WE Fest Country Music Festival, Aug. 3-5 Soo Pass Ranch, Detroit Lakes Uptown Art Fair, Aug. 4-6 Lake Street and Hennepin Avenue and "The Mall" in Southwest Minneapolis Minnesota Bluegrass & Old-Time Music Festival, Aug. 10-13 El Rancho Mañana, Richmond, Minn. Pizza Lucé Block Party, Aug. 12 Warehouse District, Downtown Minneapolis Irish Fair of Minnesota, Aug. 11-13  Harriet Island, St. Paul Twin Cities Polish Festival, Aug. 11-13  Along Old Main Street, Minneapolis Summer Set Music & Camping Festival, Aug. 11-13 Somerset Ampitheatre, Somerset, Wis. Minnesota State Fair, Aug. 24-Sept. 4 Minnesota State Fairgrounds, St. Paul
photo courtesy of ketrik17 – Fotolia.com
Enjoy a 'Slice' of Country Life
Gather together some friends, bring snacks and drinks and plates and lawn chairs and a folding table and garbage bags and maybe a deck of cards or Frisbee, get in your car, and drive to Stockholm, Wisconsin on a Tuesday night for excellent rustic brick-oven pizza and even better scenery. Many of the ingredients at Pizza on the Farm (aka "the pizza farm") are grown right there, just like how it was back in the olden days. Show up early to stake out a good spot on the lawn and enjoy quality time with friends in really pretty surroundings. The cows and goats only add to the charm. Stockholm sits across Lake Pepin from Lake City, Minnesota, about an hour and a half from the Twin Cities metro. atozproduceandbakery.com
Play Golf
Located in Biwabik, Giants Ridge is a four-season resort, with golfing in summer and skiing in winter (and biking year-round). There are two nationally-recognized 18-hole championship-caliber golf courses on site, The Quarry and The Legend, the only two-course resort in the state to be ranked in "America's Top 100 Greatest Public Courses" by Golf Digest in the same year. Golf programs for all ages will be held throughout the summer. Giants Ridge is located about three hours from the Twin Cities. giantsridge.com
Visit Sleepy Eye
If you're a fan of Little House on the Prairie, then you've heard of Sleepy Eye. (It was the little city near Walnut Grove.) Today they're known for their annual Buttered Corn Days Celebration. The all-day free corn festival held this year on Friday, August 18 will include free buttered sweet corn, along with 1919 root beer, burgers, homemade pie and ice cream, Grainbelt Premium beer, and live music. "Activities for the kids and a beautiful lakeside view make for the quintessential small town celebration," says Christina Andres, executive director of the Sleepy Eye Chamber of Commerce. Visitors are encouraged to stick around for the Grand Parade, Saturday August 19 at 6 p.m. Sleepy Eye is also home to antique shops, an aquatic center, a museum, and Sleepy Eye Lake. A new hotel is opening this summer. sleepyeyechamber.com
Embark on a Magical History Tour
Hop on a Segway (those quasi-futuristic scooters) and learn about the Twin Cities on a guided Magical History Tour. Led by experienced and
energetic guides, the tours are perfect for corporate events, parties, and anyone who wants to learn more about the history, stories, and legends of the Mill City district of Minneapolis, and the Lowertown or Summit Avenue/Capitol Hill areas of St. Paul. Before a tour starts, the guide will provide a quick safety lesson for the 5-7 mile route. "The Segway is super intuitive and user-friendly,"explains Bill Neuenschwander,  owner of parent company Mobile Entertainment, LLC. (Riding a Segway is easier than it looks. There have been numerous riders over the age of 75.) Time and again, those who have been on a tour describe it as a "must-do experience." Magical History Tours run from March through November. The Minneapolis location is on Historic St. Anthony Main; the St. Paul location starts at the St. Paul Curling Club on Selby Avenue. humanonastick.com
Plan a Weekend at the Lake
Enjoy quality time together during a good old-fashioned "weekend at the lake" at Dickerson's Lake Florida Resort, located about 100 miles west of Minneapolis in Spicer. Owners Bob and Connie Dickerson take great pride in running a clean, safe, family-oriented resort and it's evident—through the pizza parties, hayrides, campfires, and Sunday morning homemade donut "mixers"—that they love what they do. Guests have complimentary use of hydrobikes, paddleboats, kayaks, bikes, and trikes. Little ones love building sandcastles along the pristine sandy beach; adults love the chance to "unplug" and reconnect. dickersonsresort.com
Facebook Comments