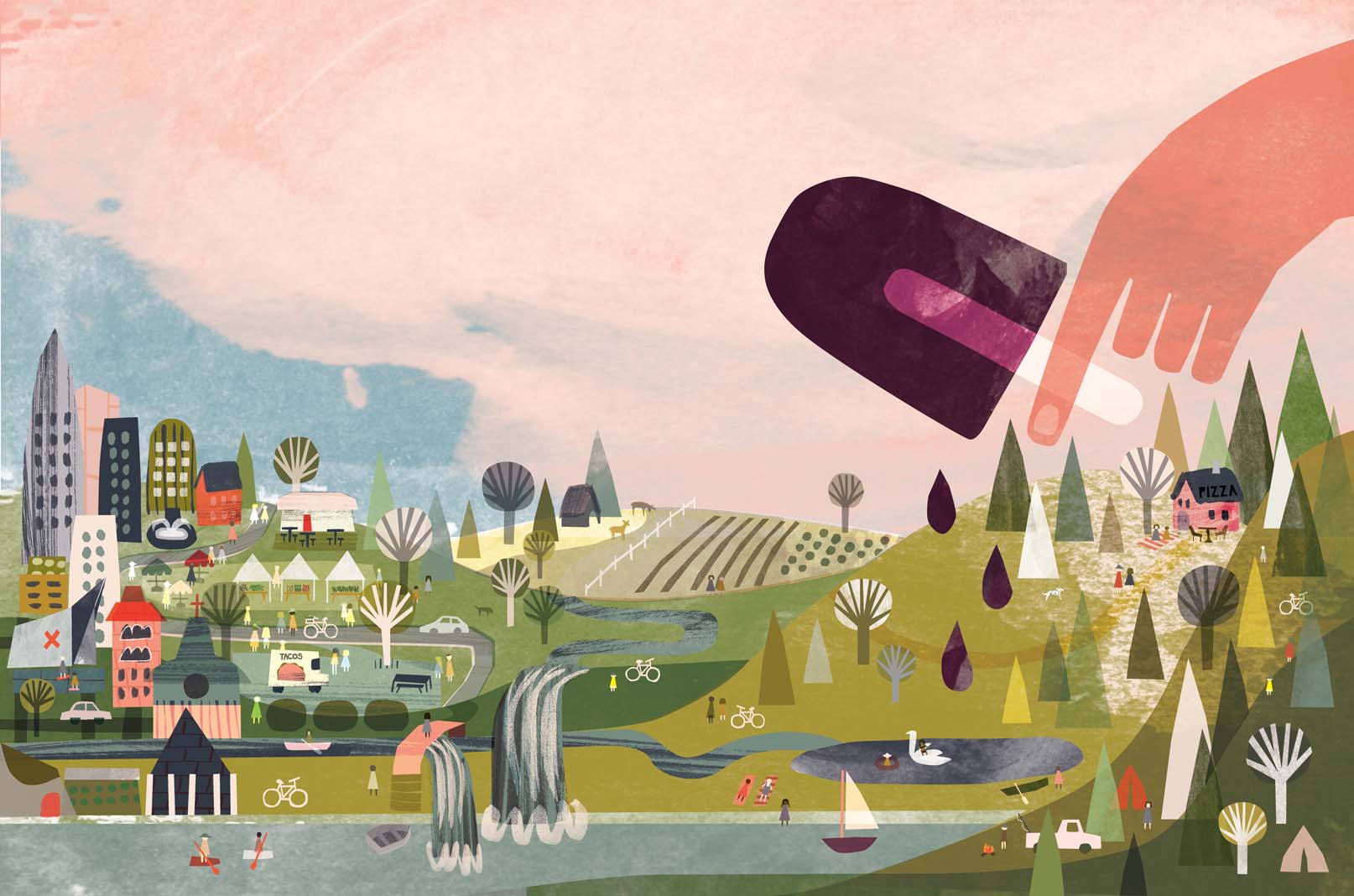 We're entering summer 2019, and you look thirsty. Hungry. Antsy. In need of a crazy-fun activity—or 99—to fill precious sunlit hours.
Here, find 100 things we're excited about in Minnesota, June through August. Twin Cities restaurants make moves, new adventures pop up, and summer festivals jam-pack your calendar—so do yourself a favor, bookmark this page, and break out the flip-flops.
Food & Drink
3 new taproom and food truck pairings include cider with Hmong cuisine (Sociable Cider Werks and Union Kitchen) and craft beer with barbecue (Able Seedhouse + Brewery and Animales Barbeque Co.)—both in northeast Minneapolis. In the North Loop, find gluten-free options galore from Number 12 Cider and Little Tomato pizza.
Cool and invigorate your tastebuds with star beverage director Marco Zappia's innovative fermented cocktails—created with fruits, grains, and herbs that metabolize for months—at the "Tex-Oaxacan" Colita in south Minneapolis.
2 new ways for pro soccer fans to eat and drink: Minnesota United's first season at Allianz Field, in St. Paul's Midway neighborhood, runs until the end of September. Pulls for the gastronomically inclined include a stadium concessions program run by local celeb chef Justin Sutherland. Also: the Black Hart of St. Paul, a new bar nearby where Loons fans can congregate.
2 dining destinations on Highway 52 include Bachelor Farmer vet Paul Berglund's new culinary direction at Fiddlehead Coffee Co. in Rochester, and J.D. Fratzke's (Strip Club Meat & Fish) new supper club inside Artisan Plaza, a food hall in Cannon Falls.
If meat is the last thing on your mind, opt for 3 soulful vegan options this summer. Vegans of all backgrounds in the Twin Cities can enjoy a handful of restaurants and menu items geared toward black cultural eating traditions. The only minority-owned vegan restaurant in the Twin Cities, Trio Plant-Based has a menu section devoted to soul food faves, including "macaroni and cheeze," smoky house ribs, and cornbread with vegan maple butter.
Breaking Bread is an ever-evolving north Minneapolis fixture with a social mission to bring health, wealth, and social change using food as a tool. Find "Sunrise Hot Cereal," with buckwheat and red rice, along with portobello cakes, stuffed raw greens, and more. Gerard Klass has become one of the biggest names in Twin Cities soul with his Soul Bowl pop-ups. Devour dirty yellow rice, a veggie turkey roast, vegan mac and cheese, and more, including a weekend brunch residency at Breaking Bread.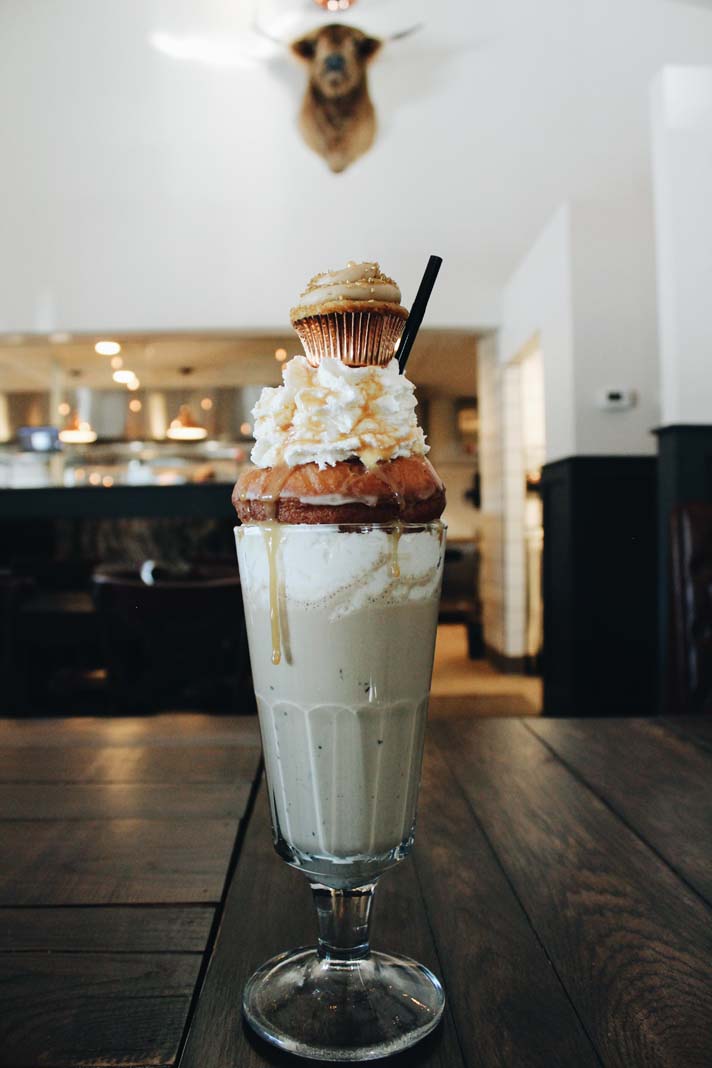 Once home to a Dairy Queen on Eden Prairie Road in Minnetonka, the Copper Cow now serves up a blizzard (ha!) of Instagram-ready boozy shakes—topped with donuts and cupcakes.
Toast gourmet, locally made marshmallows from North Mallow. "Our goal was to make a better marshmallow for a better s'more," says Mike Nelson, CEO and founder of North Mallow.  "It was all about experimenting—creating a better-flavored marshmallow, looking at how it roasts, making it the perfect size to fit on a graham cracker." He explains that, since North Mallow's products don't contain artificial flavors, chemical preservatives, or a starch coating, they don't puff and flame up when roasted. Instead, they melt and caramelize.
"There's also the flavor," Nelson says. "We use all-natural flavors: organic vanilla bean, our own homemade caramel swirl sauce." Since a large part of his business is catering DIY s'mores bars, Nelson has plenty of tips. "You can put our marshmallows close to the flame, but they melt quicker.  Once you see it get melty, then you're ready."
As far as flavor pairings, peanut butter cup with a vanilla bean marshmallow is always a hit. For a gourmet option, spring for a bar of Chuao chocolate in a unique flavor like firecracker (sea salt, chipotle, popping candy). North Mallow's flavors include vanilla bean, chocolate chip, and caramel swirl, and they can be purchased at some Hy-Vee and Target locations, as well as the Lakewinds Food Co-op, the Wedge Community Co-op, and online.
In the grassy mall east of Bde Maka Ska and Lake of the Isles, find the East Isles Farmers Market June through September. This scenic new produce hub has the unique "Pickle Booth," an avenue for selling your (non-hazardous, please) edible creations for a mere $10 fee and no vendor permit.
Find your patio on West Seventh in St. Paul during Keg and Case Market's first full summer. Eat your fill of Revival Smoked Meats, sip some Clutch Brewing Co. beer or Hobby Farmer switchel, and finally savor some Sweet Science Ice Cream or Spinning Wylde cotton candy.
With taco trucks and taquerias every couple blocks, Lake Street in south Minneapolis is ideal for a summer taco crawl. Any afternoon or evening will do, but to add transportation, take the shuttle (or walk, or bike) on the annual Taco Tour on Lake Street. For cooling down along the way, choose from more than 50 flavors of paletas (Mexican popsicles) at La Michoacana Purepecha.
Iced—with tapioca beads, nitro-infused, or carbonated—this hot way to sip tea and chill is at the new, air-conditioned Jinx Tea storefront in Linden Hills.
Stop for sandwiches and custard at Dipped & Debris in northeast Minneapolis, pair a Southern-style po' boy with a custard sundae loaded with sweet accoutrements, and drift into summer road-trip nostalgia.
2 inventive taprooms for athletes await just west of downtown Minneapolis. La Doña Cervecería craft brewery has a soccer field hosting leagues all summer long. Next door is Brit-themed distillery Royal Foundry Craft Spirits featuring a new, 70-meter cycling track.
Come hungry to the Garth Brooks concert in May and the X Games in August. A new way to scarf near U.S. Bank Stadium in downtown Minneapolis is at Bus Stop Burgers & Brewhouse. Flavor bombs like a three-pound pretzel; blended, multi-meat burgers; and chocolate pudding pie await.
Adventure
3 Stillwater sensations include the Main Street boutique combo of Hotel Crosby and Matchstick Restaurant & Spirits' wood-fired fare. If you bike from St. Paul on the Gateway State Trail, keep pedaling to the historic Lift Bridge over the St. Croix River, which is set to be revamped as a bike and pedestrian path by June. Then stop by Lift Bridge Brewery for a frosty Northwoods Juice Box hard seltzer.
For a novel way to eat, play, and stay up north, the Oldenburg House in Carlton offers an unparalleled bed-and-breakfast experience. The historic home, located 20 miles southwest of Duluth, sit on seven scenic acres and is listed on the National Register of Historic Places.
Proprietors Emily and Glenn Swanson have created an intentional space where arts and culture can flourish. Through the Oldenburg Arts and Cultural Community, they host all manner of social, educational, and arts events. One weekend each month, the Cookin' at the O series pairs fine dining with top-notch blues and jazz artists, like Pippi Ardennia and Debbie Duncan, in an intimate, 36-seat setting.
In August, the Oldenburg hosts its second annual Honey Bee Folk Festival. Inspired by Carlton achieving "Pollinator Friendly Town" status, the family-friendly event includes music as well as honey-based food, education, and products. As a guest, you're encouraged to #FindYourNature. It's an easy task since the B&B is in close proximity to the Munger trail, Thomson Reservoir, and Jay Cooke State Park. Biking and kayaking packages are available. You can even bike downhill to Duluth, visit a local brewery, and be retrieved by car. Two suites start at $135 a night and include full, made-to-order breakfast. For the more adventurous, there's a teepee available for glamping.
4 places to play inside: Float, don't fall, at iFLY Indoor Skydiving by Ridgedale Center. Hit a climate-controlled driving range at Topgolf in Brooklyn Center. Choose from axe throwing, mini golf, bocce, virtual reality, and more at Victoria Burrow in Victoria. Or smash buttons at St. Paul Tap's new arcade.
2 buzz-worthy St. Paul stops: Get a to-go Hummingbird (cold brew, hibiscus tea, and coconut cream) at Workhorse Coffee Bar on University Avenue, then step outside to the Smallest Museum in St. Paul, a vintage 2-by-3-foot fire-hose cabinet featuring new, grant-funded micro-exhibits monthly.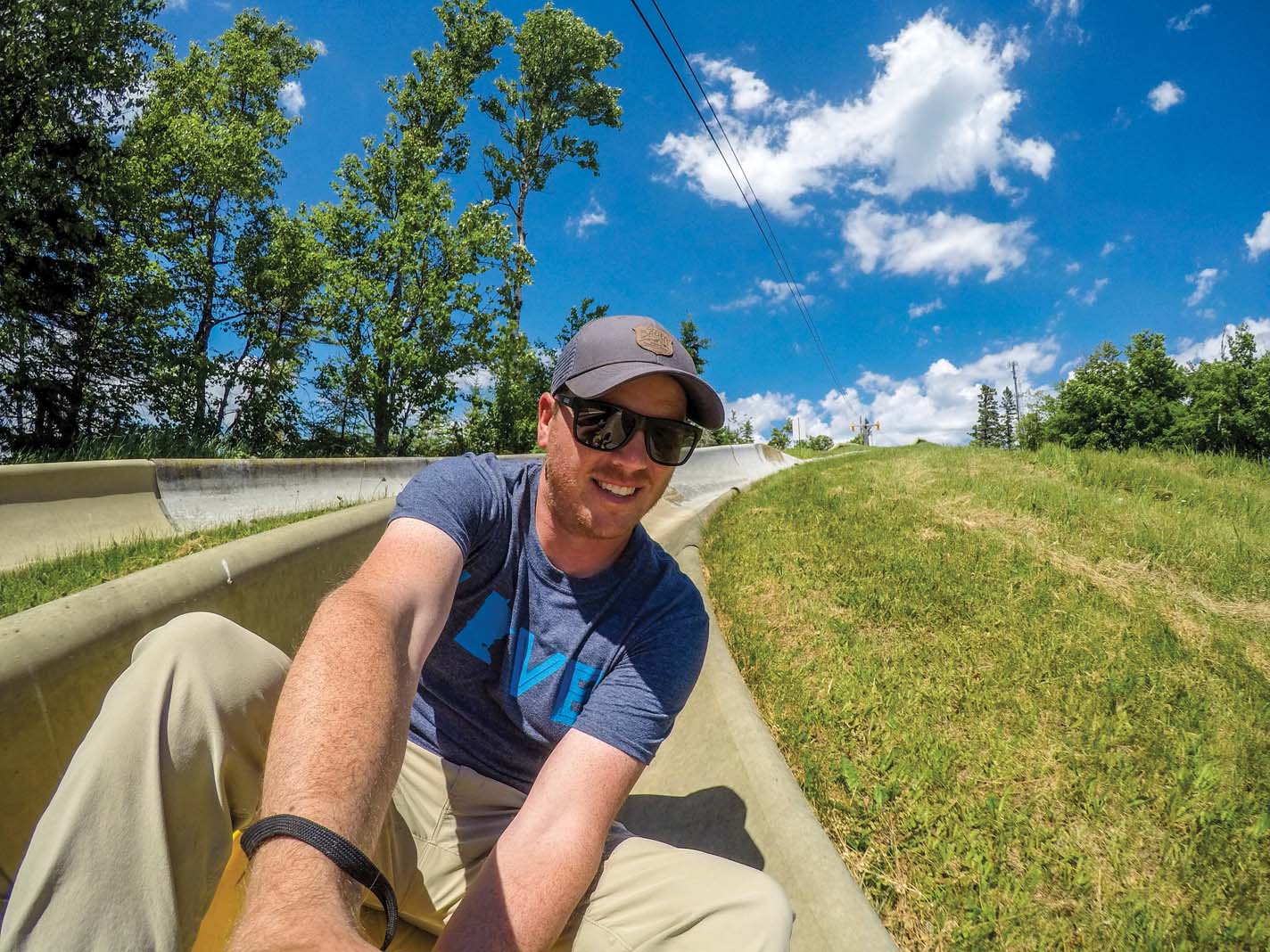 3 ways to love Lutsen: Sitting along Lake Superior's shore is hypnotic, but aiming higher has its perks. Grab the Summit Express Gondola at Lutsen Mountains and glide up to Moose Mountain's summit chalet for lunch, drinks, and one of Minnesota's most spectacular views. Crave more speed? Ride the chairlift up Eagle Mountain and zip down the Alpine Slide. Declare early happy hour with a tasting at North Shore Winery and Sawtooth Mountain Cider House on the way back to the shore.
Get a jump on winter with snowless skiing and snowboarding at Buck Hill using green artificial turf called Neveplast.
4 summer stops in Duluth: Summer fun in the Zenith City revolves around the Greatest Lake, but you might not expect to find some of the hippest activities on the grounds of a historic mansion. The Glensheen boasts the only spot on Duluth's lakeshore where it's legal to imbibe.
Just east of the grounds' pier, the Lake Superior Beach Club is open nearly every day in July and August. Patrons can belly up to the cash bar and order food for delivery from any number of local favorites, like Northern Waters Smokehaus and Sammy's Pizza. Guests are invited to play lawn games, walk the estate, and enjoy a bonfire by the lake. Each Wednesday in July, the Glensheen offers an extraordinary excuse to venture north: For the fifth year in a row, it's hosting free concerts on the 100-foot pier. Charlie Parr and the 4onthefloor are slated for spots in 2019 (lineup subject to change). Pro tip: The best seats in the house are actually on the water. Park a canoe, kayak, or giant flamingo floaty next to the pier for an unforgettable, quintessentially Duluth evening.
For those in need of watercraft, the Duluth Experience has a special guided kayak tour for the shows. Beforehand, stop in at Corktown Deli & Brews in Lincoln Park for a bite. The newish eatery can satisfy the most serious sandwich aficionado with ingredients like house-smoked pastrami and whitefish spread. An array of local craft beers are available to wash those savory sammies down.
For a unique lodging experience, check out Duluth's new boutique hotels. The Endion Station Inn "brewtique" opens this summer. The historic train depot just yards from the lake in Canal Park will have four rooms stocked with Fitger's Brewhouse beer. Hotel Pikku (pikku means "little" in Finnish) is situated in the midst of shops and restaurants in the burgeoning Lincoln Park Craft District. The stylish hotel features clean Nordic decor, works by local artists, and three suites starting at $110 a night.
3 glamping go-tos: Get stylish in vintage campers and Lotus Belle tents at Wunderbar Eatery & Glampground in Grand Marais, retreat to the tiny Firefly cabin by Tofte, or Oregon Trail it up near Frazee in a Conestoga covered wagon.
Explore in the moonlight: Take advantage of full moons and balmy nights with evening programs sponsored by the Twin Cities' Three Rivers Park District or Minnesota State Parks. You can find moonlit walks, astronomy programs, and even moonlit paddles, which seem far less intimidating when done in a group. Enjoy the after-dark serenade of frogs, toads, and owls amid the magic of mid-summer fireflies.
2 stunning prairie hikes: Enjoy the full glory of a big blue summer sky above and undulating grasses and flowers at your feet. Look for wild lupine and black-eyed Susan along the trails, plus eagles' nests and cranes along the wildlife drive at Sherburne National Wildlife Refuge located 30 miles southeast of St. Cloud. Or photograph wispy prairie smoke and blazing star flowers at Touch the Sky Prairie north of Luverne, where views along the quartzite ridgeline can stretch for 20 miles.
Voyage to 2 Lake Minnetonka breweries accessible by boat. Wayzata Brew Works, on the lake's northeast corner, is in an old boat-building warehouse, and it maintains that lakefaring love with 16 municipal boat slips. You can dock right outside the taproom's shoreline patio and enjoy a few Skinny Dipper Kolsches without worrying about Wayzata traffic.
Across the lake, all the way in Spring Park, Back Channel Brewing Co.'s lakeview taproom has a roster of juicy IPAs and pale ales. As luck would have it, they also have four slips for mooring visitors. Lace up the Sperrys, load the pontoon with a few hopheads, and take an afternoon to traverse the lake in the name of the southwestern suburbs' freshest beer. Would-be captains without a vessel of their own can get the same experience from PaddleTap, now booking trans-'tonka tours on their fleet of leg-powered booze cruisers.
There are 2 new crafts for fishing bliss: The Sea-Doo Fish Pro jet ski is loaded with navigation gear, a built-in cooler, a variety of seating options, and speed ($15,000 and up). Or push off in locally made pedal kayaks for hands-free propulsion and ample storage from Lightning Kayaks (under $2,000).
Wake up on a houseboat in Voyageurs National Park on the Canadian border. Try a two-person craft, or bring your whole family on board for a roadless wilderness adventure that doesn't leave the comforts of home behind.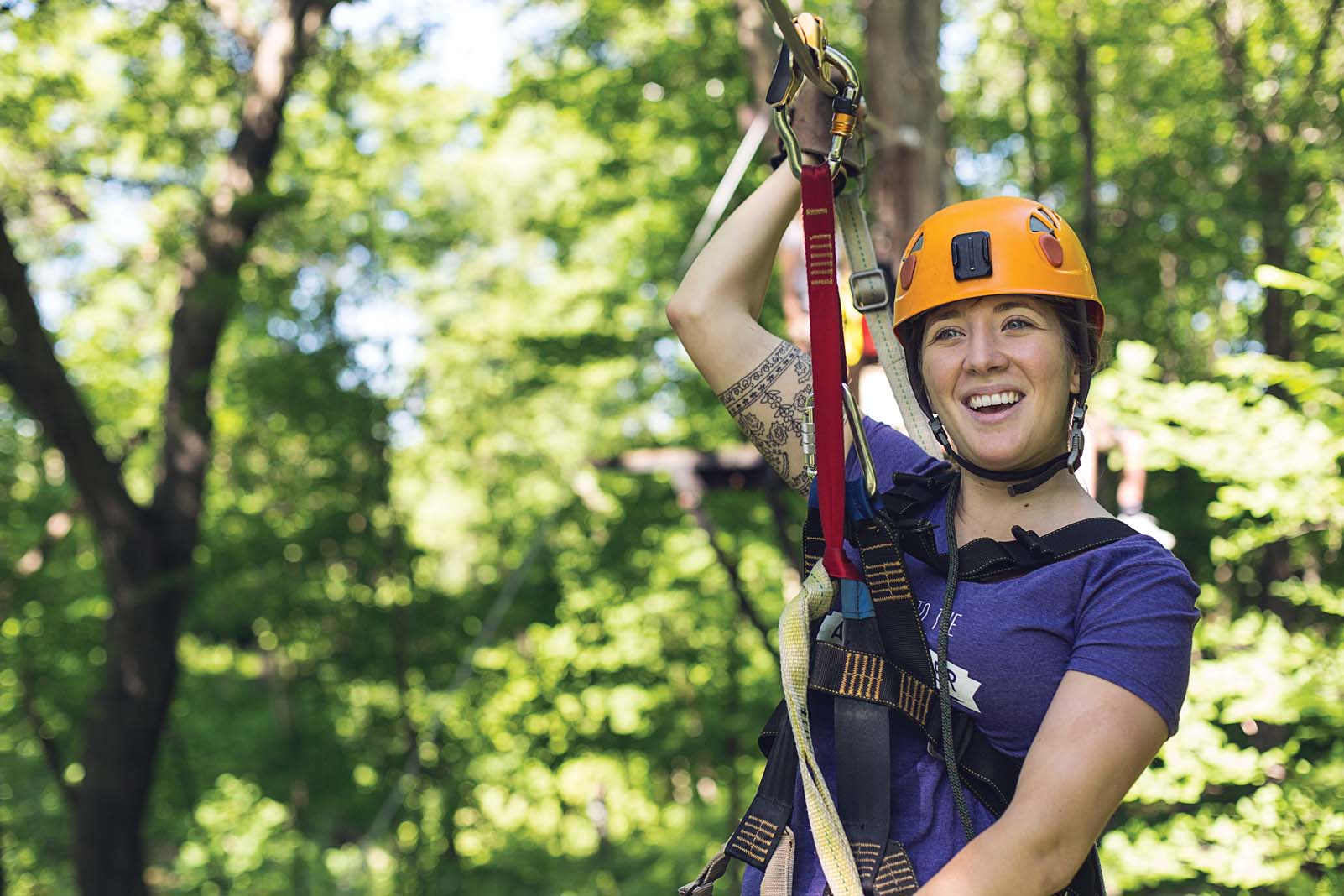 Find thrills above the treeline while ziplining up to 175 feet off the ground at Kerfoot Canopy Tour in Henderson, located about an hour southwest of the Twin Cities.
3 standout swim spots: Dive off 20-foot cliffs at Quarry Park near St. Cloud, explore bluff country before taking a dip in the St. Croix River at Afton State Park by Hastings, or lounge in and out of the sandy-bottomed, chlorinated Lake Minnetonka Swim Pond.
After the Twin Cities notched hundreds of thousands of rides last year, the Lime and Bird e-scooters phenomenon enters year two in downtown Minneapolis and St. Paul.
Find a foraging spot once temperatures hit 70 for a few days in a row, and feast on morels with guidance from the Untamed Mushrooms: From Field to Table cookbook.
Keep it simple and camp at Lake Vermilion State Park. Vermilion is the fifth largest lake within state borders, with 40,000 acres of water and 365 islands to explore. It's a prime spot for fishing, swimming, and family camping. Minnesota's newest state park opened on the scenic south shore in 2017. The Lake Vermilion-Soudan Underground Mine State Park stretches about 4,000 acres and boasts 10 miles of contiguous, rugged, undeveloped shoreline that's home to deer, wolves, bear, eagles, loons, and other wildlife.
The Vermilion Ridge Campground has several group camps as well as 33 tent and RV sites, thoughtfully spaced out for privacy. Modern conveniences like electricity, screened picnic shelters, flush toilets, hot showers, and Wi-Fi are available. Camper cabins are tentatively set to open during the 2020 season.
If you go, a tour of the Soudan Underground Mine (Minnesota's first iron mine) is a must. Descending half a mile into the earth is both a creepy and fascinating experience. The adventurous can find a remote and rustic camping destination on Hinsdale Island in the Kabetogama State Forest. Eleven sites are available on a first-come, first-served basis. This is one of few boat-in options on the popular lake and has basics like a latrine, fire ring, table, and bear-proof box. A fishing boat is recommended for access unless you're a hardcore paddler.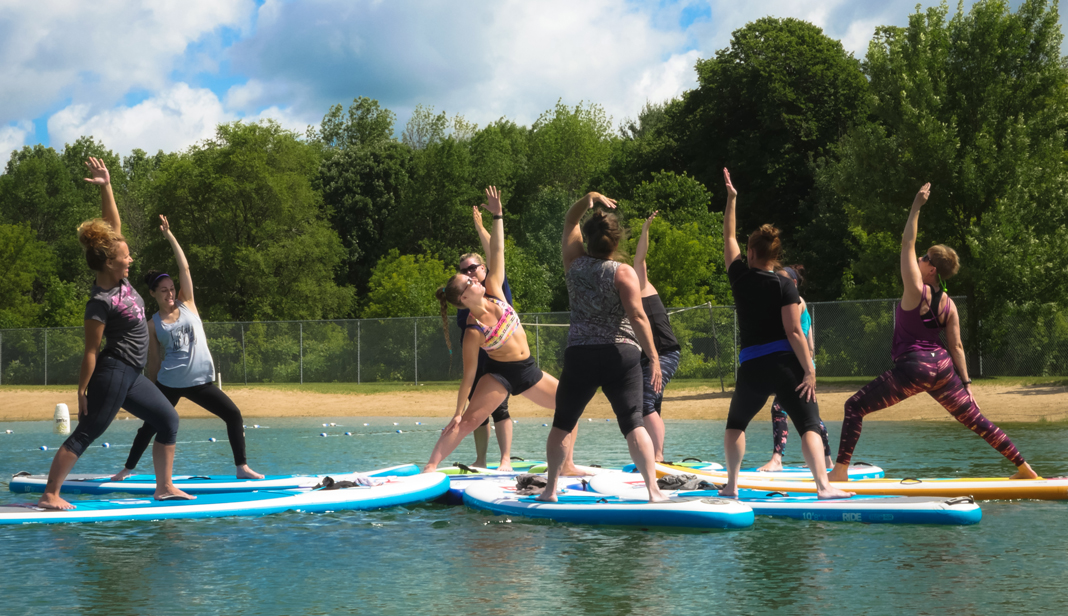 Do yoga outside, by land or water. "Doing yoga outside gets you out in nature, experiencing another perspective," says Andrew Craddock, founder of Twin Cities Yoga Cooperative. "Come in with an open mind and step outside your comfort zone."
By holding free outdoor classes at the Minneapolis Sculpture Garden, Lake Bde Maka Ska, and Lake of the Isles, Twin Cities Yoga Cooperative makes yoga accessible to those who may find yoga studio fees cost prohibitive. "This is yoga for the community," Craddock says. "I believe in giving people opportunities they may not have."
If lakeside views aren't enough, go one step further by practicing yoga on a floating stand-up paddleboard (SUP). "Paddleboard yoga is not your average class—you're smiling, there are noises from the beach and road. It's more of an external versus internal experience," explains Kayla Brugger, owner of KB Sculpt, which holds SUP yoga classes at Minnetonka's Shady Oak Lake.
While she recommends class attendees have a basic yoga understanding, they don't need to have experience paddleboarding or be an advanced yogi. "The biggest thing is don't be afraid to fall in—that's part of the fun!" she says, adding, "Getting outdoors, it's a huge stress release. When you get to savasana, you're literally floating on water. It's so much more relaxing."
Events
5 family-friendly cultural fests: Taste and learn traditions from across the globe at the Festival of Nations at the St. Paul RiverCentre (May 2-5). Take in athletics and heritage at the Hmong International Freedom Festival in St. Paul's Como Park (July 6-7). Enjoy music, dancing, and more at the Irish Fair of Minnesota on Harriet Island in St. Paul (August 9-11). Explore Swedish traditions at the American Swedish Institute's Midsommar (June 15). Celebrate Pan-Asian spirit and watch thrilling boat races at Dragon Festival at Phalen Regional Park in St. Paul (July 13-14).
The return of the Festival of Sail to Duluth on August 11-13 signals a maritime masterpiece. A fleet of tall ships and the World's Largest Rubber Duck converge on the waterfront for a one-of-a-kind, late-summer spectacle.
Formerly known as the Tall Ships Festival, the event sails into the port city for its fifth year, including replicas of traditional wooden sailing vessels and expected to draw tens of thousands of pirate wannabes for ship gawking and history lessons. Expect regional food, craft beer and drinks, and a range of entertainment, from magicians to jugglers, face painters to live music.
One of the standout ships on this year's roster has a historic tie to the area. Sundew, a 180-foot former Coast Guard Cutter, was constructed in and launched from Duluth 75 years ago. Now privately owned, Sundew will be available for public tours during the festival. If you go, plan far ahead for lodging, as the fest overlaps with the popular Bayfront Blues Festival this year.
The Minnesota State Fair, which topped 2 million in attendance for the first time in 2018, could be its own "100 Things to Do" list. From August 22 to September 2, it's food, people, animals, Grandstand entertainment (from Brandi Carlile to "Weird Al" Yankovic), and sunshine. Be sure to head to the north end of the grounds to experience a new exhibit hall debuting this year.
3 outdoor movie events: The Walker Art Center's annual local music commission of a live score to a silent film, Sounds for Silents (August 15); the yearly Cat Video Fest at CHS Field (August 8); and free Movies in the Parks programs in both Minneapolis and St. Paul.
2 big baseball events: Joe Mauer Day is June 15 at Target Field. See the hometown hero as the Minnesota Twins play the Royals. And, at CHS Field on July 23, there could be a sighting of St. Paul Saints part-owner Bill Murray during the American Association All-Star Game.
6 big outdoor music events: Soundset with SZA, Atmosphere, Lil Wayne, and more at the State Fairgrounds (May 26); Rock the Garden at the Walker (June 29) including the National, Courtney Barnett, and more; the strongest Basilica Block Party in years, featuring Kacey Musgraves, Jason Mraz, CHVRCHES, and more in downtown Minneapolis (July 12-13); a country getaway starring Chris Stapleton and Keith Urban near Detroit Lakes for We Fest (August 1-3); the Music in the Zoo series at the Minnesota Zoo (June through August); and the Stillwater-based Square Lake Film & Music Festival (August 10).
A new pro golf tournament, the 3M Open at TPC Twin Cities in Blaine, is Minnesota's first PGA Tour event in 10 years (July 2-7). See the stars of the tour, like Phil Mickelson, and snag a performance by country superstars Zac Brown Band.
For the third summer in a row, Minneapolis is the host city for the X Games. Top-notch bike racing, skateboarding, and other extreme-sport competitions spread over August 1-4 at U.S. Bank Stadium, with Diplo, Wu-Tang Clan, and others performing.
The traveling Oddities and Curiosities Expo on June 1 features taxidermy, antiques, terrariums, live human suspension, and many more bizarre and Instagrammable sights stopping at the Minneapolis Convention Center.
5 food and beer fests: Grillfest at CHS Field in St. Paul (May 4-5); Fine Spirits Classic at Orchestra Hall in Minneapolis (July 25); Uptown Food Truck Festival (Uptown: June 23, Anoka: July 20, St. Paul: August 17); All Pints North at Bayfront Festival Park in Duluth (July 27); and the Minnesota Garlic Festival (August 10) at McLeod County Fairgrounds in Hutchinson.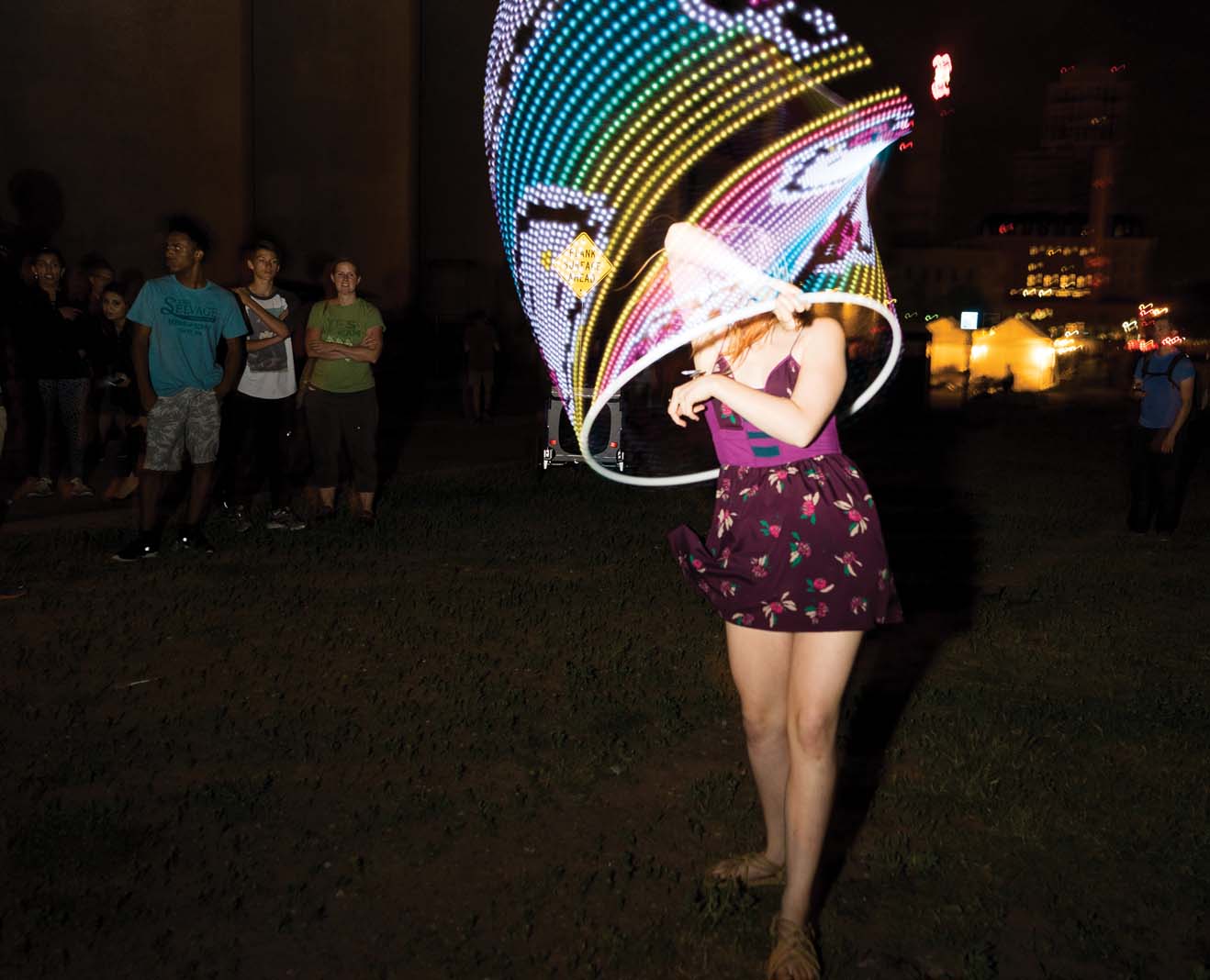 5 art festivals: Northern Spark at the American Indian Cultural Corridor in Minneapolis, the Commons in downtown Minneapolis, and the Rondo neighborhood in St. Paul (June 14-15); Minnesota Fringe Festival in the Cedar-Riverside neighborhood and northeast Minneapolis (August 1-11); Uptown Art Fair (August 2-4); Stone Arch Bridge Festival in downtown Minneapolis (June 14-16); Edina Art Fair (May 31-June 2).
2 Cuyuna mountain bike weekends: Experience the Cuyuna Country State Recreation Area as a participant or spectator during the Off-Road Triathlon (June 9) or Crusher Bike Race (August 18).
The annual Twin Cities Pride Festival in Loring Park features TLC in concert and a parade in downtown Minneapolis, bringing together the love June 22-23.
July 4: With fireworks, fun, and even a flotilla, the Vermilion Range, between Tower and Ely in northeastern Minnesota, knows how to do the Fourth of July right. Each small community hosts its own amped-up display of patriotism that's just teeming with community spirit—and heavy on food, drink, and street dances.
Tower is a fine example: Typically home to around 500 residents, it swells to more than 5,000 for Independence Day. The Tower-Soudan Fourth of July celebration includes a pancake breakfast, a fun run, kiddie races, fireworks, and more. Area bars host live music and beer gardens. Don't miss the Good Ol' Days Bar & Grill's famous Bloody Marys.
For the parade, residents plant lawn chairs along the curb the night before to save a spot—as sidewalks will soon be lined with spectators eager to witness area marching bands, festive floats, and an F-16 flyover. For an alternative parade experience, there's also the Lake Vermilion Flotilla. Anyone with a boat can enter the longstanding water parade, where comedy and creativity are rewarded with prizes. Word is there will be an Elvis impersonator this year.
Aquatennial is pure summer, from the Torchlight Parade to the nationally recognized fireworks display to a jam-packed weekend of activities both on land and on water in Minneapolis (July 24-27).
Throughout the summer, Open Streets Minneapolis sets up in different neighborhoods and turns miles of city blocks into car-free public spaces for bike and foot traffic. Thousands come out for food, arts, play, and community building. Head to Lyndale on June 2. Go to Lake and Minnehaha on July 21. Hit up northeast Minneapolis on August 4. Visit Franklin on August 25. Check out the University of Minnesota on September 8. Roll into West Broadway on September 14. And do Nicollet on September 22.
3 ways to visit extraordinary residences: Hit the Lundie Tour for your North Shore cabin fix (July 13). Take notes on Midwest Home's Luxury Home Tour throughout the Twin Cities (August 2-4, 9-11, 16-18). Or plan a visit to Prince's Chanhassen estate-turned-museum Paisley Park.