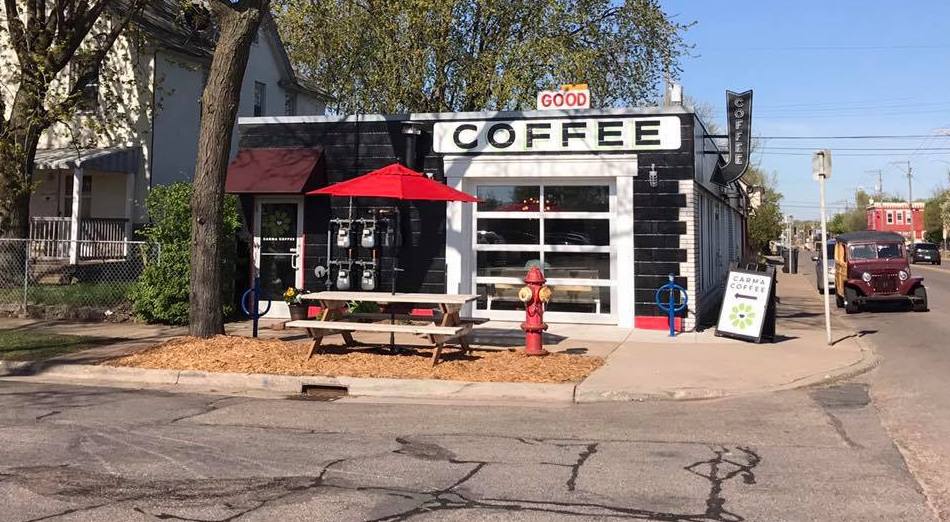 Photo courtesy of Carma coffee
---
We all have our favorite coffee shop and go-to caffeinated beverage that basically saves our life on a regular basis (Spyhouse's iced Caramella, anyone?)
It's easy to become a creature of habit when it comes to coffee, especially if it's a stop you make quite frequently during the week. However, if you're in the mood for a little adventuring on a Saturday or Sunday morning with the promise of delicious coffee at the end of the drive, try one of these coffee shops—trust me, you won't be disappointed.
Smith Coffee & Café (Eden Prairie)
Ann Schuster, the owner of Smith Coffee & Café, just recently opened her coffee shop under her very own brand—Smith. Previously, the coffee shop was operated as a Dunn Bros and most recently it was Rustica's Eden Prairie location. The coffee is to die for (it's roasted in-house by Ann's son), but the location is perhaps the most stunning feature of the cafe. Smith Coffee & Café is located in the historic Smith Douglas More House, arguably the prettiest building in Eden Prairie and it's spacious to boot, with extensive—and beautiful—seating throughout the house and around the grounds. Minimalists will appreciate the simple décor, while art enthusiasts will love the cute cards for sale near the entrance.
Carma Coffee (Northeast Minneapolis)
This coffee shop is arguably not that far of a drive if you live in Minneapolis or St. Paul, but it's still a necessary coffee stop if you haven't visited before. Located just a bit north of the Northeast Minneapolis Arts District on Lowry Avenue, I first saw this coffee shop on my way to somewhere else. I wasn't able to stop, but the cute exterior had me looking over my shoulder for one last peek. Carma Coffee is actually the sibling business of Good Carma Auto Repair. Owners Liz and Bill Jaap watched the building next to the auto repair shop sit empty for many years before eventually purchasing it in 2014 with plans to improve the space. The coffee shop décor is bright, colorful, and transportation themed with paintings and photographs of motorcycles, and a tailgate bench (pictured above)—which is quite possibly the most adorable thing I've ever seen.
Mocha Monkey (Waconia)
Jon Schmidt, the owner of Mocha Monkey, purchased the coffeehouse from the previous owner in December 2010—six months before he graduated college. Inspiring, right? Since then, Mocha Monkey has been recognized as one of the best coffee shops in Minnesota by Southwest Magazine. It's easy to see why, with its stellar coffee, good eats, and selection of wine and bottled beer. Located in a two-story 19th-century house near downtown, the coffeehouse also displays collections of pottery (available for purchase) handmade by Schmidt himself along with other local potters.
Black Sheep Coffee Café (South St. Paul)
Owned and operated by South St. Paul natives, Black Sheep Coffee Café is praised for its family atmosphere, baked goods, and good coffee (of course). Visit on Saturday mornings for the live music, and if you like their light roast coffee, look into buying your own beans or pods for your k-cup coffee machine. Currently, Southview Boulevard is a mess due to construction, so visitors are asked to use the 7th Avenue entrance. We know how frustrating construction can be (ahem, 35 W and Highway 94), but Black Sheep Coffee Café is determined to keep their business running as strong as ever. Help them out with a quick visit!
Lola – An American Bistro (New Ulm)
No, you probably won't drive all the way to New Ulm for coffee, but the next time you're driving through make sure you take a detour downtown to Lola – An American Bistro. Owned by Lacey Lueth and Jordan Kuelbs, Lola's is known for its pastries (Kuelbs is a classically trained pastry chef), lunches, and—of course—its coffee (try the Lola Latte with honey, almond, vanilla, espresso, milk and whipped cream). The best seating in my personal opinion, is in the far back right corner of the bistro (past the larger seating areas in front) where little tables line the windows; in the afternoon, the sun peaks through, shedding warm light on whatever project you happen to be working on at the moment (it also provides prime Instagram lighting, if you're into that sort of thing). You can also catch Lola's food and drink at the Grand Center for Arts and Culture in New Ulm or you can visit their food truck, if you happen to be in Mankato at the Hub on Wednesdays and Fridays from 11 a.m. to 2 p.m.
Duluth Coffee Company (Duluth)
Duluth and the North Shore are more of weekend trip destinations, but if you felt so inclined to make the trip with Duluth's coffee culture in mind, Duluth Coffee Company is the place to start. Founder and owner Eric Faust has been roasting coffee in downtown Duluth since 2012, soon replacing his 3kilo roaster with a 12kilo (still used in the café), due to increased demand. The Duluth Coffee Company Café serves coffee sourced from small farms in Kenya, Colombia, Costa Rica, and more. Those interested in learning more about the roasting process can join Duluth Coffee Company for free public cuppings at 3 p.m. on Thursdays. Drink your coffee outside on the café's sidewalk patio or—since you're just blocks from Lake Superior—grab a bench near the beach.
Facebook Comments