Cuyuna Mountain Bike Trail System's trails are a popular fat biking destination near Crosby and Ironton
photo by aaron hautala
---
Any Minnesotan who has spent time on a mixed-use trail has probably seen one. Gargantuan four- or five-inch tires give these mountain bikes a comical quality—the same as a monster truck. And like monster trucks, fat bikes bring out your inner 10-year old. You'll pay for the whole seat but only use the edge.
"When I send people out on fat bikes [for the first time], they usually come back with a big smile on their face," says Chelsea Strate, brand ambassador for Minnesota-based cycling company 45NRTH. "You can roll over curbs and over potholes with a lot less at stake than you would with a competition-oriented road bike."
Strate raced her first fat bike on a frozen New Year's Eve in 2013. Back then, fat biking was strictly a winter discipline. The bikes themselves were designed for commuters and more-adventurous riders in cold-weather cities across the country. When run at a low pressure, the bikes' distinctive tires balloon out, creating a huge contact patch that allows for supreme grip, even in slippery conditions.
Most competitive fat bike races still occur on groomed ski and mountain bike trails. Last year, Strate competed in a race which featured air temperatures of minus-14 degrees. But as the bikes' popularity soared, owners have discovered their year-round versatility.
"That wider tire platform makes mountain biking more accessible," Strate explains. "You have more opportunities to ride places that you wouldn't otherwise."
Rocks and roots will cower before your rubber onslaught, and your inner 10-year-old will look for the next obstacle to smash.
"The atmosphere is really light-hearted and supportive," Strate says of the local fat-biking community, "because everybody's doing this seemingly ridiculous thing."
---
Get Started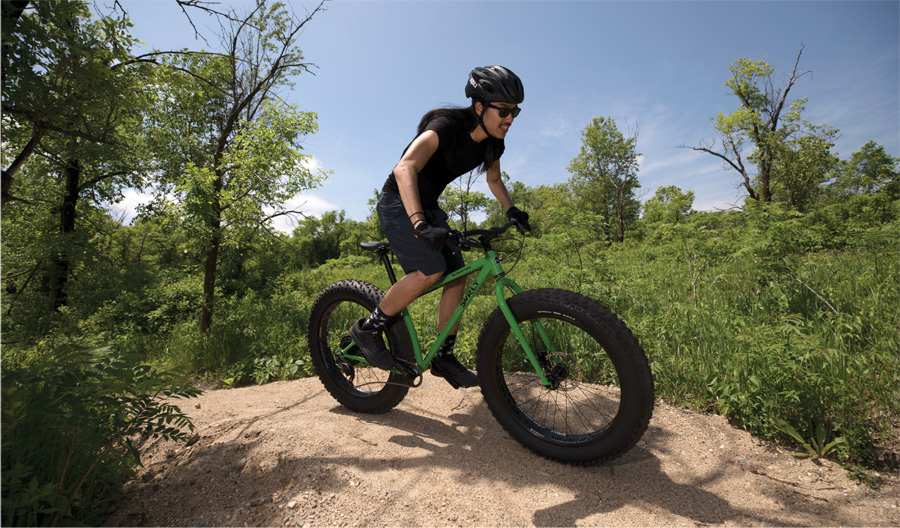 Surly Ice Cream Truck ($2,000, surlybikes.com)
photo by surly bikes
---
Several bike shops around the Twin Cities offer fat bike demos or rentals, so you can try before purchasing. Some off-road biking experience will help, but you don't need to be a hardened dirt warrior.
Tips and Techniques
"Developing mountain-biking skills is a great reason to start fat biking, because it's a pretty low-risk way to gain skills," Strate says. You'll be able to take those unkempt, leafy, twig-and-rock strewn paths confidently."
On most fat bikes, the bulbous tires take the place of mountain bikes' shock-absorbing suspensions. Strate recommends starting out with tire pressure that measures around 7 pounds per square inch (PSI). Lower tire pressure gives your tires greater grip and squish, so you'll want to drop PSI down from 7 to suit the trail.
"The four-inch tire does kind of take a lot of the thinking out of mountain biking," Strate says. "You don't have to pick your line through the trail quite as strategically because you can just roll over rocks or branches."
Strate's biggest tip is to stay loose, with bent arms and legs. Keep your weight centered in the middle of the bike. This allows for maximum control and traction.
---
Fat Biking Gear

Revelate Viscacha seat bag  ($130, revelatedesigns.com); 45NRTH Vanhelga tire ($115, 45nrth.com)
Bike pack by revelate; tire by 45nrth
---
Bike
The first mass-produced fat bikes were designed right here in Minnesota, at Surly Bikes, a subsidiary of Bloomington's Quality Bicycle Products (and with no relation to the beer).
Strate's weapon of choice is the race-ready, carbon-fiber Salsa Beargrease. Riders looking for a more relaxed fit with everyday riding versatility should peruse Surly's all-steel Wednesday and Ice Cream Truck models.
Tires
Strate recommends starting with a four-inch tire. 45NRTH's Vanhelga features an aggressive tread pattern perfect for even the loosest single-track trails. If it's frosty outside, look into tires with hard-gripping studs
Bikepacking
The fat bike is preferred by the intrepid bikepacking community, who strap frame bags stuffed full of camping gear to their bicycles for multi-day wilderness adventures.
"Up in northern Minnesota, the ATV trails can be pretty sandy and bumpy," Strate adds,  "Having that wider tire keeps you, plus all of your gear, a bit more stable."
Extra-large seat packs like the Revelate Viscacha can provide a surprising amount of room for packable camping gear, and the company's Ranger series will allow your bike's frame to handle heavier items like water or stove fuel.
---
Digital Extra: Where to Go Fat Biking
Find fat biking trails in northern and southern Minnesota, plus around the metro, and get ready for a smooth, steady ride this fall.
Facebook Comments