Over 100 years ago, Norway pines on the northern shore of Gull Lake were felled to build the original Grand View Lodge building, a gorgeous lakeside retreat within what has become the resort-heavy Brainerd Lakes region of central Minnesota.
Due to its place on the National Register of Historic Places, the Main Lodge must remain traditional, authentic to its early-1900s construction. The rest of Grand View Lodge, however, is not bound to such restrictions—and it especially shows in its new 60-room boutique hotel and conference center, North.
Going from a traditional lodge to North is like going from camping to glamping, from juice to La Croix. No stuffed jackalope here. Instead, black-and-white studio portraits of rabbits grace North's library. Did I mention that it has a library? The spirit of a traditional lodge lives on only in subtle aesthetic choices within the hotel's distinctly modern design.
A lack of rusticity shouldn't bother a first-timer, though, and even the long-timers must appreciate it for what it is: a hotel within walking distance of Grand View's lodge experience, unique in concept and beautiful in execution.
In the lobby, a stone fireplace extends up to the double-high ceiling, surrounded by pillow-covered couches. Bookcases display old photographs, books of Minnesota history, a white ceramic pinecone. The front desk is a backlit, rough-cut marble counter beside a case of tasseled gold keys—only decorative, of course.
Nearby, natural light pours through large windows to illuminate a café. A crisp fall day could begin here, with a steaming cup of spicy chai or coffee from Nisswa-based StoneHouse. (Caribou is Grand View Lodge's brand elsewhere.)
The rooms—with one king or two queen beds—have spacious accommodations. Sliding glass doors open to lake views outside, and sliding barn doors open to bathrooms with walk-in showers. Each room has a workspace, a flat-screen TV, a loveseat, and a lovely wooden tic-tac-toe board that's doomed to collect dust. These rooms are minimalist, utilitarian, but have a paradoxical coziness about them that frequent boutique hotel-goers have come to expect. No Bluetooth speaker, though.
Grand View Lodge's free app, Do North, is a virtual concierge that will spare you visits to the front desk. It provides a much-needed map of the expansive resort, and can handle housekeeping requests and reservations for tee times, activities, and restaurants.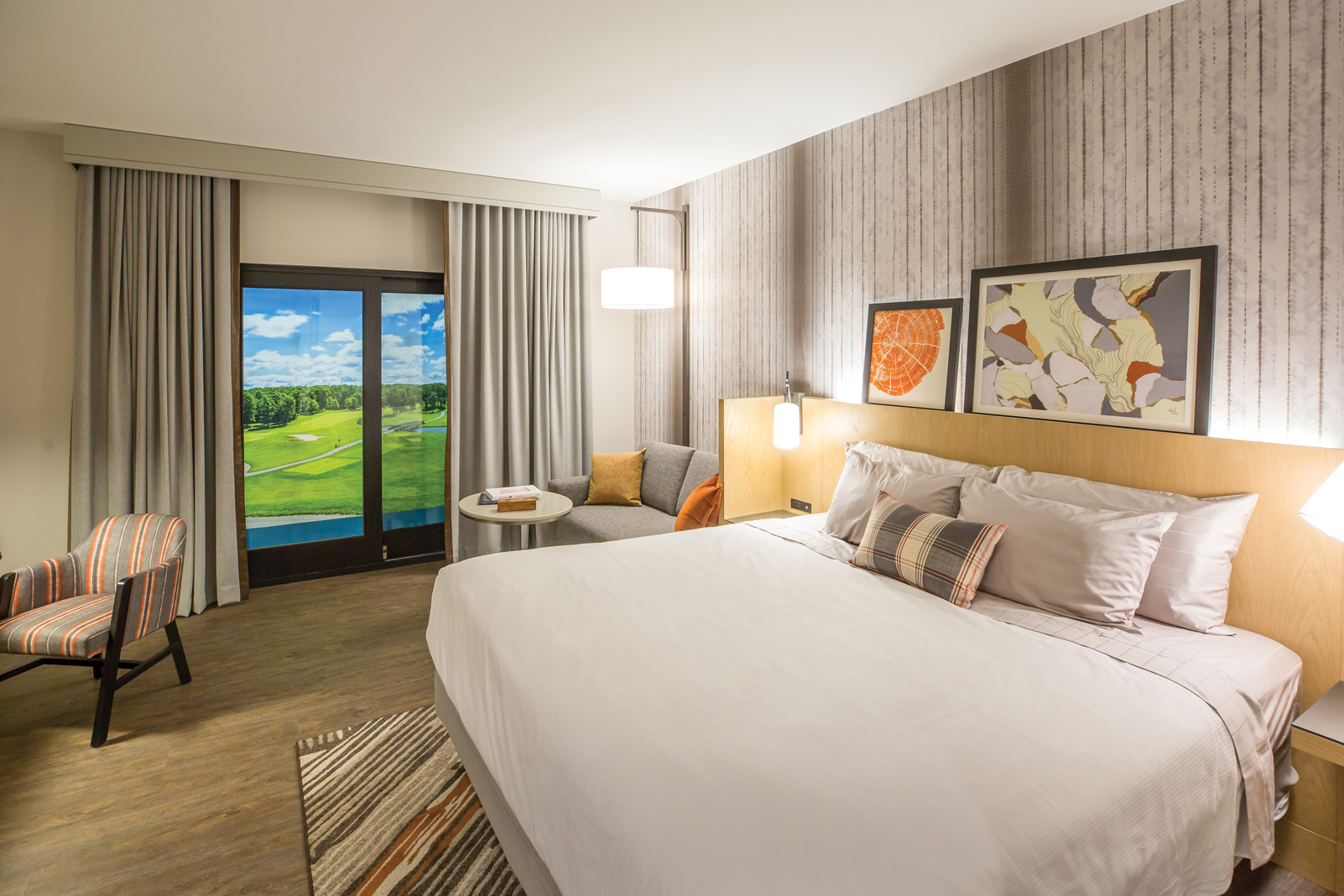 It's at least a 10-minute walk from North to the beach, but its newly added counterpart NorthPark Recreation Center is right next door. The gym features a yoga studio, treadmills, ellipticals, spin bikes, free weights, and hundreds of virtual fitness classes from Wellbeats. Along with an outdoor pool—adorned with cornhole, croquet, ga-ga ball, bocce, and a chip-n'-putt golf course—a massive, 30-person outdoor hot tub is open year-round, for soaking in comfort amid changing leaves or falling snow. Inside, there's a smaller hot tub and an indoor pool featuring a water slide.
Grand View Lodge is family-friendly, even at North (though it seems somewhat better suited to conference attendees or couples than kids). If parents want a little quiet time to themselves, though, they can leave their kids aged 3-11 years old in care of the staff at NorthPark's Kids Club for the day, where they can have fun, explore nature, and get to know other kids staying at the resort for a nominal fee.
When it's time to eat and drink, Grand View's options are abundant. Grab a meal of Mediterranean-inspired foods with local flavors at Cru, where you might spot one of the weekend's wedding parties. And don't forget the mouthwatering truffle fries. Browse the wine cellar for your choice of their 2,000 bottles. Otherwise, order a sommelier's feature flight of reds or whites.
For the especially hungry, visit Char for a 22-ounce pork tomahawk steak, belly left on, with mango salsa and ancho barbecue. Whatever your entrée at this steakhouse, the comfort-food sides that they put on the menu in colder months, like mac and cheese, make great additions.
After a day at the beach or a sunset pontoon cruise around Gull Lake, it's worth stopping by Tanque Verde Cantina for tacos and a neon-pink prickly pear mule. It's the most casual restaurant at Grand View Lodge (nowhere else will you find souvenir 32-ounce cocktail beach buckets or canned wines), and the only one on the beach.
Want comfort food in the comfort of your room? Crust Pizza has a backyard patio, but they also deliver right to your door anywhere at Grand View Lodge. Consider ordering their specialty pizzas, like the locally inspired chicken wild rice pizza or the tater tot hotdish pizza.
Once you've traded in your clothes for a robe and slippers at Glacial Waters Spa, you can access the sauna, steam room, showers, and a relaxation room that includes snacks and hot Aveda tea or icy, fruit-infused water.
Clocking in at 115 minutes and an eyebrow-raising $305, the longest treatment available is aptly called the Indulgence. It incorporates a full-body exfoliating scrub, a salt soak, your choice of massage (relaxation, deep-tissue, or hot-stone), hot towel wraps, a foot massage, and a hydrating facial. Then again, a spa treatment is meant to be indulgent—and, for that matter, so is Grand View Lodge.
Facebook Comments