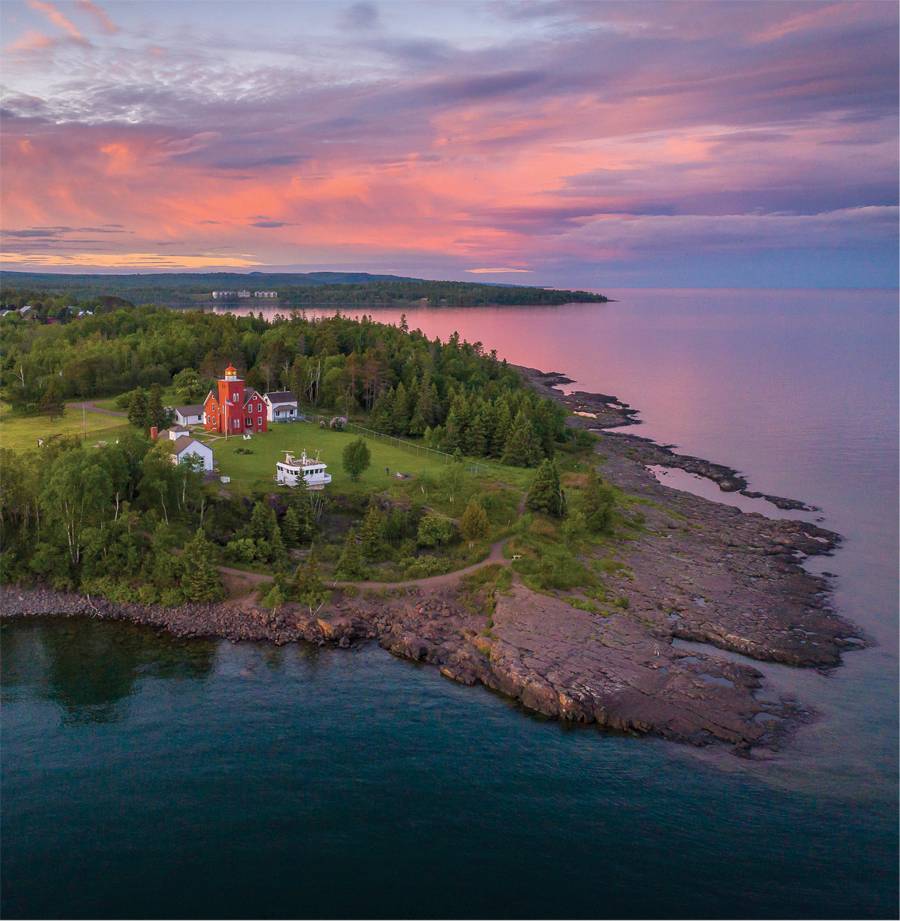 The red-brick Two Harbors Light building overlooks Lake Superior's Agate Bay
photo by christian dalbec
---
Two Harbors used to be considered a drive-through town by tourists flocking to Lutsen and Grand Marais. But in the last few years, the charming, blue-collar community on Minnesota's scenic North Shore has emerged as a destination in its own right.
Located along iconic Highway 61 just a 30-minute drive from Duluth, it's an easy weekend escape—though if you can swing a midweek visit in summer, you'll avoid the crowds.
Two Harbors' close proximity to Lake Superior, the Lake Superior Hiking Trail, the Gitchi-Gami bike trail, and two of Minnesota's most-visited landmarks—Gooseberry Falls and Split Rock Lighthouse—make it a superb launching point for outdoor adventures.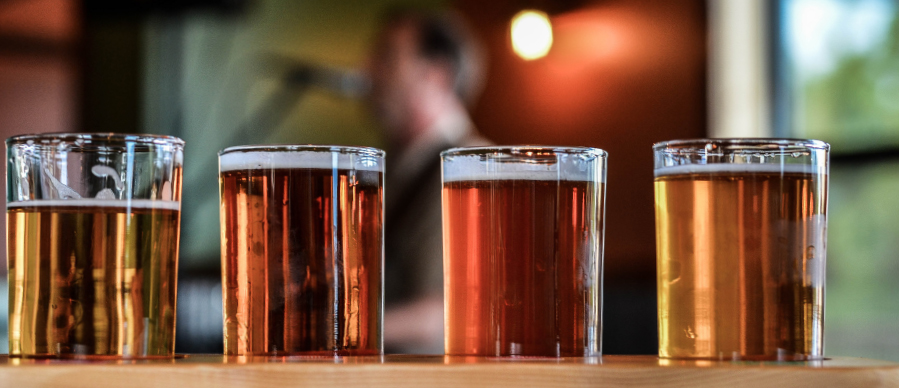 A flight of Castle Danger brews
photo by brian jeremiason
---
And what's an adventure without a cold craft beer? Castle Danger Brewing's taproom opened in downtown Two Harbors in 2014. A popular spot for locals and beer tourists alike, the brewery recently expanded its capacity. Two benefits: statewide distribution of flagship brews, and more creative one-off beers in the taproom to entice visitors.
In June, check for juniper-rye lager or honey-raspberry wheat on draft. Patrons can kick back with a "dangerously good" brew on the dog-friendly patio overlooking the lake. Linger over a board game and order takeout food from local eateries like the Vanilla Bean or Carmody 61.
Two Harbors' identity and history are shaped by its dual harbors, Burlington Bay and Agate Bay. The town sprung up to support the steel industry and remains an active port today, annually shipping 10 million tons of taconite from Iron Range mines to mills out east.
The massive ore boats, 1,000-plus feet long, are both awe-inspiring and mesmerizing—one of the town's great seasonal attractions. Agate Bay is a prime place for watching ship arrivals and departures. Walking out to the end of the narrow breakwall barrier when a ship arrives is invigorating.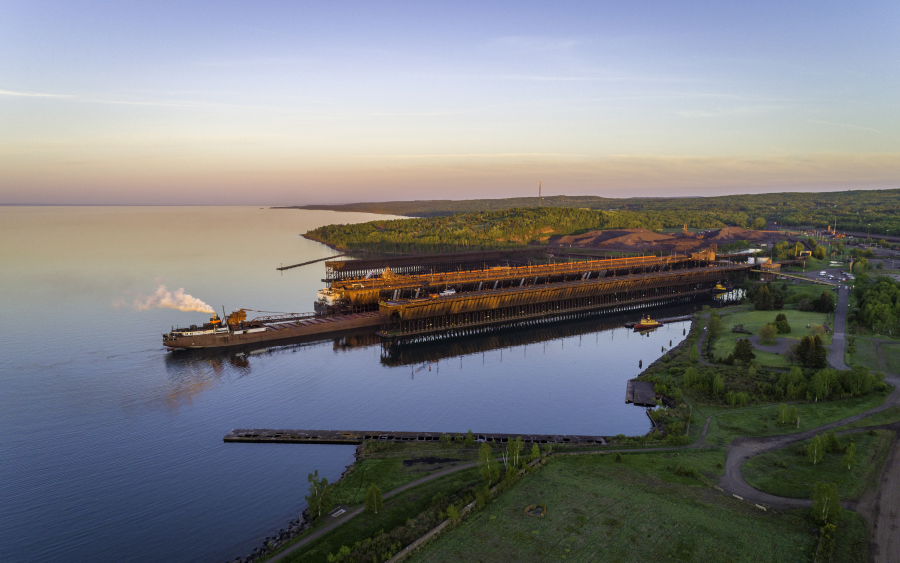 The majestic docks in Agate Bay
photo by christian dalbec
---
Minnesota's oldest continuously operating lighthouse has overlooked Agate Bay since 1892. The picturesque red beacon, owned and operated by the Lake County Historical Society, is on the National Register of Historic Places. Profits from a bed and breakfast inside help fund the Two Harbors Light Station's upkeep and a museum that's worth checking out.
Burlington Bay is a haven for kayakers, rock hounds, and those hardy enough to take a dip in "the Gitch," a local nickname for Superior based on gitchi-gami, the Ojibwe name for the lake. It hosts a municipal campground with electric hook-ups, water, and wi-fi. Many sites offer beautiful lake views, but campers should book early.
Locals love the Sonju Trail from Burlington to Agate Bay. A mostly paved walking path stretches for a mile before ending up at Lighthouse Point. On the way, there's an old pine forest and a picnicking spot, plus ample opportunities for wave gazing and exploring rocky beach nooks.
You'll find some fun, kitschy gift and thrift shops in Two Harbors. The staff is friendly at Sweet Peas & Back Forty Books, which sells new and used books and goods produced by local artisans.
If you're into quirky roadside attractions, visit Pierre the Pantsless Voyageur. The bizarre 20-foot statue of a French Canadian explorer with thigh-high boots and a long tunic, sans pants, has greeted travelers since 1960. His original home was outside the Voyageur Motel, but now he resides at the Earthwood Inn, Bar, and Grill—which serves up a great burger.
Not all North Shore tourists know about the Wolf Rock hike, which begins at the Castle Danger Trailhead and rivals more-crowded vistas farther north. After a moderately strenuous half-mile climb, you're rewarded with a near-panoramic view of Lake Superior atop Wolf Rock. Intrepid hikers can continue nine miles along the Superior Hiking Trail to reach Gooseberry Falls.
Post-hike, satisfy your hunger at the nearby Rustic Inn Café in Castle Danger. The restaurant's modest exterior belies its tasty culinary offerings. Choose from dishes such as walleye cakes and wild-rice meatloaf. Don't leave without sampling the Rustic's swoon-worthy pie. One bite of the lemon or raspberry cream pie with "angel" meringue crust? Heavenly.
---
Eat, Play, Stay in Two Harbors
Cedar Coffee
This hip coffee shop off the beaten path is worth the detour. Enjoy java al fresco in the cedar grove. The menu includes avocado toast, wraps, vegetable hash, and rice bowls.
Spokengear
Located next to Cedar Coffee, this outfitter rents out bicycles for cruising around town or "bikepacking." Tip: Ride the Gitchi-Gami Trail for 14 miles from Gooseberry Falls to Beaver Bay, making a pit stop at Iona's Beach to marvel at the gentle tinkling of the pretty pink rocks as the waves come in.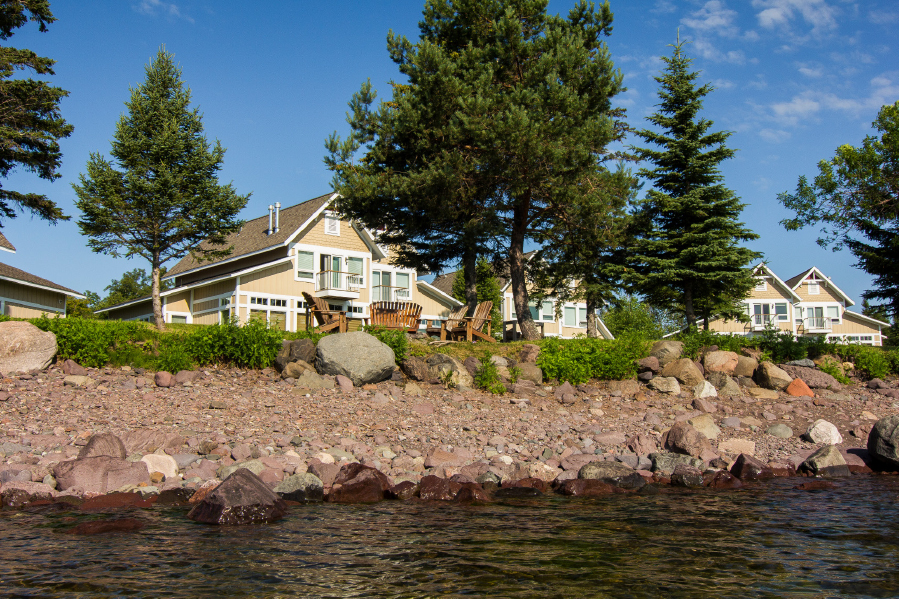 Waterfront lodging at Larsmont Cottages
photo by odyssey resorts
---
Larsmont Cottages
Along with charming lakeside lodging, guests can enjoy soothing amenities such as an outdoor hot tub and wood-fired sauna. There's also an upscale eatery, the Ledge Rock Grille, with a chef's table and lake view.