I believe that every birthday is an excuse to celebrate. Yes, you're another year older, but hey! Look on the bright side! You survived another year! Go, you!   
And when it comes to milestone birthdays, you gotta go ALL OUT. (That's my mantra, anyhow.) I mean, come on! It's a MILESTONE for a reason!
This past year I turned *cough, cough 40 *cough, cough and celebrated first in Cancun with my college crew, then had a party in Stillwater, then celebrated again with my four best girlfriends from high school (including one friend who flew here from Idaho just for the occasion).  
After some research—and many positive reviews—we chose Grand View Lodge in Nisswa as our girls' weekend destination, about a 2.5-hour drive northwest of Minneapolis in the Brainerd Lakes area.       
I think of Grand View as one of those quintessential "Up North" resorts, and with anything that has a reputation as being one of the best, you just hope it lives up to the hype.
I can say, with 100 percent certainty, that it did.
When we pulled up to the main lodge, my first impression was that it reminded me a little of Kellerman's from Dirty Dancing. My second thought was "Look at that gigantic Adirondack chair. Someone better sit in that thing because this would make a perfect photo op." [Thank you, Amy, for appeasing me.] And then I have no clue what my thoughts were. I am 40 now. I don't have the memory I once did.
Being a little bit of a history nerd, I loved that Grand View is on the National Register of Historic Places. Did you know the resort has been around since 1916? Clearly they've figured out what works and what doesn't. The place feels magical. The resort is beautiful, yes, and its location on a lake doesn't hurt, either, but they understand how to create epic customer experiences. Part of this is through offering complimentary activities, available year-round. (We signed up at the front desk for a pontoon cruise the next day, when we brought cocktails on board and listened as our driver regaled us with entertaining stories about the lake and the lodge.) Depending on the season, activities range from horse-drawn wagon rides to the "dive-in" movie, when you can float on an innertube in the waterpark area and watch a movie on the big screen.
After we checked in and walked around, we kicked off the weekend with celebratory cocktails, toasting many years of friendship at the more casual Northwoods Pub.
We didn't stick around long, though. We were anxious to see our cabin, Gull Haven, located three miles southeast of the main property. I was a little worried that we'd feel completely cut off from the rest of the resort staying in a cabin a few miles down the road, but when I heard that a free shuttle was available to and from Grand View, I was ok with the distance (even though I was kind of sad that I wouldn't be within walking distance of a coffee shop).
Once we got to our weekend "home away from home," we didn't give the distance between our cabin and the main resort a second thought because WOW. What a gorgeous cabin! It was decorated in a sort of modern "rustic chic" décor, and it was spotless and updated and huge. We had an excellent view of the lake right out the patio door, peaceful and quiet during a fall weekend. (I imagine this same setting is just a little more chaotic in the summer months, when kids are playing on the beach and climbing on the playground.)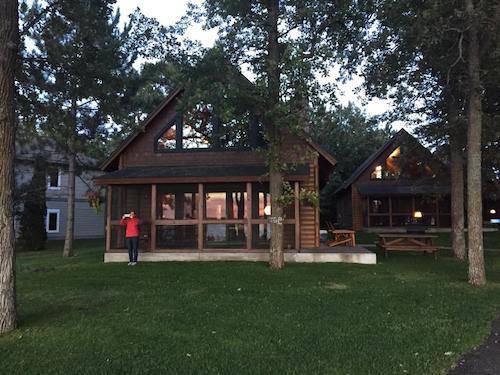 There were three beds in the lofted bedroom and two separate bedrooms on the main level—allowing each one of us to sprawl out on our own full-sized bed (ahhh, heavenly). The kitchen was fully-equipped with everything we needed for the weekend, and the gathering areas, both indoors and out, were perfect for our small group. On Friday night we stayed in, made dinner, drank margaritas, played board games, laughed a lot about things I can no longer remember (there's that whole memory thing again), and talked, talked, talked. It was quality girlfriend bonding at its finest.
On Saturday morning we drove over to the main lodge, where we got our hearts pumping and blood flowing with a 30-minute run around the grounds. We passed other groups of ladies out for a walk, making me think Grand View is a popular destination for girls' weekends—scrapbooking retreats, reunions, book club gatherings, bachelorette parties, whatever. The one thing we didn't do, to our regret, was book spa treatments at the full-service Glacial Waters Spa, the spa "Up North." I have heard so much about that spa from clients and friends alike. Designed by custom builders Nor-Son, Inc., it looks absolutely stunning. Reviews range from "I just had the best hot stone massage EVER" to "The services at the Glacial Waters Spa were so good, I would consider making the drive once a month just so I can try out their cascading shower massage."   
As we ran, we thought about how great a massage would have felt we talked about what it would be like to return in the summer, with our families. We agreed that the kids would love it at Grand View, with the sandy beach, large pool (and water slide), indoor bouncy house, and oportunities to go fishing, biking, hiking, horseback riding, paddleboarding, tubing, even participate in "Water Wars" on the beach. After further research, I discovered there's a Kids' Club for kids ages 3-11, and Kids' Night Out, too, if parents want some time to themselves. 
I would be remiss if I didn't mention Grand View as a golf getaway, too. The Brainerd Lakes area has made a name for itself in the golfing world as a true North Woods golfing experience. There's not one but two distinct award-winning Championship golf courses, with customized golf packages available for guests. I don't personally golf (unless you count mini golf?), but I know a lot of people who would consider staying here based on this fact alone.
And the dining options! There are multiple quality restaurants on-site. We opted to dine at Cru, a new(er) bistro located in the lower level of the Grand View Conference Center. The space was dark (no windows) but it definitely didn't feel like we were eating dinner in a dingy basement. A fireplace, soft lighting, and dark polished woodwork made it feel upscale, intimate, and cozy. We were impressed with the floor-to-ceiling 2,000 (!!) bottle wine cellar and interesting menu options. And while the food was good, what I'll remember most is that massive walk-in wine cellar.
After dinner, we walked over to Northwoods Pub to listen to live music. When we were ready to go, a shuttle was waiting near the entrance to bring us back to our cabin. As it turns out—our shuttle driver went to high school with us! It was one of those "it's a small world after all" moments. After spending the weekend at Grand View, I completely understand why he chose to leave the Twin Cities for the slower pace, beautiful scenery, and abundance of recreational activities in the area—and a job where guests are transported to their happy place. (Like Disneyworld, only without the flight, the rides, the long lines, the animated characters, and the overpriced everything.)
On Sunday, we slept in and drove to Nisswa for boutique shopping and lunch. I wasn't ready for the weekend to end. What a perfect girls' outing; a great way to celebrate a big birthday with cherished friends. My only complaint is that the weekend didn't last longer! (Why do the fun weekends always go so dang fast?!)
When we return again, I think we'll have to stay for an entire week.