Upper Sioux Agency State Park, near Granite Falls, has tipis for campers
photos by jamey guy
---
My dad grew up in Granite Falls, a town of about 3,000 on the Minnesota River in the heart of southwestern farm country. When I was young, we often made trips to see my grandparents there. Mostly we'd talk, nap, eat things Grandma baked or Grandpa raised, and accept whatever elemental, small-town thrills Granite offered: baseball games, variety-store finds, and hologram rainbows inside the titular falls' sunshine-soaked mist. Grandpa declared his home the Garden Spot of America, and even during my contrary teens, I saw no reason to disagree.
Now both my grandparents are gone, along with my ever-present reason to visit Granite, and so I've missed the town as much as anyone can miss a place absent the people who magnetized it. When my husband, two young kids, and I recently arrived downtown, it was comforting to see five years hadn't changed much.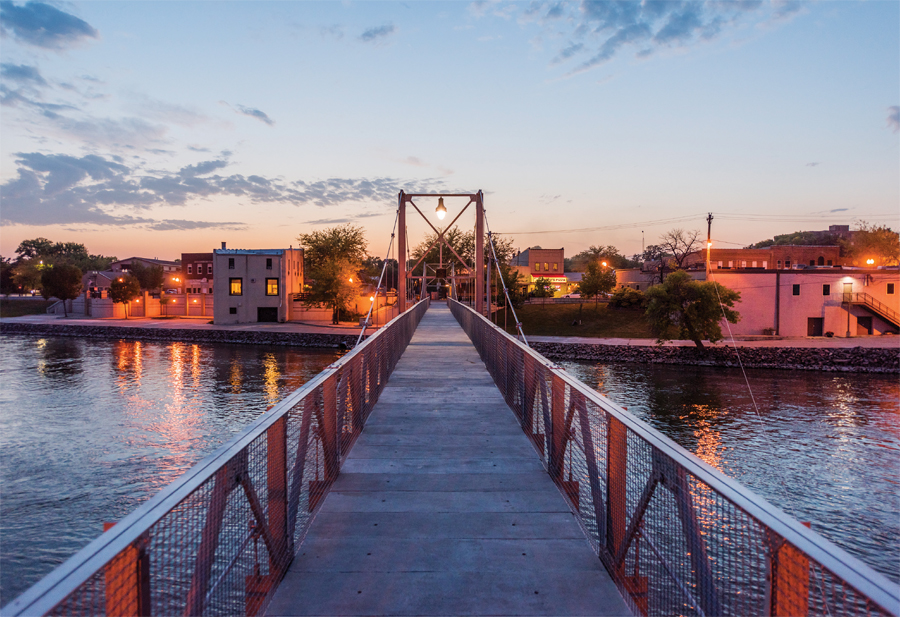 The town's charming suspension footbridge spans the Minnesota River
Watching the water gloss and shimmer as it rounds the top of downtown's tidy falls before blossoming white at their base remains a mesmerizing activity. Just downriver, the 1935 suspension footbridge designed by Roebling's Sons Co., the same group behind the Brooklyn Bridge, still connects downtown's couple-block core to the opposite bank's grassy expanse-slash-duck hangout. And thank goodness Kiwanis volunteers regularly staff the tiny red-and-white-striped popcorn stand that's been around for almost a century now, plying the people with fresh-popped corn drizzled in real butter and local 1919 Draft Root Beer.
The root beer's named for the year Prohibition began, when breweries turned to soda production to stay afloat. The Volstead Act provided official enforcement of the federal alcohol ban, and it was named for Minnesota Representative Andrew J. Volstead of little ol' Granite, who penned it. The town throws a Volstead look-alike contest on his birthday, Halloween—chief requirement: replicating his trademark walrus mustache—and his home here's a museum that's just been restored. It holds family, town, and Prohibition artifacts, including Volstead's 1926 Time Magazine cover (starring the aforementioned mustache) and, one of my favorites, a prescription for alcohol. Apparently so many required filling on Saturday nights that the line stretched onto the sidewalk outside the pharmacy. Now the Thrifty White, the drug store is a stop on the town's walking tour (free maps of which are available at the tourist information center downtown), as is what's left of the nearby opera house, then the popular Saturday-night spot to get "well."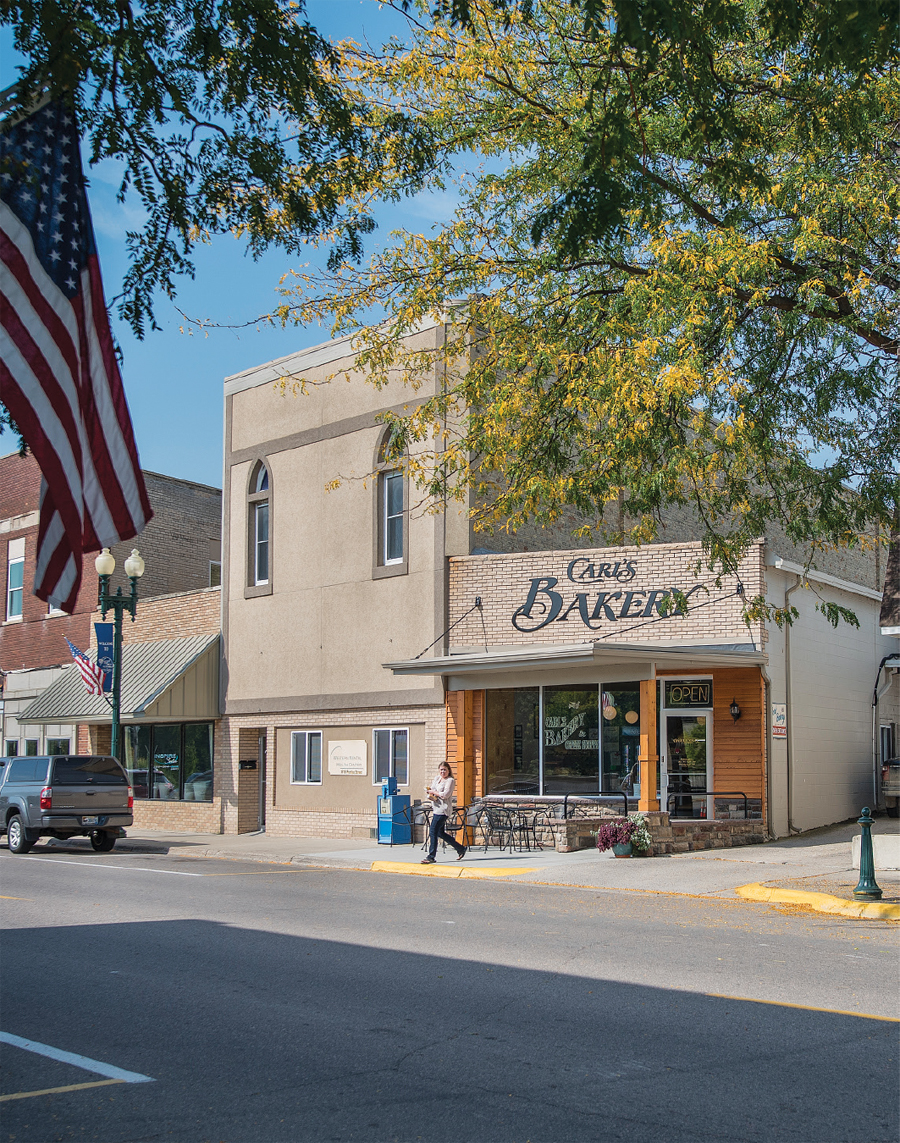 Downtown Granite Falls
The tour's one of a few new reasons to linger here. The Falls Boutique opened in a renovated Art Deco theater last spring, selling Minnesota booster wear and fancy toiletries, as well as other gifts and indulgences. The store manages use of the town's two free loaner bikes, painted blue and locked out front. And construction's underway on the cooperative Bluenose Gopher Public House, planning to serve Minnesota-brewed craft beer and wine upon its debut this winter.
They join places such as Carl's Bakery, which has been here forever—OK, since the '50s—supplying fresh-baked goods and lunch bargains, plus $3 pie-and-ice cream Wednesdays. We grabbed doughnuts before handily blowing a Hamilton at The Dollar Stop, an independent dollar store combined with a jam-packed antique/thrift store. Next, on to pizza and disco bowling, with a rad Atari-era electronic scoring system, at Granite Bowl, before hitting the popcorn stand around sunset.

Recreating Normandy's Utah Beach at the Fagen Fighters World War II Museum
Such cheap and low-key thrills make the Fagen Fighters WWII Museum, at the airport five miles south of town, that much more surprising. It's the ultimate tribute to the memory of local WWII vet Ray Fagen, whose son, Ron, happens to own the country's largest green energy design-build company, constructing ethanol plants and wind farms from its Granite Falls HQ.  More than 20 years ago, Ron acquired a 1945 P-51 Mustang fighter plane, the gateway to an amassment of operable aircraft and ground vehicles from around the world that drew so many word-of-mouth visitors, the Fagens decided to make it a museum. The expanding collection includes three hangars, plus a control tower and viewable restoration shop (toured by appointment), along with a sculptural depiction of D-Day featuring a mound of sand from Normandy's Utah Beach and a German rail car that transported POWs and Jewish prisoners. The museum breaks out a vintage PT-26 military training plane for 30-minute rides on Wednesdays and Fridays, and holds an air show every few years, happening again next June.
A German rail car at the Fagen museum
Since Grandma and Grandpa's compact stucco accommodated extended family like a clown car, this was my first time staying in the tipis at Upper Sioux Agency State Park, eight miles southeast of town—and so popular we booked months in advance. In the 1850s, these 1,066 acres held a military agency, essentially a colonization public relations base. The agency was destroyed during the Dakota (Sioux) attempt to reclaim their land in the U.S.-Dakota War of 1862. The park was established 100 years later to preserve the site's history and beauty. It radiates both, with trails traversing river bottoms and prairie grasses, some of which grow taller than apple trees in the fall.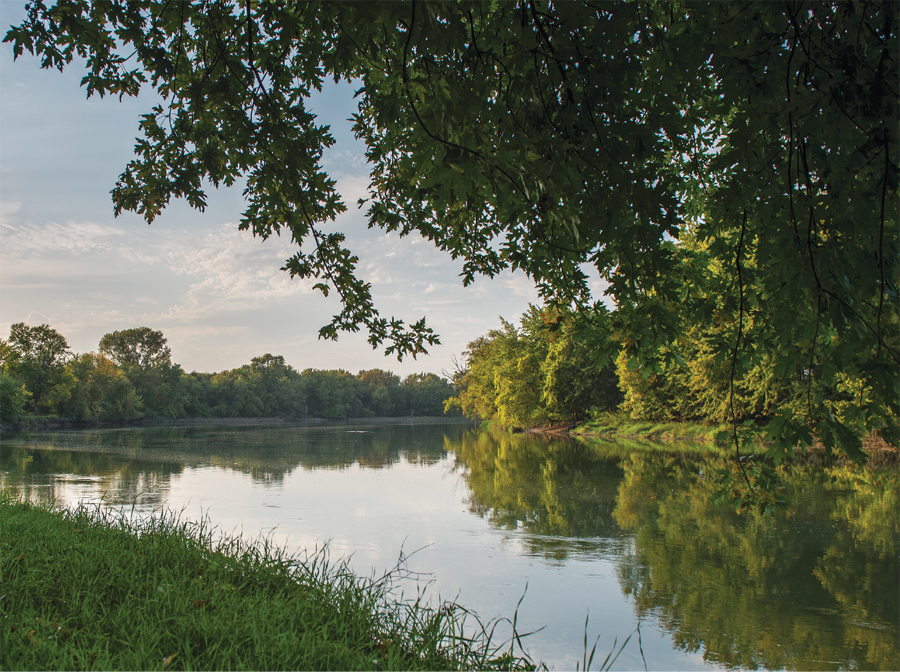 The waterway-rich Upper Sioux Agency State Park
All tipi doors face east, as tradition dictates, and ours, number 24, happened to sit on the prairie's edge. In the morning, fog hung in the grass as the sun breached the horizon, lighting dewdrops on spider webs strung along grass tips like chandeliers, the air thick with chirps, tweets, trills, and cricket creaks. Before and now seemed to mingle, then unfurl across the land with about as much grace and beauty as any one moment, place, or heart might hold.
Facebook Comments