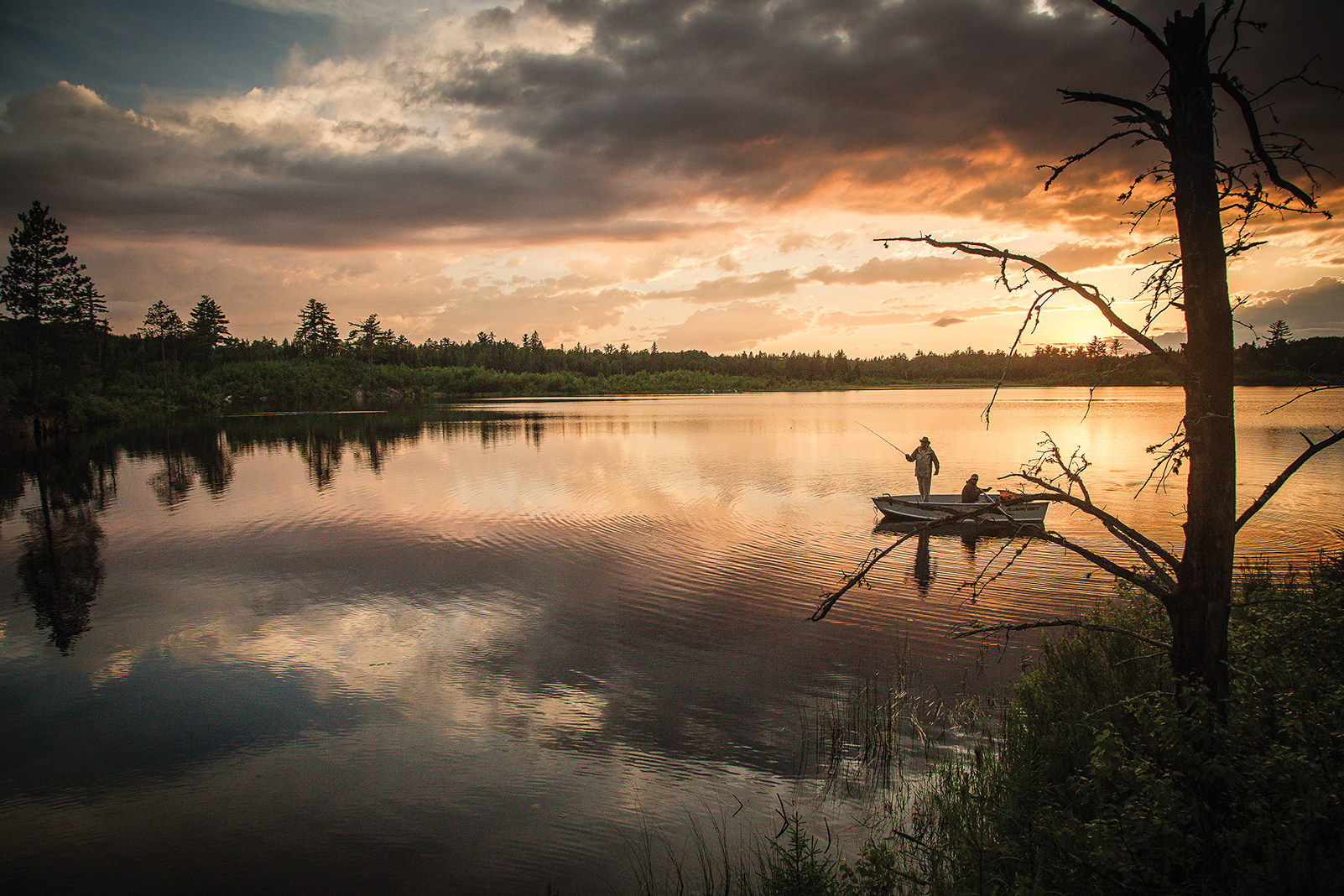 Minnesotans retreat to our natural spaces in both ordinary and extraordinary times. An after-dinner walk, a riverside bike ride, shore fishing, a hike in the woods, or after-dark star-gazing can help our bodies and minds—while abiding by public health guidelines.
"Now is a great time to get outdoors," says Sarah Strommen, commissioner of the Minnesota Department of Natural Resources (DNR). "Parks are a great place to do some social distancing and enjoy the health benefits of nature."
The DNR-operated state park system began with Itasca State Park in 1891 to preserve the
Mississippi River's headwaters and spur recreational pursuits, and has since grown into 75 state parks and recreation areas, 1,300 miles of state trails, and 35 state water trails. With our national, regional, county, and city parks, as well as national forests and the Boundary Waters Canoe Area Wilderness (closed until May 5), there's a lifetime of adventure and solace—and space for all of us to be at least 6 feet apart.
When You Go:
Regularly wash/sanitize hands.

Maintain at least 6 feet of distance.

Limit stops for gas or supplies.
Stay close to home. Go alone, or with immediate household.
State parks and trails are open, buildings and campsites are closed.
Avoid peak crowds: 11 a.m.-3 p.m. on weekdays, and all day on weekends.
Buy passes online: mndnr.gov
For up-to-date conditions: Call ahead or visit dnr.state.mn.us/covid-19
With Commissioner Strommen's guidance, here are some ways to enjoy the outdoors now.
State Park Pass
"A $35 annual Minnesota State Parks permit grants unlimited access to perfect backdrops for family memories. You can even visit bison herds at the Minneopa (Mankato) and Blue Mounds (Luverne) state parks."
Birding Destinations
"The Pine to Prairie Birding Trail in northwest Minnesota is 200 miles of scenic roads and highways with 45 sites for birdwatching. In western Minnesota, the Lac qui Parle Wildlife Management Area is one of the best summer birdwatching sites in the state."
Scientific and Natural Areas (SNAs)
"Public lands at more than 160 locations preserve the best of Minnesota's natural heritage, including native plants, animals, and geological diversity." The names aren't as familiar as your favorite state parks, but that also could bode for less foot traffic. The majestic views at King's and Queen's Bluffs in Great River Bluffs State Park, near Winona, and the massive 230-year-old red pines at Lost 40, in Itasca County, are among Minnesota's truly unique natural wonders. Take in the gravity of a 700-year-old big woods forest at Wood-Rill near Wayzata, donated by Bruce and Ruth Dayton, as well as Wolsfeld Woods near Lino Lakes. Scenic prairiescapes await not far southeast of the Twin Cities at Grey Cloud Dunes by Cottage Grove, and Lost Valley Prairie by Hastings.
Free Times
"Minnesotans 16 or older who introduce someone 15 or younger to one of Minnesota's favorite pastimes don't need a license on Take a Kid Fishing Weekend (June 5-7). Then, June 13 is National Get Outdoors Day, and all state parks offer free admission."
Shore and Pier Fishing
"You can do this in the Twin Cities and all over Minnesota at many neighborhood parks, regional parks, and state parks. Plan ahead, or keep a rod handy in your car to turn any outing into a fishing adventure. Need inspiration? Try the DNR's LakeFinder (dnr.state.mn.us/lakefind) for data on more than 4,500 Minnesota lakes."
Where to Pedal
"One of my favorite trails for cycling, running, and walking is the Paul Bunyan State Trail, which extends 115 miles from Crow Wing State Park to Lake Bemidji State Park. Choose your own style of adventure: Bring a coffee, and enjoy the trail while you sip and stroll. Or hop on your bike and enjoy a long stretch of scenic views in Minnesota's lake country."
Where to Paddle
"The Rum River Water Trail will take you from Lake Mille Lacs 145 miles downriver to the Rum River's confluence with the Mississippi River, in the city of Anoka. As you paddle, you can watch for songbirds in the river's backwaters and marshes, or fish for smallmouth bass." There's also the scenic Cannon River Turtle Preserve SNA downstream from Welch, and not far from where it links up with the Mississippi River."
Even More Outdoor Ideas
Night Sky Gazing
Even if you can't make it all the way to the shore of Lake Superior, Twin Cities residents can head to parks around the fringes of the metro area for darker skies. Try Silverwood Park in St. Anthony, Tony Schmidt Regional Park in Arden Hills, or the Rice Creek Chain of Lakes Park Reserve in Lino Lakes.
Take an AirSelfie
With the help of drone technology, an Air Pix aerial camera can take pics of your summer adventures without a selfie stick or a stranger's fingers ever touching your phone. The Minneapolis-based company's latest model is pocket-sized, and connects via Wi-Fi to a mobile app for instant and sanitary posting.
Bike Upgrade
Bloomington-based Salsa Cycles' new Stormchaser is a gilded toy built for fast, muddy rides all over. The single-speed gravel bike has extra tire clearance, fender mounts, and wider handlebars—all to help conquer sludge, downpours, and malaise. In light of current public health concerns, participating retailers selling either Salsa Cycles and Surly Bikes (also in Bloomington) can ship complete bikes and frames straight to your home.
Wash, Wash, Wash
Before and after the fun, lather up with liquid soap—such as Dirty Knees Soap Co.'s Minnesota Wood Body Wash—instead of bar soap. (According to the Minnesota Department of Health, germs can grow on bar soaps and spread from one hand washer to the next.) For reminders and directions for thorough hand washing, get the Scrub iPhone App, developed by Minneapolis branding agency Latitude. 
Live Cams
Can't get out but still want to experience real-time nature? There are a variety of video streams showcasing the Mississippi River Headwaters, Big Bog State Recreation Area, and nongame wildlife like bald eagles on the Minnesota DNR's official YouTube page.
Facebook Comments