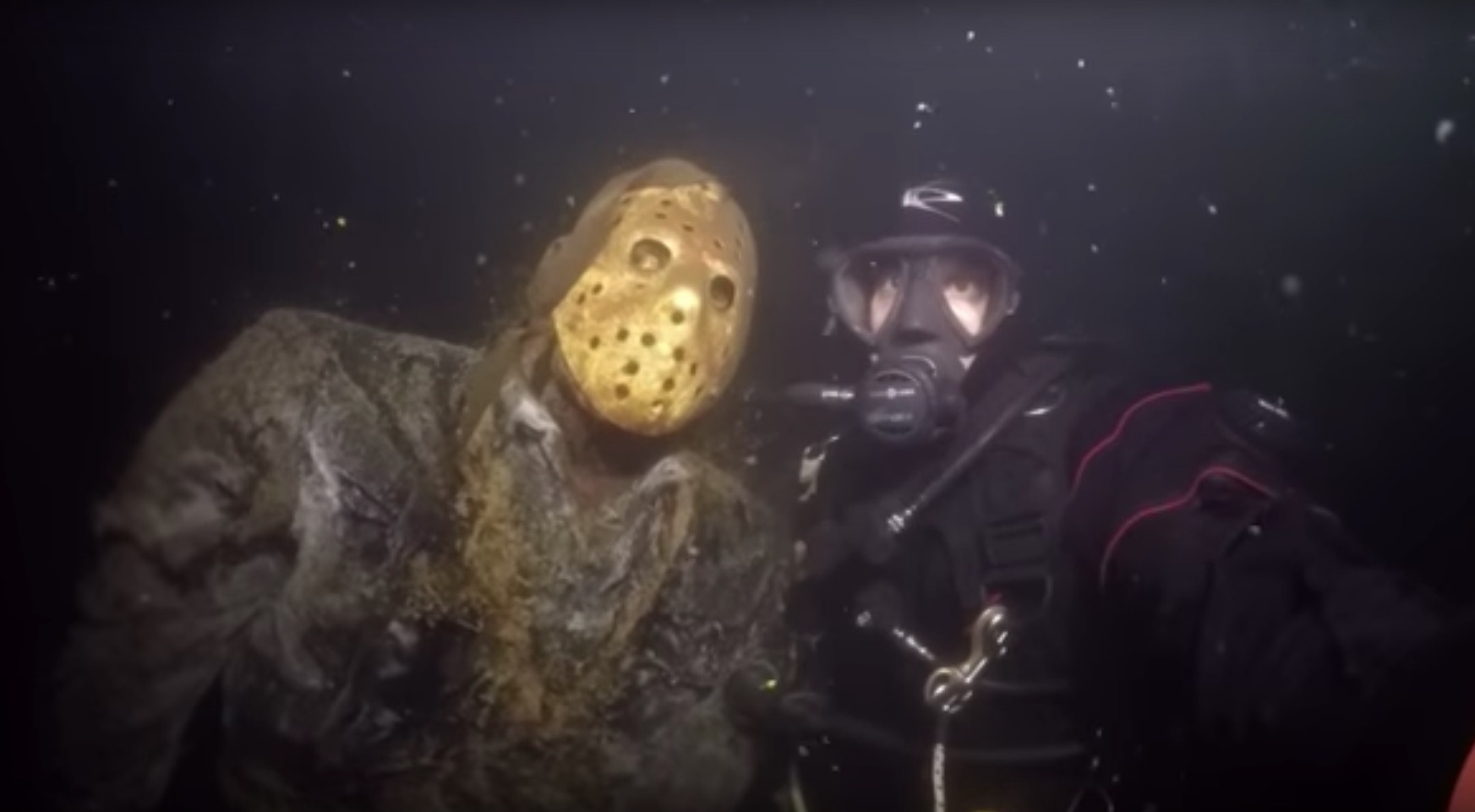 An old mine in the Iron Range has gone viral—because news sites nerdist.com, bloody-disgusting.com, syfy.com, and others just realized there's a horror-movie icon chained to the bottom of it.
A startlingly lifelike doll of Jason Voorhees—the hockey mask-wearing murderer who haunts the fictional Crystal Lake in the Friday the 13th movie franchise—floats like an anchored buoy about 120 feet deep in this water-filled mine pit near Crosby, Minnesota.
Avid diver and Princeton resident Doug Klein constructed the doll and planted it in 2013. Five months ago, Klein's friend and fellow diver Curtis Lahr posted a video of it to his YouTube channel, checking in on the doll to document the algae and grime that has crept over Jason's face and the way the bubble wrap and foam that Klein packed into Jason's torso has condensed under pressure, leaving the lurker with an emaciated frame that looks even creepier than it did five years ago. Klein visits Jason now and then to wipe his eyes clean, but he leaves the rest of the gunk for effect.

Video Courtesy of Curtis Lahr/YouTube
Out of the blue, someone on Reddit recently shared Lahr's video. News aggregators picked up the post and ran with it, drawing fresh attention to the Crosby site. But some of their blogs have gotten details wrong.
To start, Jason isn't at the bottom of one of the state's 10,000 lakes. He's tethered to the bottom of a state-owned mine pit known as Louise. Diving institutions, such as the Minnesota School of Diving, use it to teach (because, yes, diving is a recreational activity in Minnesota).
Here's the history behind it: As metal prices fell in the '70s and '80s, mining companies abandoned a range of open-pit iron mines in northeastern Minnesota, spanning from Brainerd to Aitkin. These bowl-shaped pits, roughly 35 of them, included the Louise mine, says Minnesota School of Diving owner Todd Matthies. The mining companies stopped pumping out the natural spring water, and the pits soon flooded. Around the late-'80s, divers started to explore their depths. Eventually, skeleton sightings popped up—though not the sort you might think. A prankster diver (or a group of them) had set up scenes of plastic skeletons along the bottom of Louise: one on a bike, another fixing an old fuse box, another dressed as a pirate aboard a sunken boat. A mannequin with eyelashes, a frizzy wig, and a fish tail appeared beside one of the pipes that formerly pumped out the water—a mermaid. And a pressure tank arrived, stenciled with a military-looking star and touting "F-Bomb" along its side. Many more out-of-place props—from a lawn mower to various scuttled watercraft—have populated Louise since.

Video Courtesy of Curtis Lahr/YouTube
Klein has frequented the Louise pit since he took up diving seriously 10 years ago. On a whim, he decided to make his own contribution.
Klein was target-audience age for the glut of the Friday the 13th movies in the '80s. He thought it would be cool to put a Jason Voorhees doll in the cold, dark, high-pressure depths of the mine for experienced divers to find. Klein says he and Lahr dive every weekend, enough that they feel comfortable swimming past recreational depths of 100-130 feet.
Building Jason was simple enough: Klein works as an electrician on construction sites, so he had easy access to the plywood that would become Jason's torso and the two-by-fours that would become his arms and legs. Klein strapped bubble wrap and foam to Jason for buoyancy. Lahr gave Klein the mannequin head.
Getting Jason to the bottom, though—"that was actually a nightmare," Klein says. "When I got him in the water, he would have worked as a standup paddleboard. He was so buoyant it was ridiculous." Saddling Jason with enough cinder blocks to sink him, Klein then equipped the life-size dummy with a lift bag. Often used to resurface cars that have sunk through the ice, lift bags fill with enough air to drag heavy objects upward. In this case, the lift bag countered the cinder blocks' weight, rendering Jason "neutral" and maneuverable underwater.
Swimming along one of the old pipelines, past the mermaid, Klein came to a drop. He pulled a cord to let air out of the bag, and Jason started to plummet. At about 120 feet, Klein tied Jason to the pipe with a rope. Something snapped—maybe the rough ground had severed the cord—and Jason rocketed to the surface, to the other side of the pit. All in all, it took Klein eight hours to secure Jason. Later, he swapped out the rope for a sturdier lock and chain (which better suits the grisly story he's trying to tell, anyway).

Photo Courtesy of Doug Klein
Jason went viral about two weeks ago, while Klein and Lahr were on a diving trip in the Caribbean. Views on Lahr's YouTube video shot from 160,000 to nearly 400,000 in about three days, Klein says. (Most of the online comments amuse them. The annoying ones snottily point out that the doll is fake.)
While Klein is glad so many now appreciate those eight hours he spent in near-Sisyphean labor, Minnesota School of Diving owner Mattheis says he is leery of the attention.
Jason is too deep for recreational divers, yet people have been calling the school, asking for an instructor to take them down to see him. "I'm worried about people getting hurt," Mattheis says, "because it is deep, and it's dark, and very cold." (In fact, when Lahr tried to assist Klein in anchoring Jason the first time, his zipper broke and his suit filled with water. He had to quickly surface before he got too cold.)
Visiting Jason isn't doable for most people. You're better off living vicariously through Lahr's footage, or visiting some of the more accessible characters.
You might be able to visit Iron Maiden mascot Eddie sometime soon, when Klein places him (in a straight jacket and torn jeans) somewhere in Louise. He bought materials for Eddie last year, and the spike in recognition around Jason has motivated him. A friend of Klein's, who owns a diving shop in Wisconsin, also wants Klein to build a Freddy Krueger for a nearby site.
"I just gotta do it," Klein says, anticipating the challenge. "I'll make them a little less buoyant, though, so I don't have to fight like I did."
Facebook Comments