Frost Queens award medals to Blizzard Run finishers
photos by Lilly Ball
---
The "Icebox of the Nation" lives up to its name. International Falls, located a toilet seat's toss from Canada (more on that later) masochistically boasts a soul-curdling record low temperature of -55. Frostbite Falls, the fictional and aptly named setting of The Rocky and Bullwinkle Show, was based on this place. There's an "Ice Road," cleared for vehicles to traverse Rainy Lake when it's frozen. In the '70s, Sears Diehard shot a commercial on site to demonstrate their car battery's longevity and effectiveness in extreme cold.
But International Falls wasn't always the nation's official freezer. Fraser, Colorado, had been legally gunning for the sobriquet since 1956, until the United States Patent and Trademark Office officially granted the title to International Falls in 2008, ending a 52-year battle over which town would be formally known as the coldest in the contiguous United States.
But on January 21, 2017, the weekend of Icebox Days XXXVII, International Falls felt more like the Refrigerator of the Nation. Temperatures inched toward 40. It drizzled, on and off, all weekend. Snow sculptures puckered sadly in the misty thaw. The entire town (pop. 6,424) was submerged in about four inches of water, and the sounds of dripping, running, and pattering were ubiquitous.
I arrived just in time to catch the Can Crushing Contest at the unpretentious Viking Bar. For some reason, I'd anticipated a row of burly and purple-faced contestants crushing beer can after beer can against their foreheads, which of course would involve all sorts of liabilities and red tape. Turns out, the Can Crushing Contest entails two actual can crushers—small contraptions of wood and steel, which crush cans when the neoprene lever is pulled—mounted on a wall in the back of the bar. A group of locals formed an abstruse queue; crew members from a local ABC affiliate hoisted a video camera. The crushing commenced.
While the widespread wilds surrounding International Falls, including Lake Kabetogama and Voyageurs National Park, are Cabin Country in the most Minnesotan sense, I stayed at Casa Loma, a midcentury modern four-bedroom overlooking Rainy Lake. The house belongs to and is rented out by the Doughertys, the same family that owns and operates Rainy Lake Houseboats (which offers guided fishing tours on vessels ranging from standard to Kardashianian luxury—think on-deck jacuzzi and personal chef).
Smoosh Racing requires unique equipment
The next morning, I grabbed a rustic breakfast at Coffee Landing Cafe in downtown International Falls (clearly the artsy brunch spot in town; in the restroom, there was a Nelson Mandela biography and a Webster's Dictionary, and at the bar, a young guy with feathers in his man bun) before heading over to the 10K Freeze Yer Gizzard Blizzard Run, the popular highlight of Icebox Days. Runners splashed across the finish line, where they were immediately greeted by the Snowball and Frost Queens, who were dressed in flamboyant costume (pale blue gowns with dangling snowballs, snowflake tiaras, the works) and awarded medals.
Therein lay the weekend's conflict: The weather was nice, sure, comparatively tropical for the nation's Icebox in late January, but the Freeze Yer Gizzard Blizzard Run is known as an endurance test, usually taking place in subzero conditions that lead to bragging rights and a certain grizzled clout. This weekend, however, nobody was freezing his or her gizzard.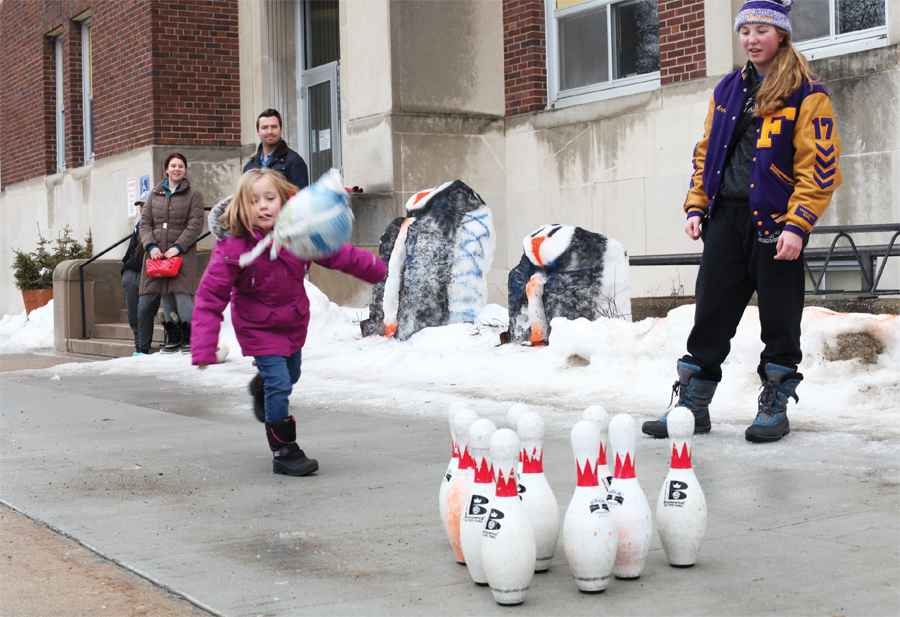 Frozen turkey bowling
After scoping out the chili cook-off, held inside the cafeteria of the former E.W. Backus Junior High, I stepped outside to catch Frozen Turkey Bowling. This was pretty much what it sounds like: kids and grown-ups hurling an errant Honeysuckle at 10 regulation pins. There seemed to be no discernible winner, or even scorekeeping, but that wasn't the point: Everybody was having fun.
By the time I crossed town to catch the Toilet Seat Toss at the Viking Bar—past the anthropomorphic Smokey the Bear statue and his walleyed cubs, past the Technicolor-blue monolith of PCA (Packaging Corporation of America) that seemed to span the entire length of town—I was too late. Out back, a few local kids played with what toilet seats were left, tossing them as far as they could in mock-competition and balancing them on their heads. All I could do was wait around for the Smoosh Races.
The weekend's balmy temps didn't deter toilet seat tossers
With the festival's calendar so jam-packed, it was impossible to check out all the events, between Donkey Basketball and Redneck Trivia (Q: Which of the following foods are you NOT likely to find on a hillbilly's table? A) Escargot & truffles or B) Mustard greens & sidemeat) and the Moonlight Snowshoe Hike in Voyageurs National Park. Somehow, I also missed my chance to sample the D.Q. Grill & Chill's customer-voted Blizzard, "Unicorn Fluff," created in honor of the eponymous Run.
Cross-cultural competition on the Canadian border
But I did end up seeing the Smoosh Races, where teams of four people, shoes attached to a set of eight-foot 2x4s, as if they all shared one pair of skis, attempted to race. Their delighted faces made the point of all this clear: At parties and festivals and fairs, we not only share a common interest—like the Smoosh Racers here, working together—but we also share ourselves. We are not separate, but together, pack animals part of something larger than any one of us. And this is the spirit of Icebox Days, whether it's celebrated in a park or a bar, and whether it's cold or not.