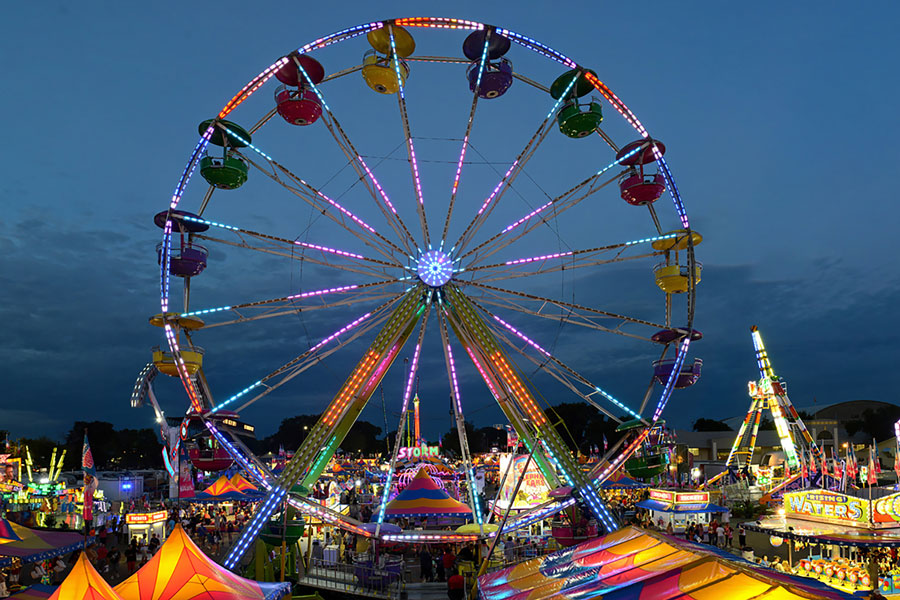 photo by Minnesota State Fair
---
The 11 days leading up to Labor Day are a sacred time in Minnesota—if, of course, sacred to you is filling up on all things fried, taking advantage of some of the best people watching you will ever see, and making fart noises underneath the microphones strung across the giant slide as you zoom down on your potato sack (the last one might be just me). Regardless of your favorite mini-doughnut stand, seasonal beer, farm animal, or port-a-potty, we can all agree the fair is a pilgrimage for many and the perfect cap to another Minnesota summer. And while there may be a host of new attractions to check out every year, these are the ones that keep people coming back for more at the Great Minnesota Get-Together.
Food
Of course I'm going to talk about the food first. I think fairgoers from every corner of the state would throw me off the top of the fire tower if I didn't. And for good reason. It's incredible. The fair boasts nearly 500 foods from 300 food concessions, and includes magical creations such as deep-fried candy bars, cheese curds, French fries, and more. New this year are the BBQ Split (a combination of BBQ pulled pork, macaroni and cheese, and coleslaw served side-by-side with a pickle spear to top it off—think Fourth of July picnic in a tray), Nordic Waffles, Blueberry Rhubarb Cobbler, and more. For a closer look into the state fair's food vendors, check out our August feature, "Inside the MN State Fair's Lucrative Food Business."  
Giant Slide
One of the seven permanent attractions at the fair (the other six are the Space Tower, Haunted House, Ye Old Mill, River Raft Ride, Skyride, and Skyglider), the Giant Slide has been a staple for many fairgoers for nearly 50 years. Climb the steps to the top of the 50-foot metal behemoth and race down its 170 feet of rolling green and yellow waves while laughing all the way to the bottom. If your attraction budget has a limit of just one, this is the one you want to spend it on.
International Bazaar
Your one-stop-shop for all things culture at the fair, the International Bazaar offers food, free entertainment, and crafts and wares from every corner of the world. I personally grab a carved, wooden elephant every year to add to my ever-growing herd at home. This open-air market is one of the most unique vendors the fair has to offer, and its food and wares are worthy of any taste bud and home.
Grandstand
Home of the Minnesota State Fair Amateur Talent Contest Finals, performances from some of the biggest acts in the music industry, and a variety of vendors, the Grandstand is the jack-of-all-trades at the fair. Looking for a new Christmas ornament for the grandchildren? Jackpot. Or maybe you need a new hammock? You've come to the right place. What's that, you want an old decorative license plate? Look no further. And this year's performances are highlighted by 311 and The Offspring, Niall Horan, Jason Mraz, Sugarland  and Duluth's very own Trampled by Turtles. Get your tickets now!
Animals
The Minnesota State Fair has become one of the premier—if not the premier—events for showcasing livestock. Each year more than 8,000 livestock competitors show off more than 20,000 animals in hopes of taking home coveted ribbons and cash prizes. On top of this, the CHS Miracle of Birth Center is the home of nearly 200 animal births throughout the fair's 12 days, including calves, lambs, piglets, and ducklings. This is guaranteed to be cuter than any kid you see with an ice cream sandwich mashed around their mouth and not caring they're walking through a crowd of people and obstructing the flow of traffic.
Of course there are many more things to see, do, and eat at the fair, but if you do any of the aforementioned activities you're sure to have a good time. Learn more about the Minnesota State Fair before you plan your trip.
Facebook Comments