Mississippi River Timeline
10,000 BCE
Native Americans began using the Mississippi River and its valley for plant and animal resources, shelter, and as a route for trade and transportation. Written records date back only to the mid-1600s. Much of what we know about indigenous life on the Mississippi before then—including adaptations to changing climate and new technologies developed over the centuries—has come through archaeological findings and oral histories preserved by Native Americans.
1680
Father Louis Hennepin is the first European to explore Minnesota's section of the Mississippi, and the first to see St. Anthony Falls.
1805
Zebulon Pike leads an expedition into the northern reaches of the newly acquired Louisiana Territory, traveling up the Mississippi to Cass Lake, which Pike mistakenly identifies as the river's source. Along the way, he acquires land that eventually becomes the site of Fort Snelling from local Dakota representatives.
1811
The side-wheeler New Orleans inaugurates the steamboat era on the Mississippi. Twelve years later, the Virginia is the first steamboat to ply the waters of the Upper Mississippi, traveling as far north as Fort Snelling.
1832
Ojibwe chief Ozawindib guides explorer Henry Rowe Schoolcraft to the source of the Mississippi River at Lake Itasca.
1854
The first commercial flour mill opens at St. Anthony Falls. By 1880, 25 mills operate at the falls, making Minneapolis the nation's largest flour producer.
1907
Lock and Dam No. 2, the first such structure on the Mississippi, opens to river traffic in the Twin Cities. (Soon rendered obsolete, its remains are still visible at low water just north of the Lake Street-Marshall Avenue Bridge.)
1924
The Upper Mississippi River National Wildlife and Fish Refuge is established to protect migrating birds, fish, and other wildlife along a 261-mile stretch of the river, encompassing parts of four states.
1930
In an effort to revitalize flagging freight traffic on the Upper Mississippi, Congress authorizes a project to create and maintain a 9-foot-deep shipping channel, spurring construction of 23 new locks and dams over the following decade.
1976
Governor Wendell Anderson designates a 72-mile corridor of the Mississippi through the Twin Cities metro area as a critical area to protect cultural and natural resources. Federal support for this mission comes in 1988, when Congress creates the Mississippi National River and Recreation Area along the same corridor.
1986
Federal legislation authorizes the landmark Upper Mississippi River Restoration Program, combining fish and wildlife habitat restoration with long-term monitoring and research to improve the river's ecosystem.
2015
The Upper St. Anthony Falls Lock is closed in an effort to block invasive carp species from migrating upriver.
Headwaters Region

Mississippi Headwaters in Itasca
photo by Minnesota Department of Natural Resources
---
Lake Itasca
The Mississippi's modest start still holds remnants of the wilderness that explorers traversed centuries ago. Paddling and camping, in many cases, are not for beginners—seasonal water level changes can create long portages—and potable water is not universally available. Some early stops for headwaters paddlers include Gulsvig Landing at State Highway 200, Wanagan Landing (the river's first campground and rest area), Coffee Pot Landing (a popular layover spot with a canoe campsite and Adirondack-style shelter), and the river-only Iron Bridge Campsite. For driving and biking, the Great River Road and the MRT follow the river most closely when leaving Itasca State Park and as the route approaches Bemidji.
Itasca State Park
Minnesota's oldest state park is where the Mississippi's 2,552-mile descent to the Gulf of Mexico begins. Take a selfie next to the Headwaters Monument, ease yourself and/or a kayak into the water, choose from 237 campsites (22 are tent-only), spot 222 species of birds, and hike or bike on the neighboring trails (a section of the MRT is in the park). There are centers named for Jacob Brower (an 1800s-era writer often dubbed "Father of Lake Itasca" for his conservation efforts) and former park superintendent Mary Gibbs (another force fighting off logging in the region), featuring exhibits, gift shops, and a café.
36750 Main Park Dr., Park Rapids
Douglas Lodge and Restaurant
Located on the south shore of Lake Itasca, this beautifully furnished historic lodge built in 1905 features guest rooms and a full-service restaurant. Douglas Lodge cabins are available, too.
Douglas Lodge Dr., Laporte
Pine Ridge Campground
Two miles southeast of the headwaters, this campground boasts 158 RV sites and tent sites, plus access to biking and hiking trails, canoeing, fishing, and kayaking. Separated into five loops, more than half of the camping sites offer electric hook-ups.
36750 Main Park Dr., Park Rapids
Itasca Sports
A 10-minute walk from Pine Ridge, this outfitter rents out bikes, canoes, camping supplies, and everything in between.
15441 Main Park Dr., Lake Itasca
La Salle Lake State Recreation Area
Set in red and jack pine, this pristine stretch of river is near the fish-heavy La Salle Lake, Minnesota's deepest natural inland lake.
10899 County Hwy. 9, Solway
Northwoods Region
Bemidji
The river runs right through Minnesota Monthly's Best MN Town of 2017, a lakeside community with several worthwhile places to stay or stop for a bite, including Big River Scoop Ice Cream and Sparkling Waters for seafood, plus the Paul Bunyan and Babe the Blue Ox statues—all right by the water. Just east of Lake Bemidji, the river hits its northernmost point. Canoers and kayakers can launch water journeys using the carry-in access point near the County Rd. 12 Dam—Island Point Campsite (only accessible by water) is located five miles downstream. For cyclists, the MRT rides a bike-only path on the southern rim of Lake Bemidji.
Headwaters Science Center
The self-guided tour at the science center has more than 70 interactive exhibits and historical collections focusing on water, biology, and geology.
413 Beltrami Ave. NW, Bemidji
Lake Bemidji State Park
Located on the northeast edge of the lake, the park features camping with drive-in, pull-through, and electric sites available, a swimming beach, a fishing pier, historic buildings, several scenic overlooks, a bog boardwalk, and the start of the all-paved, 112-mile-long Paul Bunyan State Trail, which is ideal for a bike ride to Brainerd and is loaded with geocaching spots.
3401 State Park Rd. NE, Bemidji
Grand Rapids
Between Bemidji and Grand Rapids, the river and the Great River Road along Highway 2 wind through Chippewa National Forest, which overlaps with the Leech Lake Indian Reservation, as well as through Cass Lake and Lake Winnibigoshish. This is pure north woods, with pine-covered islands and eagles in the air. There is ample boat access, with canoe launch points throughout the forest, too, including Reese Boat Landing near the Mississippi's entrance to Lake Winnibigoshish and Plughat Point Boat Area on the northeast side of the lake. Anglers can expect northern pike, walleye, and perch here. Bikers, find the 19-mile paved Migizi Trail loop through the red pines of Chippewa National Forest, or take a shortcut down the 95-mile Heartland and Paul Bunyan trails, featuring a mix of paved and grass paths, from Cass Lake down to Brainerd.
Schoolcraft State Park
All 30 campsites, including river-access site and a hiking trail, are within 400 feet of the Mississippi River at this small park immersed in red pine.
9042 Schoolcraft Ln. NE, Deer River
Forest History Center
Discover Minnesota's forests on guided tours and with hands-on environmental learning. Visit a contemporary log cabin and watch films about forestry management and forest fires.
2609 County Rd. 76, Grand Rapids
Forest Lake Restaurant & Lounge
Located on Forest Lake, right next to the Mississippi, this log cabin-themed eatery consists of a dining room, bar, and steakhouse.
1201 NW Fourth St., Grand Rapids
Crossings Region

Cuyuna mountain biking
photo by aaron w hautala
---
Cuyuna Range
After hardwood forest takes over and small communities such as Palisade and Aitkin interrupt long stretches of serene wilderness along the river, mining towns like Crosby and Ironton start popping up just south of the Mississippi. Named after surveyor Cuyler Adams (and his dog Una), Cuyuna is an iron range discovered in 1895. The lakes are so clear here that they're used for scuba training, and the biking nearby includes the eight-mile paved Cuyuna Lakes State Trail from Crosby to Riverton. Also, the Mississippi between Aitkin and Monticello is known for world-class smallmouth bass fishing.
Cuyuna Mountain Bike Trail System
Located slightly south of the Mississippi River and part of the Cuyuna Country State Recreation Area, this bike trail system spans more than 25 miles over 800 acres of paved and single-track trails. Miner's Mountain Rally Center near the beginning of the trails welcomes bikers before they start their adventure and offers parking, picnic spots, and views of Huntington Mine Lake.
Croft Mine Historical Park
An active underground iron ore mine between 1916 and 1934, this 17-acre park and site now hosts guided tours of the original smokestack, Cuyler Adams' office, and the dry house where workers cleaned up after their shifts.
Eighth St. NE and Second Ave. NE, Crosby
Cuyuna Brewing Co.
After a long day on the trails or in the water, grab a few pints of Yawkey Red or Ranger Strong at this welcoming downtown Crosby craft brewery.
1 E. Main St., Crosby
Brainerd
For the first time, the Mississippi enters a defined valley near Brainerd, which is the primary setting for the Oscar-winning Coen brothers film Fargo. Nestled amid lakes and parkland, this area is rich with resort options—Cragun's, Madden's, and many more—to the north.
Kiwanis Park
A 37-acre park nestled right between the Mississippi River and Boom Lake, Kiwanis Park offers a fishing dock on the Mississippi River, a canoe launch, a fenced-in dog park, and playground equipment for the kids.
1101 E. River Rd., Brainerd
The Barn
This classic family-style diner is cash-only and serves traditional American comfort food with brunch, lunch, and dinner menus.
711 Washington St., Brainerd
Crow Wing State Park
Ten miles south of Brainerd, where the Mississippi River connects with Crow Wing River, Crow Wing State Park boasts 59 drive-in camping sites (12 are electric), boat and canoe rentals, and drive- and carry-in boat access (Baxter Canoe Campsite is located just on the northern tip of the park). The 2.2-mile Hiking Club Trail leads to scenic Chippewa Lookout overlooking the river, and a lengthy stretch of the Paul Bunyan Trail snakes through the trail for cycling. For a dose of Minnesota history, visit Old Crow Wing Town Site and the Beaulieu House, built in 1849.
3124 State Park Rd., Brainerd
Scenic Region
Little Falls
Before reaching park-rich Little Falls, the former home of aviation pioneer Charles Lindbergh (and his U.S. congressman father), a long stretch of the river runs next to Camp Ripley, a 53,000-acre Minnesota National Guard facility. The site also houses the Minnesota Military Museum, which is open to the public.
Minnesota Fishing Museum
This museum has reeled in 10,000 fishing artifacts tracing the evolution of freshwater angling techniques and equipment, revealing how a basic survival skill for Native Americans and early settlers became a cherished local pastime. Check out boat motors dating back to 1902, an aquarium filled with live native fish, a log cabin that recreates an old-time fishing camp on the lake, and a well-stocked gift shop.
304 W. Broadway, Little Falls
A.T. The Black & White
Come for the amazing vintage signage decorating the walls, stay for a menu that earned this place the Minnesota Restaurant Association's 2016 Restaurant of the Year Award.
116 First St. SE, Little Falls
Charles A. Lindbergh State Park
This park features eight miles of hiking trails along the river (great for birdwatching), 38 drive-in camping sites, 15 with electric hook-ups (two along the banks of Pike Creek as part of the Mississippi River State Water Trail), and a picturesque footbridge overlooking the creek. Nearby, the Charles Lindbergh House and Museum details Lindbergh's 1927 solo flight across the Atlantic and his childhood in the area. The Charles A. Weyerhaeuser Memorial Museum goes deeper into the rich logging history of Morrison County.
1615 Lindbergh Dr. S., Little Falls

Mississippi in St. Cloud
photo by fines aerial imaging
---
St. Cloud
Aside from a few dams that must be portaged, the Mississippi between Little Falls and St. Cloud is a welcome stretch for paddlers of all skill levels, who will pass a submerged winter fort built by famed explorer Zebulon Pike, plus the mid-19th-century MacDougall Homestead. Meanwhile, the scenic landscape alternates between hardwood forests and farmland where elk and bison once grazed. As the river's surroundings turn urban in St. Cloud's metro, ample waterfront parkland (Wilson Park, Hester Park, Riverside Park, Talahi Park, River Bluffs Regional Park) awaits.
Urban Lodge Brewery & Restaurant
This refueling spot, just north of St. Cloud, serves up craft ales, IPAs, and stouts along with Neapolitan-style pizza, salads, and burgers.
415 N. Benton Dr., Sauk Rapids
Heritage House Bed & Breakfast
This Queen Anne-style home—built in 1904 and on the National Register of Historic Places—has two traditional rooms and two suites.
402 Sixth Ave. S., St. Cloud
Munsinger and Clemens Gardens
A riverside floral spectacle, Munsinger Gardens is 14 acres of plants, a rock garden, a lily pond, and a fountain shaded by tall pines. The site was built in the 1930s and refurbished 50 years later. In the same area, Clemens Gardens features six more-manicured gardens on a sunny hill accented by ironwork and fountains.
1515 Riverside Dr. SE, St. Cloud
Beaver Island Trailhead
Near the St. Cloud State University campus on the river's west bank, a collection of small islands breaks the flow. Bikers can take a paved trail running two miles along the water near St. Cloud State University.
1503 Third Ave. S., St. Cloud
Metro Region

Mississippi in Minneapolis
photo by andreykr/fotolia
---
Minneapolis
Past Monticello, Elk River, Anoka, and Champlin, the mighty Mississippi arrives at the heart of metropolitan Minnesota. For a stretch of 72 miles, the river is part of the Mississippi National River and Recreation Area, with areas for fishing, canoeing (this segment of the Mississippi requires some paddling skills due to snags, sweeps and rapids, according to the DNR), birdwatching, bicycling, and hiking. A recommended 8.3-mile canoe route featuring wildlife and scenic islands is from Coon Rapids Dam Regional Park to Anoka County Riverfront Regional Park. Bike or drive leisurely along the river using a network of regional trails and roads, including West River Parkway.  Nearly everything is at your fingertips: miles of parks, trails, historic sites, restaurants, retail, majestic bridges, and more. Remnants of the city's storied milling past remain, but look for the river's many other narratives unfolding here, too.
Psycho Suzi's Motor Lounge
With a riverfront patio and tiki decor, this Polynesian-themed hangout features classic bar food and tiki cocktails. It's in the heart of the Northeast Minneapolis Arts District, which is loaded with restaurants, bars, studios, and nice places to park yourself along the water.
1900 Marshall St. NE, Minneapolis
Boom Island Park and Nicollet Island
Escape the bustle of downtown Minneapolis without sacrificing the view. Formerly a log-sorting station, Boom Island—not actually an island anymore—sits on the river's eastern shore and is home to a miniature lighthouse. Just before St. Anthony Falls sits historic Nicollet Island, where you'll find a handful of well-preserved houses that are more than 100 years old and the historic Nicollet Island Inn. In the 1940s, the iconic Grain Belt sign—recently refurbished to light up every night—was erected on the island.
Mill City Museum
Tour the ruins of what was once the world's largest flour mill. View special exhibits or stroll, bike, or take a Segway tour along the nearby Mill Ruins Park for breathtaking views. Guthrie Theater next door has a panoramic observation deck, known as the "Endless Bridge," overlooking the riverfront, too.
704 Second St. S., Minneapolis
Upper and Lower St. Anthony Falls
The only natural waterfall on the Mississippi River offers much to see in every direction. The St. Anthony Falls Visitor Center provides panoramic views of the Upper St. Anthony Lock and Dam, the Stone Arch Bridge, Water Power Park, Father Hennepin Bluff Park, and the surrounding Mill City District. Over on the river's east side are the cobblestone streets of St. Anthony Main, loaded with great places to eat (Aster Café, Jefe: Urban Hacienda, Wilde Café & Spirits), shop, and take a horse-drawn carriage ride.  Eventually, the water flows past the University of Minnesota campus, with the Frank Gehry-designed Weisman Art Museum glistening above.
1 Portland Ave., Minneapolis
Twin Cities River Cruises
This narrated Mississippi cruise from Bohemian Flats Park follows along the southern route of the Grand Rounds Scenic Byway and Heritage Trail system.
2150 W. River Pkwy., Minneapolis
Minnehaha Regional Park
Here, Minnehaha Creek and its gorgeous rushing falls flow into the Mississippi. The walking paths around the falls are peaceful and easy to explore (especially with kids), the views can't be beat, and there's seafood at Sea Salt Eatery on the premises. Not far downstream, more riverside sight-seeing awaits at Hidden Falls Regional Park.
4801 S. Minnehaha Dr., Minneapolis

Canoeing in the Metro
photo by gordon dietzman / Courtesy of Wilderness Inquiry
---
St. Paul
Below the Lake Street-Marshall Avenue Bridge that connects the Twin Cities, the views on both sides of the river, and in a canoe, are truly gorgeous. You can enter the water at Mississippi Gorge Regional Park. Riverside bike trails continue on both sides of the Mississippi, including Big Rivers Regional Trail and Samuel Morgan Regional Trail. This segment also sees the Minnesota River flow into the Mississippi as it heads into downtown St. Paul. Mere steps from the water, you'll find the Padelford Riverboats at the massive Harriet Island Park, plus the bustling eateries along West Seventh.
Red River Kitchen at City House
During summer, this restored grain elevator offers prime riverside patio dining, bike racks, and pet-friendly policy. Red River Kitchen serves tacos, jambalaya, burgers, and more.
258 Mill St., St. Paul
Fort Snelling State Park
This National Historic Landmark—a site of both discovery and conflict—sits at the confluence of the Minnesota and Mississippi Rivers. The visitor center, exhibits, and themed tours go deep into the area's history and that of the Dakota, Ojibwe, immigrants, soldiers, and fur traders. There's a fishing pier on Snelling Lake, and the Fort Snelling State Park office offers fishing kits. Spend an afternoon birdwatching or hiking along a loop around Pike Island with views of both the Mississippi and the Minnesota Rivers.
101 Snelling Lake Rd., St. Paul
Summit Beer Hall & Patio
Minnesota's second-biggest brewer opens its doors Thursdays, Fridays, and Saturdays. Specialty beers and old favorites are always on tap, with food trucks, live entertainment, and bluff-side views when the weather accommodates.
910 Montreal Circle, St. Paul
Cossetta
Here, you'll find a cafeteria-style Italian eatery on the first floor and a sit-down restaurant on the third floor. Grab a slice of pizza on the go and take your time browsing the Pasticceria, full of to-die-for cannolis and gelato. Steps away, entertainers take over the Xcel Energy Center, the St. Paul RiverCentre, and the Ordway Center for the Performing Arts.
211 Seventh St. W., St. Paul
Intercontinental St. Paul Riverfront
This hotel sits atop the bluffs of the Mississippi River, close to the Science Museum of Minnesota (visit the Mississippi River Gallery and the National Park Center's river visitor center here), the Minnesota History Center, and the Children's Museum. Just outside, the Wabasha Street Bridge is prime river viewing.
11 E. Kellogg Blvd., St. Paul
Wabasha Street Caves
Not far from Harriet Island Park, this unique event hall showcases man-made sandstone caves that echo with the site's Prohibition-era past. Today, the space hosts cave tours and live music.
215 Wabasha St. S., St. Paul
Pigs Eye Island Heron Rookery Scientific and Natural Area
Named after St. Paul settler Pierre "Pig's Eye" Parrant, this scenic island near Pigs Eye Lake is accessible only by boat and closed to the public between April 1 and July 15. But it's worth the effort for bird watchers, who can see great blue herons, great egrets, black-crowned night herons, double-crested cormorants, yellow-crowned night herons, and bald eagles nesting or roosting. Downstream, the Pine Bend Bluffs Scientific and Natural Area is another protected bird site.
Bluffs Region
Hastings
The metro area starts to taper off once the river hits Spring Lake, just upstream of Hastings, where Highway 61 becomes the Great River Road on down to Iowa. But the natural beauty doesn't let up, as seen while fishing, walking, and biking in the 215-acre Hastings River Flats Park. East of town, the Mississippi meets the St. Croix river and forms the border between Minnesota and Wisconsin.
Spring Lake Park Reserve Schaar's Bluff Trailhead
Get a scenic view of the Mississippi River Valley, where three miles of hiking trails weave around Spring Lake. Spot bald eagles and turkey vultures flying near the bluffs.
8395 127th St. E., Hastings
The Onion Grille
A highlight of Hastings' historic downtown district, this restaurant boasts a wide-ranging  comfort-food menu and views of the river.
100 Sibley St., Hastings
Downtown Prescott
Right across the border in Prescott, Wisconsin, there's more to eat and drink near the water, including at Muddy Waters Bar & Grill, The Kitchen Table, and the Twisted Oak Coffee House.
Red Wing
Your best bet driving along the river between Hastings and Red Wing is the Great River Road scenic byway on the Wisconsin side. In Minnesota, this stretch includes North Lake, Sturgeon Lake, and Treasure Island Resort & Casino in Welch—plus, obviously, the incredible bluffs. Inside Red Wing city limits, stop at Staghead Gastropub, Red Wing Brewery, or any of the prime eating and drinking options. As a one-stop shop for all things boat-related, try Red Wing Marina. Canoeing here might require a little bit of paddling skills to avoid snags and downed trees.
Red Wing Marine Museum
Formerly a boat and motor factory, this Red Wing Bay attraction is now a tribute to the area's rich river history. In addition to a collection of restored engines, tackle, and other artifacts, the largest river steamboat ever built, the American Queen, makes stops here.
935 Levee Rd., Red Wing
St. James Hotel
This Victorian-style hotel blends luxury and history in 67 rooms, each one with a different layout and decor. The Port restaurant is one of multiple dining options located inside.
406 Main St., Red Wing
Barn Bluff
One of the river's best stops, the 340-foot Barn Bluff, offers incredible views of the Mississippi, Red Wing, and beyond. In summer, park naturalists give guided hikes and teach visitors about the geology and human history of the Great River. The South Trail (easy/moderate) starts at the Main Park Access and leads to the Prairie Trail (moderate) which ends at a scenic overview. The Midland Trail (moderate) runs parallel to the South Trail and is an alternative route along the southern base of Barn Bluff. Parking is located on the east side of the bluff.
Lake Pepin
This lake is the widest naturally occurring stretch of the Mississippi. It's also a 21-mile highlight that begs to be experienced via watercraft—and there are outfitters galore with options for sailing, motoring, and self-propelled exploration. Both Highway 61 on the Minnesota side and Highway 35 in Wisconsin cling to the water, as does the Minnesota community of Lake City, plus those of Maiden Rock, Stockholm, and Pepin across the border.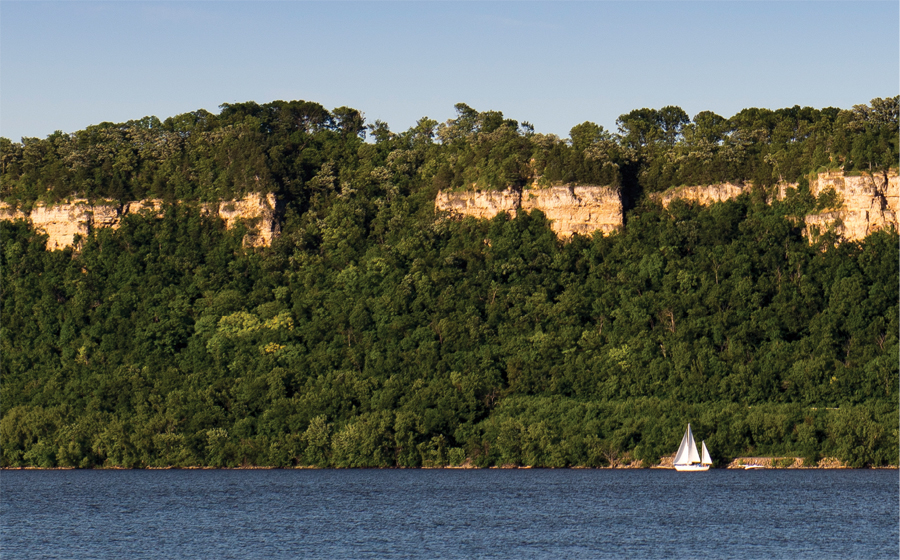 Frontenac State Park
photo by jamey guy
---
Frontenac State Park
Mixing forest and bluffs, this 2,300-acre park jutting into Pepin is a birdwatching paradise, with 260 species calling the area home. Up for a hiking challenge? Try the Bluffside Trail, a 2.7-mile loop that descends 425 feet of staircases. Simpler terrain is on the Sand Point Trail, a 0.7 one-way trail perfect for birdwatching or the Hiking Club Trail with moderate hills and paved paths. There are 58 campsites (19 electric).
29223 County 28 Blvd., Frontenac
Hok-Si-La Municipal Park and Campground
Also on Pepin, Hok-Si-La's 252 acres come with beautiful views of the water and surrounding bluffs, and features a dining hall, a mile-long beach, 31 tent camping sites, and cabins available to rent. Just south of the park, find waterfront dining at Lake House on Pepin.
2500 N. Hwy. 61, Lake City
Lake City Marina
A can't-miss spot notching into Pepin, this place just steps from Lake City's downtown is ideal for admiring boats and the view and getting out on the water.
201 S. Franklin St., Lake City
Stockholm Pie & General Store
On the Wisconsin side, this glorious pie—double lemon, caramel apple crunch, triple chocolate pecan, and more—will prove a highlight of any trip.
N2030 Spring St., Stockholm, WI
Reads Landing Brewing Company
Just 10 miles south of Lake City, Reads Landing Brewing Company has a patio on the Mississippi and is a great stop for a pint and sandwiches, salads and pasta dishes.
70555 202nd Ave., Reads Landing
Winona
Keep rolling southeast on Highway 61, and you'll pass Wabasha (home of the National Eagle Center), Robinson Lake, and John A. Latsch State Park, where you'll find panoramic river views atop Mount Charity. Then the river becomes the northern end of the 261-mile-long Upper Mississippi River National Wildlife and Fish Refuge, featuring 11 canoe trails in Minnesota maintained by the U.S. Fish and Wildlife Service, which continues down to Illinois. Bluff-rich Winona was once a steamboat port, a railway hub, and a key shipping spot for Minnesota wheat. These days, the college town is better known for pleasure cruising and nature outings.
Minnesota Marine Art Museum
This beautiful riverfront space—surrounded by prairie-style gardens—has gathered works by Pablo Picasso, Claude Monet, and Vincent van Gogh, as well as prime examples of marine art, folk art sculptures, and traveling exhibits.
800 Riverview Dr., Winona
The Boat House
The classy waterfront restaurant serves American entrées, complete with nautical decor (little model boats are used as centerpieces) and a view of the enormous sandbar that Zebulon Pike simply labeled "Island 72."
2 Johnson St., Winona
Great River Bluffs State Park
Complete with a 31-site campground, the Great River Bluffs State Park (3,067 acres) is known for various scenic overlooks, all accessible by foot. Hiking trails include the King's Bluff Nature Trail, which leads to a Mississippi overlook atop King's Bluff. The park is also home to over 100 species of birds. Bikers can camp at one of the five camping sites right off Highway 61.
43605 Kipp Dr., Winona
Down to Iowa
For the completists, this is the last stretch of the Mississippi before the river leaves the state. It's mostly rural, but not without attractions amid steep reliefs and stunning rock features near the water. This stretch of the Mississippi is also home to some of the best bass fishing in Minnesota, with largemouth bass making their home in the river's backwater areas and smallmouth bass frequenting the waters around the islands and below wing dams.
Apple Blossom Scenic Byway
Rolling hills of apple orchards line this 17-mile byway spanning Highway 29 through Nodine and La Crescent. The trees are in full blossom during the spring and summer months.
Pettibone Park
Now part of La Crosse, Wisconsin, Pettibone Park on Barron Island (located on the Mississippi) was originally part of Minnesota. After plans to turn the space into a city failed to materialize in the late 1800s, it was developed for public waterfront fun.  Today it's known for its beach and fishing but also has a disc golf course, picnic shelters, and a beach volleyball court. Farther east, the La Crosse metro area has its share of lodging, dining, and entertainment along the water—including the "World's Largest Six-Pack" at La Crosse City Brewery.
700 N. Pettibone Dr., La Crosse
Reno North Recreational Area
Horseback riding (as well as six horse-accessible primitive camping sites) and 17 miles of riding trails make up this rocky, forested area. Much like the way this Mississippi journey began, the final miles are far from civilization.
MN-26, Brownsville
Harmon's High Chaparall Tavern and Restaurant
It's official: If you've made it from Itasca to New Albin, Iowa, you've spanned the entire length of the Mississippi within Minnesota state lines. Celebrate with a feast at this small-town pub and eatery.
247 Ross Ave. SW, New Albin, IA
Facebook Comments