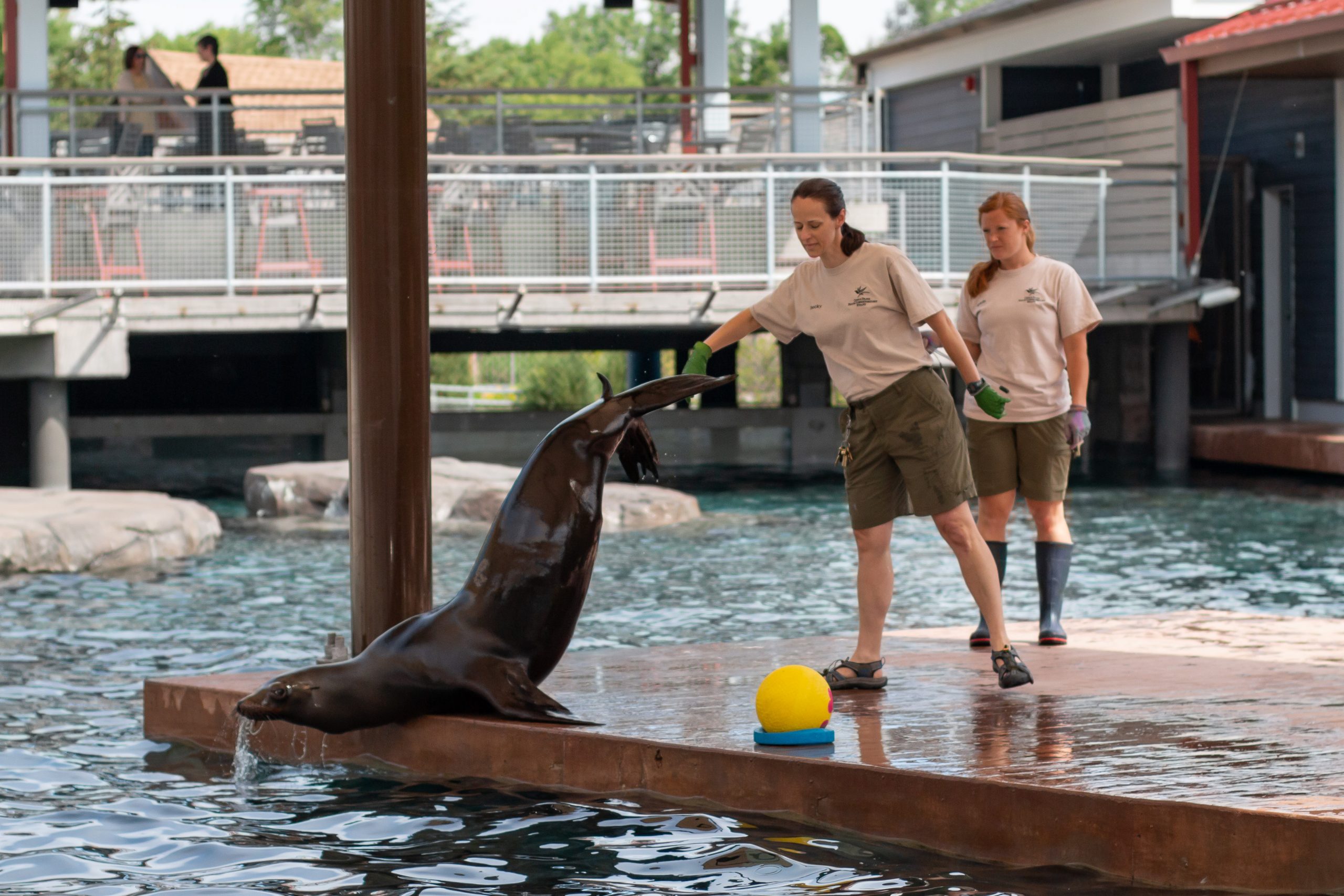 The grand opening of Como Harbor at the Como Park Zoo and Conservatory in St. Paul welcomed the return of seals and sea lions to a $21 million reinvention and improvement of the exhibit.
The ribbon-cutting ceremony took place on June 3, where a collection of civic leaders marked the event with speeches commending the partnership between the Minnesota State Legislature, the City of Saint Paul, and the nonprofit, Como Friends. After a ribbon of beach balls was cut, parents and children enjoyed viewing a live sea lion training session with Subee the sea lion under new shade canopies.
The exhibit overhaul was a long process, taking almost a decade to complete, notably due to old infrastructure. Como Friends president Jackie Sitcha said, "Together we transformed the old seal island, built in the 1930s for monkeys, into this modern and engaging experience that will serve Minnesotans for generations to come."
Although the exhibit was ready to open to the public in 2020, the team at Como decided to wait. According to director of Como Park Zoo and Conservatory, Michelle Furrer, "As we were thinking about opening the exhibit in October or November, and we were closed due to precautions of COVID and just didn't know what the future was going to be, we consciously decided to wait until this spring to open today. I'm so glad that we did so we can celebrate with our community, friends, and supporters."
A theme expressed by civic leaders was Como Park's commitment to excellence and inclusion.
"This is truly a state-wide asset," Minnesota State Senator John Marty said. "It's a thing that doesn't have inequities. […] Every person who comes in here has the same chance, the same opportunity, to learn and to grow. If we want to fight inequities, we've got to do more of what Como Zoo does. That's why I'm so proud to be involved in this."
St. Paul Mayor Melvin Carter expressed the same sentiment. According to Carter, "Not a lot of places have an amazing city-owned zoo where the grounds and habitats are kept like this. And the places that do don't all have a lifetime commitment to making sure that every young person in our community can come and see them for free."
Como Harbor's seal and sea lion habitat features a large salt-water pool, behind-the-scenes facilities, a newly shaded amphitheater, and an underwater-viewing discovery zone. The design of the habitat features rocky outcroppings designed to reflect the Pacific coast, underwater transfers that allow seals and sea lions to swim in and out of spaces with ease, and multiple locations for animal training sessions with zookeepers.
Three species are featured within the exhibit: two gray seals, two harbor seals, and four sea lions, including its ambassador, Sparky. The "Sparky Show," which began in 1956, has been a fixture of the zoo for over 60 years. According to Como Park Zoo and Conservatory, every year, nearly 500,000 students from across the region visit.
Also included in the improvement are visitor amenities comprising of modern bathrooms and Pier 56, an outdoor café located near Como Harbor. Pier 56 was funded completely by Como's food partner, Lancer Hospitality.
Como Park Zoo and Conservatory is open 10 a.m.-6 p.m. daily. Reservations are required, admission is free, and face masks are encouraged.
Facebook Comments