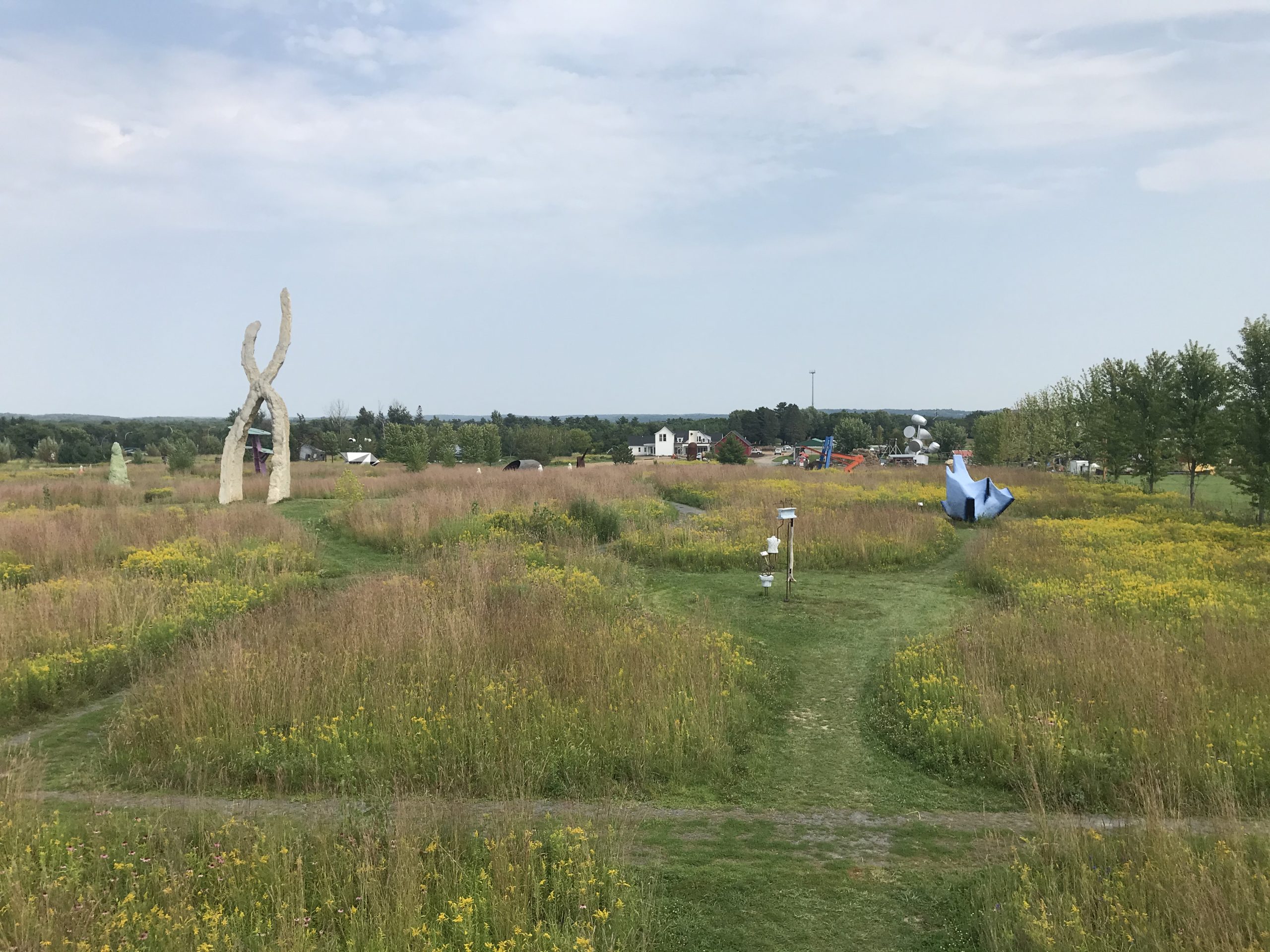 Searching for a socially distant day trip? Only an hour drive northeast from the Twin Cities, Franconia Sculpture Park presents the perfect opportunity for artful (and safe) wandering. The park's 43 acres are home to 120 sculptures, rotated yearly and created by a substantial artists-in-residence program. And better yet, admission is free.
Although Franconia's parking lot was packed when I visited recently, it was very easy to keep more than 6 feet apart from other park goers. Like many, Franconia has issued a response to the COVID-19 pandemic: "Franconia Sculpture Park is committed to remaining open as an oasis for our visitors during this difficult time as long as we feel it is safe to do so." The staff is asking people to respect socially distancing, to not touch or climb sculptures, and to wear masks at all public programs and events, such as its free walking tours on Sundays at 2 p.m. (Very few people were wearing masks as they meandered on their own, but there was enough space between everyone for it to feel OK.)
For those who haven't visited before, the park is like a larger-than-life outdoor museum experience. Many of the sculptures are large in size, and some stretch many feet into the air, like Mike Rathbun's Parade, a giant open circle made of wood steadied by a steel ladder, or Peter Lundberg's large chromosome-like structure, "Skallagrim." Winding paths tucked between yellow, pink, and purple prairie flowers lead to unique artworks like Melanie VanHouten's gravity defying barn sculpture, Reclamation, or the colorful and bulbous sculpture Steadying Pause by Erin Paradis.
A favorite sculpture and optimal selfie spot is Clearing by Jennifer Newsom and Tom Carruthers, a collection of large mirrors that makes the surrounding prairie seem expansive. (If you find yourself staring into one mirror with a mirror behind you, it gives the appearance that there are infinite you's, getting smaller and smaller.)
Something even long-time visitors might be surprised by is the dug-up earth and bulldozer near the park's entrance: This September, Franconia is debuting Franconia Commons, a new building and indoor gallery. Its inaugural exhibit is New Domestics, a show dedicated to themes of domesticity in contemporary art, which will be on display from September 26—the Commons' grand opening day—through December 31. Curated by Franconia's executive director and chief curator Ginger Shulick Porcella, it features 11 artists from around the world.
No matter when you go, you can make your day trip a little longer by visiting Taylors Falls, a small town on the edge of Minnesota's border with Wisconsin. The town is only a 5-minute drive from Franconia Sculpture Park and is both charming and lush with nature. Boat trips down the scenic St. Croix River or hiking along the bluffs of Interstate State Park, with views of the lush river valley below, are popular summer activities for visitors of Taylors Falls. As I watched from the bluffs as the large paddlewheel boat Taylors Falls Princess, glided down the St. Croix, even the little people atop it were masked and six feet apart.
Read More: Franconia Sculpture Park Gets an Indoor Reimagining
Facebook Comments