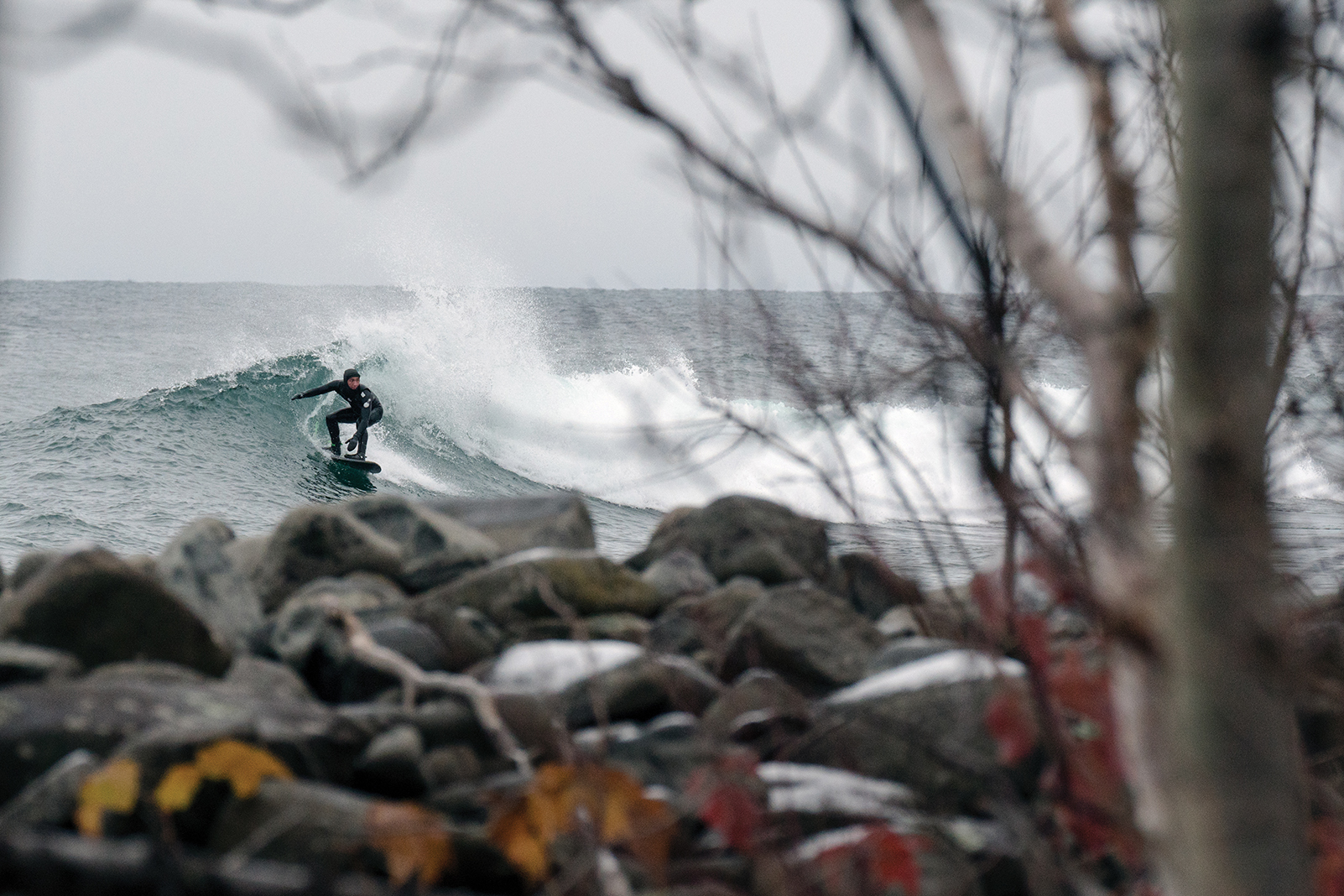 One of the biggest hits of the 1960s, the Trashmen's "Surfin' Bird," originated in landlocked Minneapolis, where "hanging 10" seems laughably implausible. Up on Lake Superior, Minnesota's surf scene is no joke. That is, unless catching a curl on subzero waters after brushing ice from your frozen eyelashes is funny to you. Papa-oom-mow-mow, cowboy.
"It kind of feels like a fairytale," says "Big Wave" Dave Rostvold, who shapes boards by hand at his Duluth-based workshop Castle Glass Surfboards. "Surfing is a dream for a lot of people around the world. To be able to do it here in the Midwest, that's a dream come true."
After happening upon surfers working their magic on the frigid Superior waves, Joe Herron asked permission to photograph them. For both Herron and Rostvold, it took plenty of patience and study to gain any kind of confidence. Surfing is a deeply esoteric sport whose proponents are justifiably protective of their knowledge, especially in the North Shore's frigid waters. Good waves are a finite resource, and mastering simple maneuvers, like "popping up" into a standing position, can be deeply humbling.
"It's funny—I can both see that I've improved immensely since I started, but I'm also still really bad," Herron says, chuckling. "It's very tough, it's physically demanding, it can be scary, but certain people just enjoy those kinds of activities."
Bigger winds make bigger waves, which unfortunately means Superior is at its most surfable between November and February—when water temperatures barely tickle the high 30s. You need boots, gloves, and a high-quality, 6mm-thick hooded wetsuit. Herron says surfers warm up in their cars between "sets" of waves when temperatures become unbearable. He recalls photographing an experienced friend who somehow surfed for four straight hours in -17° windchill.
It's easier to stay warm than you might think, though. All those waves mean you're constantly in motion, to fight the current or stay in position. "What happens then is that your body heat gets elevated," Herron explains. "So despite the fact that it's very cold, if you're always moving, you're staying somewhat warm, provided you have a thick enough wetsuit."
Rostvold points to the addictive nature of surfing's elusive rush as a motivator against the brutal cold. "As soon as you're done surfing a wave, you forget about everything else, and you kinda just want to catch another one," he says. "You forget about the uncomfortable experience of waiting out there, you forget how bad your toes hurt…catching that wave can do that for you.
Even if you're the type of  who can handle those kinds of conditions, Herron and Rostvold both strongly recommend taking it slow. Practice with a long, soft top board at a beginner-friendly beach like Park Point near Duluth.
"I think Park Point is such a great place to learn, because there's nothin' easy about it." Rostvold explains, "It's gonna test your stamina and your abilities. You're gonna learn how to work with the timing of the waves, and you're gonna be humbled, while on a sand bottom which is important for safety."
While videos and photos of riders like Dave and Joe shredding fast waves over rocky reefs are exhilarating, without proper training and knowledge of etiquette, you're likely to endanger other riders, not to mention yourself.
"I think it's important to be conscious of yourself and your impact on others, especially if they've been surfing these waves longer than you and you're a newcomer," Herron cautions. "You shouldn't be putting yourself in a position that could hurt someone else. I think selflessness should be the first goal, then it's 'Can I catch a wave?'"
See Joe Herron's photos at joeherron.net and learn more about Castle Glass Surfboards at castleglasssurfboards.bigcartel.com