A Charmant Suite
photo courtesy the charmant hotel
---
Here's how you lead a charmed life: Wake up nestled in crisp white bedsheets covering a plush, Euro-top mattress, then prop yourself up against a tufted-leather headboard to watch snowflakes swirling outside your window. At the Charmant Hotel, its name—the French word for charming—befits a century-old brick building with guest rooms that blend historic touches and contemporary amenities, pairing vintage black-and-white photos in mismatched frames with deluxe rainfall showerheads. None of the 67 guest rooms is the same, but their general aesthetic might be described as how you wish B&Bs were decorated. Turns out you can nod to the past while forsaking the doilies. 
Unlike many boutique hotels, where you can hardly find a spot to set your suitcase and are always bumping into the bathroom door, even the Charmant's smallest rooms feel spacious, with white marble bathrooms cavernous enough to hold a two-sink vanity. Size is the first clue that when you do finally crawl out of bed and walk to the window, you'll take in a view not of big-city skyscrapers, but the Mississippi River.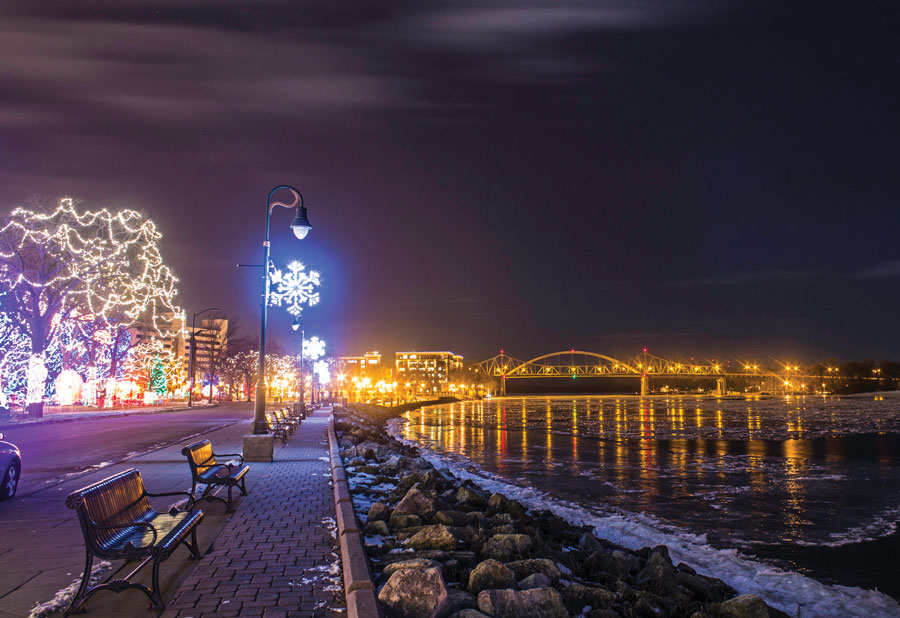 Riverside Park
photo by Kyle Herlitzke / courtesy la crosse area cvb
---
Before the Charmant opened, in late 2015, La Crosse, Wisconsin, didn't much come to mind as a travel destination. The three-college town's reputation has been more as a drinking spot, home to the now-defunct Heileman's brewery, the one with the Old Style crest (that my dad wore on a T-shirt back in the '80s) once emblazoned on the facility's giant beer-storage tanks—affectionately known as "The World's Largest Six-Pack."
While the town has hosted a massive Oktoberfest celebration each fall for more than half a century, and there's a stretch of downtown that looks like it's aiming to set a Guinness record for most bars on one street, La Crosse's beer-soaked image has somewhat receded. Today, the industry is limited to the production-grade City Brewery, the new Turtle Stack downtown, and the scruffy Pearl Street in the former LaCrosse Footwear factory. But that's fine with me. As a twentysomething, trying every La Crosse beer might have held more appeal, back when I was the kind of traveler who thought making the most of a vacation meant seeing every attraction possible. The older I get, the more I prefer staying in one place and embedding a bit, especially during the winter. In the right place, 24 hours isn't too long to spend even within one building. 
Pearl Street Brewery
photo by Kyle Herlitzke / courtesy la crosse area cvb
---
The Charmant was originally a candy factory—Charmant its premium line of chocolates—and that legacy lives on in the welcoming truffles offered gratis at check-in (the glass reception counter doubles as a retail chocolate case) and elaborately decorated vintage candy boxes on display. Unfortunately, little of the factory's original equipment was retained after it closed, a casualty of the Depression, but the replica pulleys that hang chandeliers from the ceiling, along with the original wood flooring, columns, and beams, evoke its unusual history. That unique character dovetails with modern hospitality trends (the owners worked with the same group that helped launch Minneapolis' new Hewing Hotel). Just as chain restaurants have recently declined in popularity, upstaged by independent, chef-driven eateries, hotel chains are feeling the impact of consumer desire for authentic local flavor.

Charmant restaurant's kitchen
photo by Guillaume Gaudet / Courtesy The Charmant Hotel
---
Another admirable quirk: the Charmant forgoes in-room coffee makers for a complimentary cup of Wisconsin's best local roast, Kickapoo Coffee, redeemable at the cute coffee bar off the lobby (which transitions into a wine bar in the evening). The hotel's lobby spills into an open bar, lounge, and restaurant, which serves a loosely French-inspired menu of traditional entrées and a few Wisconsin staples (cheese curds with house ranch dressing; a sampler board of the restaurant's summer sausage). I didn't expect to see shakshuka, a North African dish of poached eggs in a lively tomato sauce, but it makes for a fabulous hot (and spicy) breakfast, served practically simmering in its little cast-iron pan.
Lovechild's bar
photo courtesy of Lovechild
---
When it's time to leave the Charmant's confines, Riverside Park is right across the street, with panoramic river views. Downtown, there's an antique mall, a children's museum, multiple arts venues, and the famed strip of gaudy college bars. At mealtime, the Mint is a homey farm-to-table spot offering grass-fed burgers and Wisco Pop that's made with organic strawberries; or, for Italian fare with a Twin Cities connection (the owners are D'Amico veterans), Lovechild excels with pasta. Both eateries are relative newcomers to La Crosse; the town's stalwart culinary institution is the nearly centurion, family-run Sweet Shop, known for its hand-dipped candies and homemade ice cream, with regulars who know to order their malts "heavy," a.k.a. with less milk. When you get back to the Charmant, stop by the reception desk/chocolate counter, open 24 hours a day in case you need one more fix. Sweet dreams, indeed.
Facebook Comments