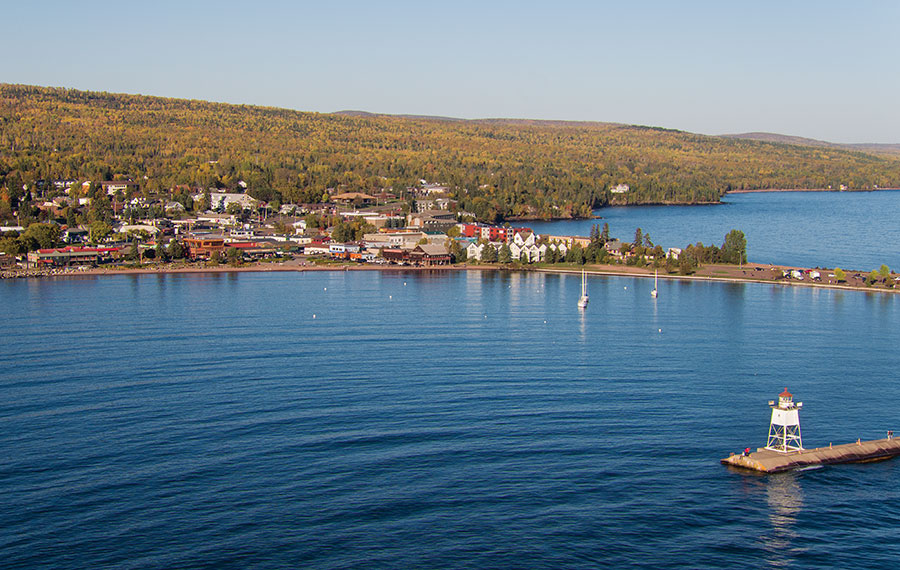 Grand Marais
photos by ackerman+Gruber
---
It's the state's most beloved vacation destination, so of course everybody has an opinion. After spending years crisscrossing the state as Minnesota Monthly's food and travel editor, I've compiled my own list of the North Shore's greatest hits.
Duluth
Food & Drink
Bent Paddle Brewing
Canoe paddles must be the mash-stirring tool of choice for many a northern brewer—or at least it's how Lincoln Park's Bent Paddle Brewing Co. got its name. Their pilsner, golden IPA, and extra-special bitter have become instant classics; no wonder the Bent Paddle tap room is bustling six days a week. bentpaddlebrewing.com
Duluth's Best Bread
This tiny shop sure doesn't look like much, but it is the best place in town for bread (try the cranberry/wild rice) and pastries (especially the buttery croissant). And where else are you going to find homemade Pop Tarts? duluthsbestbread.com
Duluth Coffee
Sometimes I like to get a nice, early start on the trip up north and leave Minneapolis at sunup. An hour or so later, there's the how-could-I-not? pit stop for a caramel roll at Tobies (or its lower-profile competitor, Cassidy's, just across the freeway). The rolls at both places are worth the drive, but, sadly, the coffee tastes like it came out of a church-basement percolator. So resist the urge to indulge—put the roll in the trunk if you have to—until you've arrived at Duluth's only third-wave coffee shop. (First wave is Folgers, second wave is Starbucks, and third wave is the pinnacle of coffee-geekdom.) The modern, comfortable Duluth Coffee Co. is a haven of single-origin beans and latte art; the owner, who has judged the U.S. Barista Championships, roasts the beans on site. Here, at last, is a world-class cup of coffee, an equal partner to your sticky bun. duluthcoffeecompany.com
Duluth Grill
An erstwhile Embers isn't much to look at, and neither is its surrounds—a bleak industrial area just off the interstate. But you'll notice something special the moment you pull into the Subaru-clogged parking lot, alongside an abundance of raised garden beds. The always-packed Grill offers crowd-pleasing fare made with local and organic ingredients, served on cheery Fiestaware. Sure, fish tacos are supposed to be a California thing, but the Grill's crispy-breaded Lake Superior whitefish ones are among the country's best (and superbly garnished with avocado, pico de gallo, cilantro-lime tartar, pickled onions and jalapeños). Get a side of the famous marinated kale with curry sauce. If you want to know its provenance, just look out the window. duluthgrill.com
Fitger's
The Fitger's-branded smokestack and star-emblazoned water tower have long beckoned travelers to the grand historic complex. Today, the century-old brick brewery is making beer again, as well as hosting overnight guests, diners, and shoppers. (If you were planning to backpack on the North Shore and realized you only brought flip-flops—true story—you can pick up a pair of hiking boots at Trail Fitters.) Fitger's Brewhouse was one of the state's first modern craft brewers when it opened in 1995, and now it produces more than 100 varieties, including hard-to-find sours and dark lagers, to pair with pub fare. fitgers.com
Hoops Brewing
Founded by former longtime Fitger's head brewer Dave Hoops, the eponymous brewery and beer hall opened this summer in one of Canal Park's brick-and-timber former warehouses. There's no restaurant (just order-in) and not even names for the beers (just numbers), for those who prefer to keep the focus on the wide-ranging brews coming out of the taps. hoopsbrewing.com
Lake Superior Brewing
Fitger's Brewhouse was preceded the year before by Lake Superior Brewing, which works out of a strip-mall warehouse space with a tiny, zero-ambiance "tap room" set up on Fridays and Saturdays (better to just grab a growler while you wait for your table at Duluth Grill—their Kayak Kolsch is a Shore classic, as crisp as Superior's waters). There's a charm to the place's utterly utilitarian aesthetic; they've been stirring their mash with canoe propellants since long before Bent Paddle Brewing was born. lakesuperiorbrewing.com

Northern Waters Smokehaus
Northern Waters
I've been a fan of Eric Goerdt's Northern Waters Smokehaus for more than a decade, since I wrote about the North Shore's artisan food movement and watched him smoke local lake trout and whitefish for his Canal Park sandwich shop. Since then, I always swing by for a bison pastrami, corned beef, or house-smoked ham and Swiss. Last year, Northern Waters expanded its reach with a full-service restaurant near the University of Minnesota Duluth. Inside an unremarkable strip mall, the chic dining room has a spare, Scandinavian-modern aesthetic. (How many times has that cute fish-print wallcovering been Instagrammed?) The menu has a fish focus—gravlax, poke, chowder, etc.—as well as housemade charcuterie and smoked duck. Like the sandwich shop, Northern Waters restaurant excels in making the seemingly simple sublime: The housemade bratwurst is the best I've ever had. northernwaterssmokehaus.com
Omc Smokehouse
This new venture from the folks behind Duluth Grill is a major driver in the revitalization of the city's long-neglected Lincoln Park neighborhood. And it's some of the best barbecue in the state. They serve a range of meats—from animals who "oink," "moo," and "cluck"—but distinguish themselves most with their ultra-tender, smoky, grass-feed beef brisket and Alabama white sauce. omcsmokehouse.com
Vikre Distillery
If your last name sounded like it should be the moniker of the Norse god of spirits, you, too, would have had no choice but to heed the call to distill. In 2012, as Minnesota's liquor laws started to loosen, Bostonians Joel and Emily Vikre moved back to Emily's hometown to start Vikre Distillery in a historic Canal Park warehouse, lured by the unmatched quality of Lake Superior's water. They started out producing vodka, aquavit, and gin in three variations (infused with juniper, spruce, and cedar, which, yes, tastes subtly of sauna, in a good way). Now they're cracking open casks of their aging brown spirits. I always like to pick up a bottle for cocktail-making at my final destination and, while I'm there, sample something from the bar for inspiration. Between the shiny copper stills, vintage glassware, and the record player for DIY DJ-ing in the lofted lounge, Vikre Distillery feels like a Pinterest page incarnate. vikredistillery.com
Accommodations
Pier B
There are plenty of chain accommodations in downtown Duluth and Canal Park, yet none has the waterfront access of the upscale hotel at Pier B—it's on a pier next to Bayfront Park, so guests can arrive by boat. The resort, which opened last summer with a restaurant and event spaces, has multiple outdoor-living areas for enjoying the city's best asset.
pierbresort.com
Things To Do
Glensheen
Chester and Clara Congdon's gilded-age estate has become so strongly associated with the brutal murders of their last living child and her night nurse, 40 years ago this year, that we forget the home's historic importance as a symbol of the community's mining fortunes. Because the home became a crime scene, everything was left largely intact when the estate passed on to the University of Minnesota Duluth. General tours showcase the lavish living spaces, with ornate woodwork, fixtures, and furnishings (including a gold-leaf ceiling). Specialized options take visitors up to the attic, through the servant's quarters, and peeking into the cabinets. glensheen.org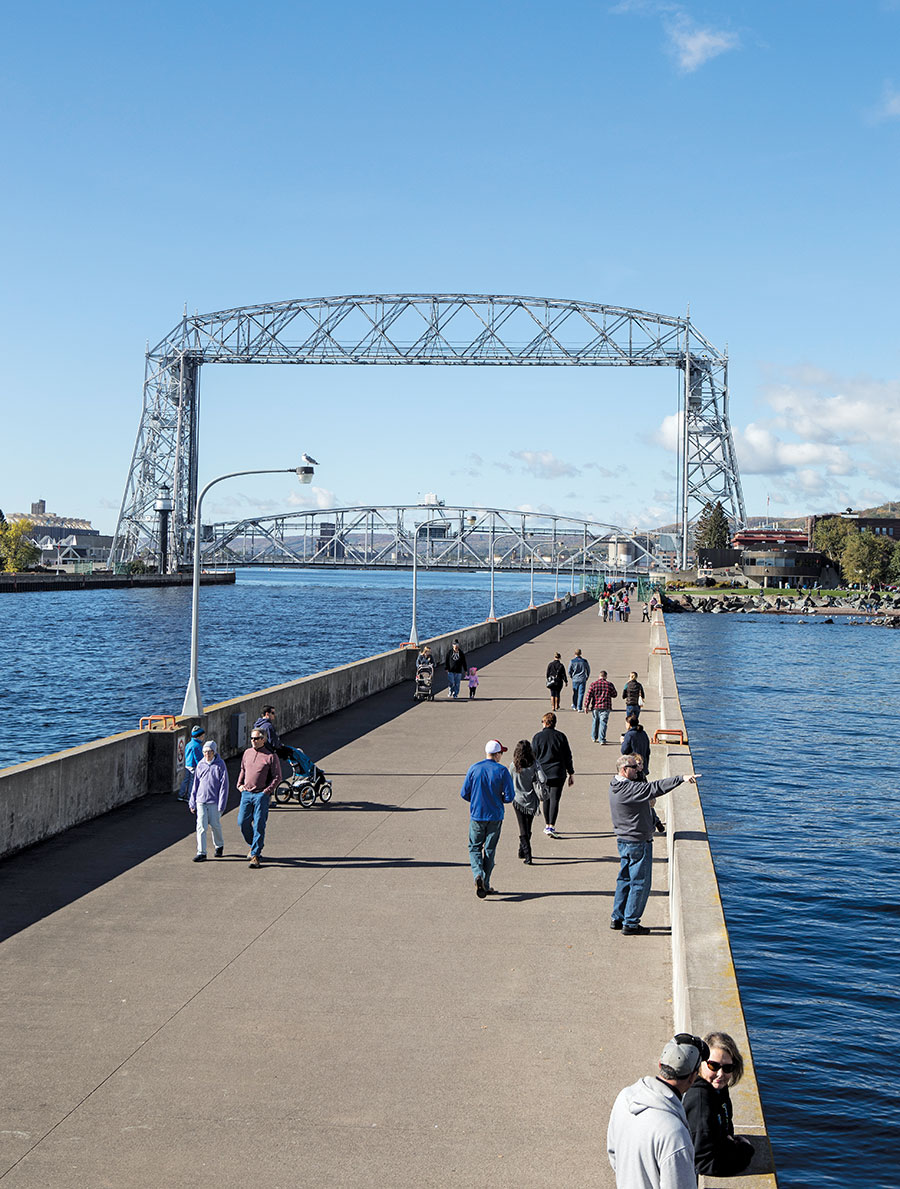 Aerial Lift Bridge
William A. Irvin
Duluth is, at its heart, a shipping town. And even though Minnesota's mining industry has greatly diminished, there are still plenty of grand vessels passing through, plus a website, duluthshippingnews.com, that documents their routes. Sure, you can ship watch under the Aerial Lift Bridge, but for a closer look, board the William A. Irvin in Canal Park. The 1937 bulk freighter spent 40 years hauling raw material to U.S. Steel's mills, and the tour lets you imagine those trips from the perspective of a crew member in the massive engine room or cook's cozy galley, or as a company guest lounging in an oak-paneled suite. decc.org/william-a-irvin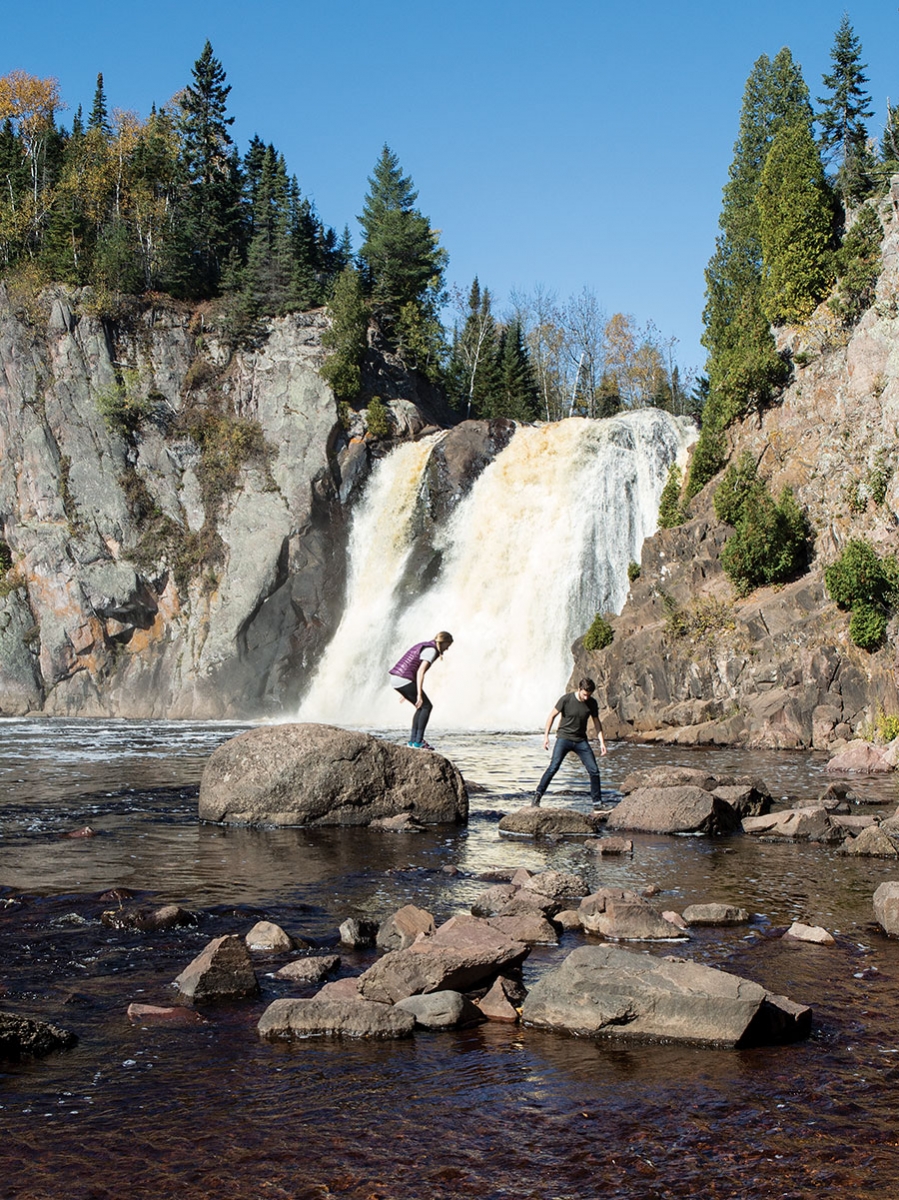 High Falls at Tettegouche
Knife River to Lutsen
Food & Drink
Castle Danger Brewing
Even though this small brewing operation moved from tiny, unincorporated Castle Danger to nearby Two Harbors, they kept the memorable name. The new taproom features a large patio, live music, and the highly sessionable cream ale on tap. castledangerbrewery.com
Great! Lakes Candy Kitchen
Though this cute roadside building in tiny Knife River is painted red and white like a candy cane, it specializes in chocolate. As in handmade chocolate-covered caramels, chocolate-covered toffee, chocolate-covered peanut butter, chocolate-covered sponge candy, and chocolate-covered chocolate creams cooked by third-generation candy makers in big copper kettles. Pick one of everything, pay by the pound. greatlakescandy.com
Lemon Wolf Cafe
The cozy, colorful café has more to offer than its nondescript beige exterior might suggest: a fish-focused menu, full liquor license (they serve Vikre aquavit with muddled blueberries, lime, and lemon soda), and excellent coconut cream pie. lemonwolfcafe.com
Lockport Marketplace
This tiny gas station/general store/café has been around since 1928 and serves all-you-can-eat sourdough pancakes supposedly made from a starter that's as old as the business. (Regardless, they taste delicious; a friend once managed seven.) Both the flapjacks and the pasties—the Finns' answer to Italian calzones—make terrific fuel for hikers or skiers. Become a regular and you can drink coffee from a mug with your name on it hanging on the wall. facebook.com/lockportlutsenmn

New Scenic Café
New Scenic Café
The New Scenic Café is the most gourmet place to dine on the North Shore, but no matter the seared scallops with sauce vierge, edible flowers, and pickled grapes, things never feel pretentious due to the comfortable, knotty-pine surrounds. The café's casual fare is excellent, too. That includes sandwiches of prosciutto-wrapped lake herring (called cisco) hauled fresh from Superior to the plate. Further from home, the sashimi tuna tacos—topped with Thai peanut coleslaw and fresh avocado and tucked into a fried wonton shell—are chef/owner Scott Graden's way of introducing timid palates to raw fish. But even conservative eaters can enjoy an umami-rich, juicy burger that's one of the state's top 10. sceniccafe.com
Russ Kendall's Smoke House
Four generations of Kendalls have been smoking Lake Superior's bounty in Knife River: lake trout, herring, whitefish, cisco, and more. After a devastating fire a few years ago, the family rebuilt in order to continue its tradition of selling this humble, newspaper-wrapped North Shore delicacy—best paired with cold beer and a sleeve of Saltines. facebook.com/RussKendalls
Rustic Inn Cafe
Rustic Inn Cafe
The log-cabin look of this 1920s-built resort does give the place a rather rustic charm. The homey fare includes corned-beef hash to pair with a cup of liquor-spiked "campers coffee," wild-rice meatloaf (which the menu notes was awarded "Best of the Best" by Minnesota Monthly, but that was before my time), walleye, and malts in those frosty tins. Save room for Rustic's true glory: the pies. There's always a huge selection listed on the wall-size chalkboard. My two favorites are the cinnamon-kissed five-layer chocolate and the raspberry cream with a meringue crust. Once, on the way to the Superior Hiking Trail, I picked up a couple of frozen slices, strapped 'em to the top of my pack, and ate decadently around the campfire that night. rusticinn.cafe
Accommodations
Bailey's On The Lake
Perched on a cliff overlooking Lake Superior, this cabin makes for a cozy getaway for families or groups of close friends. Get an even closer look at the crashing waves from the great room's walkout deck. cascadevacationrentals.com
Bluefin Bay
As one of the North Shore's first condo-style resorts when it opened in 1984, Bluefin paired prime lake views with creature comforts (many of the rooms have Jacuzzis and fireplaces). Plus, there are two better-than-average restaurants at the Bluefin complex, the Bluefin Grille and the more casual Coho Café. bluefinbay.com
Cedar Cliff
The big stone fireplace in the great room of this 1920s Craftsman-style retreat on Lake Superior makes for a perfect group gathering spot. So does the antique dining table for 12. And when you want to leave the house, a winding wooden staircase leads right down to the waterfront. vrbo.com
Cottage Caim
The word "caim" means sanctuary in Gaelic, and it's an apt name for this snug, shore-hugging cottage. Caim sits so close to the water, it almost feels like you're inside a ship—but with far more elbow room for cooking and sleeping. And how many ships have radiant-heat floors? airbnb.com

Larsmont's cottages
Larsmont
One of the North Shore's newer resort complexes, Larsmont's "cottages" are more like luxury townhouses with a modern Scandinavian profile. There's massage, an indoor pool, and an outdoor hot tub, as well as a few extra perks that distinguish the place from its shore-mates: free s'more kits (request at the front desk), Finnish sauna (with a phone for having the bar deliver cocktails), weekend vintage train rides to downtown Two Harbors, and guided kayak tours. larsmontcottages.com
Lutsen Resort
Founded in 1885, Lutsen Resort claims to be Minnesota's oldest North Shore resort, with a picturesque covered footbridge crossing the adjacent Poplar River to reinforce its historic charm. Its grand lodge has a large stone hearth in the lobby and rooms lined in knotty pine (but appointed with modern furnishings and linens). But there are also freestanding log cabins and condo-style accommodations—plus a pool, restaurant, and pub. And if you've got $10 million to spare, this summer Lusten Resort went on the market. lutsenresort.com
Sawtooth Cabin
This modern, architect-designed cabin features two glass cubes (a main cabin and a smaller studio), perched high above Lake Superior's rocky shoreline. The wi-fi-free enclave has few distractions from the stunning views through the cabin's floor-to-ceiling windows. plansmatter.com
Surfside
The newest sister resort to North Shore mainstay Bluefin Bay, Surfside follows the same formula: modern townhouse-style digs (vaulted ceilings, fireplaces and whirlpools, and claims of "more balconies and patios than any other resort on Minnesota's North Shore"), dining, and spa services. The name is truly apt: You'll be lulled to sleep by the sound of waves lapping the shore. bluefinbay.com/surfside
Things To Do
Gitchi-Gami State Trail
This paved recreational route is on its way to becoming a nearly 90-mile path between Two Harbors and Grand Marais. The two completed sections, from Split Rock to Silver Bay and Schroeder to Lutsen, protect the non-motorized from highway traffic so you can better take in the waterfront views. ggta.org
Lutsen Mountains
Minnesota's oldest ski resort is such a winter icon that it's often overlooked in the off season. The gondola rises 1,000 feet over Lake Superior and offers grand views of the coastline and adjacent Sawtooth Mountains. At the top, there's a chalet for lunch and snacks before you ride (or hike, via the Superior Hiking Trail) back down. lutsen.com
North Shore Commercial Fishing Museum
Scandinavian immigrants, many from coastal villages in Norway, established the North Shore's commercial fishing industry in the late 1800s. This tiny but worthwhile museum offers a window into the exhausting, hazardous, not to mention bone-chilling work—including audio stories directly from the fishermen themselves. commercialfishingmuseum.org
Oberg Mountain Loop
This short hike just outside Lutsen gains more than 150 vertical feet, requiring enough effort that it feels like good exercise. The reward is a panoramic vista of Lake Superior.
Superior Hiking Trail
If you don't plan to hike all of the Superior Hiking Trail's 300 miles from Duluth to the Canadian border, at least hit the highlights. My favorite section is the Split Rock River Loop (one of the trail's rare loops), a red-rock gorge where the water cascades and pools—perfect for a swim break. shta.org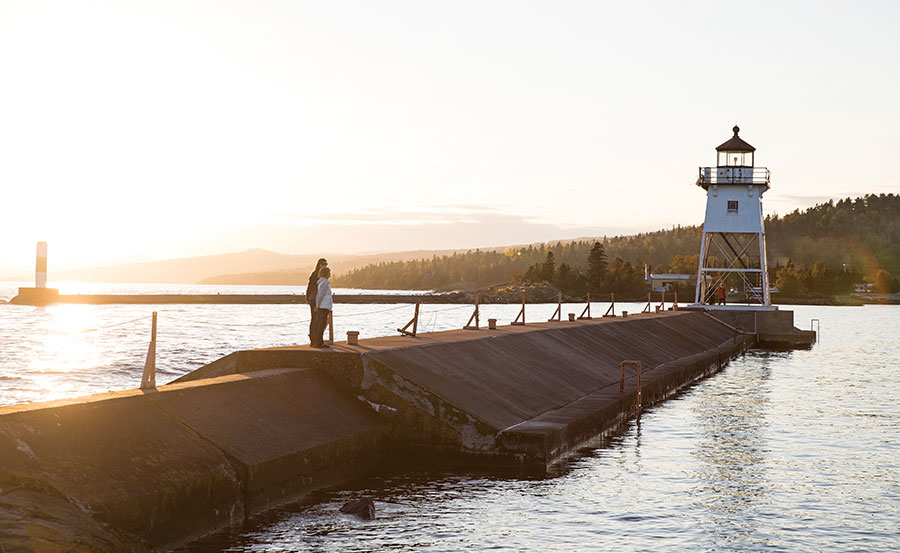 Grand Marais lighthouse and harbor
Grand Marais to Grand Portage
Food & Drink
Angry Trout
This eco-friendly café serves cisco (lake herring), whitefish, and lake trout straight from the adjacent lake along with unparalleled views from its wraparound deck. angrytroutcafe.com
Dockside Fish Market
Not only do Dockside owners Harley and Shele Toftey run the fish market and deli, they catch their own wares (the two met when they did commercial fishing in Alaska). They serve Lake Superior fish fresh, smoked, and fried as well as the less-common delicacy of herring roe, a.k.a. locavore caviar. Most of the tiny, bright-orange, briny-sweet eggs are exported to Scandinavia as a delicious (and far more affordable) alternative to sturgeon. docksidefishmarket.com
Sydney's
Dairy Queen and Sven and Ole's may have more name recognition, but Sydney's serves superior frozen custard (vanilla and Dutch chocolate) and wood-fired pizzas. Plus, they have excellent lake views from their roofdeck.
World's Best Donuts
This tiny red hut is run by fifth-generation donut makers, with grandchildren as young as 4 having been known to help wipe the tables. The seasonal shop built its name on classic cake donuts, though they make everything from bismarks to long johns to the misshapen-but-tasty blob of fried yeasted dough called a "skizzle." It's another one of those heartwarming places where regulars keep their mugs on the wall. worldsbestdonutsmn.com
Accommodations

The view from East Bay Suites
East Bay Suites
Modern accommodations, including larger "suite" options, in a prime waterfront location with a view of Artist's Point peninsula. And you're across the street from World's Best Donuts, so you can be the first to the "whiz-up window" each morning and skip the line inside. eastbaysuites.com
Naniboujou Lodge
Naniboujou, named after the Native American Cree god of the outdoors, started out as a private club in the late 1920s, counting Babe Ruth and Jack Dempsey among its members. After the stock market crash and depression sent it into foreclosure, the club became a public hotel. All the better for more visitors to enjoy the lodge's most striking feature, hidden inside its gray cedar shake exterior: a vast dining room with psychedelic, technicolor, Cree-inspired designs painted on its walls and 20-foot domed ceiling. (The gift shop sells a photograph of the room as a 1,000-piece puzzle.) The TV-, phone-, and wi-fi–free rooms pale in comparison, but the cooking is among the best in the area. Get a table beside what is supposedly the state's largest stone fireplace and save room for the Danish-cream dessert with blackberry sauce, served at breakfast, lunch, and dinner. naniboujou.com
Things To Do
Grand Portage National Monument
Leaving Grand Marais, road signs put the Canadian border within striking distance (it's about 40 miles). The last stop stateside is Grand Portage, home to one of two ferry terminuses for Lake Superior's Isle Royale National Park. It's also right beside Grand Portage National Monument, a park reflecting the life of the Ojibwa who originally inhabited the area and the voyageurs who ran a fur-trading post here. The roughly nine-mile trail between the Pigeon River and Lake Superior was an important link between the Great Lakes and western water routes for both groups, and a reconstructed fort depicts life at the post in the 1800s. nps.gov/grpo/index.htm
North House Folk School
A few things I never got to learn in school: how to build my own yurt, forge steel, or weave a birch-bark backpack. Fortunately, the North House Folk School fills those gaps, teaching all sorts of traditional northern crafts, from rosemaling to soap-making to sausage-smoking, through classes that can last a few hours or more than a week. So far, I've only taken raku-fired pottery, but I'm eyeing build your own casket. But you don't have to make anything but peace with the lake if you sign up for one of NHFS's two-hour Lake Superior sailing trips on their Viking-evoking 50-foot schooner. northhouse.org
---
North Shore State Parks
The eight Minnesota State Parks along the North Shore of Lake Superior are among our finest. All share beautiful riverside hiking and lakefront views but possess their own unique characteristics, too—both natural and man-made.
Cascade River
As the name suggests, this park is known for its scenic waterfalls. The titular falls are right on Highway 61, so there's really no excuse not to at least pull over for a quick look.
George Crosby Manitou
Mining magnate George Crosby donated the land for this park, the first in the system designed primarily for backpackers, and it has remained one of the wildest parks in the state. Remote, secluded campsites are scattered along the Manitou River and next to Benson Lake.
Gooseberry Falls
Outside of Fort Snelling, Gooseberry is the most-visited Minnesota State Park and for good reason: its spectacular multi-tiered namesake. The roaring cascades make such a grand entrance to the North Shore that they're often mobbed with visitors during the summer; better to truly enjoy them during the off season.
Grand Portage
The Pigeon River's High Falls are the highest in the state, plummeting some 120 feet. (The nine-mile Grand Portage was created by Native American paddlers to bypass the treacherous drop.) The day-use-only park is bordered by Canada and lies within the Grand Portage Indian Reservation.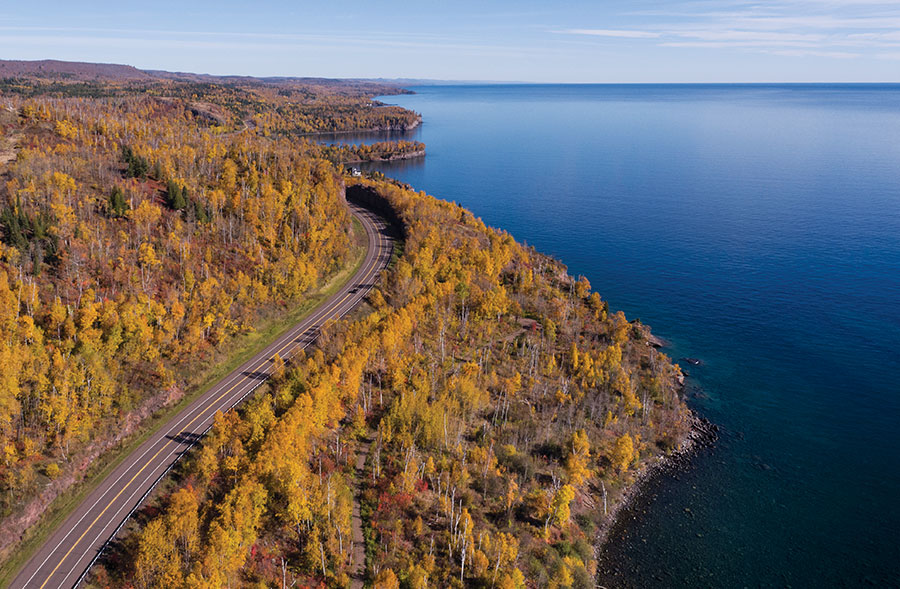 North Shore Scenic Drive
Judge C.R. Magney
Named after a former Duluth mayor and Minnesota Supreme Court justice instrumental in establishing the North Shore's state parks and waysides, Judge Magney Park is best most known as home to the Brule River, with its paddler-challenging whitewater and mysterious Devil's Kettle pothole. Half the river's flow cascades into the "kettle" and then seems to disappear—according to local lore, a junked car pushed into its abyss was never seen again. Recently, scientists discovered it simply rejoins the river at the base of the falls, but powerful currents in the plunge pool keep anything tossed into the kettle submerged until it's well downstream.
Split Rock Lighthouse
After you snap your mandatory photo of one of the country's most-visited lighthouses, Split Rock's iconic 1909 cliff-hugger, take a tour to see how the keepers lived and worked. (Today, the 1,000-watt torch is lit only once a year, each November 10, to commemorate the tragic sinking of the Edmund Fitzgerald.) The 20 walk-in campsites are the most frequently booked in the state park system (the best of them being #13), offering spectacular views of the lighthouse, so plan ahead.
Temperance River
The rushing Temperance River carves through a narrow, rocky gorge, offering picturesque overlooks, rushing waterfalls, and charming footbridges. Hike up Carlton Peak's 550 vertical feet for one of the area's best panoramic views.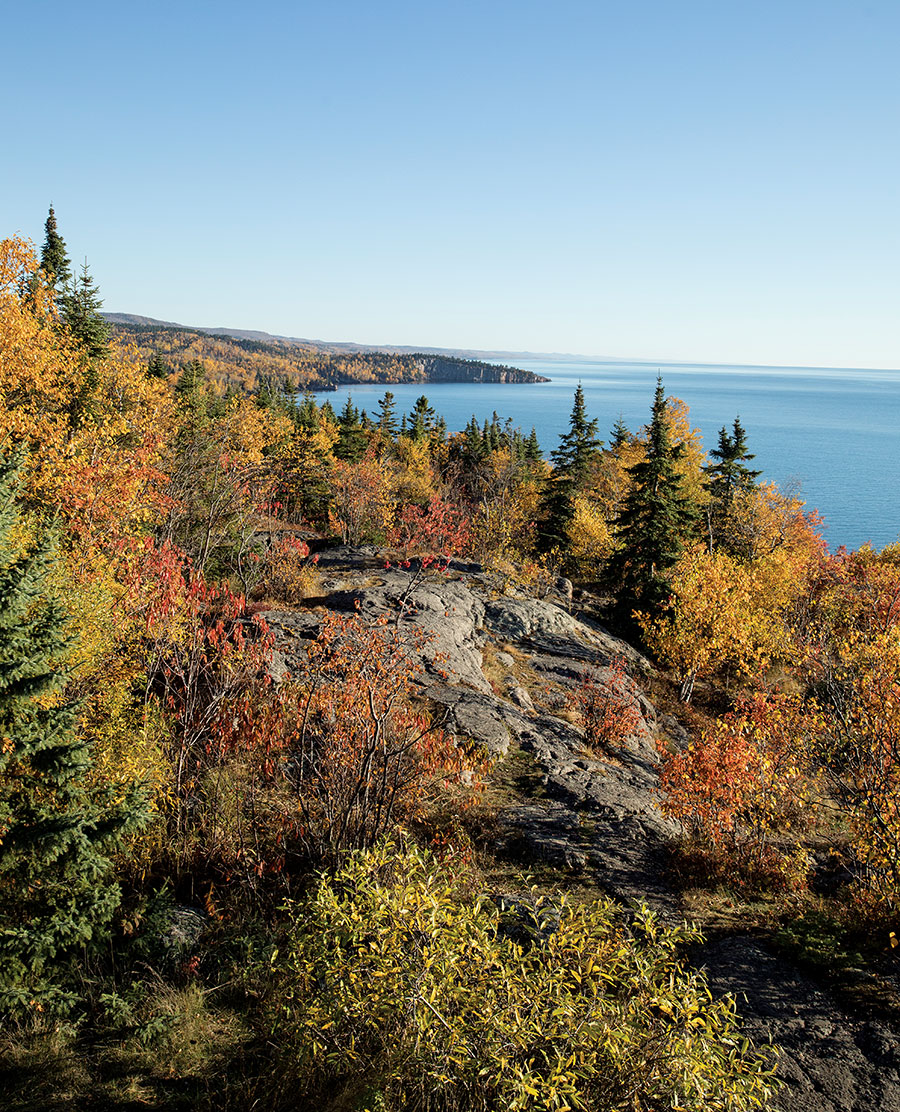 The view of Shovel Point from Palisade Head
Tettegouche
The fast-flowing Baptism River runs through Tettegouche (named after a French-Canadian phrase meaning "meeting place"), which is home to two of the North Shore's most dramatic rock formations: the 300 vertical feet of sheer cliff that is Palisade Head, and Shovel Point, an angled peninsula with naturally carved sea caves. Both are a rock-climbing paradise. For reluctant campers, Tettegouche is the only North Shore state park with a cluster of small log cabins available to rent year-round.
Facebook Comments