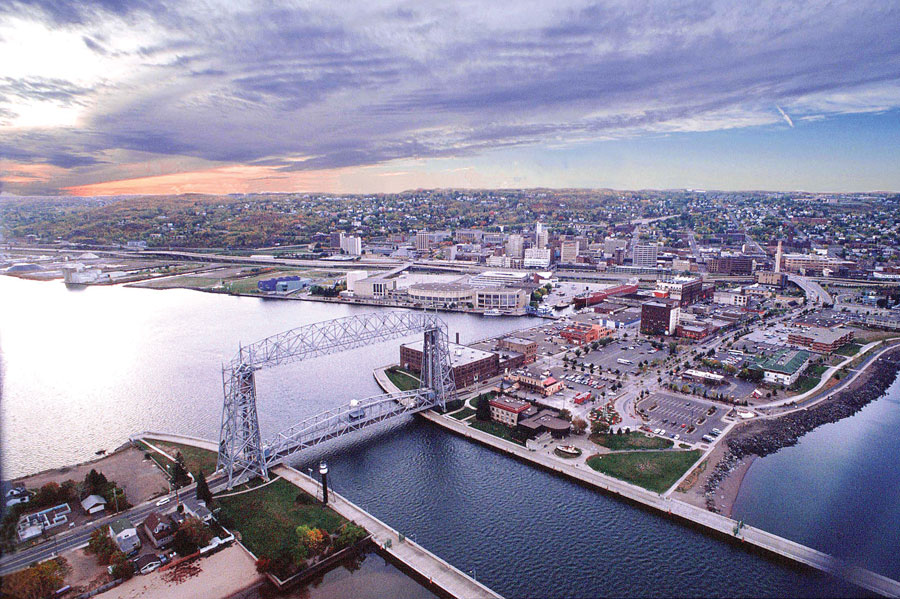 Despite sitting on the greatest playground of them all (Lake Superior, if you're not from here), Duluth is known mostly for its frosty charm. Often called the "Gateway to the North," many people in the metro and beyond think of this port city as a pit stop on their way to cabin country or the Boundary Waters.
That has all changed in recent years. In the past decade, dozens of bars and restaurants have opened their doors, including brewery Bent Paddle. Along with the storied old homes and expansive lake views, check out the revamped Canal Park, which adds tourist-friendly bars and boutiques to the town's still-vital steel and iron ore industries. Unlike other towns that sit on enormous bodies of water, Duluth's location in the North Country gives it a grit and lack of pretension that makes it difficult to leave.
Whether you're coming up for Duluth Rising in Bayfront Festival Park or for a social event like FEMN Fest, or for a taste of the local history and flavor, here are possible highlights of what your weekend in Duluth could look like.
Friday
Raise a glass to the weekend.
Duluth is a beer town, plain and simple. Hoops Brewing serves up the regular options of brews, but they've also devised a way to serve cocktails. You read that right. This rustic brewpub contains multitudes of drink options. How did they do it? They set up Ripple Bar inside the brewery, which makes Hoops Brewing a Russian nesting doll of terrific drink options. Make sure to try the several drinks made with Duluth-based Vikre Distillery.
Take in a late afternoon boardwalk stroll late.
Duluth's main attraction is the big lake, and a casual walk down the boardwalk in Canal Park will give you a sense of this city's past and future. The newly renovated boardwalk leads to some of Duluth's most popular new restaurants but also the permanently docked William A. Irvin freight ship. The one-time flagship of U.S. Steel's impressive fleet has become a museum dedicated to its history, but because of renovations, you can't go inside again until 2019. 
Grab some new school barbecue for supper.
Instead of grilling over pecans the traditional way, newly opened OMC Smokehouse's meat is roasted over Minnesota sugar maple. This is just one example of the Minnesota twists that are common at OMC Smokehouse. Also, try their locally grown rhubarb preserve or their Bent Paddle Brewing Co.-inspired mustard. The twists come to fruition on the dry-rubbed ribs that are bite-off-the-bone perfection. Read our feature on where to find the best ribs, sides, and more in the whole state. 
Enjoy a nightcap at the former prison.
The Rathskeller speakeasy is a good stop for a nightcap. Set in the former city prison, the bar has a few standout signature drinks. Lots of people go for the Smoked Maple Bourbon Manhattan; others go for the chance to see ghosts.
Saturday
Wake up to pancakes and coffee at Loui's.
They serve breakfast all day at Uncle Loui's. Just over a mile away from the city's well-known Aerial Lift Bridge, the classic diner serves up larger-than-your-plate pancakes and other classic breakfast items. You'll likely have a 30-minute wait on weekends, but that's hardly a detraction—the shopping bounty of downtown is nearby.
Get outside: This is Duluth, after all.
Duluth may be a town of extreme weather, but it's also a magnet for outdoor enthusiasts who come to town for unparalleled (and uncrowded) trails and fishing holes. The Duluth Traverse is one of the longest mountain biking trails in the world (over 80 miles of single track). Hiking trails snake from the city center to nearby vistas. Beginning hikers will like Tischer Creek's sandstone bluffs and quaint waterfalls that loop past Glensheen Mansion. For those willing to take a short drive, Jay Cooke State Park and its beautiful rocky gorge await as well.
Glensheen Mansion's 8-acre estate (Photo courtesy of Glensheen Mansion)
Get a glimpse of Duluth's most famous family (and crime).
Chester Congdon was undoubtedly one of the richest men in Duluth before the Great Depression. Glensheen Mansion, his 39-room estate on 12 acres of lakefront property, is now open for tours ($26). Fair warning: Tour guides will side-step questions about the double murder that happened on the estate. In 1977 the 83-year old heiress to the Congdon family fortune was smothered to death with a pillow; her nurse died from a strike of a candlestick holder. The family legacy has been preserved, but you'll likely have to go elsewhere to learn about the death. Perhaps a trip back to St. Paul for Minnesota History Theatre's original dark comedy musical Glensheen (July 5-29), back again by popular demand, might provide a clue.
Relax with fine dining and a view.
The tough part at the New Scenic Cafe is scoring a spot during the busy summer months. Once you've done that, you'll be able to pick from an always-changing menu that's known for elegant takes on comfort food. Celeb chef Andrew Zimmerman and others have named the cafe one of the best farm-to-table options in the state. That may be true, but it also boasts some of the best views of the lake.
Sunday
(Photo courtesy of Duluth Pack)
Start the day right courtesy of the coffee champions.
Over the last five years or so, Duluth has emerged as more than just a beer town. Duluth Coffee Company is certainly one of the best coffee spots in the town and if you feel like you need some baked goods to finish waking up, check out the nearby Lake Superior Bakehouse.
Save time for shopping before you head back.
Duluth Pack is perhaps the quintessential shopping item of Duluth. The original pack was designed in 1882 and soon became the go-to bag for trips to the Boundary Waters and beyond. Thanks to a contract it had with the original Abercrombie and Fitch outfitters (this was before their mall phase), the bag became the go-to hiking pack for adventurers nationwide. Today, the outdoor company has branched out but is still known best for their durable canvas packs.
Correction—The story incorrectly stated the locations of the Rathskeller and Uncle Loui's. It has been fixed. 
Facebook Comments