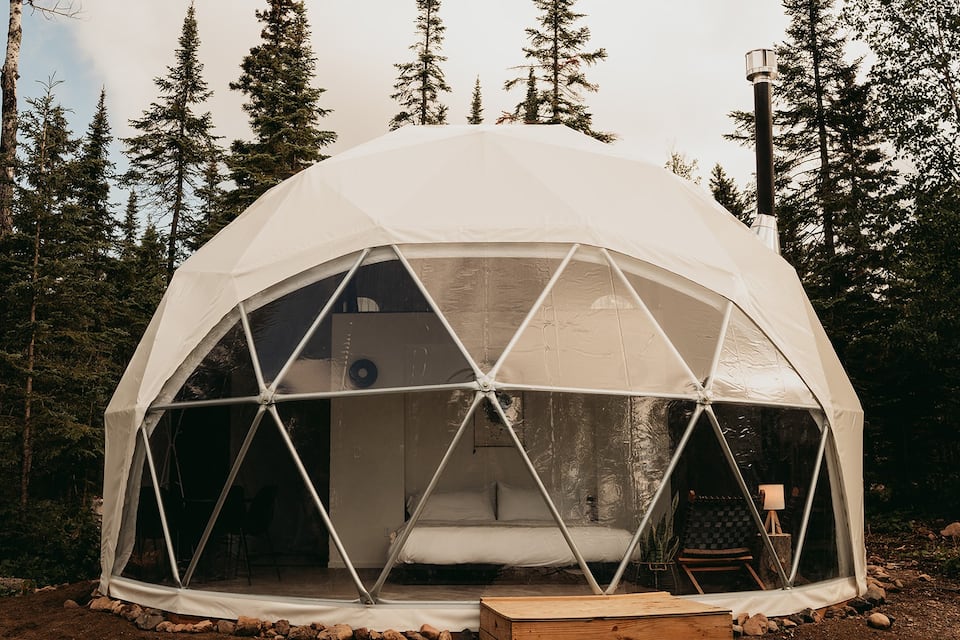 Chain hotels are often boring, basic, and predictable. Why stay in a plain white room on a trip when you can stay on an island or inside a castle?
If you're looking for an interesting Minnesota vacation, consider these eight Airbnbs.
Located in Cottage Grove, just outside St. Paul, the Treehouse is lifted up on stilts and surrounds an old tree on the property. It has two bedrooms, four balconies, and a jacuzzi. The interior features beautiful architecture and offers beautiful views of the farm it sits upon. If you're interested in staying, the house is just under $300 a night. Make sure to book early because the property fills up fast.
This spacious house sits upon an island at Elbow Lake. The island is accessible via car and is the perfect place for a family reunion. It has seven bedrooms that sleep 16 people. The property also includes games and kids' toys. The house is open year-round, so you can go either boating or ice fishing. The lake house is already booked up for most of summer 2022, so make sure to sign up early. It goes for $800 a night. 
Ever wanted to spend the night at a farm? To wake up early and help feed the goats and chickens? Or simply sit outside watching the goats mill around while sipping your cup of coffee? At the Gardenia Goat Farm, you can. The guest house has two bedrooms and sleeps five guests, making it a great getaway for friends or family. The reviews rave about how clean the house is, the s'mores kit left for guests inside, and the farm fresh eggs. The goat house usually goes for under $150 a night.
The Magic Studio is a one-of-a-kind stay in Minneapolis. The inside is filled with unique murals that showcase wolves, waterfalls, and trees. Although situated in northeast Minneapolis just minutes away from restaurants and bars, the Magic Studio will make you feel like you left the city altogether. It also has a beautiful shower that's painted to look like stone and features a skylight that'll make you feel like you're showering in an enchanted forest. The house typically costs $215 a night. It has one bedroom and sleeps four people.
If you, or your kids, want to feel like a true pirate, visit the Pirate Ship in St. Paul. The ship sits on the Mississippi River and seldom leaves its dock. It looks like a real pirate ship with large masts, a wooden interior, and a large steering wheel. It can sleep up to six people. The ship is expertly decorated and will make anyone feel like they're searching for gold out at sea. The pirate ship charges $350 a night.
Although this is more of a stone mansion than an actual castle, the castle on the St. Croix River is breathtaking nonetheless. The castle features a large kitchen, stunning dining room, and patio overlooking the river. It has four bedrooms and sleeps eight people. The castle, which is around $950 a night, will make for a tranquil week along the river or a memorable family vacation.
This tent-like house provides a beautiful view into nature. Located along the North Shore, the owners of the Berkanan dome wanted to create a sustainable way for people to enjoy the wilderness up north. The structure is a thick tent but is spacious on the inside with a kitchenette, bathroom, and loft. The dome itself is incredibly beautiful to look at. Although there are no real bedrooms, the dome has two beds and sleeps four people. The owners charge just under $300 a night for the dome. 
If simply visiting isn't enough, Crow River Barn allows you to actually live on a farm. This Airbnb exemplifies the farmhouse-chic style with wood paneling and rustic decor. The property sits on a chicken and pig farm, and the hosts provide treats so that guests can feed the chickens. The barn, which is located east of St. Cloud, is basically one big room that has three beds and sleeps four people. It runs $125 a night.
Facebook Comments